Browsing all articles tagged with wars
Posted in Toys by ToyMaster
Hexbug Robot Wars Clusterbots Stadium
Customise your Hexbug Robot Wars Clusterbots and let the games begin! Epic battles are waiting to unfold in the HEXBUG Robot Wars Clusterbots Stadium! Race into battle using the power of vibration technology. Formulate a winning strategy while building a competitor of your own design, using custom kinetic armour and weaponry. Try your best to knock your opponent off the elevated platform to claim victory! Includes two Clusterbots robots.
EAN: 807648059618
Posted in Toys by ToyMaster
Hexbug Robot Wars Arena
3,2,1 Activate; Watch the hit television show come to life right before your eyes, with the Hexbug Robot Wars Arena Plus Accessory; Now you can hold your very own action-packed battles at home; Complete with two remote controlled robots, which include impulse, with its dangerous disc, and royal pain, with its fury hammer; Interlocking checkered wall pieces create the perfect environment for your robots to battle – just like the show; The plastic panels secure the area and ensure all the action remains in the arena as you guide your robot to success. The arena reflects that of the hit television show, with marked pits and drop zones allowing you to recreate your favourite battles; The arena comes with a free single accesory; Size H26.2, W9.8cm. Batteries required: 10 x AAA (included) plus 6 x button cell (included). For ages 8 years and over. WARNING(S): Not suitable for children under 3 years old. Only for domestic use.
EAN: 807648059588
Posted in Toys by ToyMaster
This toy no longer exists.
Try visiting www.xmas-toys.co.uk you may find it there.
EAN: 5010993395729
Posted in Remote Control Toys by ToyMaster
This toy no longer exists.
Try visiting www.xmas-toys.co.uk you may find it there.
EAN: 5060158854165
Posted in Toys by ToyMaster
Star Wars: Rebellion Game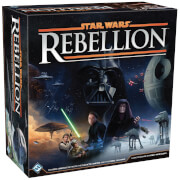 Star Wars: Rebellion is a board game of epic conflict between the Galactic Empire and Rebel Alliance for two to four players! Experience the Galactic Civil War like never before. In Rebellion, you control the entire Galactic Empire or the fledgling Rebel Alliance. You must command starships, account for troop movements, and rally systems to your cause. Given the differences between the Empire and Rebel Alliance, each side has different win conditions, and youll need to adjust your play style depending on who you represent: As the Imperial player, you can command legions of Stormtroopers, swarms of TIEs, Star Destroyers, and even the Death Star. You rule the galaxy by fear, relying on the power of your massive military to enforce your will. To win the game, you need to snuff out the budding Rebel Alliance by finding its base and obliterating it. Along the way, you can subjugate worlds or even destroy them. As the Rebel player, you can command dozens of troopers, T-47 airspeeders, Corellian corvettes, and fighter squadrons. However, these forces are no match for the Imperial military. In terms of raw strength, youll find yourself clearly overmatched from the very outset, so youll need to rally the planets to join your cause and execute targeted military strikes to sabotage Imperial build yards and steal valuable intelligence. To win the Galactic Civil War, youll need to sway the galaxys citizens to your cause. If you survive long enough and strengthen your reputation, you inspire the galaxy to a full-scale revolt, and you win. Featuring more than 150 plastic miniatures and two game boards that account for thirty-two of the Star Wars galaxys most notable systems, Rebellion features a scope that is as large and sweeping as any Star Wars game before it.
EAN: 841333101053
Posted in Toys by ToyMaster
Top Trumps Premium – Star Wars Episode 8 Metallic Version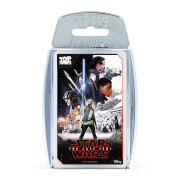 Star Wars Episode 8 is finally here, and what better way to relive the excitement and action of the latest movie, than with this pack of Top Trumps! Featuring all of The Last Jedi's First Order villains and Resistance heroes, alongside Jedi Master Luke Skywalker, you can find out which of the characters have the highest Honour, Greed, Attitude and Top Trumps Rating in this latest addition to the Star Wars range. And what's more, you can add it to your Force Awakens pack, for twice the adventure! Features: Entertaining educational card game loved for bringing your favourite Star Wars characters to life Play Top Trumps anytime, anywhere, with as many people as you like Find out if Luke Skywalker or Kylo Ren is most greedy or if Finn or Poe Dameron has the most honour Easy-to-carry plastic case means there are no limits on gameplay Prepare to outsmart your opponents, discover new and exciting Star Wars – The Last Jedi facts and duel your way to becoming the Top Trump
EAN: 5053410002640
Posted in Toys by ToyMaster
Hasbro Star Wars Forces of Destiny Rey of Jakku Adventure Action Figure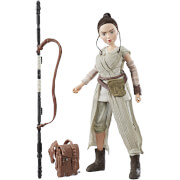 Rey is brave, true to her friends, and stands up for what she believes in! Imagine epic adventures to discover her destiny and her connection to the Force with this Star Wars Forces of Destiny Rey of Jakku adventure figure. This highly poseable figure features beautiful rooted hair, and a draped top, shirt, belt with scavenger bag, shoes, arm wraps, bracelet, and backpack she can be dressed in to get her ready for adventure. When it
EAN: 630509525300
Posted in Lego by ToyMaster
LEGO Star Wars: Boba Fett Minifigure Clock
Prepare to feel the Force! This thrilling new addition to LEGO Star Wars Clocks is here! The clock is a giant mini-figure of the renowned Boba Fett in exacting detail which will be noticed and beloved by Star Wars fans. The clock is fully adjustable – also the Digital clock is displayed on an LCD screen with a backlight so you can easily see it at night. Features: LEGO Star Wars Boba Fett Clock Digital clock with alarm and snooze button Activate snooze by pushing head down Clock is fully adjustable Clock face illuminates when head is pressed down Officially licensed LEGO Star Wars clock 2x AAA batteries (included) Size: Dimensions: 16 x 13 x 23.5cm Weight: 522g
EAN: 5065000461898
Posted in Lego by ToyMaster
LEGO Star Wars Darth Vader and Boba Fett Watch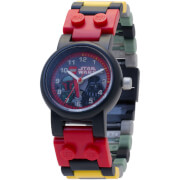 Channel your favourite two Star Wars characters in the brand new LEGO Star Wars Boba Fett and Darth Vader kids watch! Includes interchangeable links and two minifigures to play with! Display type: Analogue Movement: Japanese Quartz Manufacturer
EAN: 5060286802168
Posted in Toys by ToyMaster
Revell Star Wars Millennium Falcon (Build) Advent Calendar 2018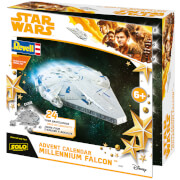 The Revell Star Wars Han Solo Movie Advent Calendar 2018 is an easy to build plastic model kit in the Star Wars range that is brand new for this year. The Millennium Falcon is Lando Calrissian
EAN: 4009803010175
Search
Recent Posts
Get Social With Us!
Categories
Pages
Toy Retailers
Popular Tags
Toy Archive