Browsing all articles tagged with trumps
Posted in Toys by ToyMaster
Top Trumps Specials – Tractors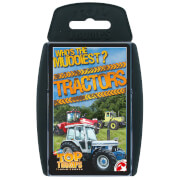 If you like all things Tractors, then this pack of Top Trumps is for you! It is fully loaded with all the best Tractors; from the legendary John Deere to the vintage Case LA and International 560 Diesel. Found out which tractor has the most power and which has the biggest wheels! Features: Entertaining educational card game loved for bringing your favourite Tractors to life Play Top Trumps anytime, anywhere, with as many people as you like Find out how heavy the Case -IH CVX optum 300 is, when the Ford MOM/H was made and how powerful is the New Holland 7.225 tractor in in this edition of Top Trumps – Top 30 Tractors Easy-to-carry plastic case means there are no limits on gameplay Prepare to outsmart your opponents, discover new and exciting facts and duel your way to becoming the Top Trump
EAN: 5036905025218
Posted in Toys by ToyMaster
Top Trumps – Battleships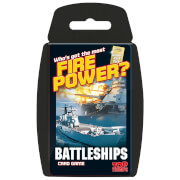 Aye aye cap'n, full steam ahead and into battle with Battleships Top Trumps! In this pack, the mighty power of the USS Missouri faces off against… um… the two-hundred-year-old HMS Victory. An 18th century flagship that's been anchored in Portsmouth for a hundred years, versus the most powerful battleship ever built? A slightly unfair fight, we feel. Although in true Top Trumps style, the Missouri isn
EAN: 5036905019132
Posted in Toys by ToyMaster
Posted in Toys by ToyMaster
Top Trumps Specials – Independent and Unofficial Guide to Minecraft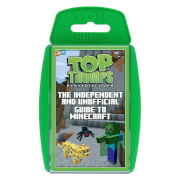 "Enjoy some offline adventures with the Top Trumps Independent and Unofficial Guide to Minecraft. This fantastic game has a collection of cards dedicated to all of your favourite Minecraft Mobs. Compare Blaze, Creeper, Killer Bunny and more Mobs by brick heights and widths as well as by their attack and health stats and, of course, their Top Trumps rating. You can also enjoy informative fact files on every one of the Minecraft Mobs included in this Independent and Unofficial Guide. With a super convenient, plastic carry case, you can challenge your friends to a game of Top Trumps anywhere and anytime. Terrific Top Trumps fun for 3 and over."
EAN: 5036905037310
Posted in Toys by ToyMaster
Posted in Toys by ToyMaster
Top Trumps Activity Tin – Peppa Pig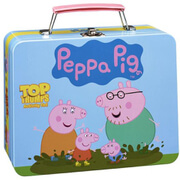 Top Trumps Activity Tin Peppa Pig – this handy Top Trumps tin contains a Peppa Pig Top Trumps Activity Pack, with 5 great games and activities, and a full size poster! Play Top trumps, join the dots, spot the difference, collect pairs and more! All in a smashing tin. Everybody loves tins!
EAN: 5036905024525
Posted in Toys by ToyMaster
Top Trumps Minis – Harry Potter and the Prisoner of Azkaban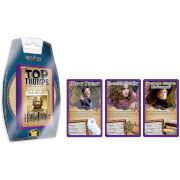 Harry, Ron and Hermione return to Hogwarts for their third year to learn that a dangerous criminal has escaped from Azkaban prison and he is in search of Harry! With vengeance in the air, Harry remains under the watchful eye of many, but still manages to sneak out of the castle to Hogsmeade village. This Top Trumps pack captures the magic of this resplendent movie with cards featuring characters such as the batty Professor Trelawney and the bumbling Minister of Magic, Cornelius Fudge. But which character wins in a battle of courage or temper? Play Harry Potter and the Prisoner of Azkaban Top Trumps to find out! It's one even Muggles will enjoy! Age 3+ Players 2+
EAN: 5036905001670
Posted in Toys by ToyMaster
Top Trumps Specials – Lion King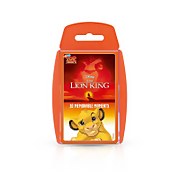 "Revisit Disney's beloved animation with the Top Trumps Lion King Card Game. This fantastic game celebrates 30 of the most memorable moments from the 1994 animated classic. Compare the ups and downs of Simba's life using categories including laughter, excitement and friendship. With a Top Trumps file and rating on every card, there's loads of Lion King fun for both long-time and new fans of the Lion King to discover. With a super convenient, plastic carry case, you can challenge your friends to a game of Top Trumps anywhere and anytime. Terrific Top Trumps fun for 3 and over."
EAN: 5036905035880
Posted in Toys by ToyMaster
Top Trumps Specials – Toy Story 4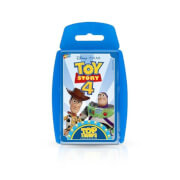 "Challenge your family and friends to become the Top Trump champion with this Toy Story 4 Top Trumps Card Game! Compare the different Toy Story Characters to see who has higher teamwork, humour, courage, and friendship ratings. From new characters to your original favourites, this Top Trumps set has all the fun of the loveable movie franchise. Once you are done playing, pop your cards back in the easy-to-carry plastic case. This keeps them safe from damage and easy to transport, allowing you to enjoy Top Trumps fun on the go. For ages 3 and over."
EAN: 5036905033411
Posted in Toys by ToyMaster
Top Trumps Specials – Harry Potter Top 30 Witches and Wizards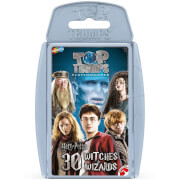 Battle it out between the top wizards and witches in this fantastic Harry Potter themed Top Trumps game. Packed with characters from across the film series, this card game for two or more players is perfect for Potter fans of all ages. Draw your top card and pick a stat from your witch or wizard, then compare your card's power in that area to your opponent's card. The player with the highest rated stat wins the round and all of the cards. The player with all of the cards at the end of the game is the winner!
EAN: 5036905001649
Search
Recent Posts
Get Social With Us!
Categories
Pages
Toy Retailers
Popular Tags
Toy Archive