Browsing all articles tagged with trumps
Posted in Toys by ToyMaster
Top Trumps Card Game – Only Fools and Horses Edition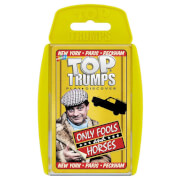 Britain's best-loved sitcom gets a Top Trumps twist with this edition of Only Fools and Horses Top Trumps. Follow in the footsteps of everyone's favourite wheeling-and-dealing family, the Trotters, as you experience some of the best moments and meet your favourite characters from the Peckham estate. Relive great moments like when Del and Rodney offer their services as chandelier cleaners in 'A Touch of Glass', or when Del attempts to sell 'wigs of distinction' in the Nag's Head. The Trotters have had their fair share of highs and lows and you can exeperience them all as you battle to become the Top Trump. Key Features Entertaining card game loved for bringing your favourite Only Fools and Horses legends all together in one exciting Top Trumps pack Play Top Trumps anytime, anywhere, with as many people as you like Find out who is the most intelligent – could it be Rodney, Uncle Albert, or…Del Boy? Or who will win in the Top Trumps Wheeler Dealer stakes? Easy-to-carry plastic case means there are no limits on gameplay Prepare to outsmart your opponents, discover new and hilarious Only Fools and Horses facts and duel your way to becoming the Top Trump Suitable Age: 6+ Number of Players: 2+
EAN: 5036905018265
Posted in Toys by ToyMaster
Top Trumps Collectors Tin Card Game – Toy Story 4 Edition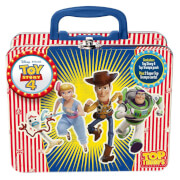 Top Trumps meets Toy Story 4 presenting brand new characters. This special edition Toy Story 4 Tin includes a Top Trumps pack with 30 playable cards, featuring all your favourite Toy Story characters from past to new, including the all-time favourites, Woody and Buzz Lightyear, to new additions from Duke Caboom, Forky and many more! Key Features Discover your favourite Toy Story characters old and new in this educational card game in your very own Collector's Tin. Be at the envy of all your friends and look cool carrying this everywhere! Look out for the 2 surprise character cards! included in this tin. Play Top Trumps anytime, anywhere, with as many people as you like and find out who really has the best courage of them all! Take anywhere tin means there are no limits on gameplay Suitable Age: 6+ Number of Players: 2+
EAN: 5036905037693
Posted in Toys by ToyMaster
Top Trumps Card Game – British Bakes Edition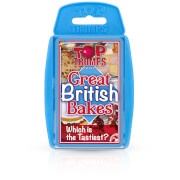 Need a little inspiration for which cake to bake or eat next? From the well-known Lemon Drizzle and Sticky Toffee Pudding, to the Parkin or Manchester Tart, this pack contains 30 deliciously delightful bakes from across the British Isles. Jam-packed full of facts and stats, find out which cake deserves its place atop the cake stand as our Top Trump. Features: Entertaining educational card game loved for bringing your favourite sweet treats to life Play Top Trumps anytime, anywhere, with as many people as you like Find out if the Victoria Sponge is more popular than a Chocolate Cake or if a Battenberg is more festive than a Bara Brith, in this edition of Top Trumps – British Bakes Easy-to-carry plastic case means there are no limits on gameplay Prepare to outsmart your opponents, discover new and exciting British Bakes facts and duel your way to becoming the Top Trump Suitable Age: 6+ Number of Players: 2+
EAN: 5036905032759
Posted in Toys by ToyMaster
Top Trumps Card Game – World of Tanks Edition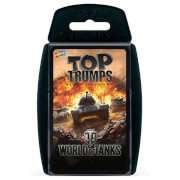 Top Trumps puts you in command with 30 war machines from the mid-20th century and let's you discover ultimate war machines of the era. Find out everything from legendary Shermans, Churchills, Tigers, and T-34s – all with a rich battlefield history – to vehicles that boasted feats of engineering design that never reached the production line. Key Features Entertaining educational card game loved for bringing your favourite subjects to life Play Top Trumps anytime, anywhere, with as many people as you like Find out how much Firepower Pershing I has, or how movable Panther is Easy-to-carry plastic case means there are no limits on gameplay Suitable Age: 6+ Number of Players: 2+
EAN: 5036905038225
Posted in Toys by ToyMaster
Top Trumps Card Game – STEM Extraordinary Engineering Edition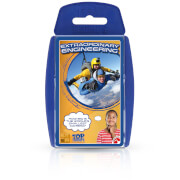 STEM comes to life with Top Trumps Extraordinary Engineering. Find out about tiny cameras, Bullet Trains, Suspension Bridges and Fidget Spinners in this pack of the ever-popular educational game. What do all engineering feats have in common? How long ago was the elevator invented? What links a rollercoaster with a washing machine? It's all here as a tool to inspire young minds! Features: Entertaining educational card game loved for bringing your technological favourite subjects to life Play Top Trumps anytime, anywhere, with as many people as you like Find out if padlocks or the wheel makes more of an everyday impact, or if a washing machine or refrigerator is the most innovative Easy-to-carry plastic case means there are no limits on gameplay Prepare to outsmart your opponents, discover new and exciting facts and duel your way to becoming the Top Trump Suitable Age: 6+ Number of Players: 2+
EAN: 5036905034067
Posted in Board Games by ToyMaster
Top Trumps Match Board Game – Toy Story 4 Edition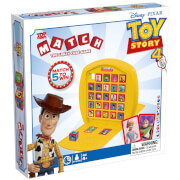 Top Trumps Match, the Crazy Cube Game, gets a Toy Story 4 makeover! Be the first to match 5 Toy Story 4 characters to win in this game. But wait the game's not over yet, can your opponent super Top Trump you in the final moment? If they match their Top Trumps card with the winning character, they WIN the game! Fantastic for memory development and it's jam-packed with new characters. Toy Story 4 Match is the perfect travel companion and can be played anywhere with its all-in-one carry case design! Key Features Top Trumps Match -The Crazy Cube Game – Toy Story 4 Edition Be the first to match five of your favourite characters in a row – horizontally, vertically or diagonally. Can you match Woody or Mr Potato Head before your opponent? But wait! Can your opponent steal the game? Turn over the Top Trumps card to reveal if they can take the match and win the game Play with 15 of your favourite characters including Buzz Lightyear, Jessie and Hamm Easy to set up and pack away, Top Trumps Match comes in a handy self-contained plastic case – play anytime, anywhere Suitable Age: 4+ Number of Players: 2+
EAN: 5036905033428
Posted in Toys by ToyMaster
Top Trumps Card Game – Springbok Edition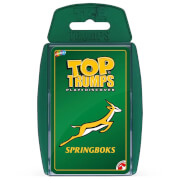 The entertaining and educational card game meets South Africa's national rugby union team in this edition of Springboks Top Trumps. The Springboks are one of the world's most feared and admired rugby teams – a giant of the game, well known for fielding giants! Springbok names resonate across the globe and now's your chance to bring those famous players into your home and play your way to Springboks Top Trumps glory! Key Features Entertaining card game loved for bringing your favourite Springbok legends all together in one exciting Top Trumps pack Play Top Trumps anytime, anywhere, with as many people as you like Find out how many caps Damian de Allende has, and if this is more or less than Sbu Nkosi! Discover the Top Trumps Tackle Rating for Thomas Du Toit, Steven Kitshoff and Siya Kolisi! Easy-to-carry plastic case means there are no limits on gameplay Prepare to outsmart your opponents, discover new and exhilirating Springboks facts and duel your way to becoming the Top Trump Suitable Age: 6+ Number of Players: 2+
EAN: 5036905035651
Posted in Toys by ToyMaster
Top Trumps Match – Frozen 2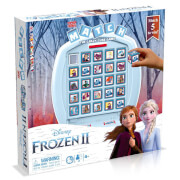 Take a trip back to the magical land of Arendelle and see if you can be the first to match five in a row in this new Frozen 2 edition of Top Trumps Match! With beloved characters from the movie, including familiar faces and all-new friends, see if you can make a line of five matching pictures without your opponent knocking them out and taking the lead. This set includes 25 unique character cubes with all your favourites like Kristoff and Sven, 15 character cards with official artwork from the franchise, and a sturdy plastic game grid that folds up and doubles as a carry-case. Take turns pushing out cubes and replacing them with your own in order to complete a row of five, but watch out – your opponent might just knock out one of your own cubes. So choose wisely in order to defeat your opponent – if you play well, they just might Let It Go! Key Features The Crazy Cube Game gets a Frozen 2 makeover! Be the first to match five of your favourite Arendelle characters in a row – horizontally, vertically or diagonally But wait! Can your opponent steal the game? Turn over the Top Trump card to reveal if they can take the match and win the game Play with 15 of your favourite characters including Elsa, Anna and Olaf – plus all-new Frozen 2 characters! Easy to set up and pack away, Top Trumps Match comes in a handy self-contained plastic case – play anytime, anywhere Suitable Age: 3+ Number of Players: 2+
EAN: 5036905036597
Posted in Board Games by ToyMaster
Top Trumps Match Board Game – Pikmi Pops Edition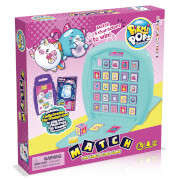 Top Trumps Match, the Crazy Cube Game, gets a Pikmi Pops makeover! Be the first to match 5 cute Pikmi Pops to win this game. But wait the game's not over yet, can your opponent snatch the match in the final moment? If they match their Top Trumps card with the winning character, they WIN the game! Fantastic for memory development, it's jam-packed with adorable characters. Pikmi Pops Match is the perfect travel companion and can be played anywhere with its all-in-one carry case design!
EAN: 5036905035941
Posted in Toys by ToyMaster
Top Trumps Collectors Tin Card Game – Harry Potter Witches and Wizards Edition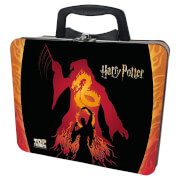 Did the sorting hat put you in Gryffindor? Brave, chivalrous and daring – sound like you? Get on board the Hogwarts Express with this Top Trumps Gryffindor Suitcase Tin! Containing two packs of Harry Potter Top Trumps based around Harry Potter and the Prisoner of Azkaban and Harry Potter and the Goblet of Fire, this is a great addition to any Potter fan's wizarding world.
EAN: 5036905036771
Search
Recent Posts
Get Social With Us!
Categories
Pages
Toy Retailers
Popular Tags
Toy Archive