Browsing all articles tagged with toy
Posted in Toys by ToyMaster
Zoggs Ultra Fins Blue – Shoe Size 1-2 Toy
These lightweight Zoggs Ultra Fins will aid your child as they learn swimming techniques. help improve their kick technique. ankle flexibility. and increase overall lower body strength and leg stamina.Perfect for little swimmers who want to improve their technique. these Zoggs Ultra Fins feature a short blade with dual density weight and are made from a soft flexible material for extra comfort whilst the slim blade will give them a balanced and natural rhythmic kick to propel them through the water quicker enabling them to swim faster over longer distances. These Zoggs Ultra Fins can also be used with a kickboard allowing your child to focus on improving their kick.Ultra Blue Fins are also lightweight which results in a more balanced and natural rhythmic kick as well as a reduction in muscle fatigue on the calves so young swimmers are less likely to experience cramping after a swim.Never leave your child unsupervised when playing near water.Quick Facts:- Suitable for shoe size 1-2- Great for getting active and for physical development- Lightweight and compact construction- Specifically designed blade for optimum propulsion and performance- Improves kick technique and ankle flexibility- Helps reduce muscle fatigue in your calves. which can lead to cramps- Soft malleable material for extra comfort- Made from sustainable rubber (dual density)
EAN: 749266003898
Posted in Toys by ToyMaster
Posted in Toys by ToyMaster
Zoggs Ultra Fins Blue – Shoe Size 2-3 Toy
These lightweight Zoggs Ultra Fins will aid your child as they learn swimming techniques. help improve their kick technique. ankle flexibility. and increase overall lower body strength and leg stamina.Perfect for little swimmers who want to improve their technique. these Zoggs Ultra Fins feature a short blade with dual density weight and are made from a soft flexible material for extra comfort whilst the slim blade will give them a balanced and natural rhythmic kick to propel them through the water quicker enabling them to swim faster over longer distances. These Zoggs Ultra Fins can also be used with a kickboard allowing your child to focus on improving their kick.Ultra Blue Fins are also lightweight which results in a more balanced and natural rhythmic kick as well as a reduction in muscle fatigue on the calves so young swimmers are less likely to experience cramping after a swim.Never leave your child unsupervised when playing near water.Quick Facts:- Suitable for shoe size 2-3- Great for getting active and for physical development- Lightweight and compact construction- Specifically designed blade for optimum propulsion and performance- Improves kick technique and ankle flexibility- Helps reduce muscle fatigue in your calves. which can lead to cramps- Soft malleable material for extra comfort- Made from sustainable rubber (dual density)
EAN: 749266003904
Posted in Toys by ToyMaster
Sleepyhead Hanging Toy Set – Fuzzy Pals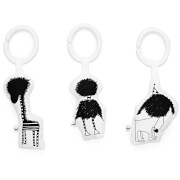 The Fuzzy Pals hanging toy set from Sleepyhead are not your average baby toys. These cool and quirky dangling creatures bring a downtown, modern vibe to your little one's world and the three crinkly black and white toys promote sensory development. Set of three toys Made exclusively for and attaches to Sleepyhead
EAN: 7394322266156
Posted in Toys by ToyMaster
Posted in Toys by ToyMaster
White Toy Vintage Kitchen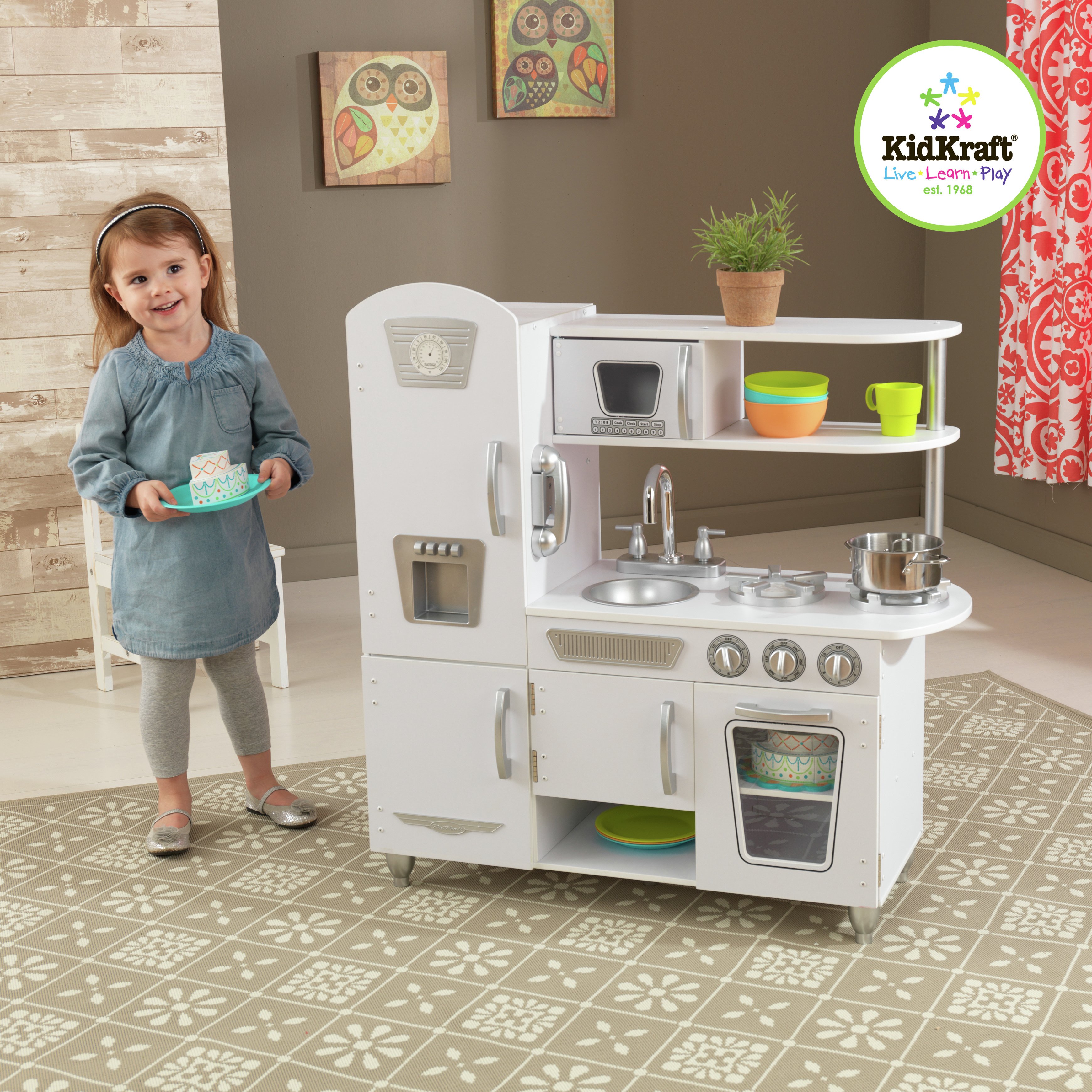 Bon Appetit; KidKrafts Vintage Kitchen in White lets kids pretend they are cooking big feasts for the whole family. With its close attention to detail and interactive features, this adorable kitchen would make a great gift for any of the young chefs in your life. Doors open and close. Oven knobs click and turn. Cordless phone. Removable sink for easy cleanup. Packaged with detailed, step-by-step assembly instructions. Size H89, W34, D84cm. Self-assembly. For ages 3 years and over. WARNING(S): Not suitable for children under 3 years old. Only for domestic use. To be used under the direct supervision of an adult. This toy does not provide protection.
EAN: 706943532089
Posted in Toys by ToyMaster
Chicco Sam The Mole Pop Up Toy
Jump & Fit Playmat is a fun twist on the traditional hopscotch game. With two game modes: toss the coin to play hopscotch; throw the dice in fitness mode indicating exercises to complete. With coloured lights indicating where to jump, sounds and different games, Jump & Fit Playmat lets you have fun while exercising; Develops motor skills and precision. A modern version of the classic childrens game, hopscotch. 2 game modes; music mode and fitness mode. Electronic mat with lights and sounds and games of increasing difficulty. Develops motor skills and precision. Suitable from 2-5 years. Batteries required: 3 x AAA (not included) plus . For ages 2 years and over. Manufacturers 2 year guarantee. WARNING(S): Only for domestic use. To be used under the direct supervision of an adult.
EAN: 8058664079315
Posted in Toys by ToyMaster
Sophie La Girafe Gift Boxed Toy
Made from 100% natural rubber derived from the sap of the Hevea tree Natural Rubber is soft, safe & non-toxic for baby to teethe & chew. Lightweight & easy to grasp for tiny hands. Painted with non-toxic, food-grade paints. Stimulating to baby's senses with her soft colours & gentle squeak. Bumpy head helps soothe sore, teething gums. Sophie makes an amusing squeak when squeezed – such fun for a baby! Slender, flexible & soft – babies love manipulating & teething Sophie. Sophie the Giraffe is Phthalate-Free with No Vinyl (no-PVC)! Born in France in 1961, Sophie the Giraffe is a classic!
EAN: 3056566164240
Posted in Soft Toys by ToyMaster
Paddington Bear Soft Plush Toy
This super soft character toy is a must have for any Paddington fan; As seen in his blockbuster hit movie, Paddington wears his traditional blue toggle coat and red bush hat. 22cm tall, hes made from the softest plush- super cuddly for even the smallest of hands to hug; One supplied. Size H18, W17.5, D10cm. Suitable from birth. WARNING(S): Only for domestic use.
EAN: 5014475014306
Posted in Toys by ToyMaster
Matchstick Monkey Teething Toy and Gel Applicator
This teething toy and gel applicator from Matchstick Monkey helps you provide safe and soothing relief to baby's gums during the difficult teething time, as well as being ideal for developing baby's motor skills. Easy to grip and flexible yet soft, you can apply teething gels or granules to the bumps and help your baby massage into the source of their teething pain. Toothbrush bumps soft & kind to your baby's gums A hygienic approach to applying teething products Gets to the source of the pain helping soothe sore gums Dishwasher safe & freezer friendly Perfect training toothbrush to massage the gums Suitable for children from 3 months old Made from BPA free, FDA and CE certified food grade silicone
EAN: 714119515743
Search
Recent Posts
Get Social With Us!
Categories
Pages
Toy Retailers
Popular Tags
Toy Archive