Browsing all articles tagged with super
Posted in Toys by ToyMaster
Super Wings Transforming Vehicle – Donnie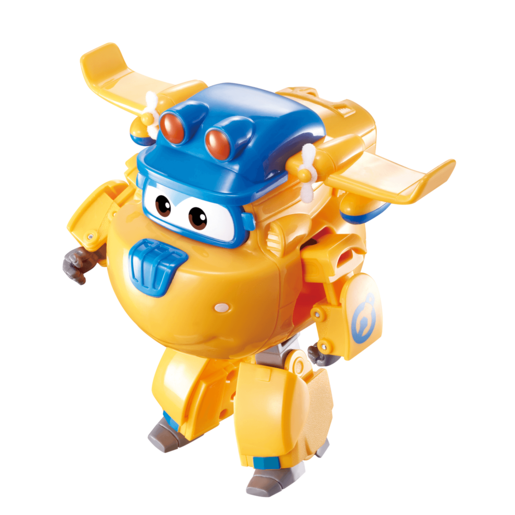 Donnie can do! Donnie, now available in new S3 construction team decoration, is a genius when it comes to inventing things. His professional engineering skills come in handy and often help him and his Super Wings friends when they get into trouble. Transform Donnie from plane to bot in just 10 easy steps! 28 to collect in all, including: Jett, Dizzy, Paul, Jerome, Donnie, Agent Chace, Flip, Todd, Astra, Mira, Police Jett, Rescue Jett, Construction Jett, Rescue Dizzy, Construction Donnie, Police Paul, Nature Mira, Zoey, X-ray Jett, X-ray Dizzy, and X-ray Jerome (each sold separately). This 5" Transforming Jett is made for Super Wings™ fans ages 3+. No batteries required
EAN: 6911400374186
Posted in Toys by ToyMaster
Super Wings Series 2 Transform a Bots – Poppa Wheel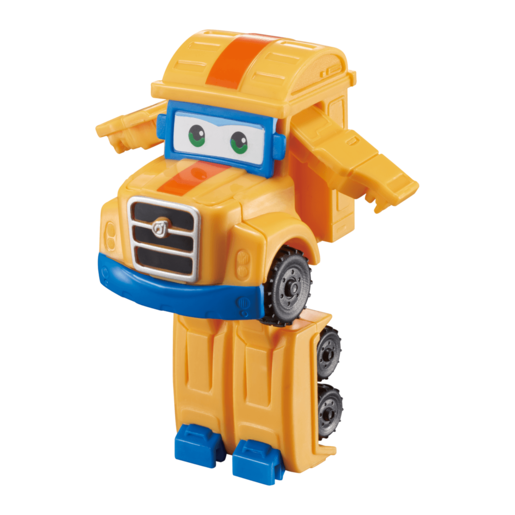 Super Wings – we deliver! Transform these Super Wings mini-figures from plane to robot in 3 easy steps. Super Wings Transform a Bots are perfect for re-enacting favourite Super Wings missions from the hit TV show and a great way to use your imagination and come up with your own missions too!. Suitable for ages 3 years and over. No batteries required.
EAN: 6911400363456
Posted in Toys by ToyMaster
Lord Of The Rings Balrog Super Sized Pop! Vinyl Figure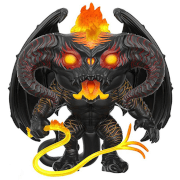 Lord Of The Rings Balrog Super Sized Pop! Vinyl Figure: Now's your chance to order these awesome new Lord of the Rings Pop! Vinyl figures that got announced at London Toy Fair! This series features characters Gandalf, Frodo, Samwise Gamgee, a Nazgul, Saruman, and the Balrog! Beware the Balrog is in 6-inch Pop! form!
EAN: 889698135566
Posted in Toys by ToyMaster
Nintendo Super Mario Super Mushroom Cookie Jar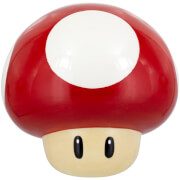 | Retailer | Price | Discount Code? | P&P | |
| --- | --- | --- | --- | --- |
| | £21.75 | Yes | | |
| | £26.99 | No | | |
The next time you need to level up with a tasty cookie or biscuit, make sure you do it in style with this fun Super Mushroom Cookie Jar. In the shape and design of the iconic Super Mushroom from the Super Mario game series, this fantastic ceramic cookie jar is ideal for lovers of the franchise. Standing at around 20cm tall the Super Mushroom Cookie Jar is an ideal gift for Christmas and birthdays and is great for use at home or at work. One of the most popular and instantly recognisable video game characters of all time, Mario first appeared in the iconic 1981 arcade game Donkey Kong under the name 'Jumpman'. Since then, Mario has become a legend within popular culture and has been a defining figure not just for Nintendo, but for the whole gaming industry. Since hitting the big time with Super Mario Bros. Mario has had huge success with other instalments such as Super Mario Galaxy, Super Mario 3D World and the hugely popular racing spin-off Super Mario Kart. The Super Mushroom Cookie Jar is an officially licensed Super Mario product.
EAN: 5055964723804
Posted in Toys by ToyMaster
DC Super Hero Girls Action Figure – Bumble Bee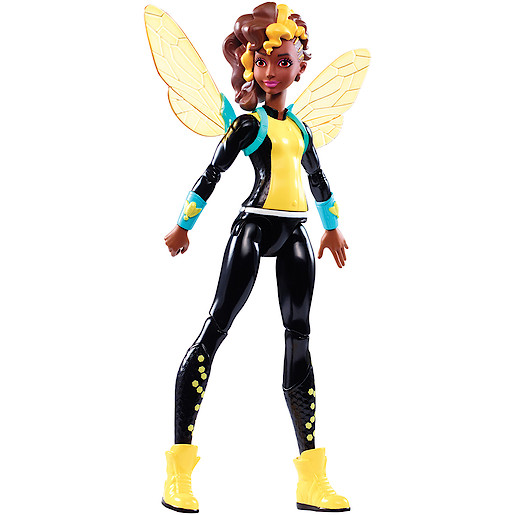 Unleash your power and explore your inner hero with DC Super Hero action figures! Inspired by the powerful students of DC Super Hero High, the DC Super Hero Girls action figures are ready for powerful fun. In 6-inch scale, the Bumblebee action figure is highly articulated for powerful posing and creative storytelling. Molded in durable plastic, the happy-go-lucky girl who can shrink to the size of a bee, can take on Super Hero stunts and portable play. Plus, she is ready to save the day dressed in her signature outfit (non-removable) with iconic accessory details, like bumblebee wings. Kids will love finding their own unique abilities along with these Super Hero students who learn to master their powers and the hero fundamentals in ways big and small. From a routine school day to a Super Hero adventure, the galaxy is the limit! Collect all of the DC Super Hero High action figures for a full attendance (each sold separately, subject to availability). Includes 6-inch Bumblebee action figure and Super Hero accessories. Colours and decorations may vary.
EAN: 887961282764
Posted in Toys by ToyMaster
Super Wings Deluxe Transforming Vehicles – Dizzy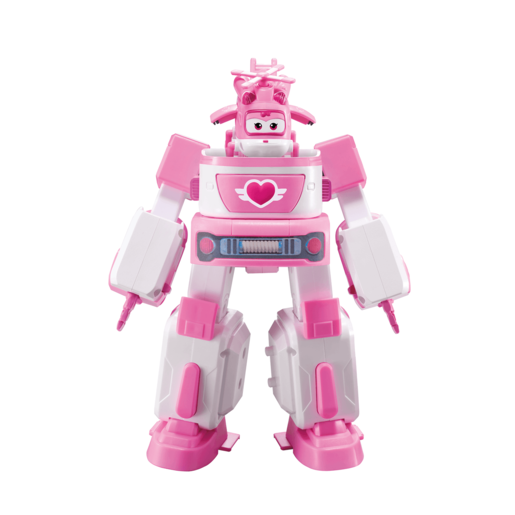 Mission ready! Help Dizzy transform from vehicle to robot suit and then plane to bot to complete special missions all over the world! This mini-scale transforming figure is from Season 2 of the Super Wings series. It offers 2 in 1 play as it transforms from a rolling vehicle to a bot and includes a plane that also transforms to a bot for loads of variety and fun!
EAN: 6911400363586
Posted in Lego by ToyMaster
LEGO Super Heroes: The Menace of Mysterio (76149)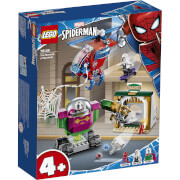 LEGO Marvel Spider-Man The Menace of Mysterio (76149) is a construction toy that introduce kids to LEGO building, minifigure action and supercool adventures. Spider-Man helicopter and Mysterio mech playsetAs well as Spider-Man, Ghost Spider and Mysterio LEGO minifigures, this superhero playset includes the awesome spider-copter and Mysterio's mighty mech! The mech has wheels and movable arms to smash into the bank's vault. Kids can use the claws' on Spider-Man's helicopter to grab Mysterio and zap his mech with a blast of web. A simple building guide explains the purpose of each step, and the free, downloadable LEGO Life app provides interactive zoom and rotate. Cool kids action playsetWith vehicles, mechs, buildings, minifigures, weapons and gadgets, LEGO Marvel Spider-Man building toys let little superheroes recreate favorite movie scenes and make up imaginative stories of their own.
EAN: 5702016619294
Posted in Lego by ToyMaster
LEGO Super Heroes: Vultures Trucker Robbery (76147)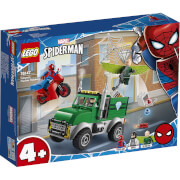 Your little superhero can swing into action with Spider-Man to catch Vulture as the winged villain minifigure swoops down, blasts the bank truck open and steals the jewels! A great way to introduce preschoolers to LEGO construction. Cool, buildable action toy with vehicles and minifiguresThis Spider-Man playset includes 3 LEGO minifigures Spider-Man, the Vulture and a Driver an awesome motorbike and a bank truck. The truck's rear explodes' off to reveal boxes of jewels, and kids can remove the engine and rebuild it on top of the hood for a sporty look. A simple guide builds kids confidence by explaining the purpose of each building step. For extra fun, download the free LEGO Life interactive building app with zoom and rotate features. Super-fun superhero playsetsWith an awesome range of vehicles, mechs, buildings, minifigures, weapons and gadgets, LEGO Marvel Spider-Man building toys let little superheroes recreate favorite movie scenes and role-play imaginative stories of their own.
EAN: 5702016619287
Posted in Lego by ToyMaster
LEGO Super Heroes: Avengers Speeder Bike Attack (76142)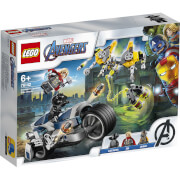 With Black Panther s amazing bike, 3 LEGO minifigures, awesome weaponry and deadly canisters, kids who like high-speed superhero action will love this cool LEGO Marvel Avengers Speeder Bike Attack (76142) building toy! Non-stop action on land and in air! When kids get their hands on this Marvel Avengers set, they'll be transported to a world of high-octane role-play. A well-armed villain swoops in on a jetpack armed with stud shooters, saw blades, grapple-hook shooter and a blaster, to steal 2 deadly canisters. Black Panther races to the scene on his supercool, stud-shooting motorcycle. Thor appears, wielding his mighty hammer. With 3 minifigures, a motorcycle and copious weaponry, this LEGO Marvel Avengers set makes a great gift for your budding superhero. Superhero LEGO sets for Marvel Avengers fansLEGO Marvel Avengers building toys take kids on a superhero thrill ride! With awesome vehicles, mechs, buildings, minifigures, weapons and gadgets, kids can recreate excitingmovie scenes and make up adventures of their own.
EAN: 5702016618044
Posted in Lego by ToyMaster
LEGO DUPLO Super Heroes: Super Heroes Lab (10921)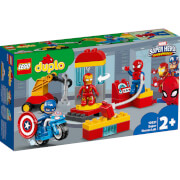 Stimulate creativity and inspire imagination with this versatile superhero construction toy for toddlers. Popular Marvel Avengers characters and cool equipment and vehicles come together to create a developmental playset that s full of fun! Kids superhero learning toy! Toddlers can have fun with Iron Man, Spider-Man and Captain America toys in Iron Man's laboratory. Using a crane, spinning turntable, wrench and control panel, little superheroes can fix Captain America's motorcycle, lift and move heavy loads and pull the Spider-Man figure along for a fun ride behind the motorcycle! And, while preschoolers are busy having fun with this colorful Marvel superhero toy, they re also developing their cognitive thinking, spatial reasoning, creativity and fine motor skills. Great gifts for toddlers! LEGO DUPLO toys combine iconic themes, recognizable settings, popular characters and toddler-friendly bricks in a range of playsets that inspire young minds through playful learning and creative fun.
EAN: 5702016618112
Search
Recent Posts
Get Social With Us!
Categories
Pages
Toy Retailers
Popular Tags
Toy Archive