Browsing all articles tagged with super
Posted in Toys by ToyMaster
VTech Kidi Super Star DJ
"Show off your mixing skills with this awesome DJ Microphone set from the Vtech Kidi Superstar range. Whether you love karaoke or youâ??re a budding DJ, this playset is so much fun! Record your audio using the microphone, then add amazing sound effects and melodies. Watch as the lights flash along to your music too! The detachable stand makes it easy to use your new DJ Microphone set wherever you like. This set includes a stand, microphone, DJ decks and more. 4 AAA batteries are needed, but not included in the box. For ages 6 and over."
EAN: 3417765317033
Posted in Board Games by ToyMaster
Posted in Toys by ToyMaster
Imaginext DC Super Friends Batmobile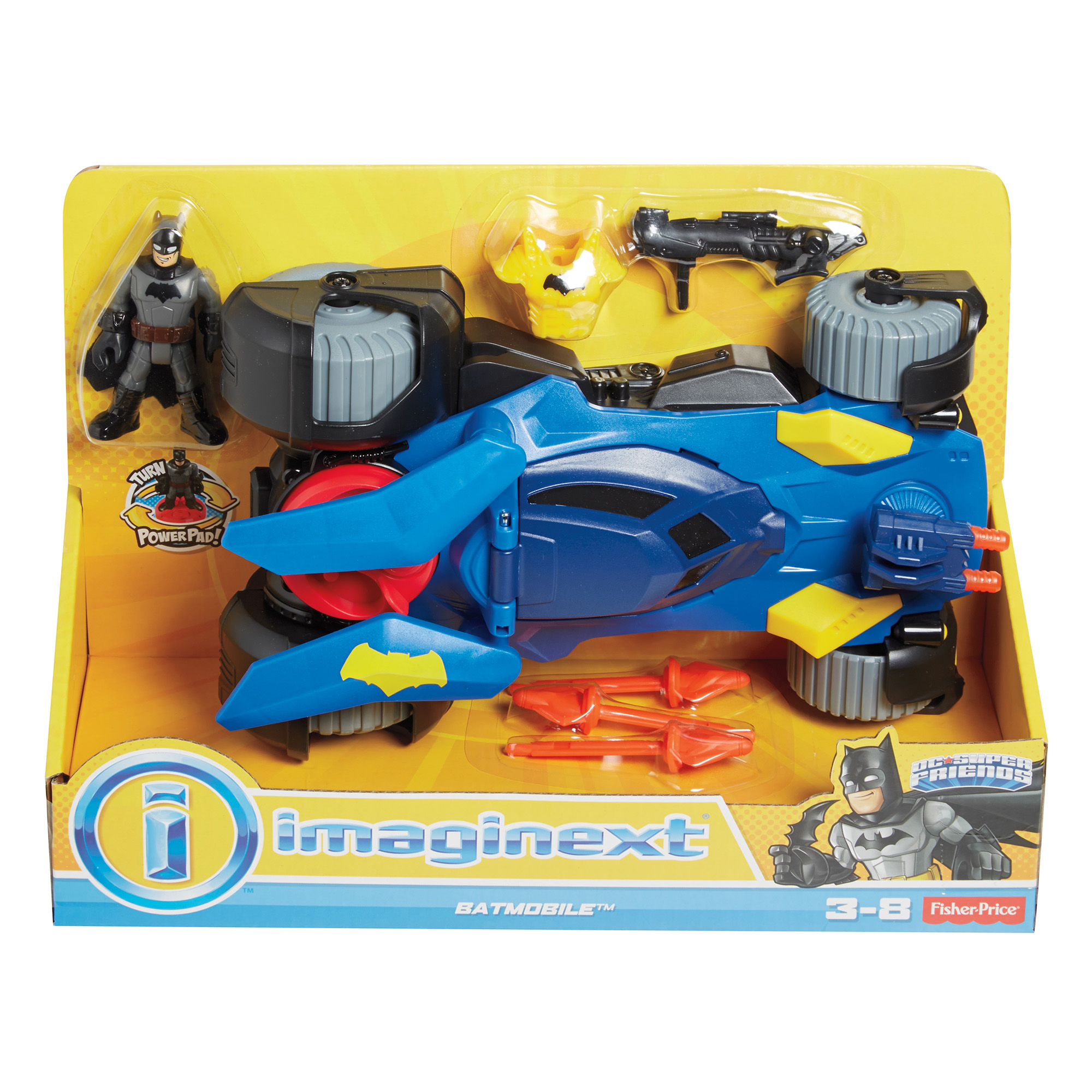 | Retailer | Price | Discount Code? | P&P | |
| --- | --- | --- | --- | --- |
| | £20.00 | No | £3.99 | |
| | £25.00 | Yes | £5.50 | |
Patrolling the streets of Gotham City has never been such a thrill ride!Open the cockpit and place Batman inside the Batmobile to start cruising for signs of trouble. Spread the wings of the Batmobile to flaunt the bat symbol and show the villains who's boss in this town.Uh, oh! The Joker is up to his old tricks and it's no laughing matter!The cool Imaginext DC Super Friends Batmobile is sure to rev up kids' imaginations as they zoom from one exciting Gotham City battle to the next, making up new adventures as they go.
EAN: 887961219036
Posted in Toys by ToyMaster
Modarri Super Deluxe Rally Pack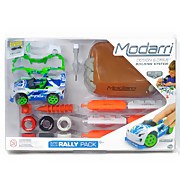 What do you get when you combine a T1 Track, S1 Street and X1 Dirt? One awesome Rally car! Or create your own! With an extra Dirt Car hood and fender you can Mix & Match right out of the box. Use jumps, cones, barriers and tire stacks to create the ultimate rally track. Our Modular Building System uses retained screws that won't fall out for quick and easy on-the-go customization. Just loosen the screws with the hex tool provided and swap out parts! Every piece is interchangeable across every Modarri car. Put yourself in the driver's seat. With Modarri PRO's real suspension and finger-steering mechanics, you can perform figure eights and tight turns without ever having to re-position your hand! Each pack includes: Blue T1 Track chassis Blue/white X1 Dirt hood Blue/white S1 Street fender Blue/white T1 Track frame White X1 Dirt hood Green X1 Dirt fender Front and Rear Suspension with wheels Swivel Tipped Hex Tool 2 Plastic Dirt Jumps 6 Interlocking Barriers (3 orange, 3 white) 6 Soft Rubber Tire Stacks (2 red, 2 black, 2 white) 8 Soft Rubber Racing Cones
EAN: 857086007085
Posted in Lego by ToyMaster
LEGO Marvel Avengers Iron Man Helmet Set for Adults (76165)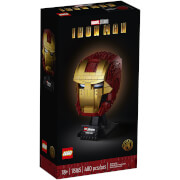 "Challenge yourself to build this awesome Iron Man Helmet from the LEGO Marvel Studios range. Capture the iconic look of Tony Stark's Iron Man Helmet with this complex LEGO build. It's the perfect gift for LEGO and Marvel fans alike. Inside the box, you'll find 480 pieces, glowing stickers for the eyes, and a name plated display stand. Once complete, this LEGO replica looks great when shown off alongside other LEGO Marvel Studios models in the range. For ages 18 and over."
EAN: 5702016757651
Posted in Toys by ToyMaster
Marvel Super Hero Adventures – Spider-Man Swingin Speeder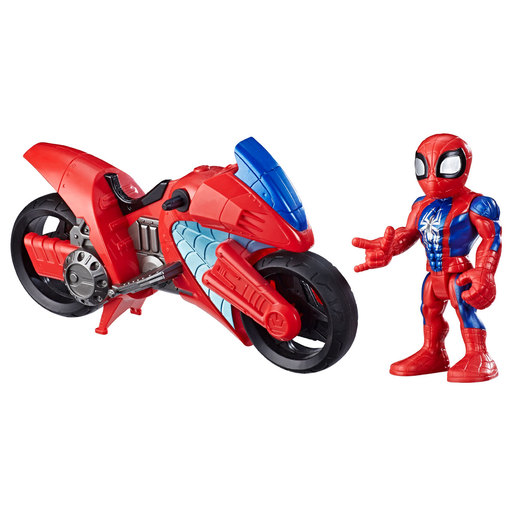 "Race your way to an amazing adventure with the Spider-Man Swinging Speeder from the Marvel Super Hero Adventure range. Whether you're fighting crime on the streets or taking on a fearsome villain, this awesome Spider-Man toy is always ready for adventure. He's wearing the classic red and blue costume and has moveable arms and legs for even more fun. When you need to get to the action quickly, hop onto your super-cool motorbike. It has an awesome sporty design and web detailing. Prepare for some serious speed! For ages 3 and over."
EAN: 5010993692040
Posted in Lego by ToyMaster
LEGO Super Mario Bowser's Castle Battle Expansion Set (71369)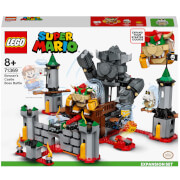 Players will love the flipping, shaking and balancing challenges in this Bowser s Castle Boss Battle Expansion Set (71369). A brilliant gift for kids to add to the LEGO Super Mario" Starter Course (71360), this castle toy playset features towers with rotating and shaking platforms, flippers to raise Bowser's arms and access the? Block and Time Block, a shaking bridge, plus Bowser, Boo, Dry Bones and Lava Bubble figures. Fun-packed appIntuitive Instructions PLUS, featuring cool viewing tools to make building even more fun, is available for this set on the free LEGO Super Mario app. The app also has tips on creative ways to rebuild and play and is a safe platform for fans to share ideas. Unlimited gameplayCollectible LEGO Super Mario sets bring a family-favorite character into the real world and are great for group competitions or solo gameplay. The modular Starter Course and Expansion Sets, plus Power-Up Packs, allow fans to create their own levels for hours of creative fun.
EAN: 5702016618488
Posted in Lego by ToyMaster
LEGO Super Mario 71370 Fire Power-Up Pack
"Get ready to defeat every enemy with the Fire Mario Power-Up Pack from the LEGO Super Mario range. This super-cool Fire Mario Power-Up Pack is your go-to when you need a bit of extra attack action. It includes a special outfit to help Super Mario react in different ways, and gives him the option to earn the awesome Fire Attack power. Connect up with the app more tips and suggestions to make playtime even more fun. This expansion pack is the perfect companion to your LEGO Super Mario Starter Course. Remember, the Super Mario figure is not included in this set. For ages 6 and over."
EAN: 5702016618495
Posted in Lego by ToyMaster
LEGO Super Mario Guarded Fortress Expansion Set (71362)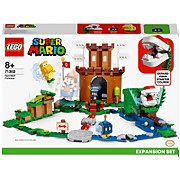 "The Lego Super Mario Guarded Fortress Expansion Set (71362) is the perfect addition to the Lego Super Mario Starter Course! Add this awesome new level to your playset and take on the challenge to see if you can defeat Bob-omb, Koopa Troopa or Piranha Plant to reach the Guarded Fortress! Find your route – Leap over brick-built lava, cross the stepping stones in 'water' or catapult your way to defeat your enemies, collect digital coins and land on the POW Block to open the fortress door. Watch how LEGO® Mario™ reacts differently as he meets and defeats new enemies! Build your own unique levels as you collect all of the Lego Super Mario playsets and Power Up packs for enhanced gameplay, the possibilities are endless and will keep you entertained for hours! You can also download the FREE Lego Super Mario app to help inspire you to build your sets and share your ideas. This 468 piece set makes a fun birthday or Christmas gift for children aged 8+."
EAN: 5702016618419
Posted in Toys by ToyMaster
Funko Pop! Heroes: Batman 80th Anniversary – Super Sized 48cm Batman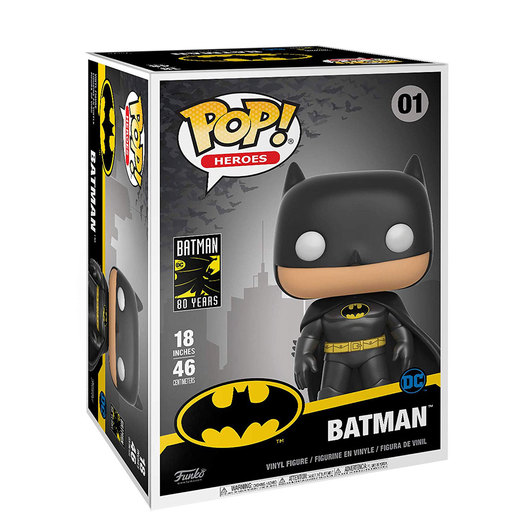 "Save Gotham City from evil with this Funko Pop! Heroes: Batman 80th Anniversary â?? Super Sized 48cm Batman figure. This Super Sized Batman figure, which looks just like the Caped Crusader, with his black outfit, utility belt and iconic mask, is 48cm tall â?? which is much taller than your average Funko Pop! figure. The Ideal gift for Funko Pop! collectors and Batman fans, this figure is sure to tower over the other Funko Pop! Figures in your collection. Celebrate Batman's 80th anniversary in style! Suitable for children aged 3 years and over. "
EAN: 889698421225
Search
Recent Posts
Get Social With Us!
Categories
Pages
Toy Retailers
Popular Tags
Toy Archive