Browsing all articles tagged with set
Posted in Toys by ToyMaster
Happyland London Bus Set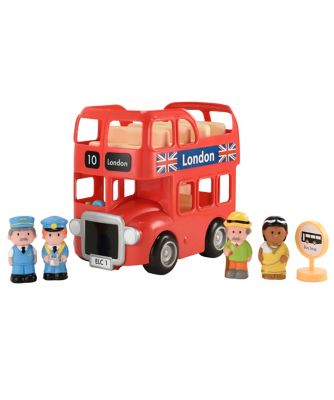 "Let your imagination run free with the ELC Happyland London Bus set. Help the tourists go sightseeing on the bright red London Bus. Place the driver in the front seat and press the steering wheel to hear cool sound effects. The ticket collector can help the passengers onto the bus. Take off the top to transform it into an awesome open-air tour bus. The bright and chunky Happyland designs are comfortable for little hands to grasp and inspiring for young minds. Combine the London Bus with other Happyland sets for even more creative storytelling options. A fun, imagination sparking vehicle for 2 and over."
EAN: 5050048034166
Posted in Toys by ToyMaster
Whizz World City Vehicle Magnetic Trio Set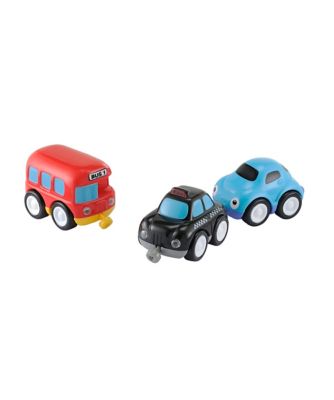 "Visit the Whizz World for some speedy adventures with the ELC City Vehicle Magnetic Trio Set. The trio includes a bus, taxi and car which are all decorated with bright colours and friendly eyes. The chunky design makes them easy for little hands to grip as they drive the vehicles across the floor and imagine exciting city adventures for them. The vehicles also link together with magnets. Drive them along in a bumper to bumper line for more fun play options. Three perfect first vehicles for 12 months and over."
EAN: 5050048034371
Posted in Toys by ToyMaster
Happyland Country Train Set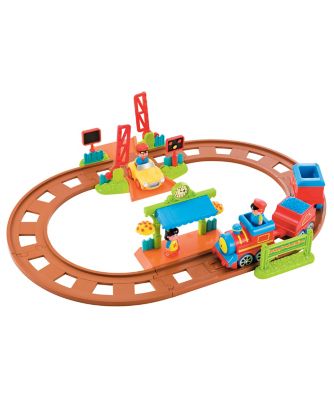 "Let your imagination run free with the ELC Country Train set. Place the driver in the engine to hear exciting train sound effects. Stop at the station to pick up the passenger who is waiting there. Look out for the driver at the level crossing! Will the train or the car go through first? The bright and chunky Happyland designs are comfortable for little hands to grasp and inspiring for young minds. Combine the Country Train with other Happyland sets for even more creative storytelling options. A fun, imagination sparking playset for 18 months and over."
EAN: 5050048034043
Posted in Toys by ToyMaster
Posted in Toys by ToyMaster
Wonder Park Grand Ferris Wheel Set
"Bring the fun of Wonder Park to life, with this Wonder Park Grand Wonder Ferris Wheel. This bright playset includes two exclusive Wonder Park figures – the figures really fit inside the Ferris Wheel carriages, so you can imagine you're at the park with your sweet figure friends. Put your Wonder Park figures into the carriages and spin the Ferris Wheel around – take in turns and make sure everybody gets a ride! Suitable for ages 3 and over."
EAN: 21664310441
Posted in Toys by ToyMaster
Posted in Toys by ToyMaster
Star Wars Legion Core Set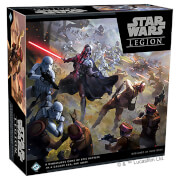 Star Wars™: Legion, a new miniatures game of infantry battles that invites you to join iconic heroes and villains, lead your troopers into battle, and battle for the fate of the Star Wars galaxy. With Star Wars: Legion, you can build and paint a unique army of miniatures. You can command your troops in battle and devise masterful tactics. And you can conquer your opponent's army to bring victory to the light side or the dark side! With thirty-three unpainted and easily assembled miniatures, and all the cards, movement tools, tokens, and terrain that you need for battle, the Star Wars: Legion Core Set is the perfect way to bring Star Wars battles to your tabletop.
EAN: 841333104436
Posted in Lego by ToyMaster
LEGO Disney Pixar Toy Story 4 Woodys Vehicle – 10766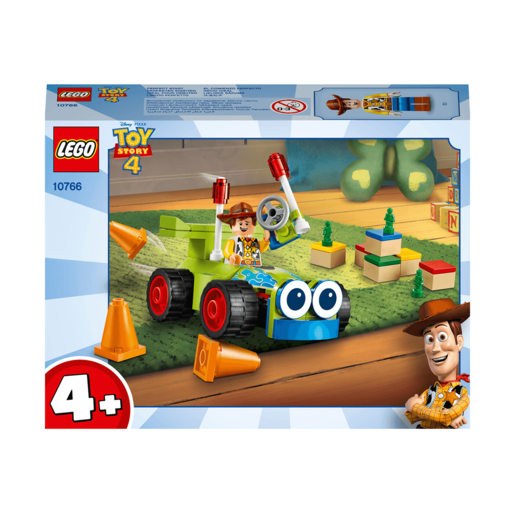 "Prepare to re-live an iconic film scene with this LEGO Toy Story 4 Woody Vehicle Set. If you remember the first film, you'll rememnber the scene at the end where Woody saves Buzz using RC. The fourth film looks set to bring this type of fun back again – and you'll be able to do it over and over again with this Pixar LEGO set. Featuring 69 pieces, you'll find a minifigure Woody and build-your-own RC inside. The set also features RC's control, three army men, three traffic cones and six blocks. Suitable for ages 4 and over."
EAN: 5702016367713
Posted in Toys by ToyMaster
Imperial War Museums Hawker Hurricane Construction Set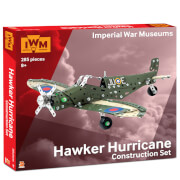 Recreate the infamous Hawker Hurricane with this all-inclusive construction set. The Hawker Hurricane was responsible for many of the RAF's victories and was crucial during the Battle of Britain in 1940. Now you can build your very own Hawker Hurricane at home with this all-inclusive construction set. This deluxe construction set will provide hours of fun for both young engineers in the making and adult enthusiasts. All parts are made with high quality, steel materials and coated with a tough anti-oxidation finish to prevent discolouration. This set includes; 1 Hawker Hurricane Model, 285 pieces, 2 specialist tools and step-by-step instructions.
EAN: 4020628870874
Posted in Toys by ToyMaster
Search
Recent Posts
Get Social With Us!
Categories
Pages
Toy Retailers
Popular Tags
Toy Archive