Browsing all articles tagged with puzzle
Posted in Toys by ToyMaster
Ravensburger Alphabet Puzzle 30 Piece Puzzle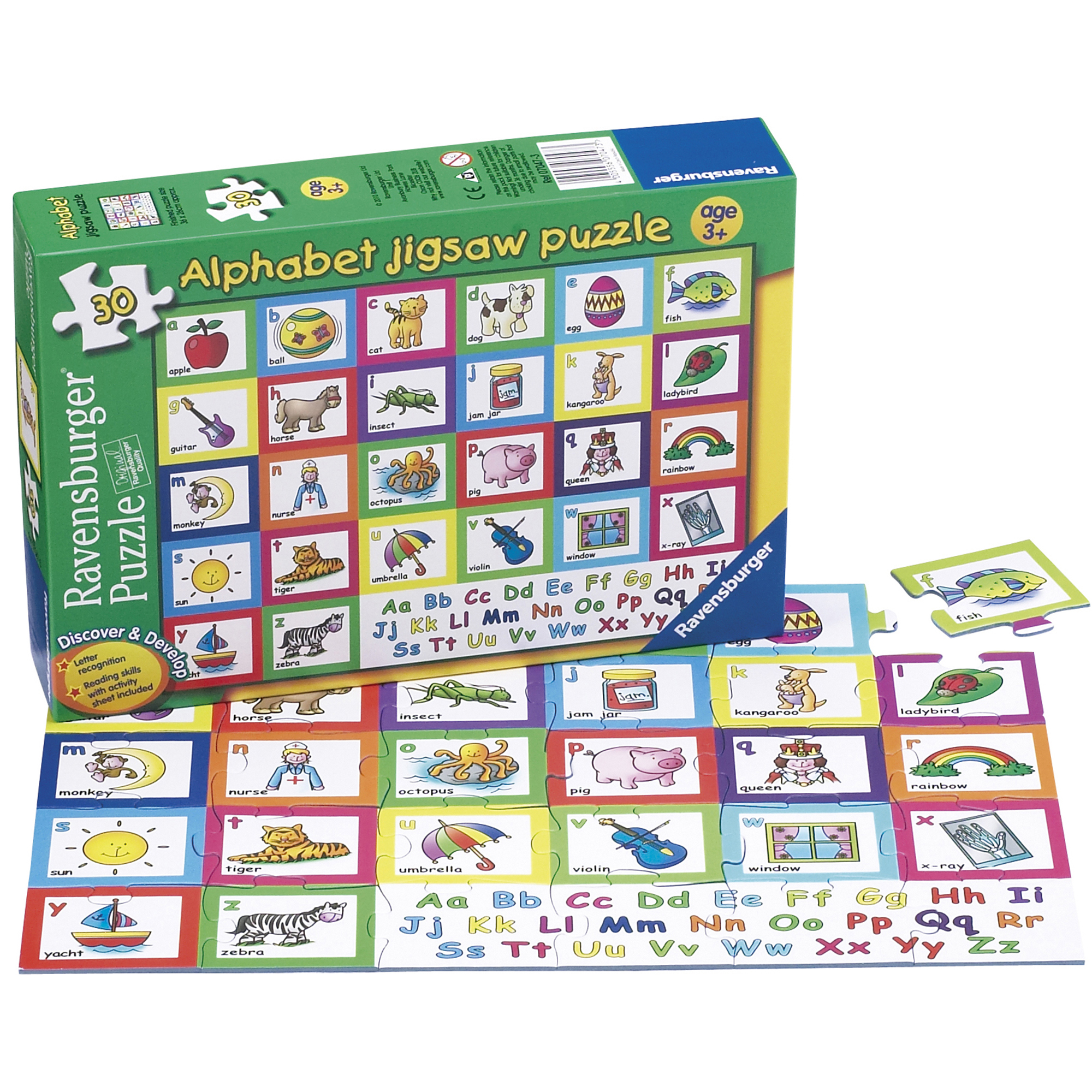 A really bright and colourful Alphabet Jigsaw Puzzle from Ravensburger. An ideal way to introduce the alphabet to young children, this puzzle shows phonetically correct images representing the 26 letters of the alphabet, plus a section showing the complete alphabet in capital and lower case letters. Each of the 26 letters is beautifully illustrated with fun pictures children can easily identify and enjoy. Each letter image is surrounded by a different coloured keyline, which helps to make the puzzle easier to piece together. The alphabet section shows both upper and lower case letters, shown in a type style that children will recognize when they move onto reading and writing at school. The puzzle also includes an activity sheet, packed with ideas and suggestions on how to use the jigsaw puzzle and introduce the alphabet to your child. This puzzle is an ideal gift for pre-school children, and would be an excellent buy for a child-minder, playgroup or similar organization. Suitable for ages 3 years upwards the Alphabet Puzzle 30 Piece Puzzle includes: 28 strong and sturdy jigsaw pieces (26 individual letter pieces and 2 large pieces illustrating the whole alphabet in upper and lower case letters) & a learn the alphabet activity sheet.
EAN: 4005556070473
Posted in Toys by ToyMaster
Ravensburger My First Jigsaw Puzzle – Peppa Pig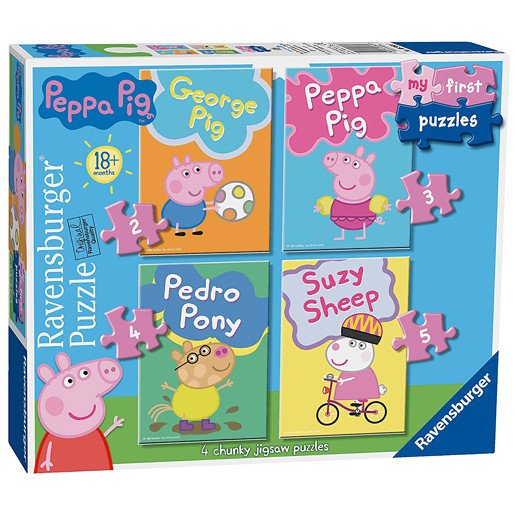 "An adorable introduction to puzzles, this Ravensburger My First Jigsaw Puzzle will delight fans of Peppa Pig. Four different puzzles means four different difficulty levels, as well as four of your favourite characters! There's a 2, 3, 4 or 5 piece puzzle, and you can choose to piece together Peppa Pig, George Pig, Suzy Sheep or Pedro Pony. Try and complete them all! Made of strong, high quality cardboard and with a special linen finish print to minimize glare, these puzzles will quickly become a rainy-day favourite. Each puzzle is 16x11cm when complete. A great introduction to puzzles for puddle-jumping pigs 18 months and over."
EAN: 4005556069606
Posted in Toys by ToyMaster
Ravensburger Peppa Pig Christmas Floor Jigsaw Puzzle, 32 Pieces
Encourages hand-to-eye co-ordination and fine motor skills Builds concentration and attention Join Peppa Pig this Christmas with this enchanting and wonderfully festive floor puzzle. Immerse yourself in a magical snowy landscape as piece by piece you get to join Santa as he give Peppa Pig and friends their Christmas gifts. This jolly puzzle even includes a door hanger which can be personalised with your own name!
EAN: 4005556055340
Posted in Toys by ToyMaster
Ravensburger PJ Masks 3D Puzzle Night Light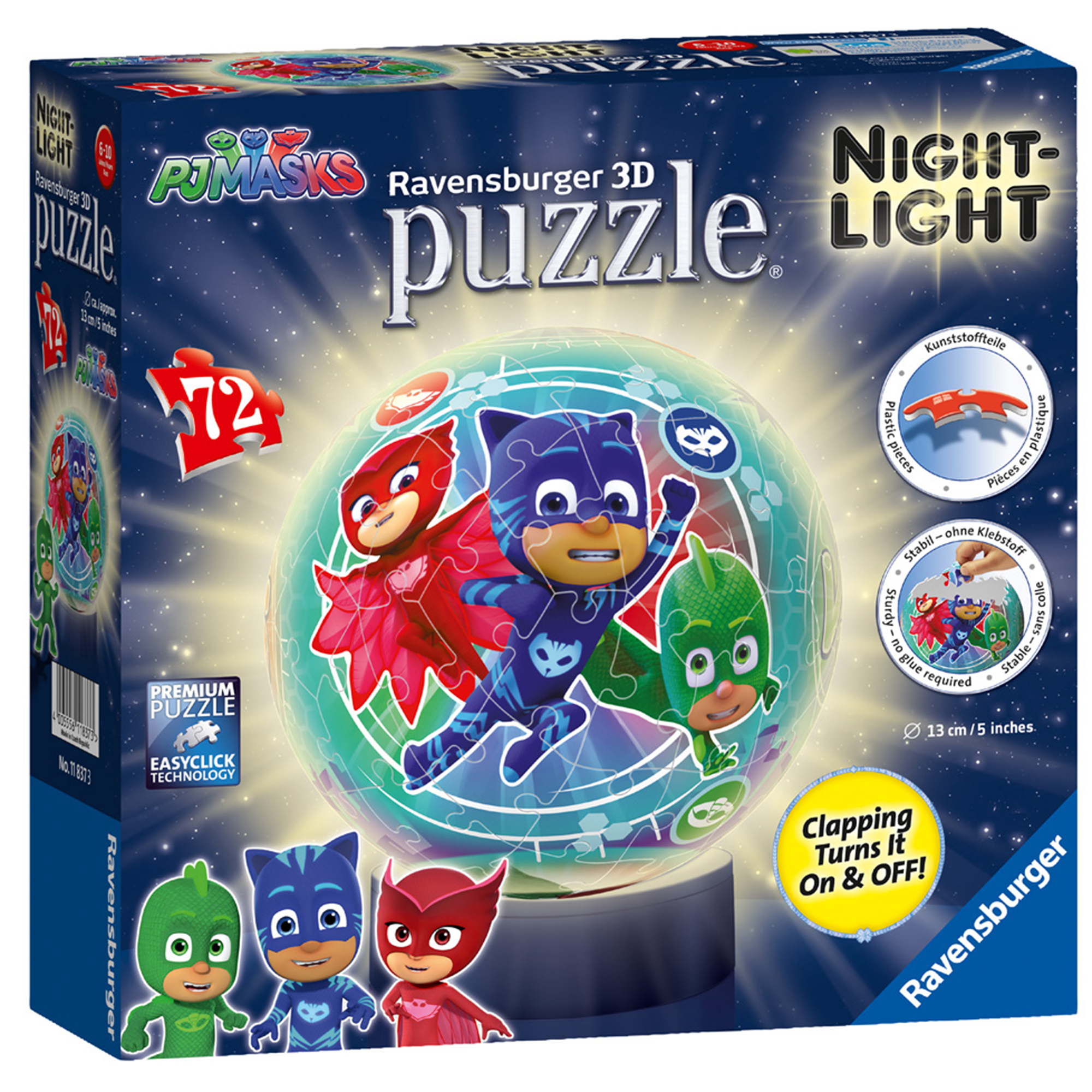 This 72 piece Ravensburger PJ Masks 3D Puzzle Night Light sees Gekko trying to save the world from the mischivous villains Romeo, Luna and the Night Ninjas in this fantastic 3D Puzzle. This product comes with a light box that can be switched on or off to illuminte the puzzleball – perfect for displaying in a bedroom as it also acts as a night light!Requires 3 x AA batteries (not included).
EAN: 4005556118373
Posted in Toys by ToyMaster
Harry Potter Mini Hogwarts Puzzle (543 Pieces)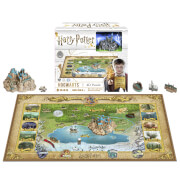 4D Cityscape now introduces the official puzzle for the Wizarding World of Harry Potter™. This puzzle will guide players through the assembly of Hogwarts™ and surrounding areas in a patented multi-layer puzzle design. The first layer is a 500+ piece jigsaw puzzle that will teach you all about the various locations and regions of Hogwarts™. The second layer you insert 3D miniature replicas models into the puzzle, which include famous buildings and structures such as Hogwarts™, Quidditch Pitch™, Hungarian Horntail, and many more! Each model is a highly detailed sculpt piece of the actual location. In addition, the puzzle comes with an Official Guide to Hogwarts™. Ages 8+.
EAN: 714832520048
Posted in Toys by ToyMaster
Ravensburger Graffiti Sneakers 3D Jigsaw Puzzle – 108pc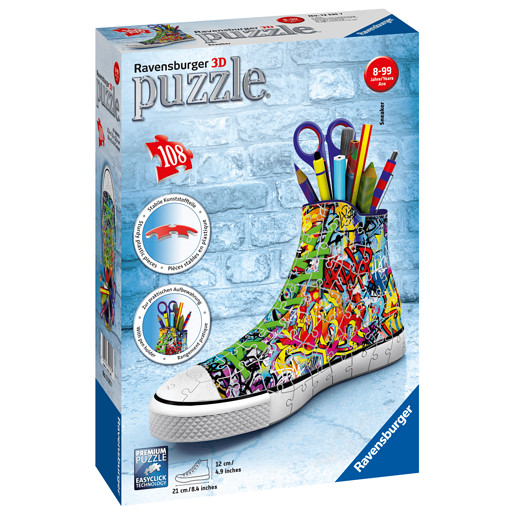 "Race to the next level of puzzling with Ravensburger's Graffiti Sneakers 3D Jigsaw Puzzle. Your friends will envy your cool sneaker pencil holder, and they'll be amazed when they realise it's a puzzle! Assemble the 108 unique, plastic pieces of this puzzle and you'll have created a strong and sturdy designer sneaker. No glue needed! The finished puzzle measures 21x9x13cm. Build the sneaker from the picture or, if you get stuck, follow the numbers printed on the reverse side of the pieces. A fantastic, fun present for puzzlers 8 and over."
EAN: 4005556125357
Posted in Toys by ToyMaster
Build it 3D HMS Victory Puzzle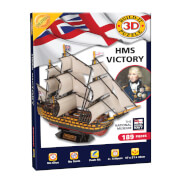 Forever famous for its role in the Battle of Trafalgar, the Victory is now in Portsmouth's historic dockyard museum. This great model lets you recreate Nelson's flagship, the oldest commissioned warship in the world. The puzzle contains 189 pieces together with detailed brochure containing 'how to build' instructions and information on the history of the vessel. The pieces simply push together so no glue or tools required.
EAN: 5015766002392
Posted in Toys by ToyMaster
Ravensburger New York, 5000pc Jigsaw puzzle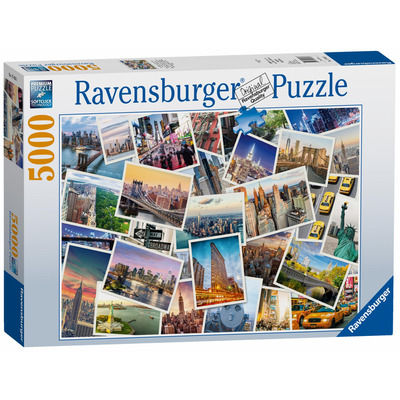 Any visit to New York will be packed with great visual memories. This stunning jigsaw puzzle shows just that – snapshots of key New York sights, cleverly arranged to look like a scrapbook page. Dip in and discover shots of the Empire State Building, Brooklyn Bridge, Statue of Liberty, One World Trade Centre, Flat Iron Building, Times Square, Central Park and Broadway. You'll also find iconic yellow taxis, views of traditional apartment blocks and the tree-lined brownstone streets of Brooklyn. The traditional white borders of the photos and the plentiful images ensure you'll have plenty of challenges as you sort, place and piece together this marvellous design. High quality 5000 piece cardboard jigsaw puzzle. The finished puzzle measures 153 x 101cm when complete. Suitable for ages 12 years and up. Made from strong premium grade cardboard, with linen finish print to minimise glare on puzzle image. At Ravensburger we have over 50 years' worth of experience in the manufacture of puzzles. Not only do we make the best selection of puzzles, we also pride ourselves on having the highest quality. Individual pieces are stamped with such precision that a quiet click can be heard when one piece is inserted in the other – this phenomenon is so unique that we have given it its own name 'Softclick Technology.' Our puzzles are made using unique punching templates and punching tools, which are hand-crafted with watchmaker precision to ensure the greatest possible accuracy and variety of the puzzle pieces.
EAN: 4005556174331
Posted in Toys by ToyMaster
Ravensburger Farmyard Friends Jigsaw Puzzle
You're never too young for jigsaw puzzles and the Farmyard Friends set from Ravensburger is the ideal first jigsaw for young children and novices. Featuring 9 two-piece puzzles, each shows a different farmyard animal: There's a pig, cow, chicken, sheep, goat, horse, duck, dog and cat. The puzzles are made from super-thick, double laminated card and are presented within themed frames.
EAN: 4005556069040
Posted in Toys by ToyMaster
Ridleys Gin Lover Jigsaw Puzzle, 500 pieces
It's all about the gin with this Gin Lover's Jigsaw Puzzle from Ridley's Games. This 500-piece puzzle will make the ultimate gift for every gin fan. Piece it together to make a comprehensive illustrated chart of gin drinks, botanicals, spices and fun gin facts from around the world. The puzzle comes in a smart cylindrical box. Puzzle size 35 x 59cm
EAN: 5055923757932
Search
Recent Posts
Get Social With Us!
Categories
Pages
Toy Retailers
Popular Tags
Toy Archive