Browsing all articles tagged with puzzle | toys4xmas
Posted in Toys by ToyMaster
Posted in Toys by ToyMaster
Posted in Toys by ToyMaster
Posted in Toys by ToyMaster
Posted in Lego by ToyMaster
Lego Minifigure Faces 1000 Piece Puzzle
Lego is the greatest toy ever created – fact. This writer could happily stop typing right now and just go and play with Lego for days. Ahh what a life that would be… Anyway. Whether your Lego journey is just beginning or you've built an entire Lego utopia in your attic – this puzzle's for you.
EAN: 9781797210193
Posted in Lego by ToyMaster
Lego Minifigure 1000 Piece Puzzle
Lego is just the best. Fun. Educational. Iconic. No other toy comes close. Whether you've just start clicking bricks together or you're a bonafide Master Builder with a Lego metropolis in your loft – this puzzle's for you. The Lego Minifigure Puzzle celebrates the classic yellow character and all of its many costumes. With 1000 pieces, it's guaranteed to bring hours (or weeks depending on your aptitude for puzzles) of fun for the whole family.
EAN: 9781452182278
Posted in Toys by ToyMaster
Trefl Funny Dog Portraits Jigsaw Puzzle – 1000pcs.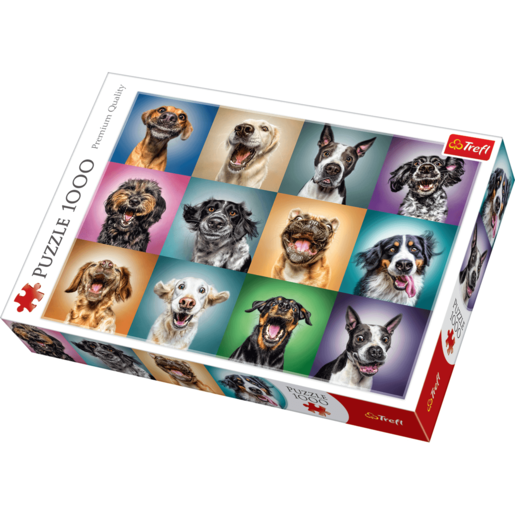 "This Funny Dog Portraits Jigsaw Puzzle from Trefl shows that it's not just humans who pull funny faces! Complete the 1000 piece puzzle to see all of these pups' toothy grins. This is a high-quality puzzle made of thick cardboard and covered with a special non-reflective layer to make sure the picture is super clear. At 68x48cm when finished, you'll want to rebuild this puzzle again and again to see your favourite posing pups. For puzzlers 12 and over."
EAN: 5900511104622
Posted in Toys by ToyMaster
Ravensburger Disney Christmas 1000pc Jigsaw Puzzle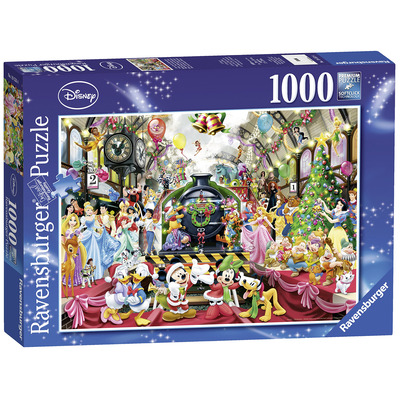 Get into the Christmas mood with this jigsaw showing over 60 characters from the wonderful world of Disney. Spot lots of your favourite Disney and Disney Pixar characters as they gather at the railway station, ready to board the train and travel to a magical Christmas destination. Winnie, Piglet, Eeyore and Tigger ensure the steam locomotive is decorated with lights, bows and a Mickey shaped garland, whilst Mickey himself takes on the role of Santa, with a large sack of presents. Other characters included in this fabulously festive scene include Cinderella, Aurora, Belle, Rapunzel, Ariel, Merida, Tiana, Minnie Mouse, Donald and Daisy Duck, Tinker Bell, Bambi, Buzz Lightyear, Woody, Mike, Sulley, Pinocchio, Peter Pan and Captain Hook. This 1000 piece jigsaw puzzle is ideal to enjoy with friends, family, or just on your own as you sort through the high quality pieces and assemble the fabulously detailed and colourful scene. High quality 1000 piece cardboard jigsaw puzzle. The finished puzzle measures 70 x 50cm when complete. Suitable for ages 12 years and up. Made from strong premium grade cardboard, with linen finish print to minimise glare on puzzle image. At Ravensburger we have over 50 years' worth of experience in the manufacture of puzzles. Not only do we make the best selection of puzzles, we also pride ourselves on having the highest quality. Individual pieces are stamped with such precision that a quiet click can be heard when one piece is inserted in the other – this phenomenon is so unique that we have given it its own name 'Softclick Technology.' Our puzzles are made using unique punching templates and punching tools, which are hand-crafted with watchmaker precision to ensure the greatest possible accuracy and variety of the puzzle pieces.
EAN: 4005556195534
Posted in Toys by ToyMaster
This toy no longer exists.
Try visiting www.xmas-toys.co.uk you may find it there.
EAN: 8412668179967
Posted in Toys by ToyMaster
This toy no longer exists.
Try visiting www.xmas-toys.co.uk you may find it there.
EAN: 8412668176966
Search
Recent Posts
Get Social With Us!
Categories
Pages
Toy Retailers
Popular Tags
Toy Archive