Browsing all articles tagged with pink
Posted in Toys by ToyMaster
Fingerlings Baby Monkey – Two Tone – Summer (Pink and Orange)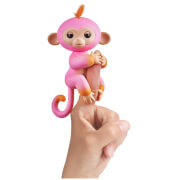 Meet Summer – part of the exciting new Fingerlings baby monkey series featuring trendy two-tone ombrée tints. Summer is a pink monkey with orange accents and soft hair who knows when she is being pet, talked to, and even hung upside down! Fingerlings are adorable baby monkeys that are curious about the world around them-starting with you! These interactive pets love to hang onto your finger, blink their eyes, turn their heads, blow kisses, swing by their tails, and talk in silly monkey babble! T
EAN: 771171137252
Posted in Toys by ToyMaster
Fingerlings Baby Monkey – Glitter – Rose (Pink)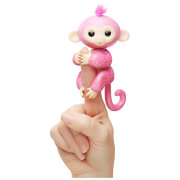 Glitter girl Rose is like a bouquet of pink flowers – you can count on her to cheer you up! This pink baby glitter monkey with her matching pink hair has a sunny personality and will do everything in her power to make you smile. Like all Fingerlings pets, she loves holding onto your finger, and knows when you are petting her, talking to her, and even hanging her upside down! Fingerlings are adorable baby animals that are curious about the world around them-starting with you! These interactive pe
EAN: 771171137641
Posted in Toys by ToyMaster
Kurio Watch 1.0 Pink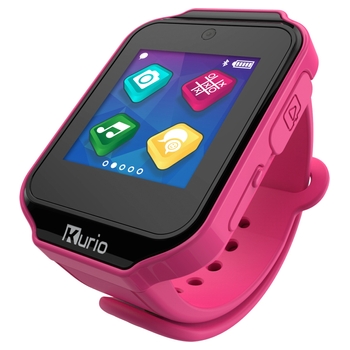 The Smart Watch built for kids. Pre-loaded with 20 apps for gaming, education and social communication with a multi-function screen. The Smart watch can take pictures, edit photos, record videos, text, play music, play videos, activity track, translate phrases and can also operate as a hands free kit for an Android Smartphone/Tablet. Bluetooth technology – take part in multi-player gaming, messaging and listen to music/videos. It can also be used as a hands-free way for take phone calls when connected to an android smartphone. For additional storage space the smartwatch includes a SD card slot giving users the option to add up to 32GB of additional memory. For ages 6 year and over. Batteries required: 1 x rechargeable (included) . WARNING(S): Not suitable for children under 3 years old. Only for domestic use.
EAN: 8436542832427
Posted in Toys by ToyMaster
Tommee Tippee Sangenic Tec Nappy Disposal Bin – Pink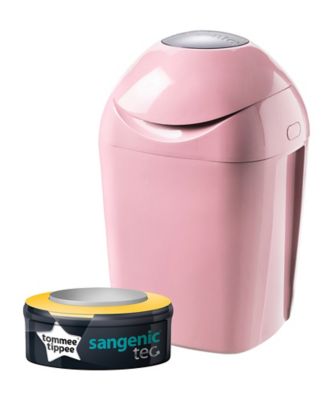 Anti-bacterial film kills 99% of germs on contact and offers unbeatable odour protection100 times more effective at odour protection than nappy sacks+Comes with one pre-loaded film cassetteBin holds up to 28 nappies at one time**Based on using size 1 nappies (2-5kg)Individually twists & wraps nappy to lock in odourThe innovative Sangenic Tec nappy disposal system from Tommee Tippee offers anti-bacterial protection from germs and odours, individually sealing each nappy away in seconds. The tub holds up to 28 nappies too, conveniently storing nappies for fewer trips to the bin. The system is easy to set up, easy to use and easy to empty, meaning you can spend less time changing and more time with baby.Quick & convenient nappy disposal system. Just place the nappy in the well until gripped and twist the dial to individually wrap each nappy. One simple action and the nappy is sealed.Sangenic Tec is the only system to lock in odour by twisting and wrapping each nappy in a fresh portion of multilayer, antibacterial film. The Sangenic Tec nappy disposal system is easy to use with no fuss or mess as the Easi-Push plunger pushes the nappy into the bin so you don
EAN: 5010415400819
Posted in Toys by ToyMaster
Teamson Kids Kitchen Pink Play Kitchen 1 Piece
The one piece country kitchen is available in white and pink and features a fridge, freezer, oven, hob, eye-level microwave and sink. Not forgetting the added chalk board to write down the weekly shopping list, a drinks dispenser with a mug, hand held phone for taking all the orders, easy to turn dials and plenty of storage space for pots, cutlery and plates. Includes accessories. For ages 3 years and over. WARNING(S): Not suitable for children under 3 years old. Only for domestic use. To be used under the direct supervision of an adult.
EAN: 812401016142
Posted in Toys by ToyMaster
Olivias Little World Little Princess 18inch Doll Furniture Sweet Pink Kitchen
Cooking is a breeze for dolly with the dream pink kitchen; Play kitchen has a chic floral design on the window for the oven, a pull handle to open up to reveal the delicious meal inside, stove top, sink and storage area above sink with clock to make sure dollys food doesnt burn; Dolls play kitchen includes sink area, oven that opens up and storage shelf. Teach your kids colour and character recognition and enhance their imaginative minds. Great for encouraging childrens independence. Suitable for 18; (45cm) dolls – doll not included. Designed, manufactured and packaged by skilled craftsman. Part of the olivias little world collection. Size H43.18, W23.5, D15.88cm. Weight 2130g. For ages 3 years and over. WARNING(S): Not suitable for children under 3 years old. Only for domestic use. This toy does not provide protection.
EAN: 812401019730
Posted in Lego by ToyMaster
LEGO Friends Storage Brick 8 – Pink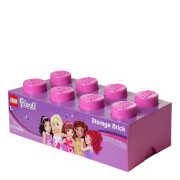 The perfect storage box for any fans of the LEGO Friends sets, this eight studded bright purple container, designed to look like an oversized LEGO brick will make tidy up time fun. With a 12 litre capacity, the generous dimensions of the brick will hold plenty of LEGO, or whatever treasures need a new home. Each Storage 8 brick will stack with others to create additional storage in a bedroom or playroom. Features: LEGO Storage Brick 8 LEGO Friends range- Bright Purple Oversized LEGO brick shape with eight studs Fully removable lid Ideal for LEGO, toys, books and gadgets Stackable with any Brick 8 boxes Size: Dimensions: H: 18cm x W: 25cm x D: 50cm Capacity: 12 litres
EAN: 5711938018375
Posted in Toys by ToyMaster
My Babiie MB02 Pink Chevron Stroller
Meet the My Babiie MB51 Pink Chevron Stroller – ultra-loaded with exceptional handling, these lightweight aluminium buggies that are super manoeuvrable. Fully equipped with lockable and swivelling single front wheels and a handy shopping basket, the MB51 stroller is ideal for any trip out with your little one from birth (with its full recline). In case we hadn't put enough features on it there is a the luxury padded adjustable leg rest.The My Babiie MB51 range of strollers also come with an extendable 3 position hood to keep your baby shaded from the sun and elements, however you can maintain a visual on your precious cargo with handy viewing window on the back of the hood. MB51 has doubled up sun protection with added UPF50+ (UV Protection) in the hood. Free handy cup holder and rain cover as well as Free apron footmuff so that if you are strolling in the sunshine or braving the wet weather you have a trendsetting and versatile superstar to push.Designed by celebrity mum Billie FaiersStylish ultra-modern strollerSuitable from birth to maximum 15kgStunning complimentary colour handlesHeight adjustable handlesLightweight & strong aluminium chassisEasy fold technologyLockable front swivel wheelsSide carry handleCompact foldExtendable 3 position canopyPadded removable front barLarge storage basketFront and rear wheel suspensionAdjustable 2-position leg restHood includes storage pocketFull recline (suitable from birth)Padded 5 point safety harnessSmall to store when foldedFREE Coordinating footmuffFREE Cup holderFREE Rain coverFREE 1 year guaranteeSafety notice: suitable from birth up to 15kgs
EAN: 700461514350
Posted in Toys by ToyMaster
Fingerlings Baby Monkey – Two Tone – Candi (Pink and Blue)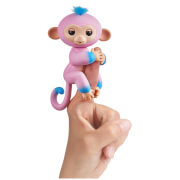 Meet Candi – part of the exciting new Fingerlings baby monkey series featuring trendy two-tone ombrée tints. Candi is a pink monkey with blue accents and soft hair who knows when she is being pet, talked to, and even hung upside down! Fingerlings are adorable baby monkeys that are curious about the world around them-starting with you! These interactive pets love to hang onto your finger, blink their eyes, turn their heads, blow kisses, swing by their tails, and talk in silly monkey babble! They
EAN: 771171137221
Posted in Toys by ToyMaster
Tommee Tippee Closer To Nature Anytime Soother 6-18 Months X2 Pink
Tommee Tippee Closer To Nature Anytime soothers is a new range of soothers that are approved by babies. Tommee Tippee Closer To Nature Anytime soothers symmetrical orthodontic nipple has been specially designed to help optimise baby acceptance.
EAN: 5010415333551
Search
Recent Posts
Get Social With Us!
Categories
Pages
Toy Retailers
Popular Tags
Toy Archive