Browsing all articles tagged with pink
Posted in Toys by ToyMaster
Posted in Toys by ToyMaster
Posted in Toys by ToyMaster
Pink Spider Catcher
Calling all Arachnophobes – your saving grace has arrived. Say hello to the Spider Catcher, a handy little device that allows you to rid your home of those evil eight-legged critters without having to resort to squashing them in a tissue. Coming in a pretty pink colour, the eye-catching catcher will fast become a girl's best friend. The long pole features a set of spiny bristles which captures the spider as you release the trigger. Just take the offending beast outside and pull the trigger to set it free, without causing it any harm. The Spider Catcher can also be used on wasps, bees and other stinging insects. – L.M. Spider Catcher – the environmentally friendly way to remove spiders from your house Catch and hold/transport spiders or other insects without hurting them (or you!) Can catch insects from 2mm up to 25mm in length Plastic 'grabber' handle and rod, nylon 'grabber' bristles Comes with clear bristle protector Size: 65 x 15 x 7cm
EAN: 5060122731751
Posted in Toys by ToyMaster
Cushtie Cushion Original – Pink
This Black Cushtie Cushion is compact at only 1 foot high and an extremely soft comfortable pillow. Use it anywhere, whether at home, away or on the move! If you travel in planes, trains or cars and need some home comforts to sleep, remember to take your Cushtie Cushion. It is filled with tiny polystyrene beads which can be squashed and squeezed to fit around you and bounce back into shape afterwards. Not only is the Cushtie a great pillow, it can also be used as a cushion when lounging around watching television. Whatever you do with it, squeeze, squash, hug, snuggle or pummel it will bounce back to it's original shape. The Cushtie Cushion is supplied with it's own bag so you take it anywhere and squeeze it into your suit case. It makes an ideal gift for anyone at home but especially if you want some home comfort on your travels.
EAN: 35594092490
Posted in Toys by ToyMaster
This toy no longer exists.
Try visiting www.xmas-toys.co.uk you may find it there.
EAN: 3296580418183
Posted in Toys by ToyMaster
Bandai Tamagotchi 20th Anniversary Series 2 Purple / Pink
The original virtual reality pet is back. Tamagotchi is celebrating its 20th anniversary with this smaller version of the original Japanese digital toy that everyone loves. Featuring novel sounds, pixelated design and egg-shaped styling to take you back to the nineties this miniature handheld video game is easy to operate with a simple screen and three small buttons allowing you to see your small creature hatch from its egg and develop into an adult. Feed it, clean up after it and take care of it to see your Tamagotchi pet grow through different stages of life. The more you feed and nurture the happier and healthier your pet will become. Watch out for the sick bug and give it your love and care to help your pet on its way to recovery. The ideal pocket-sized toy for both kids and adults alike this virtual pet is sure to be your new favourite companion and a great way to introduce the next generation to a classic childhood toy from the past. Take yourself back to the nineties with this Tamagotchi electronic pet Celebrate the 20th anniversary of the popular Japanese egg-shaped digital toy Feed, care and nurture to see your pet grow from an egg to a mature adult The more attention you give the happier and healthier it will become Features iconic sounds, pixelated design, classic styling and a keychain Introduce kids to your favourite nostalgic childhood digital toy On/off sound controls and 6 assorted styles to collect (each sold separately)
EAN: 3296580418152
Posted in Toys by ToyMaster
LeapFrog Shapes and Sharing Picnic Basket – Pink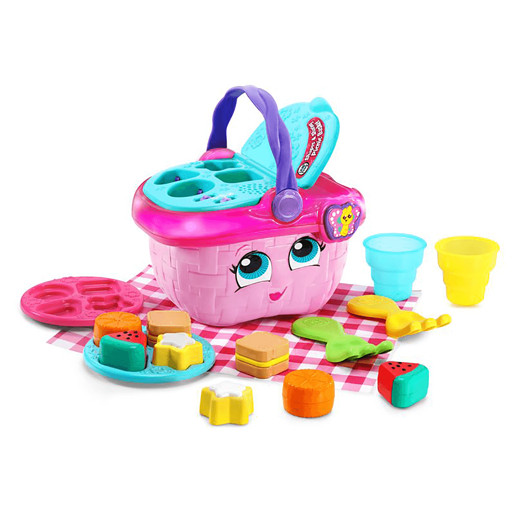 "LeapFrog's adorable Shapes and Sharing Picnic Basket makes learning especially delicious. Open the lid to hear fun learning songs and sound effects. The shape sorter on the other side of the basket recognises food pieces by shape and colour for rewarding, sorting fun. The included cutlery and blanket pieces complete the role-playing fun, and with all of the pieces fitting easily into the basket, you can take it on-the-go with you – just like in real life! Switch between different learning modes for endless imaginative and interactive fun. 3AA Batteries included. A basket packed full of fun for 6 and over."
EAN: 3417766036032
Posted in Toys by ToyMaster
VTech 8-in-1 Kidi Concert, Pink
Let's get this party started! Kidi Concert is the Bluetooth speaker for kids, simply connect your music player via Bluetooth or cable to hear all of your favourite tunes! Press the light projector button to create a disco atmosphere and watch the colours dance around your room. Features: Colour changing disco light Built-in MP
EAN: 3417761639030
Posted in Toys by ToyMaster
LeapFrog LeapStart 3D, Pink
Get your child excited about learning to read, problem-solving, counting and so much more with the LeapFrog LeapStart 3D! This interactive learning system is perfect for little active minds. With over 400 replayable activities your child will be fully prepared for school. Works with all LeapStart Books.
EAN: 3417766039538
Posted in Toys by ToyMaster
LeapFrog Count & Crawl Kitty Pink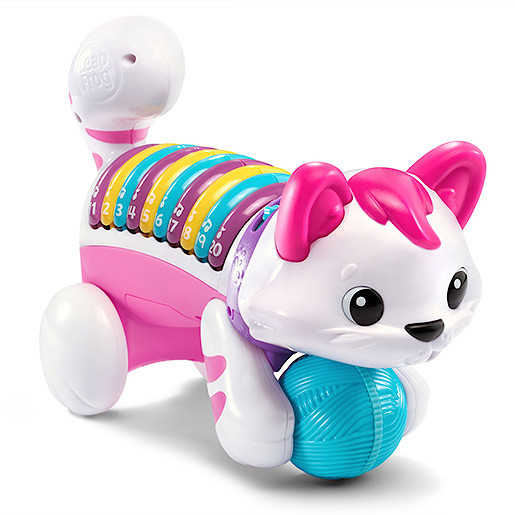 "Counting becomes the cat's meow with Count and Crawl Kitty. Children nine months and up can press Kitty's colourful keys to learn to recognise numbers 1-20, with cute kitty phrases to reinforce the learning, explore 'mew-sical' notes from high to low and create their own tunes on a meow piano! Younger babies will love sitting and batting Kitty's ball of wool to hear special counting and learning songs, such as "Tummy, Whiskers, Tongue and Paws." Once on the move, little ones can crawl and push to activate the songs and learn along with Kitty while developing number and motor skills. Please note: 3 x AAA demo batteries are included."
EAN: 708431193505
Search
Recent Posts
Get Social With Us!
Categories
Pages
Toy Retailers
Popular Tags
Toy Archive