Browsing all articles tagged with pink
Posted in Dolls by ToyMaster
Posted in Toys by ToyMaster
Professor Pengellys Putty – Unicorn Glitter Pink
| Retailer | Price | Discount Code? | P&P | |
| --- | --- | --- | --- | --- |
| | £2.00 | Yes | | |
| | £6.99 | No | | |
Professor Pengelly's Putty – Unicorn Glitter Pink
EAN: 5055371522342
Posted in Toys by ToyMaster
Cozy Microwaveable Boots – Light Pink
Snuggle up like you've never snuggled up before with these Cozy Microwaveable Boots. After a long, hard and chilly day at work, come home to the soft, warm, lavender-scented loveliness of these microwaveable boots. Simply warm these luxury boots in a microwave for the ultimate in comfort and relaxation. Suitable for foot size 3-7.
EAN: 5060075685972
Posted in Dolls by ToyMaster
Baby Born Sporty Collection (Pink)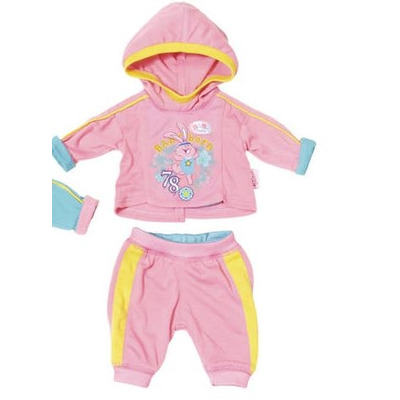 A jump to the right, a jump to the left and a few star jumps… phew, sport can be hard work! But it's no problem for BABY born®, as her sporty collection of jogging bottoms and hoody lets her move around in total freedom. BABY born®'s sister is just as sporty. Dressed in turquoise with grey-flecked sleeves, fun colourful prints and zip applications, they do forward and backward rolls, jump over boxes and balance along beams. But the two of them also love to laze around on the sofa. Whatever they are doing, they always look good in these tracksuits.
EAN: 4001167823774
Posted in Toys by ToyMaster
Lil Gleemerz Babies – Pink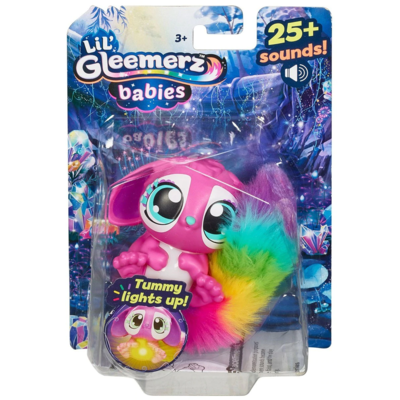 These Lil' Gleemerz™ babies are ready for teeny gleem dreams! Each have a different look and all have beautiful rainbow plush tails. Press its lil' nose and the adorable tummy lights up with LED rainbow colors. It responds to movement, too — tilt for a purr or shake it and you may even hear it fart! Discover up to 25 cute baby sounds and phrases. Adopt them all!​
EAN: 887961775556
Posted in Soft Toys by ToyMaster
Warmies Microwavable Plush Toy – Pink Sparkly Unicorn
The Sparkly Pink Uniform is a supersoft, fully heatable, lavender scented Unicorn guaranteed to provide comfort and cheer. The Cozy Heatable Plush Sparkly Unicorn is fully heatable: simply pop in the microwave for a couple of minutes. Warming will allow the gentle lavender scent to be released that will calm and relax all who own him. Features: Microwavable soft toy Can be surface cleaned with a damp sponge Gently scented with relaxing lavender
EAN: 5060075684937
Posted in Toys by ToyMaster
Posted in Toys by ToyMaster
Disney Princess 27cm Mulan Fashion Doll – Pink Dress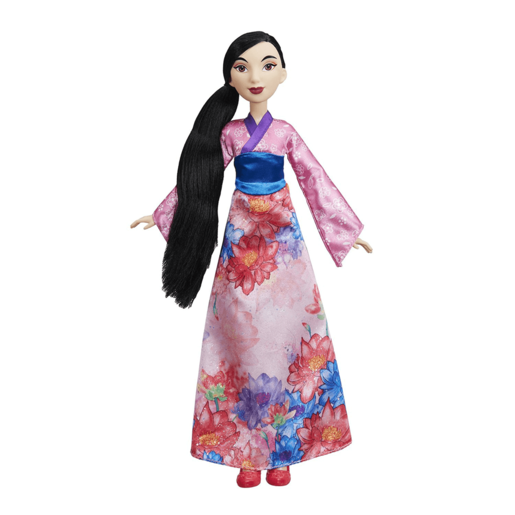 Mulan is ready for shimmering adventures with your little princess! Royal Shimmer Mulan dazzles in a dress featuring signature colours and images from her story and a special watercolour design! Your little dreamer will love playing out magical moments from Disney's Mulan, as well as imagining her own fairy tale with this beloved Princess.
EAN: 5010993458172
Posted in Toys by ToyMaster
Posted in Dolls by ToyMaster
Baby Born Winter Boots Pink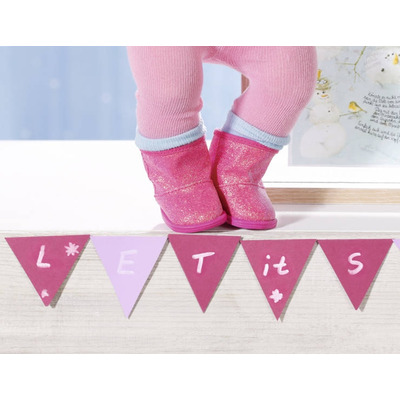 In winter, BABY born® wears her seven-league boots in silver, in the latest design. Wearing them, she can walk for seven leagues, and they are so glittery that they can be seen from seven leagues away, too. Sometimes BABY born® is too lazy to walk. Then she sits in her buggy, holds her feet in the sun and watches them sparkle.
EAN: 4001167824573
Search
Recent Posts
Get Social With Us!
Categories
Pages
Toy Retailers
Popular Tags
Toy Archive