Browsing all articles tagged with pack
Posted in Toys by ToyMaster
Super Wings Transform-a-Bots Planes 4 pack Jett, Mira, Paul, Grand and Albert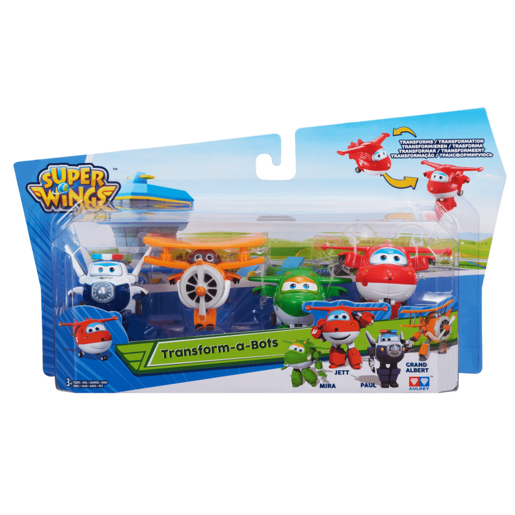 "Super Wings are here with a special delivery for your little one! This special pack includes four heroes from the smash-hit TV show – Jett, Mira, Paul and Grand Albert. Transform each mini-figure from plane to robot in three easy steps then act out your favourite Super Wings episodes. Super Wings follows the adventures of Jett and friends who travel the world experiencing different cultures. A great gift for pre-schoolers aged three and up. Check out even more great toys in our preschool range"
EAN: 6911400351408
Posted in Soft Toys by ToyMaster
Pikmi Pops Season 2 Surprise 2 Plush Pack (Styles Vary)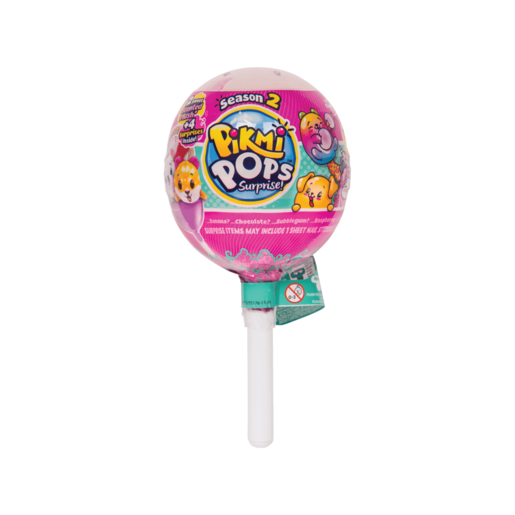 "You could find anything inside a Pikmi Pop! This big lollipop is filled with surprises including 2 mini-plushies and a host of other sweet treats. Prizes could include notebooks, sticker sheets, nail decals, pencil case, charms keyrings and erasers! There are 3 colours to choose from and each one contains something different. Open it up and then display your gifts using the lollipop stand. There are 45 mini-plushies to collect. What will you find in yours? Suitable for ages 5+. Includes: Lollipop case with stand 2 mini-plushies 4 other randomly selected wrapped gifts which may include notebooks, sticker sheets, nail decals, pencil case, charms keyrings and erasers Collectors guide "
EAN: 8056379056355
Posted in Toys by ToyMaster
SilverLit Robo Kombat Twin Pack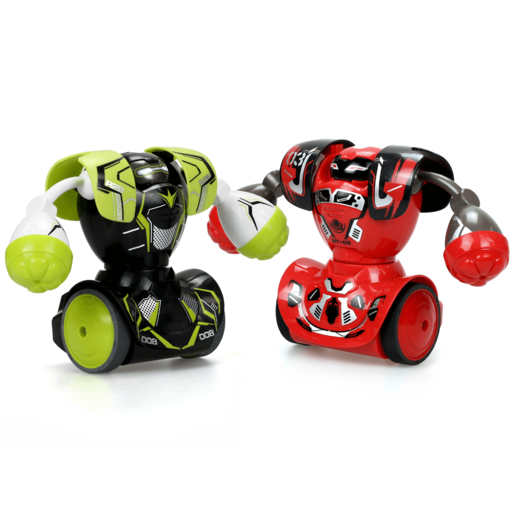 "The Robo Kombat Twin Pack from SilverLit will provide hours and hours of robot battling action! With their power fists, and huge range of movements including a combo punch, these battles will be filled with nail-biting ups and downs. Use the two controllers to battle against friends or attack the unmanned robot and watch it fight back in the AI battle mode! The durable robots even include sound effects and incredible, light-up, LED eyes for even more dramatic battling action. Batteries required. Awesome robot action for 5 and over."
EAN: 4891813880523
Posted in Toys by ToyMaster
Smashers 8 Pack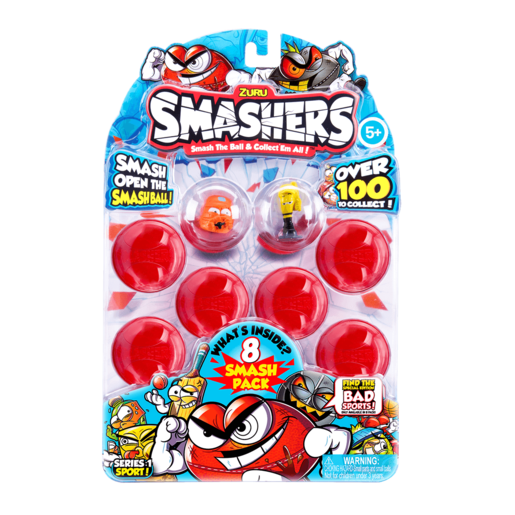 "Smash the ball & collect 'em all – SMASHERS! Just throw, smash, surprise to find over 100 wacky sports characters inside! Find the Special Edition Bad Sports – only available in 8 packs. Smash your Smashers on the ground, to the wall or anywhere you can think and start building your Smashers collection today! It's time for you to dunk n' smash your way to victory with our Series 1 Smashers! With access to Limited Edition characters and exclusive Super Rares, the smashing will never end! Keep track of your collection with our free Collector's Guide inside every pack or download our Smashers app! The Smashers app allows you to play games, interact with your collection and collect Smash Points to earn your way to become a Smashers champion!"
EAN: 845218019488
Posted in Toys by ToyMaster
Treasure X Single Pack
"Use the included tool to dig, chip and fizz your way through the 10 adventure levels of the Treasure X Single Pack. Will you find the golden treasure, or will you end up in a booby trap? Piece together the collectible, skeleton treasure guardian, complete with fearsome weapon and themed accessories. Unlock the treasure chest to reveal if you're found the real gold treasure, or a plastic replica piece. The collector's map will help you plan your next mission to collect and swap 24 awesome action figures until you hit real gold! Tricky, treasure hunting fun for 5 and over."
EAN: 630996415009
Posted in Toys by ToyMaster
Hasbro Star Wars Forces of Destiny Endor Adventure Action Figures Pack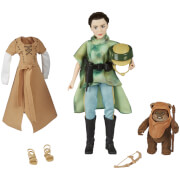 | Retailer | Price | Discount Code? | P&P | |
| --- | --- | --- | --- | --- |
| | £11.99 | No | £2.99 | |
| | £25.99 | Yes | | |
Princess Leia Organa is a bold leader of the Rebel Alliance. During a mission on Endor, she meets Wicket the Ewok. Their friendship leads to victory as the Rebels and Ewoks join forces against the evil Empire! Imagine epic adventures defending against the Empire among the giant trees of the forest moon of Endor with these Star Wars Forces of Destiny adventure figures. The highly poseable Princess Leia Organa figure features realistic rooted hair, and two removable outfits. When it's time to journey through the deep woods, dress her in her removable poncho, helmet, pants, and boots. Then put her in her dress and shoes for the celebration at the Ewok village. Wicket has a removable hood and an adorably fuzzy body. Re-create the battles and stories of Star Wars with these true-to-entertainment figures. Star Wars products are produced by Hasbro under license from Lucasfilm Ltd. Hasbro and all related terms are trademarks of Hasbro. Features: Highly poseable 11-inch Star Wars Princess Leia Organa adventure figure Fuzzy, poseable Wicket the Ewok figure Princess Leia Organa has realistic rooted hair and true-to entertainment design Dress Leia in her removable poncho, helmet, pants, dress, and shoes Imagine epic adventures in forests of Endor
EAN: 630509528714
Posted in Toys by ToyMaster
ROBLOX Apocalypse Rising 4×4 Vehicle Pack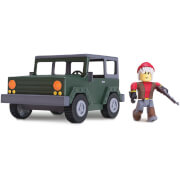 | Retailer | Price | Discount Code? | P&P | |
| --- | --- | --- | --- | --- |
| | £15.99 | Yes | | |
Apocalypse Rising, created by Gusmanak and Zolarketh, is the biggest open world zombie survival game on Roblox, topping 100 million gameplays. Now you can take the fight off the screen and into your living room with this zombie-busting playset. Take Red out for a spin in her motorized bulldog and pulverize this apocalypse once and for all!
EAN: 681326107712
Posted in Nerf by ToyMaster
Nerf Nitro Refill Darts (3 Pack)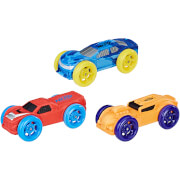 | Retailer | Price | Discount Code? | P&P | |
| --- | --- | --- | --- | --- |
| | £6.99 | Yes | | |
Blast into overdrive! Kids can create awesome stunts as they fire foam cars from blasters that feature the power and performance of the Nerf brand! Blast into stunts to go high, go far, go fast! This set includes 3 foam cars for use with Nerf Nitro blasters (each sold separately). Features: Includes 3 foam cars with plastic wheels. Age 5 and up CAUTION: TO AVOID INJURY: Ensure that no people or animals are in the path of cars. WARNING: CHOKING HAZARD – Small parts may be generated. Not for children under 3 years.
EAN: 5010993381319
Posted in Toys by ToyMaster
Galt Fairy Princess Face Paints, Pack of 6
"Give yourself a Fairy Princess makeover with these Galt Face Paints. Ideal for fancy dress and role play, the six pastel colours are very easy to apply. You also get glitter gel and face stickers for an even more magical look. A great art set for kids aged five and up. What's in the box? 6 x colour face paint discsGlitter gel Face stickers Brush Sponge Instructions "
EAN: 5011979566294
Posted in Toys by ToyMaster
Minecraft Wither Survival Pack
From the hit video game, Minecraft, take home the Wither Survival Pack. Collect all of the Minecraft action figures! Includes: Wither, Wither skeleton head, shooting head, soul sand block and clear base.
EAN: 681326166412
Search
Recent Posts
Get Social With Us!
Categories
Pages
Toy Retailers
Popular Tags
Toy Archive