Browsing all articles tagged with pack
Posted in Playmobil by ToyMaster
Playmobil Knights 70036 Treasure Battle Stater Pack
"Get ready for battle with this amazing Knights Starter Pack with Treasure set from Playmobil. It looks like another knight is here to steal your treasure! Keep your golden nuggets and gems safe by defeating the bad guy with your mighty sword and shield. Watch out for the giant spider, though! This set has everything you need for the best playtime ever. You'll find 2 knight figures, 1 animal figure and 24 amazing accessories inside the box. For ages 4 and over."
EAN: 4008789700360
Posted in Lego by ToyMaster
Posted in Lego by ToyMaster
Posted in Nerf by ToyMaster
Nerf Nitro 3 Cars – Pack 4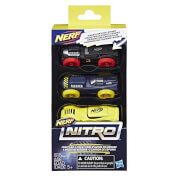 Blast into overdrive! Kids can create awesome stunts as they fire foam cars from blasters that feature the power and performance of the Nerf brand! Blast into stunts to go high, go far, go fast! This set includes 3 foam cars for use with Nerf Nitro blasters (each sold separately). Includes 3 foam cars with plastic wheels. Foam cars Designed for speed and distance Includes 3 foam cars Age 5 and up CAUTION: TO AVOID INJURY: Ensure that no people or animals are in the path of cars. WARNING: CHOKING HAZARD – Small parts may be generated. Not for children under 3 years.
EAN: 5010993381289
Posted in Lego by ToyMaster
LEGO DOTS 41913 Bracelet Mega Pack
"Create your own stylish accessories with the Bracelet D.I.Y Mega Pack Jewellery Set from the LEGO Dots range. Whether you swap yours with your friends or create jewellery to match your outfit, this LEGO Dots set is so much fun. Use the included tiles to decorate the colourful bands, then redesign them in any way you like when you're ready for something new. There are 295 assorted tiles in the set, as well as 5 adjustable bands and a storage tray. For ages 6 and over."
EAN: 5702016668674
Posted in Toys by ToyMaster
Funko Pop! Funkoverse Extension 2 Pack Character Set – DC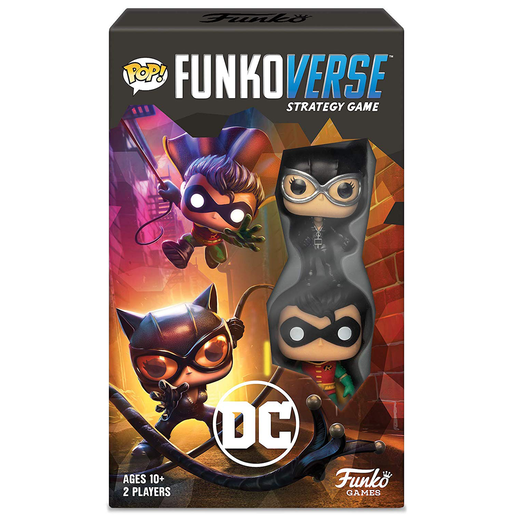 Get the new Funkoverse board games now! Funko Games Funkoverse DC Comics Board Game Strategy Game Funkoverse functions like many other strategy board games. Every turn, each player can perform two actions with a single unit e.g. moving across the board or using any of the characters unique abilities. The powers are based on a cool down system, which means players will have to wait a few turns before they can use them again. It works like it would in a video game: the stronger the power, the longer the cool down. Since each unit is unique, players can mix and match franchises to figure out their favourite character and power combinations. Content: 2 exclusive Mini Funko Pop! Vinyl game figures, a double-sided game board, game cards, dice Official Funko product 4 pack available here LANGUAGE: ENGLISH Combine your favourite characters and go head-to-head in four exciting game scenarios! Select your favourite heroes and have fun playing with your friends and family!
EAN: 889698426466
Posted in Toys by ToyMaster
Wicked Vision Essentials Home Activity Toy Pack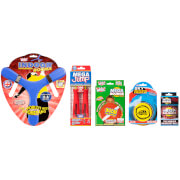 | Retailer | Price | Discount Code? | P&P | |
| --- | --- | --- | --- | --- |
| | £25.00 | Yes | | |
| | £25.99 | No | | |
| | £25.99 | No | | |
Perfect Travel/ Holiday pack to keep the kids entertained for inside and out – includes an Indoor Boomerang, Mini Skyrider flying disc, Mega Bounce Play Ball, Lega Bounce Inflatable play ball and Skipping Rope Includes Boomerang, Inflatable Ball, Flying Disc, Skipping Rope and Bouncey Ball Perfect for Travel, Holidays and Weekends Great to keep kids entertained
EAN: 5060170943052
Posted in Toys by ToyMaster
Wicked Vision Premium Outdoor Garden Activity Toy Pack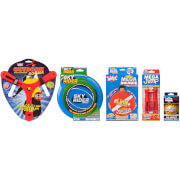 | Retailer | Price | Discount Code? | P&P | |
| --- | --- | --- | --- | --- |
| | £30.00 | Yes | | |
| | £35.99 | No | | |
| | £35.99 | No | | |
Perfect for all days out/ holidays/ trips to the park and even in the garden – Includes Outdoor Returning Boomerang, Mega Bounce XTR Bouncing Ball, Skyrider Flying Disc, Mega Jump Skipping Rope and Mega Bounce Junior Ball Includes Boomerang, Flying Disc, Skipping Rope, Mega Bounce Ball, and XTR Ball For outdoor use in Garden, Park or Beach
EAN: 5060170943038
Posted in Toys by ToyMaster
Posted in Toys by ToyMaster
Ravensburger Disney Frozen 4 in a Box Puzzle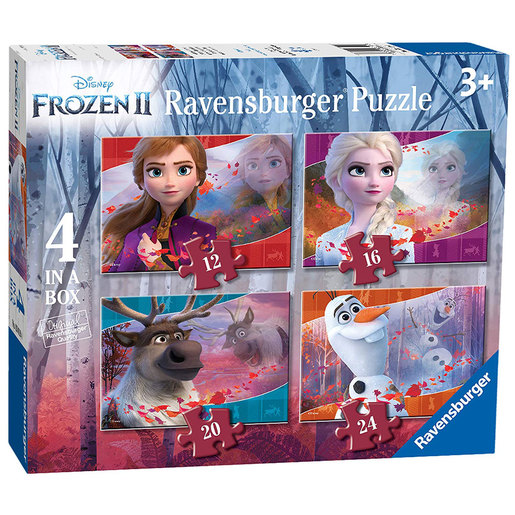 "These 4 Ravensburger Puzzles include all your favourite Disney Frozen characters. Each of the puzzles features a colourful picture of Elsa, Olaf and the whole gang. They increase in the number of pieces used, making it an ideal set for families or kids of different ages. Made from strong premium grade cardboard with linen finish print, Ravensburger jigsaws always meet the highest possible standards. An ideal gift for Disney fans aged four years and up. What's in the box? 1 x 12-piece jigsaw 1 x 16-piece jigsaw 1 x 20-piece jigsaw 1 x 24-piece jigsaw "
EAN: 4005556030194
Search
Recent Posts
Get Social With Us!
Categories
Pages
Toy Retailers
Popular Tags
Toy Archive