Browsing all articles tagged with monopoly
Posted in Toys by ToyMaster
Monopoly Manchester City F.C. Edition
Play Manchester City FC MONOPOLY and live the life of a high-flying trader in the fast-paced world of professional football. Buy, sell and trade Manchester City FC's best players, past and present. Current players and legends are all up for grabs, from Bert Trautmann to Colin Bell via Steph Houghton, Raheem Sterling and Sergio Agüero. Collect colour groups and build stands and stadiums to really see the rent come pouring in. Play the Manchester City FC edition of MONOPOLY, everyone's favourite family board game. Order your limited edition copy of the World's best board game today!Features:The world's best family board game brings you another exciting edition of MONOPOLY – Manchester City FCChoose your favourite token a football, trophy or a whistle, choose your favourite Manchester City FC legend from Colin Bell To Joe Mercer and accumulate fortunes, but watch out for taxes, jail and bankruptcy Advance to Sergio Aguero, Kevin De Bruyne or Raheem Sterling – will you owe rent or reap the rewards?Invest in stands and stadiums and trade your way to success The Fast-Dealing Property Trading Game is fun for the whole family
EAN: 5036905029230
Posted in Toys by ToyMaster
Monopoly – Limerick Edition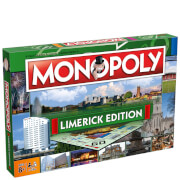 Celebrate Ireland's inaugural National City of Culture with this special edition of the MONOPOLY game! From architectural awards to cosmopolitan café culture, this beautiful city inspires so much more than its eponymous poetry! Start your tour of Limerick with a trip to The Hunt Museum, which boasts a fascinating collection of over 2,000 artefacts, before allowing the delicious smells drifting from the Milk Market to draw you in. After perusing the aisles for artisan delights, head over to the quayside; the waterfront is alive with stylish pubs and cosy restaurants overlooking the River Shannon. All this sightseeing wearing you out? Pop into O'Mahony's Booksellers to pick up a paperback, before resting your legs at The Stormy Teacup for some tea and cake, or pay a visit to The Buttery if it's wine and tapas you're after. In pride of place stands King John's Castle, the historic core of the city and one of the best-preserved Norman castles in Europe, home to a wealth of interactive exhibitions or simply a location from which to take in a fantastic view of the city below. All your favourite locations and more have made it onto the game board, so get ready to roll the dice and let the craic flow as you play MONOPOLY: The Limerick Edition Age 8+ Players 2-6
EAN: 5036905028394
Posted in Toys by ToyMaster
Monopoly – Grimsby Edition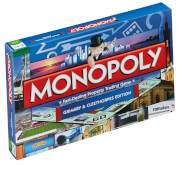 Grimsby Monopoly Board Game is the timeless board game but with a new exciting twist. It's about strategy, chance, luck and ultimately greed! Work your way to the top and be a success. This is a suitable game to play with the whole family, whether you're spending the night in or away on holiday. Age 8+ Players 2-6
EAN: 5036905024822
Posted in Toys by ToyMaster
Monopoly – Guildford Edition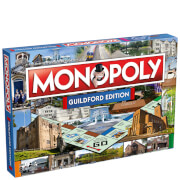 Celebrate Surrey's liveliest market town with this special edition of MONOPOLY! A stroll along the picture-perfect cobbled High Street will illustrate why Guildford was voted the luxury shopping capital of the UK; lined with beautiful historic buildings that house both high-end favourites and independent establishments, the retail opportunities are endless. Check out the listings at the Yvonne Arnaud Theatre, with an eclectic mix of classical and contemporary work, there is quality drama to suit everyone's tastes. For state-of-the-art entertainment, G Live offers a diverse programme featuring everything from music gigs to stand-up comedy. If you're in the mood for the great outdoors, visit Stoke Park where you can practice your kickflips in the skate area, or simply take some time to relax in the open green space. Fancy yourself as a wine connoisseur? Head over to Greyfriars Vineyard for a tasting session where you can sample their stunning sparkling English wine. As you move around the board, you will also encounter Guildford's renowned educational institutions: Lanesborough Preparatory School, Royal Grammar School, Guildford College and the University of Surrey, which all feature proudly in this official MONOPOLY edition. All these and more have made it onto the board, so locate your favourite hotspots and get ready to roll the dice! Age 8+ Players 2-6
EAN: 5036905028370
Posted in Toys by ToyMaster
Monopoly – Colchester Edition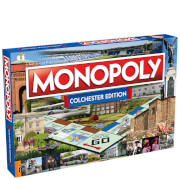 As Britain's oldest recorded town, Colchester boasts a colourful history dating back over 2000 years, from Roman temples to Victorian halls. However, the town is far from ancient history – with countless places to eat, drink and shop, it is also a thriving cultural hub, now immortalised by this special edition of MONOPOLY! Walk on the wild side with over 260 species at Colchester Zoo, or check what's on the programme at the Mercury Theatre. If it's retail therapy you're after, head over to Fenwick, or if you're in the mood for some pampering, why not book in a rejuvenating massage at Moors Health & Beauty Salon? Traverse the board to discover historical landmarks such as the majestic Augustinian convent St. Botolph's Priory and the picturesque streets of the Dutch Quarter, both fine examples of the town's rich and impressive heritage. As you turn the final corner, the talismanic Jumbo Water Tower stands before you in all its glory! All these and many more are up for grabs, so locate your favourite hotspots, roll the dice and get ready to play MONOPOLY: Colchester Edition. Age 8+ Players 2-6
EAN: 5036905028332
Posted in Toys by ToyMaster
Monopoly – Sheffield Edition
Cities, towns, counties and now even football clubs are celebrated through these special editions of this classic family game. Featuring many of Sheffield's most famous landmarks and cultural icons, they make wonderful gifts, souvenirs of a trip, or great family fun with a local flavour. This special version is based around Sheffield. Move around the board, buying and selling property. Build houses and hotels on your property and charge other players rent when they land on your locations. Sit back and accumulate a fortune from your property empire, but watch out, avoid taxes, jail or going bankrupt. Order your limited edition copy of the World's best board game today!Features:The world's best family board game brings you another exciting edition of MONOPOLY – SheffieldChoose your favourite token, tour your favourite sites and accumulate fortunes, but watch out for taxes, jail and bankruptcy Advance to The Peak District, Sheffield Hallam University or Meadowhall – will you owe rent or reap the rewards?Invest in houses and hotels and trade your way to success The Fast-Dealing Property Trading Game is fun for the whole family
EAN: 5036905007917
Posted in Toys by ToyMaster
Monopoly – Derby Edition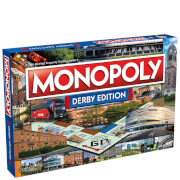 As the UK's most central city, Derby sits at the very heart of England in more ways than one, offering a wonderful mix of culture and history to locals and visitors alike. Start your tour of this vibrant and friendly city by learning about its heritage; brush up your knowledge of Georgian life at Pickford's House, or visit the Museum and Art Gallery to marvel at the wonderful works of Joseph Wright of Derby. If you're in the mood for the great outdoors, take a stroll around Markeaton or Darley Park before refuelling with a classic British fish and chips from Zan Fish! Or if sports are more your scene, why not head over to the iPro Stadium to cheer on Derby County F.C., or check out the cycling at Derby Arena? If your MONOPOLY money is burning a hole in your pocket, hit the shops at Intu Derby, or if you fancy something a little more eclectic, see what hidden gems the Market Hall has to offer. As you turn the final bend, the stunning Silk Mill building stands in pride of place; a symbol of Derby's crucial role in the Industrial Revolution, which lies at the core of the city's identity. All your favourite locations and more have made it onto the board, so get ready to roll the dice and celebrate Derby with this special edition of Monopoly! Age 8+ Players 2-6
EAN: 5036905028349
Posted in Toys by ToyMaster
Monopoly – Only Fools and Horses Edition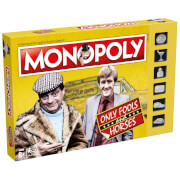 Go on a Monopoly style trip through Britain's best-loved sitcom, Only Fools and Horses. This game set takes players through highlights from across the series, with property squares being replaced by popular episode titles like "Yuppy Love" and "A Touch of Glass". What's more, it features collectible play pieces that include a flat cap, martini glass, and of course the iconic three-wheeled Reliant Robin. This is a must-have game and collectors item for any fan of classic Only Fools and Horses!
EAN: 5036905035927
Posted in Board Games by ToyMaster
Fortnite Monopoly
Fortnite meets Monopoly in this incredible crossover board game that combines two amazing titles into one. The game board may look familiar to Monopoly fans, but in this game you're battling for health points instead of cash! Choose from one of 27 different outfits and then make your way around the board to secure your favourite Fortnite locations. Roll the dice and use loot chest items to battle your opponents and stay ahead of the storm – last player standing wins!
EAN: 5010993633586
Posted in Toys by ToyMaster
Monopoly for Millennials Board Game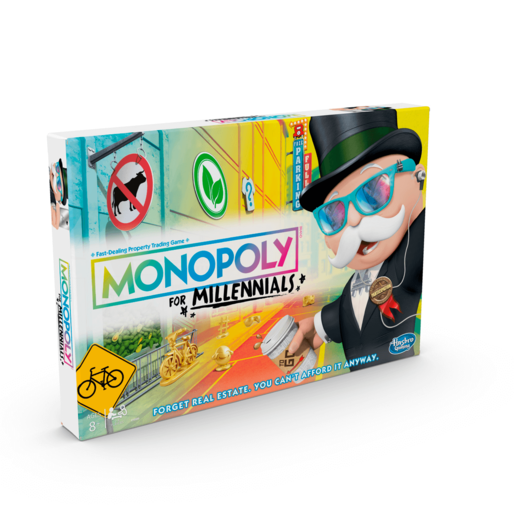 "The classic game of Monopoly gets a modern makeover with the exciting and fun Monopoly for Millennials Board Game. Experiences are worth more than money on the rainbow coloured Monopoly for Millennials board, so get travelling to discover cool places to eat, shop and relax. Visit your friends, attend music festivals and interact with the other players through the relatable Chance and Community cards. Combining the distinctive elements of Monopoly with new game pieces that include a hashtag and an emoji face, this board game is perfect for playing at get togethers. Millennial Monopoly fun for 8 and over."
EAN: 5010993618910
Search
Recent Posts
Get Social With Us!
Categories
Pages
Toy Retailers
Popular Tags
Toy Archive