Browsing all articles tagged with monopoly
Posted in Board Games by ToyMaster
Monopoly Board Game – Exeter Edition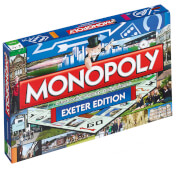 MONOPOLY, the classic family board game, has now arrived at the city of Exeter! The edition is a snapshot of a city that is brimming with culture, heritage and history! As you travel around the board you will spot the medieval architecture of the stunning Exeter Cathedral, the unique Stepcote Hill and the extraordinary ancient monuments of Guildhall and The Underground Passages among other well-known city landmarks. Build houses and hotels on your property and charge other players rent when they land on your locations. Sit back and accumulate a fortune from your property empire, but watch out, avoid taxes, jail or going bankrupt. This is Monopoly, only set in Devon! Will you be the last person standing owning it all? Order your limited edition copy of the World's best board game today! Features: The world's best family board game brings you another exciting edition of MONOPOLY – Exeter Choose your favourite token, tour your favourite sites and accumulate fortunes, but watch out for taxes, jail and bankruptcy Advance to Royal Albert Memorial Museum, Crealy Great Adventure Park or Exeter Cathedral – will you owe rent or reap the rewards? Invest in houses and hotels and trade your way to success The Fast-Dealing Property Trading Game is fun for the whole family Suitable Age: 8+ Number of Layers: 2+
EAN: 5036905024815
Posted in Board Games by ToyMaster
Monopoly Board Game – Canterbury Edition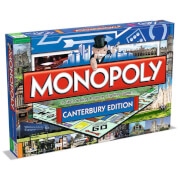 The idyllic city of Canterbury is bursting with wonderful things to do and places to see. From historic museums to soaking up the culture with collections ranging from world explorers and travellers to ancient Egypt. Start your journey by watching a T20 Match at The Spitfire Ground St Lawrence or treat yourself to a shopping spree at the various malls. If you're hungry for more entertainment you could watch a show at the picturesque theatres. What better way to end your journey than visiting two UNESCO World Heritage sights; St Augustine's Abbey and Canterbury Cathedral. All these sites and more in the Canterbury Edition of Monopoly. Order your limited edition copy of the World's best board game today! Key Features The world's best family board game brings you another exciting edition of MONOPOLY – Canterbury Choose your favourite token, tour your favourite sites and accumulate fortunes, but watch out for taxes, jail and bankruptcy Advance to Canterbury Cathedral, St Augustine's Abbey, University of Kent – will you owe rent or reap the rewards? Invest in houses and hotels and trade your way to success The Fast-Dealing Property Trading Game is fun for the whole family Suitable Ages: 8+ Number of Players: 2+
EAN: 5036905022859
Posted in Board Games by ToyMaster
Monopoly Board Game – Cheltenham Edition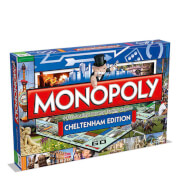 The city of Cheltenham Spa was originally designed only as a health resort for wealthy visitors but now see all that it has to offer in this unique version of Monopoly. Begin your journey with a relaxing stroll through the serene and beautiful gardens. Before catching a show at The Playhouse Theatre which has been run by volunteers for fifty years! One final stop before galloping away, the Cheltenham Racecourse is a must see; why not go to one of their annual events for a day at the races that you will never forget. All these sites and more in the Cheltenham Edition of Monopoly. Order your limited edition copy of the World's best board game today! Key Features The world's best family board game brings you another exciting edition of MONOPOLY – Cheltenham Choose your favourite token, tour your favourite sites and accumulate fortunes, but watch out for taxes, jail and bankruptcy Advance to The Cheltenham Playhouse, Cheltenham Literature Festival or Cheltenham Racecourse – will you owe rent or reap the rewards? Invest in houses and hotels and trade your way to success The Fast-Dealing Property Trading Game is fun for the whole family Suitable age: 8+ Number of Players: 2+
EAN: 5036905022873
Posted in Board Games by ToyMaster
Disney Frozen 2 Monopoly Frozen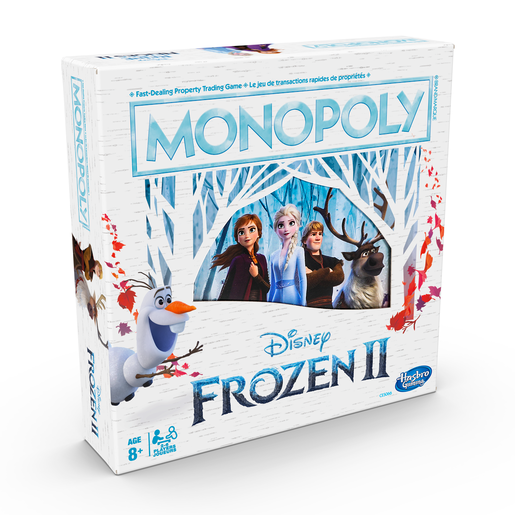 "Get ready to play, with upto six players travelling around the board and buying up magical locations inspired by the Disney Frozen 2 movie â?? including Arendelle and beyond. Just like the Monopoly you know and love, the last player with money when all the other players have gone bankrupt wins. Set comes with six character tokens â?? Elsa, Anna, Hans, Kristoff, Olaf and Sven. Suitable for children aged 8 years and over."
EAN: 5010993616817
Posted in Board Games by ToyMaster
Monopoly Board Game – Liverpool F.C Edition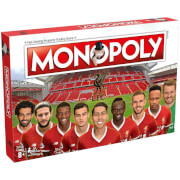 Liverpool are one of the most storied and successful clubs in the history of world football. This special edition of a classic board game combines the stars of Liverpool FC with illustrious figures from the club's past, and locations from Anfield stadium. Move around the board, buying and selling players. Build stands and stadiums and sit back and accumulate a fortune from your player empire, but watch out, avoid taxes, jail or going bankrupt. Key Features: The world's best family board game brings you another exciting edition of MONOPOLY – Liverpool Football Club Pick your football token; a ball, trophy, goal or a whistle, choose your favourite players, travel to the Kop or the Kenny Dalglish Stand and accumulate fortunes, but watch out for taxes, jail and bankruptcy Advance to Ragnar Klavan, Philippe Coutinho or Bob Paisley – will you owe rent or reap the rewards? Invest in stands and stadiums and trade your way to success The Fast-Dealing Property Trading Game is fun for the whole family. Suitable Age: 8+ Number of Players: 2+
EAN: 5036905032834
Posted in Board Games by ToyMaster
Monopoly Board Game – Springbok Edition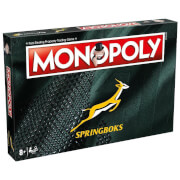 The world's best loved board game meets South Africa's national rugby union team in this edition of Springbok Monopoly. The Springboks are one of the world's most feared and admired rugby teams – a giant of the game, well known for fielding giants! Springbok names resonate across the globe and now's your chance to bring those famous players into your home and play your way to Springbok Monopoly glory! Key Features The world's favourite family board game brings this exciting edition of Springbok Monopoly Choose your favourite bespoke rugby token playing piece and tour your favourite Springbok's players Advance to Jesse Kriel, Rg Snyman, or even Siya Kolisi – will you owe rent or reap the rewards? Build your stands and stadiums and trade your way to success The Fast-Dealing Property Trading Game is fun for the whole family Suitable Age: 8+ Number of Players: 2+
EAN: 5036905035514
Posted in Board Games by ToyMaster
Monopoly Board Game – Riverdale
Step back into the deceptive idyll of Riverdale with this gripping new edition of Monopoly, the classic property-trading game. Join Veronica, Archie, Jughead, Betty, Cheryl and Pop as you buy, sell and trade your way across the board, and bargain for total ownership of this seemingly innocent town. Play it smart, and you just might make it out alive. This officially-licensed game features authentic locations depicted in the award-winning drama, from the Twilight Drive-In and the Sacred Heart Church to the Andrews' house and the Five Seasons Hotel. With custom tokens like Archie's guitar and Veronica's pearls, you can relieve classic moments of the show while you bid for key items like Pop's milkshake, Jason's jacket and the USB stick. Turn the tables with Riverdale High and South Side Serpents cards – will you be able to tip off Sheriff Keller and collect a reward, or will you end up in Jail yourself? If you can trade for a Get Out of Jail Free card, you might be able to buy your freedom – so expand your empire, bankrupt your opponents with extortionate rents and you could claim Riverdale for your own. Key Features The world's favourite board game brings you another exciting edition of MONOPOLY – Riverdale. Choose your favourite character, tour your favourite Riverdale locations and accumulate fortunes, but watch out for taxes, jail and bankruptcy Advance to Sunnyside Trailer Park, Sweetwater River and The Pembrooke – will you owe rent or reap the rewards? Invest in houses and mansions and trade your way to success The Fast-Dealing Property Trading Game is fun for the whole family Suitable Age: 8+ Number of Players: 2+
EAN: 5036905038287
Posted in Board Games by ToyMaster
Monopoly Board Game – Spongebob Squarepants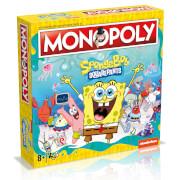 Who lives in a pineapple under the sea? You can, if you can afford the rent in this hilarious new edition of the classic property-trading game Monopoly: SpongeBob Squarepants! Buy, sell and improve classic locations from the beloved cartoon series. Flip Krabby Patties at the Krusty Krab, test your vehicular skills at Boating School, avoid paying Fun Tax and charge your friends rent while trying to make a profit yourself. Take a chance on the Best Day Ever and A Few Moments Later cards, and be the first to own every store and vehicle, but make sure not to reveal the secret Krabby Patty formula or you might end up behind bars. Choose from six beloved characters to play as – SpongeBob Squarepants, Patrick Star, Squidward Tentacles, Mr. Krabs, Sandy Cheeks or Gary – and roll the dice as you attempt to outsmart your friends and claim Bikini Bottom for your own!
EAN: 5036905039093
Posted in Toys by ToyMaster
Monopoly – Stranger Things Collectors Edition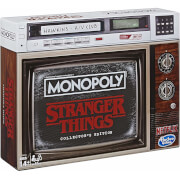 In the Monopoly Game: Stranger Things Collector's Edition, the Upside Down looms larger than ever before! Fans of the Netflix Original Series can enjoy an awesome unboxing experience with artwork inspired by the show. Players race between the tunnels under Hawkins to buy as many properties as they can. Instead of Houses and Hotels, this edition of the Monopoly board game features Forts and Hideouts – and the Hideouts glow in the dark. Look out for the Upside Down cards — they can provide special powers and change a fortune! The last player with money when all other players have gone bankrupt wins. STRANGER THINGS THEME: This Monopoly game has a Stranger Things theme, inspired by Seasons 1-3 of the popular Netflix Original Series COLLECTOR'S EDITION: The Monopoly: Stranger Things Collector's Edition game is awesome for Stranger Things fans; it features tokens, artwork, and themes based on the first 3 seasons of the Netflix series CARDS AND TOKENS: Each one of 11 tokens relates to a character in the series. The game also includes Transmission cards, Upside Down cards, Forts, and Hideouts SPECIAL FEATURES: The special 4-sided die lets players move their tokens between the tunnels under Hawkins to advance quickly. Players can choose to use the Upside Down cards to raise the stakes GLOW IN THE DARK: The 2 standard dice and Hideouts glow in the dark for an even more exciting gaming experience Ages 14 and up For 2 to 6 players.
EAN: 5010993644827
Posted in Board Games by ToyMaster
Monopoly Board Game – Leicester Edition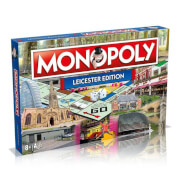 Pay a visit to the vibrant and historic city of Leicester in this special edition of MONOPOLY. Leicester is renowned for its huge Victoria and Abbey parks, fascinating historical sites like Leicester Cathedral, and memorable landmarks and attractions – all of which can be yours, if you can strike a deal. Explore some of Leicester's most beloved features, from the Haymarket Memorial Clock Tower to Leicester City Football Club, the Golden Mile and the elegant Curve Theatre. Each location has been specially selected for its local interest and universal appeal. The utilities and modes of transport in the game feature local services, and many spaces are inspired by popular local businesses for an authentic and modern experience. Who will be the first to claim the University of Leicester for their own? Maybe Leicester Airport will bring you a step closer to success. Featuring stunning and authentic photography from the local area, there's plenty to enjoy whether you're a seasoned MONOPOLY expert or a first-time player. So choose a token, roll the dice and seek your fortune! Key Features The world's favourite family board game brings you another exciting edition of MONOPOLY – Leicester! Choose your favourite token, tour your favourite sites and accumulate fortunes, but watch out for taxes, jail and bankruptcy Advance to Victoria Park, Jubilee Square and the National Space Centre – will you owe rent or reap the rewards? Invest in houses and hotels and trade your way to success The Fast-Dealing Property Trading Game is fun for the whole family Suitable Age: 8+ Number of Players: 2+
EAN: 5036905036764
Search
Recent Posts
Get Social With Us!
Categories
Pages
Toy Retailers
Popular Tags
Toy Archive