Browsing all articles tagged with kit
Posted in Toys by ToyMaster
IWM Vulcan Bomber Kit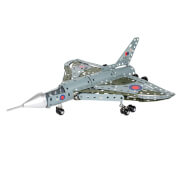 Recreate the iconic Vulcan Bomber with this all-inclusive construction set. This high altitude, delta wing, jet-engine bomber operated with the RAF from 1956 – 1984. This set includes; 1 Vulcan Bomber model, 2 specialist tools and step-by-step instructions.
EAN: 4020628871437
Posted in Toys by ToyMaster
DIY Tie Dye Kit
If you haven't made your own tie-dye t-shirt yet, are you even in lockdown?! All joking aside, this is easily one of the most rewarding ways to spend your spare time. Just dig out a few old (but beloved) t-shirts you probably should have binned years ago and prepare to transform them into colourful 90's nostalgia-infused masterpieces. The DIY Tie Dye Kit contains three coloured dyes (red, blue, yellow), rubber gloves, elastic bands and easy-to-follow instructions – everything you need to get a bit crafty and breath new life into your clothes.
EAN: 5056004326511
Posted in Toys by ToyMaster
Brio Car Racing Kit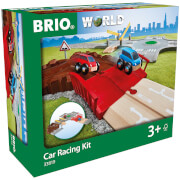 Buckle up your seat belts and letís race. The 14-piece Car Racing Kit gives you everything you need to create an exciting on- and off- road car racetrack including 2 toy cars, off-road terrain curve, a bridge, a roundabout, railway crossing plus ramps and straights. You can even connect the kit to your existing BRIO World road and railway to add an even more realistic dimension to the role-play. Includes 2x Cars, 1x Sign, 1x Raised Curve, 1x Bridge, 1x Road Joining Piece, 1x Junction, 1x Crossing, 2x Railway Ramps, 4x Road Ramps.The track layout measures 59.5 x 43.3cm. Required. Suitable for ages 3 Years and up. Manufactured to BRIO's high standards and from FSC Certified wood. Each set is fully compatible with other BRIO sets, tracks and trains. BRIO products are made from very high quality plastic and Beech wood from sustainable sources. The Trains, Wagons, Carriages, and Road Vehicles all feature the classic BRIO magnetic couplings allowing for easy connection to each other.
EAN: 7312350338195
Posted in Toys by ToyMaster
Posted in Toys by ToyMaster
Haynes Classic Camera Making Kit
Thanks to Instagram everyone's a photographer these days, but not everyone can say they've built their own camera! It's time to escape the shackles of the digital world and take the plunge into the wonders of analogue photography – you need to build your own Haynes Classic Camera.
EAN: 8845400099580
Posted in Toys by ToyMaster
National Geographic Shark Tooth Dig Kit
Excavate 3 Genuine Shark Teeth Fossils from the Ocean's Deadliest Predators! National Geographic's Shark Tooth Dig Kit lets children dig up and explore fossils from 3 different species of shark. With a full-colour learning guide full of amazing shark facts and pictures, kids will have a blast while they identify the teeth of the sand tiger, otodus and crow sharks, and learn all about what make sharks the ocean's most feared predators. This kit includes: A shark-themed digging brick with 3 fossilized shark teeth, archaeological digging tools and a magnifying glass.
EAN: 3296580804733
Posted in Toys by ToyMaster
Daily Grind All-in-One Cold Brew Coffee Kit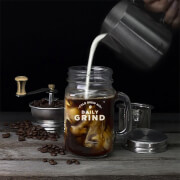 | Retailer | Price | Discount Code? | P&P | |
| --- | --- | --- | --- | --- |
| | £18.99 | No | | |
| | £23.00 | Yes | | |
Get through the daily grind with a daily grind by using this cold brew kit. With this cold brew kit, you can create a cold brew in the comfort of your own home. The daily grind cold brew kit is easy to use, and all you need to do is place the filter in the mason jar provided, and then screw the grinder on it. You then fill up the grinder with coffee beans and grind away. Once you have ground the coffee beans, you take the grinder out and fill it up with water. You have to let the mixture sit for 8 hours, which means you can make it before bed and enjoy the smooth taste when you wake up. Grab yours today!
EAN: 5060146594653
Posted in Toys by ToyMaster
Posted in Toys by ToyMaster
Iron And Glory Instant Happy Hour Mini Bar Kit
If you ever dreamed of releasing your inner Tom Cruise, but didnít know exactly what you might need, then our tin full of Instant Happy Hour is here to make your Cocktail fantasy a reality! Including a 350ml Stainless Steel Shaker, strainer, Waiters Friend bottle opener and the aptly named trio of muddler, stirrer, and jigger, the Instant Happy Hour is everything you need to concoct a hard drink at the end of a hard day. It even includes cocktail recipe cards, in case you fancy something a bit different. Features: Material: Stainless steel Wood 350ml Stainless Steel Shaker Strainer Waiters Friend Bottle Opener Black Wooden Muddler Stirrer Jigger Cocktail Recipe card
EAN: 5060146594004
Posted in Toys by ToyMaster
Easy Rider Cyclists Kit
For the gent who enjoys life on two wheels, this Easy Rider Cyclist's Kit from Gentlemen's Hardware will keep cyclists clean and comfortable during their rides. Perfect for longer journeys, the Oak Moss scented, vegan friendly 3 in 1 Shampoo/Shower/Shave Wash (50ml / 1.7 fl oz) and Chamois Cream (50ml / 1.7 fl oz) will keep gents feeling fresh and keep chafing at bay, while the Mint Lip Balm (10g / 0.4 fl oz) hydrates and protects lips exposed to the elements. Packaged in a stylish gift-ready presentation box featuring a bespoke landscape illustration.
EAN: 5055923763988
Search
Recent Posts
Get Social With Us!
Categories
Pages
Toy Retailers
Popular Tags
Toy Archive