Browsing all articles tagged with kit
Posted in Toys by ToyMaster
Galt Fab Hair Extension and Chalks Kit
"Galt Fab Hair is the perfect kit for any budding hair stylist or fashionista. Wow your friends with bright hair extensions and temporary hair colours! Braid the hair extensions and easily add bright beads, flowers, and sparkling gems with the beading wand. Close the hair chalk compacts around a section of your hair, press the centre, and move down. Amazing! Instant temporary hair colour. With this stylish kit, you'll look like you've come straight from the salon. For hair stylists 6 and over."
EAN: 5011979581655
Posted in Toys by ToyMaster
The Off Bits Robot Kit – Red Car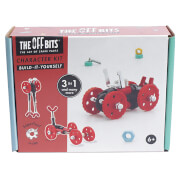 | Retailer | Price | Discount Code? | P&P | |
| --- | --- | --- | --- | --- |
| | £9.99 | Yes | | |
The OFFBITS are build-it-yourself characters and models made of up-cycled components; connect the bots and create your own designs! Originally designed with unused and unloved bits and pieces which were upcycled and transformed into something so much greater. Create fun designs using parts provided and collecting spare
EAN: 7290016390230
Posted in Toys by ToyMaster
The Off Bits Robot Kit – Carebit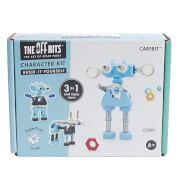 | Retailer | Price | Discount Code? | P&P | |
| --- | --- | --- | --- | --- |
| | £10.99 | Yes | | |
The OFFBITS are build-it-yourself characters and models made of up-cycled components; connect the bots and create your own designs! Originally designed with unused and unloved bits and pieces which were upcycled and transformed into something so much greater. Create fun designs using parts provided and collecting spare
EAN: 7290016390018
Posted in Hot Wheels by ToyMaster
Hot Wheels Track Builder Stunt Bridge Kit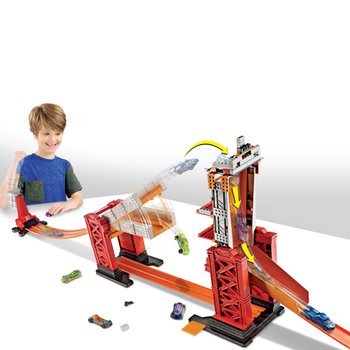 With Track Builder there's no limit to what can be created, especially now that it's fully brick compatible! YOU are in the driver's seat! Create your own outrageous stunts, experiment with speed and keep challenging yourself to Make it EPIC! Build and stunt your way through the motorized bridge. The Hot Wheels Track Builder Stunt Bridge is the ultimate piece in your Hot Wheels world of stunting. Launch your cars when the motorized bridge arm is mid-way up! Complete an epic jump across the dange
EAN: 887961390384
Posted in Toys by ToyMaster
Thames & Kosmos Little Labs The Human Body Science Kit
Learn about the human body by doing experiments with your five sense that show you how your body works. By exploring the external aspects of your body with hands on experiments, you can learn a lot about the inside anatomy of the body. Learn about your body. Experiment with your five senses. Into the human anatomy. Examine your fingerprints to learn how you are unique. Build a stethoscope and listen top your heartbeat. Size H37, W29.5cm. (not included) plus (not included). Years and over. WARNING(S): Not suitable for children under 3 years old. Only for domestic use. To be used under the direct supervision of an adult. Only to be used in water where the child is within its depth and under adult supervision. To prevent possible injury by entanglement remove this toy when the child starts trying to get up on its hands and knees into a crawling position.
EAN: 814743011359
Posted in Toys by ToyMaster
Melissa & Doug Fairy Stamp Kit
Fairies, flowers, and garden critters can be combined in countless pretty ways; This extra-large stamp set makes it easy to create an exciting storyline or a colour-in scene: It includes 20 rubber-faced, wooden-handled outline stamps and a two-colour stamp pad filled with pink and purple washable ink. Five coloured pencils coordinate with the garden theme to add details and colour in the scene. Its a complete arts & crafts activity and storytelling kit in one; Themed stamp set with everything needed to create and colour detailed picture scenes. Includes 20 stamps, 5 coloured pencils, durable 2-colour stamp pad and wooden storage tray. Charming fairy-garden theme. Promotes hand-eye coordination. Encourages narrative thinking and creative expression. Includes: For ages 4 years and over. Manufacturers lifetime against defects only guarantee. WARNING(S): Only for domestic use.
EAN: 772124249
Posted in Toys by ToyMaster
Thames & Kosmos Electricity & Magnetism Experiment Kit
Children eight and up can safely and easily experiment with electric current and magnetic fields using the colourful snap-together blocks and components in this hands-on kit. Experiment with push buttons and on-off switches. Assemble circuits that include a spinning motor, two switches, and up to three light bulbs. Conduct tests to see which materials are magnetic. Finally, put everything you have learned to good use by constructing a loudspeaker, an electromagnetic relay switch, and a morse code telegraph key. Learn about the force of magnetism and magnetic poles. Magnetise a metal. Use iron fillings to make invisible magnetic fields visible. Investigate magnetic force and direction with a magnetic pendulum device. Learn how a compass works and about Earths magnetic fields. Conduct a series of experiments with a sturdy electromagnet. The components are specially designed to make learning fun and accessible. The electrical blocks fit together with simple plug-and-socket connectors. Because the blocks are brightly coloured and have unique shapes, it is easy to follow the assembly diagrams to construct functional devices. The 64-page, full-colour experiment manual guides you through experiments with easy-to-follow diagrams. Size H29.5, W43cm. Batteries required: 2 x AA (not included) plus . For ages 8 years and over. WARNING(S): Not suitable for children under 3 years old. Only for domestic use. To be used under the direct supervision of an adult.
EAN: 814743010451
Posted in Toys by ToyMaster
Science4You Mega Cosmetic Set 8 in 1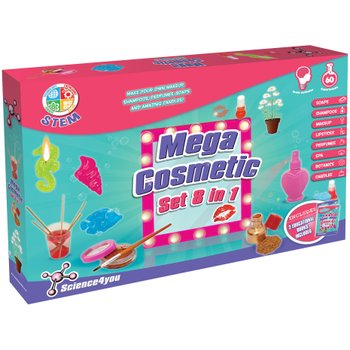 There is so much to learn and do with this Science4You 8 in 1 Mega Cosmetic Set! Find out how to prepare eyeshadows and create awesome perfumes. Make useful exfoliating soaps and soaps with two colours to keep your skin healthy. Produce fragrant shampoos and a hydrating mask to take care of your hair. Plant beautiful flowers and make fancy candles to decorate your home! Hours of fun and creativity are guaranteed with this exciting kit!
EAN: 5600983603288
Posted in Toys by ToyMaster
Thames & Kosmos Crystal Growing Experiment Kit
Experiment with four chemically different crystals each with different properties, including potassium alum crystals that form regular octahedrons, rapidly growing sodium sulphate crystals, long needle-shaped sodium acetate crystals, and plaster which is made from gypsum crystals. Display your crystal creations in a clear treasure chest with a locking lid. Mould your own geode ; a hollow rock with crystals growing inside ; and create a beautiful crystal cavern inside. Mould fun plaster shapes, including stars, lightning bolts, dolphins, and pyramids, and grow layers of crystals on them. Use dyes to form coloured crystals, and mix the dyes to grow a rainbow of custom coloured crystals. Experiment with growing crystals rapidly and slowly, and observe how that affects the crystal structures. See if you can grow one giant crystal, and many small crystals on the surface of a rock. Measure how the crystallisation of solids out of a solution, and the dissolution of crystals back into solution, affect the temperature of the solution. Learn about the energy of crystallisation. Investigate solutions, crystallisation, and the chemistry of crystal growing. Learn about the structures and geometries of different crystal shapes. A full-colour, 32-page experiment manual guides your experiments in crystal chemistry and Earth science. Size H29.5, W43cm. For ages 10 years and over. WARNING(S): Not suitable for children under 3 years old. Only for domestic use. To be used under the direct supervision of an adult. This product contains calcium sulphate, potassium aluminium sulphate, sodium acetate, sodium sulphate.
EAN: 814743010444
Posted in Toys by ToyMaster
Search
Recent Posts
Get Social With Us!
Categories
Pages
Toy Retailers
Popular Tags
Toy Archive