Browsing all articles tagged with jigsaw
Posted in Toys by ToyMaster
Harry Potter – Hogwarts Castle 3D Jigsaw Puzzle (197 Pieces)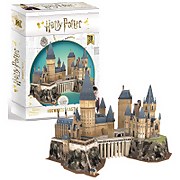 The Hogwarts Castle 3D Puzzle is the ultimate gift for any fan of the magical wizarding world Harry Potter Recapture the magic of the Harry Potter stories with this beautifully detailed Hogwarts School Model kit Create your very own magic as your assemble your own stunning Hogwarts Castle in the comfort of your own home and travel back to exciting scenes from the Harry Potter saga with this dramatic 3D model Perfect for any Potter fan 8 years and over this superbly detailed 197-piece 3D puzzle can be assembled with no need for tools or scissors just pop out the pieces and connect using tabs and holes and follow the easy-to-use instruction The stunning Hogwarts Castle model measures 45 5×32 5×32 5cm making it a perfect keepsake gift for any Harry Potter fan Create the complete wizarding world with other 3D puzzles in the series including The Hogwarts Express Gringotts Bank Quidditch Supplies Olivanders and Weasley Wizard Wheezes
EAN: 5012822075659
Posted in Toys by ToyMaster
Ravensburger 14849 Disney Princess Heroines No.1-snow White 1000pc Jigsaw Puzzle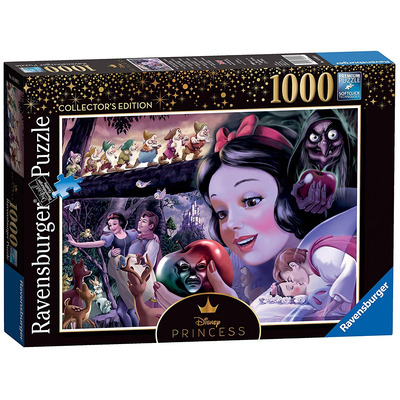 Based on Disney's iconic 1937 movie, this contemporary interpretation of snow white uses a stunning new Art style, created to capture the drama of this classic fairy-tale. The puzzle shows key scenes, with the main focus being the moment our heroine is mesmerized by the gleaming apple, totally unaware of the fate that awaits her. We also see the seven Dwarfs hi-ho-ing Their their way off to work, snow white, her prince and her animal friends in the forest, and the moment that the Queen (disguised as the old HAG) offers that lustrous red apple. But never fear, the Prince returns to awake snow white with a kiss! This beautiful, richly detailed illustration has been specially created for Ravensburger by a leading British disney-approved art studio. High quality 1000 piece cardboard jigsaw puzzle. The finished puzzle measures 70 x 50cm when complete. Suitable for ages 12 years and up. Made from strong premium grade cardboard, with linen finish print to minimise glare on puzzle image. At Ravensburger we have over 50 years' worth of experience in the manufacture of puzzles. Not only do we make the best selection of puzzles, we also pride ourselves on having the highest quality. Individual pieces are stamped with such precision that a quiet click Can be heard when one piece is inserted in the other – this phenomenon is so unique that we have given it its own name 'Softclick Technology.' Our puzzles are made using unique punching templates and punching tools, which are hand-crafted with watchmaker precision to ensure the greatest possible accuracy and variety of the puzzle pieces.
EAN: 4005556148493
Posted in Toys by ToyMaster
Galison Life Before Socia Media Jigsaw Puzzle, 1000 Pieces
The Life Before Social Media 1000 Piece Puzzle from Galison features the colourful art of Toby Triumph who reminds us what life was like before everyone was glued to their phones 24/7. Triumph remembers what life was like back then and he did this illustration to explain it. Galison puzzles are packaged in matte-finish sturdy boxes, perfect for gifting, reuse, and storage.
EAN: 9780735364721
Posted in Toys by ToyMaster
Tiger King Jigsaw Puzzle
| Retailer | Price | Discount Code? | P&P | |
| --- | --- | --- | --- | --- |
| | £14.99 | No | | |
| | £14.99 | Yes | £2.25 | |
Still trying to piece together who killed Carole Baskin's husband? (Clue: it was her! đ???) Now you can pass the time until the next bizarre chapter in the Tiger King saga with this epic Tiger King Jigsaw Puzzle Beautifully illustrated by Chantel de Sousa and featuring all of your favourite heroes and villains from the show; this proudly unofficial jigsaw puzzle contains 500 pieces to keep you busy for hours.
EAN: 9781922417091
Posted in Toys by ToyMaster
1000 Piece Jigsaw Puzzle – Fantastic Beasts Edition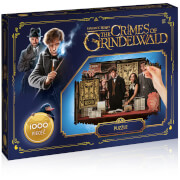 This charming 1000 piece puzzle features a full size poster of the Fantastic Beasts and Where To Find Them characters. Key Features Delve into the world of Fantastic Beasts and Where to Find Them with this beautifully illustrated jigsaw puzzle Piece together Newt Scamander at his book signing for the magical Fantastic Beasts and Where to Find Them Involve all your friends and family in this challenging and enchanting puzzle for all ages This 1000 piece puzzle will keep you entertained for hours as your Fantastic Beasts scene starts to take place Suitable from age 10+ Number of Players: 2+
EAN: 5036905035064
Posted in Toys by ToyMaster
Ridleys Endangered World Jigsaw Puzzle, 1000 Pieces
This beautifully illustrated 1000-piece circular Endangered World Jigsaw Puzzle from Ridley's Games features the world's most endangered species and the threats they face in their habitats. From the polar bear and the lesser-known addax to the puffin and the North Atlantic garbage patch, discover over thirty animals and environments at risk from across the globe. As you piece together this stunning jigsaw, you'll learn a bit more about each animal and habitat along with the challenges they face. The unique circular format allows for easier collaboration around the table, and the 1000 pieces come in a paper bag to avoid the need for disposable plastic packaging. Once you've completed the puzzle, why not do some additional research and explore if there are ways that you can get involved? Before puzzling, peruse the handy guide poster to get you started on this wonderful puzzle that has a finished diameter of 68cm/26.8.
EAN: 5055923781180
Posted in Toys by ToyMaster
The Office Jigsaw Puzzle
| Retailer | Price | Discount Code? | P&P | |
| --- | --- | --- | --- | --- |
| | £14.99 | No | | |
| | £14.99 | Yes | £2.25 | |
If you haven't binge-watched all nine seasons of The Office back to back, you haven't lived! If you have then you're probably here to try and find a way to fill the gaping Dunder Mifflin-shaped hole in your life. The Office Jigsaw Puzzle might just do it. It's made up of 500 pieces and features all of your favourite characters: Michael Scott, Dwight Schrute, Jim and Pam, plus a myriad of classic minor characters and post-its with quotes from the show.
EAN: 9781925811865
Posted in Toys by ToyMaster
Galison Dogs with Jobs Jigsaw Puzzle, 500 Pieces
The Dogs With Jobs 500 Piece Puzzle from Galison features an amusing illustration of dogs performing jobs such as the Chow Chow Antique Appraiser, Great Dane Graphic Designer, Husky Meteorologist, and many more. This puzzle is fun for the whole family! Galison puzzles are packaged in matte-finish sturdy boxes, perfect for gifting, reuse, and storage.
EAN: 9780735364820
Posted in Toys by ToyMaster
1000 Piece Jigsaw Puzzle – Harry Potter Secret Horcrux Edition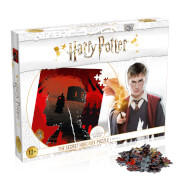 "There will come a time when Harry Potter must be told something." Relive the moment that the Boy who Lived realises that his own survival is entwined with that of the dark wizard Lord Voldemort in this stunning, officially-licensed 1000-piece Secret Horcrux puzzle. One of the most poignant and meaningful scenes from J. K. Rowling's beloved saga is yours to recreate in a striking product that would be perfect for framing upon completion. This gloomy, intricate montage from the Battle of Hogwarts is coloured in shades of Gryffindor red, and bears the images of Harry, Voldemort, Hogwarts and the Hogwarts crest in a brand new illustration which is sure to thrill fans of this timeless story. Voldemort's cruel regime is juxtaposed against Harry's inner turmoil as he contemplates his destiny and his loved ones. You won't need any wands, spells or potions to complete this puzzle if you remember Lupin's advice: "It is the quality of one's convictions that determines success!" Key Features: Delve into the Battle of Hogwarts with this beautiful and sinister jigsaw puzzle Harry's darkest hour comes when he realises that he is the Horcrux that was never meant to be! Gather your friends and family to help piece together this vibrant and high-quality jigsaw This 1000-piece puzzle will keep you entertained for hours as your Harry Potter scene starts to come together Suitable Age: 10+ Number of Players: 2+
EAN: 5036905039550
Posted in Toys by ToyMaster
Trefl Sleeping Lion Jigsaw Puzzle – 1000 Pieces
"This Sleeping Lion Jigsaw Puzzle from Trefl makes the alpha predator look calm and cuddly! At 1000 pieces this puzzle might be a challenge, but it's worth it to see the stunning, photographic quality imagine of the sleeping lion. This is a high-quality puzzle made of thick cardboard and covered with a special non-reflective layer to make sure the picture is super clear. The finished puzzle measures 68x48cm, and you'll want to rebuild it again and again to see the savage lion looking so sweet. For puzzlers 12 and over."
EAN: 5900511104479
Search
Recent Posts
Get Social With Us!
Categories
Pages
Toy Retailers
Popular Tags
Toy Archive