Browsing all articles tagged with hasbro
Posted in Toys by ToyMaster
Hasbro The Lie Detector Game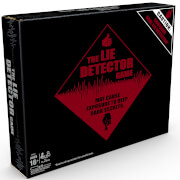 truth. Lie detector tests have become a staple of pop culture, delivering hilarious results on TV and in videos. The voice analysis in this adult party game is designed to detect subtleties in a person's voice to help you discover who's telling the truth, and who's not. A player in the hot seat is asked uncomfortable Yes or No questions such as, If you found out your friend committed a horrible crime, would you turn them in? Create your own bombshell fill-in-the-blank Yes or No questions such as Have you ever fallen asleep while ____? You can also make up any Yes or No question you want! Just tell the truth and you'll earn points, but a lie gives the point to your opponent. After everyone has been in the hot seat, the player with the most points wins. Ages 16 and up For 2 or more players. Requires 3x 1.5V AA Alkaline Batteries (not included) In The Box Includes working lie detector unit, (based on self-reported data. Not a scientific device) 64 cards (252 questions), Instructions.
EAN: 5010993589661
Posted in Toys by ToyMaster
Hasbro Risk – 60th Anniversary Edition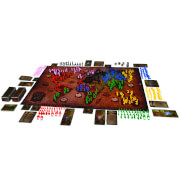 Betrayal. Alliances. Surprise attacks. The risk game continues to be one of the world's most popular and influential strategic board games decades after its inception. This special 60th anniversary edition of the Risk game celebrates Its legacy with premium packaging and game pieces. For true risk fans, The included game guide reveals the history of the Risk strategy game. It also features 5 ways to play the risk board game, including the classic game plus the original 1957 la conquête du Monde rules. Anything goes on the battlefield of the Risk game. Using strategy, smart moves and a little bit of luck, a player will either defeat the enemy or be defeated. Take over the world in this game of strategy and conquest! The risk 60th anniversary edition board game is great for game nights. Engage family members from age 10 with this classic strategic combat game. Hasbro Gaming and all related terms are trademarks of Hasbro.
EAN: 5010993588206
Posted in Remote Control Toys by ToyMaster
Hasbro Star Wars Episode 9 Ultimate Remote Control D-O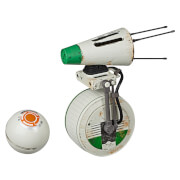 The D-O Interactive Droid lets kids and fans display and play with a droid inspired by the little roller droid from Star Wars: The Rise of Skywalker. Drive D-O around using the free downloadable app, or play in one of multiple modes, whether D-O is resting in the included docking station or rolling around on the floor! This interactive droid has premium deco, so it looks great on shelves while displayed in the docking station. With the D-O Interactive Droid, bring the fun and magic of the Star Wars saga home! May the Force be with you! Features: Premium D-O Droid: The D-O Interactive Droid Has A Self-Balancing Wheel, Multiple Modes Of Play, Moving Head And Antennas, And Features Light-Up Led Eyes, Sound Effects, And Premium Deco Inspired By Star Wars: The Rise Of Skywalker Control D-O With The Free App: Download The Free Ultimate D-O App, Follow The Onscreen Instructions, And Kids Can Control The Droid Multiple Modes Of Play: D-O Will Play In Follow Mode, Chase Mode, Guard Mode, And Even Features A High-Alert Alarm Mode, In Which D-O Will Sound An Alarm When The Ball Controller Is Pressed 3 Times Little Droid, Big Personality: Cobbled From Odds And Ends In The Workshop Of A Droidsmith, D-O Is An Impressionable Little Roller That Becomes Fixated Upon Bb-8 Includes Docking Station And Charge Cable: D-O Can Hang Out On A Desk Or Shelf While He Charges, Resting In The Included Docking Station
EAN: 5010993637959
Posted in FurReal by ToyMaster
Hasbro Furreal Friends Star Wars Chewbacca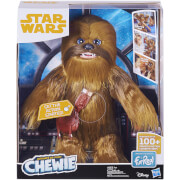 Chewbacca ("Chewie" to his best pals) is famous as Han Solo's loyal friend and co-pilot – and now the Ultimate Co-pilot Chewie figure can be kids' trusted companion in adventure, wherever their imagination takes them! This amazing interactive plush friend features 100+ sound-and-motion combinations, responds in the Wookiee language, and reacts whenever he's in motion – sometimes in surprising ways! Kids will love their favorite Wookiee's fun facial expressions and the way he responds when they talk to him (he laughs, roars, and even snores!). He'll often raise his arms as he roars… and make contented sounds when he gets a friendly scratch on the head. This furry best friend is always ready for the next mission, big or small! Features: Interactive plush Chewie figure is the ultimate sidekick for kids who love imagining their own intergalactic adventures 100+ sound-and-motion combinations, including arm-raising roars He reacts whenever he's in motion (sometimes in surprising ways), and responds in the Wookiee language when he's spoken to Fun facial expressions
EAN: 5010993510429
Posted in Toys by ToyMaster
Star Wars 12-inch Imperial Patrol Trooper Figure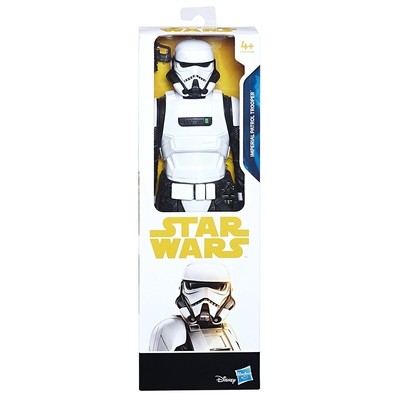 As the Empire reinforces its hold on worlds across the galaxy, Imperial Patrol troopers police the streets and alleys aboard swift interceptor Speeder bikes. Kids can imagine creating their own STAR WARS action with this 12-inch Imperial Patrol trooper figure. This figure features movie-inspired design and comes with a character-inspired accessory for fun figure play.
EAN: 5010993457717
Posted in Toys by ToyMaster
Hasbro – B8609 – Star Wars – Kylo Ren – 9 cm with accessories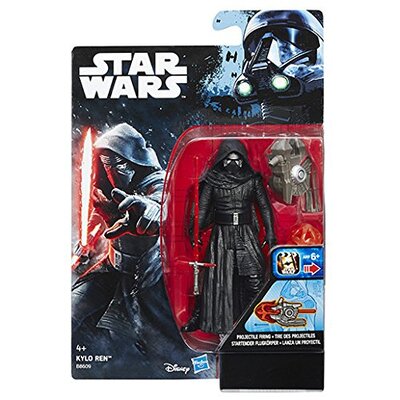 Enter the world of Star Wars and launch into action and adventure! Discover a galaxy of starships and vehicles, and get immersed in exciting stories of good versus evil against a backdrop of a universe populated by heroes and villains, droids and space creatures. Picture new galactic maneuvers and brace for mega lightspeed action with this 3.75-inch Sabine Wren figure from Star Wars Rebels! A Mandalorian Warrior, Sabine Wren is an explosives expert and graffiti artist – qualities that make her an excellent fit as one of the first Rebels against the Empire. Experience the journey of a small but determined band of rebel freedom fighters from Star Wars Rebels. Relive the moments of daring action and climactic battle with this 3.75-inch Sabine Wren figure from Star Wars Rebels, and collect and do battle with these and other figures and vehicles from Hasbro Star Wars!
EAN: 5010994962203
Posted in Toys by ToyMaster
Hasbro Hero Mashers Monsters – Iron Vulf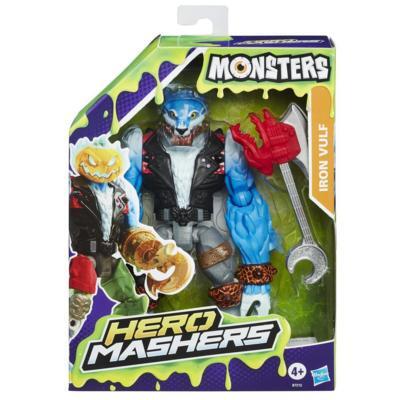 Hero Mashers Monsters consists of the world's spookiest and kookiest creatures. Skateboarding zombies, pumpkin head knights, and everything in between, these creatures mash together their hook hands, mechanical wolf jaws, zombie legs, and fiery bones to form the ultimate team of scream! Sir Jack-O-Lanternus is a nightmare in shining armor. His pumpkin head would go great on Fish Hook, or in a pie. Make the ultimate Mash-Up with this customizable Sir Jack-O-Lanternus figure and accessory! This 6-inch figure is customizable and includes 7 connection points allowing kids to detach head, arms and legs and reconnect them where they want! Universal connectors let kids swap parts with other Hero Mashers figures, giving them the freedom to create a fun Mash-Up! Kids can collect them all and make the most of a Mash-Up monstrosity!
EAN: 5010994952846
Posted in Toys by ToyMaster
Hasbro Tiny Pong Solo Table Tennis Handheld Game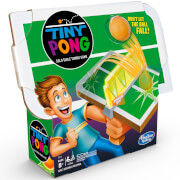 The Tiny Pong Solo Table Tennis game brings exciting bouncing action into the palm of your hand! Launch the ball off the court and bounce it repeatedly on the court to rack up points. Move the court back and forth under the ball. Keep it going, getting a point for every bounce. To increase the challenge, switch from Beginner mode to Expert mode. The game responds with lights and sounds as players try to beat their highest score by getting as many bounces as they can! How long can you keep it going?
EAN: 5010993587902
Posted in Toys by ToyMaster
Monopoly Toy Story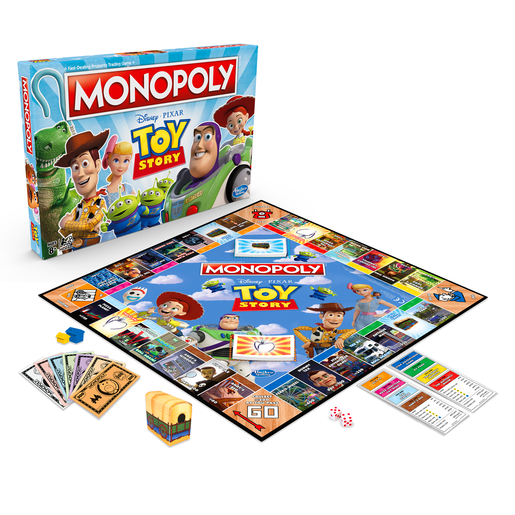 "There's fun for the whole family as Pixar's Toy Story meets one of the world's favourite board games. Toy Story Monopoly includes locations from the film series including Andy's Room and Al's Toy Barn, while players can journey around the board as Woody, Buzz Lightyear, Bo Peep, Jessie, Alien or Rex. Between two and eight players can buy properties and locations, and pick up Andy's Toy Chest and Birthday cards as they compete with each other to earn the most money and win the game. Suitable for children ages 7 and over."
EAN: 5010993573080
Posted in Toys by ToyMaster
Marvel Spider-Man Far From Home Nerf Web Shots – Spiderbolt Blast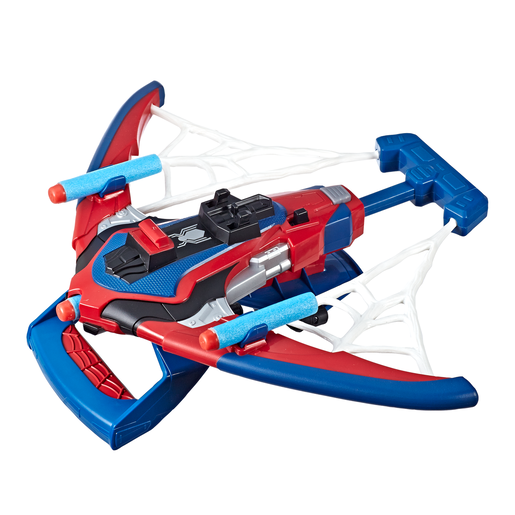 "Take on the powers of Spider-Man, with this Marvel Spider-Man Far from Home Nerf Web Shots – Spiderbolt Blaster. This awesome Spiderbolt Blaster comes with three darts. Imagine blasting enemies away with your very own Nerf darts, just like Spider-Man! The web-slinging adventures are up to you. Recreate your favourite Spider-Man scenes or think of new battles of your very own. You can connect this Web Shots Blaster to any of the Web Shots gear to blast in new ways – the possibilities are endless. Suitable for ages 5 and over."
EAN: 5010993555314
Search
Recent Posts
Get Social With Us!
Categories
Pages
Toy Retailers
Popular Tags
Toy Archive