Browsing all articles tagged with harry
Posted in Board Games by ToyMaster
Cluedo Harry Potter Board Game
Play time: 30 minutes | Players: 3-5 (best with 4) | For ages: 9+ A friend has gone missing in the wizarding world, so it's up to Harry, Ron, Hermione, Ginny, Luna and Neville to find out what has happened! Explore beyond the walls of Hogwarts in this brilliant Harry Potter version of Cluedo, unearthing evidence as you go to discover who did it, what spell or magical item they used and where the student was attacked. Tired of travelling around the board like a muggle- Use Floo Powder and take a trip across the Floo Network to teleport between rooms as you get closer and closer to solving the mystery. Was it Fenrir Greyback with a cursed necklace in the Forbidden Forest-
EAN: 5036905037198
Posted in Toys by ToyMaster
Harry Potter Niffler Coin Purse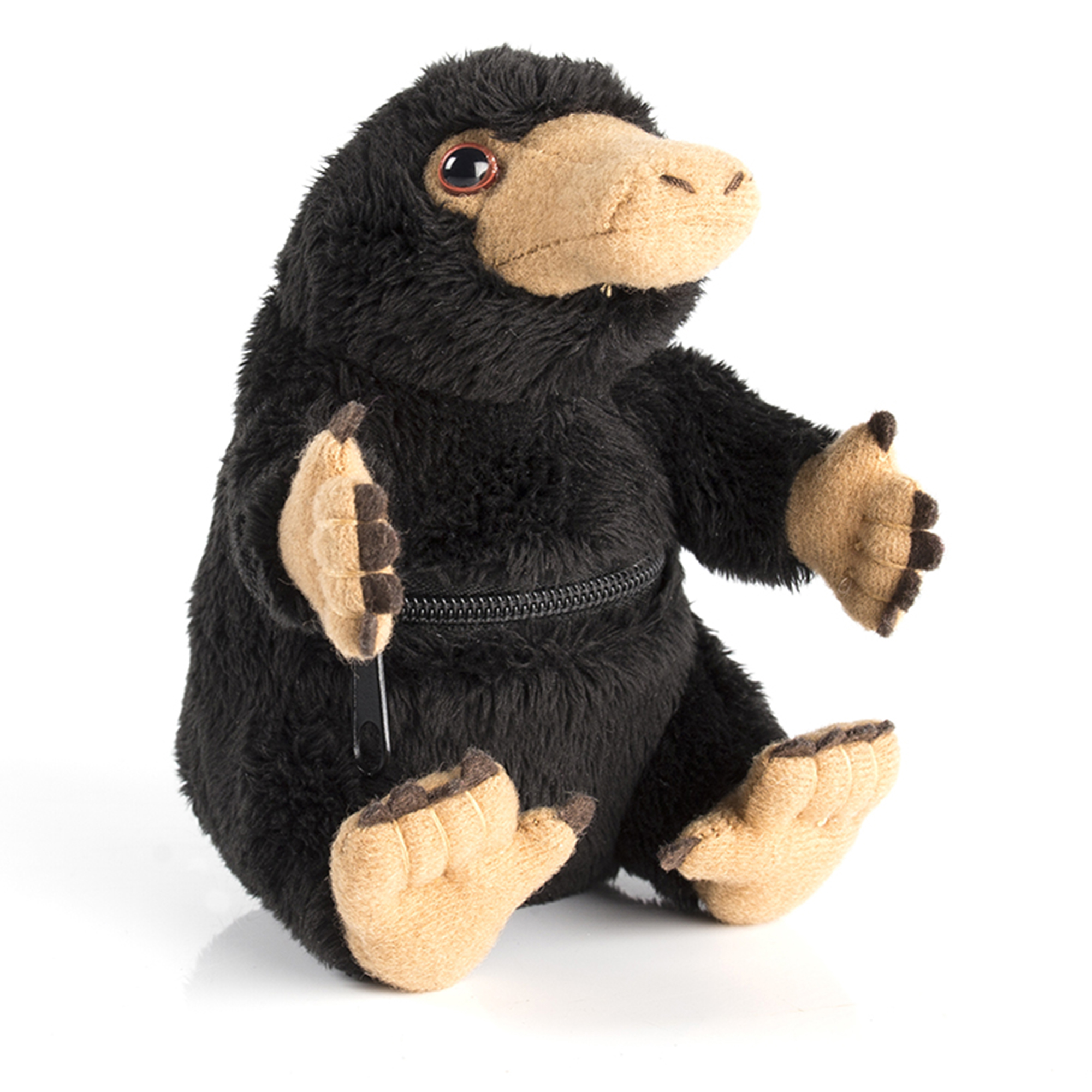 The Harry Potter Niffler Coin Purse features a neat zipper pouch to conceal your coins, keeping them close at hand for those moments when you need one for the gym locker, a shopping trolley or a special sweet treat!
EAN: 5055394010574
Posted in Toys by ToyMaster
POP! Vinyl Harry Potter Dobby Figurine
Check out this cool collectible Funko POP! Vinyl figure of Dobby from Harry Potter. This highly detailed miniature looks like the character you know and love, just with a larger head and a few cartoon-like flourishes that these iconic collectibles are known for. Standing at almost 10cm tall it makes a brilliant buddy for your desk, shelf or mantle.
EAN: 889698355124
Posted in Toys by ToyMaster
Harry Potter Crest Colour Change Umbrella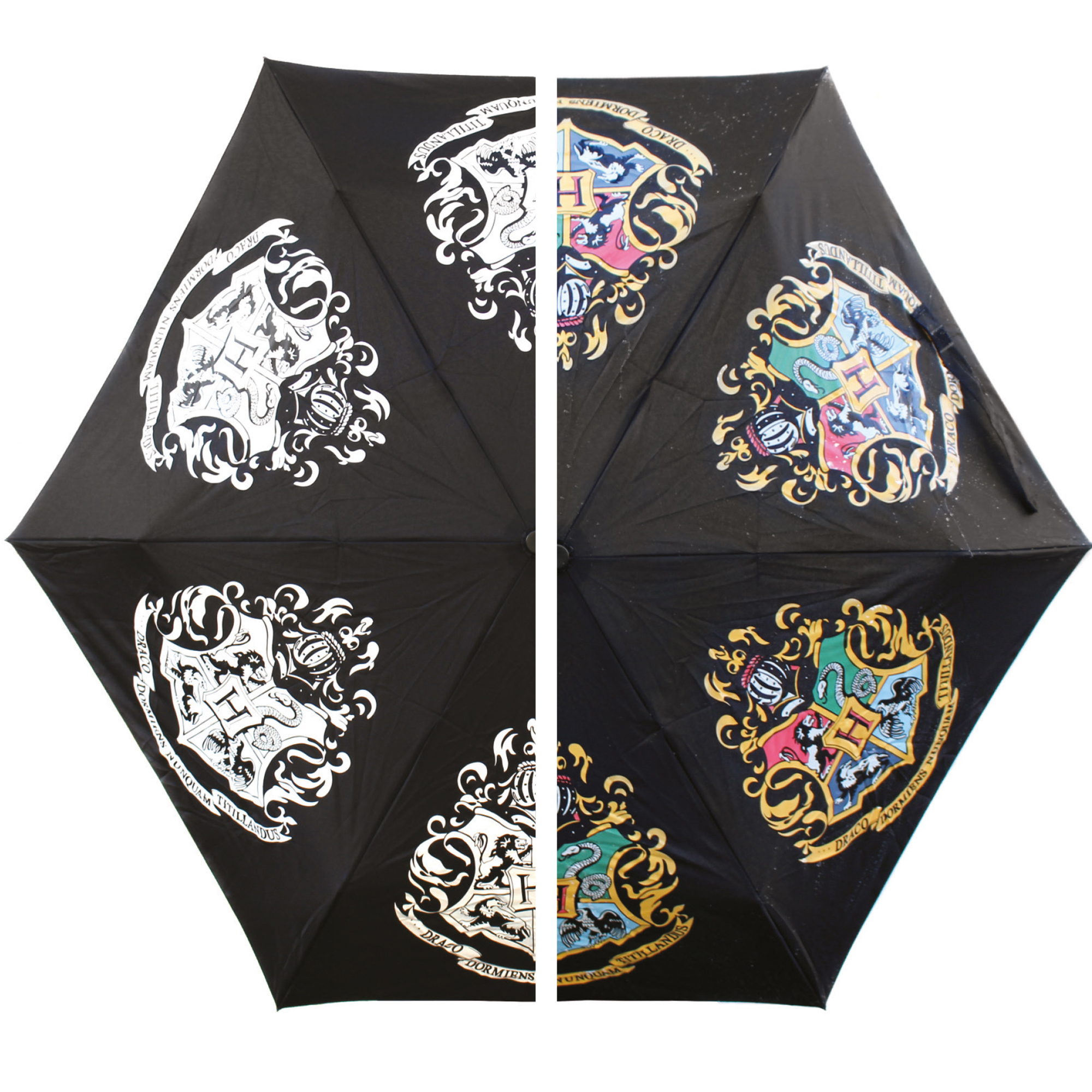 This magical Harry Potter umbrella is the perfect Autumn/Winter accessory. When dry, the design features a white Hogwarts crest on each panel. In the rain, the umbrella magically transforms to show the crests in full colour. This three fold umbrella features an extendable shaft, rubber handle with string hook and matching sleeve with 'Hogwarts' wording on it for easy storage. A great addition to any Harry Potter display and a must have for fans.
EAN: 5055453456763
Posted in Toys by ToyMaster
Harry Potter Hogwarts Cushion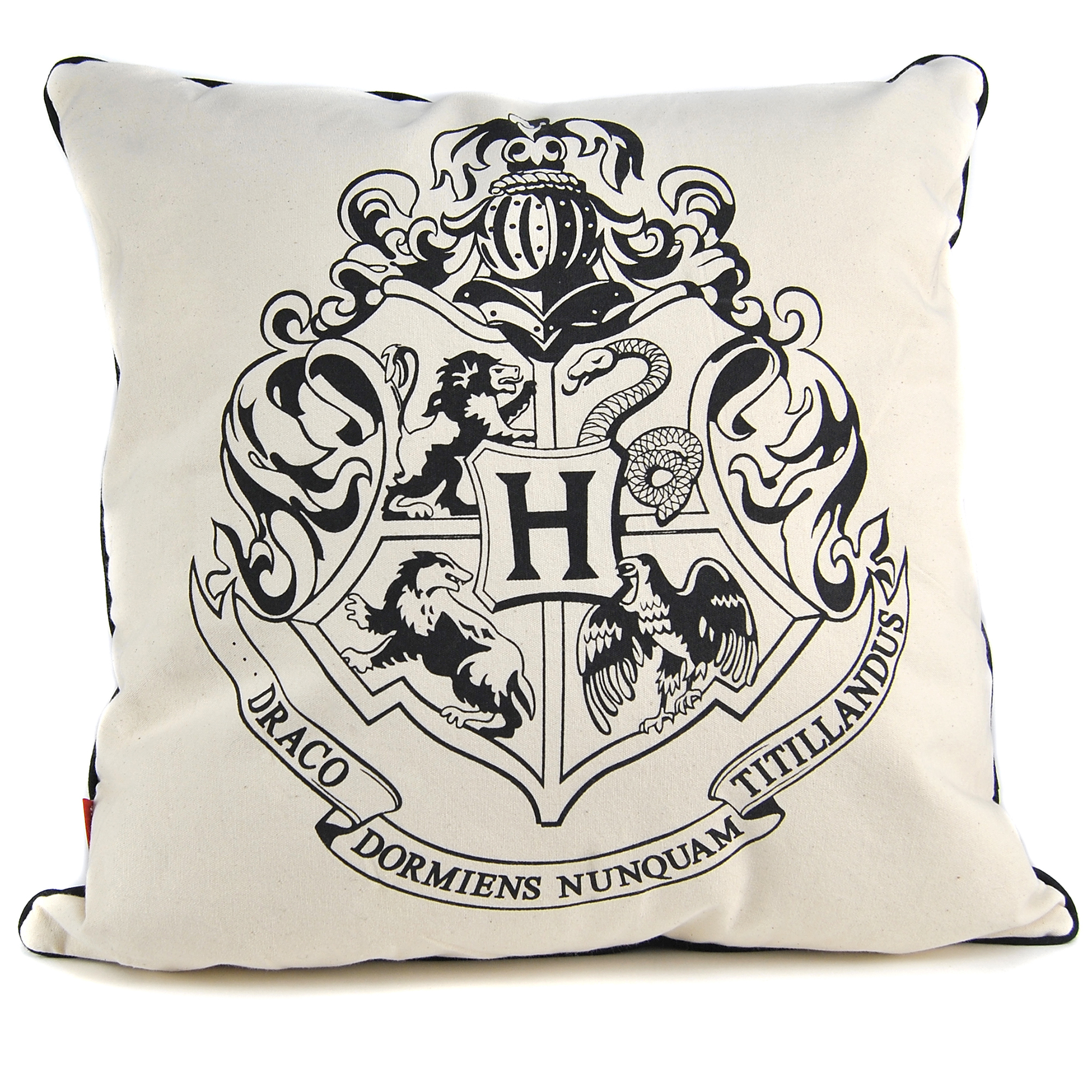 This Harry Potter Hogwarts Cushion is the perfect way to add a little magic to any room. The front features the black Hogwarts crest on the natural cotton background, while the back is printed with the crest, Harry Potter logo, Golden Snitch and the words 'I Would Rather Be At Hogwarts' in inverted colours. The cover is zipped so that it can be removed for washing. This is a wonderful gift and a great addition to any Harry Potter display!
EAN: 5055453453090
Posted in Toys by ToyMaster
Ravensburger Pictopia Harry Potter Picture Trivia Game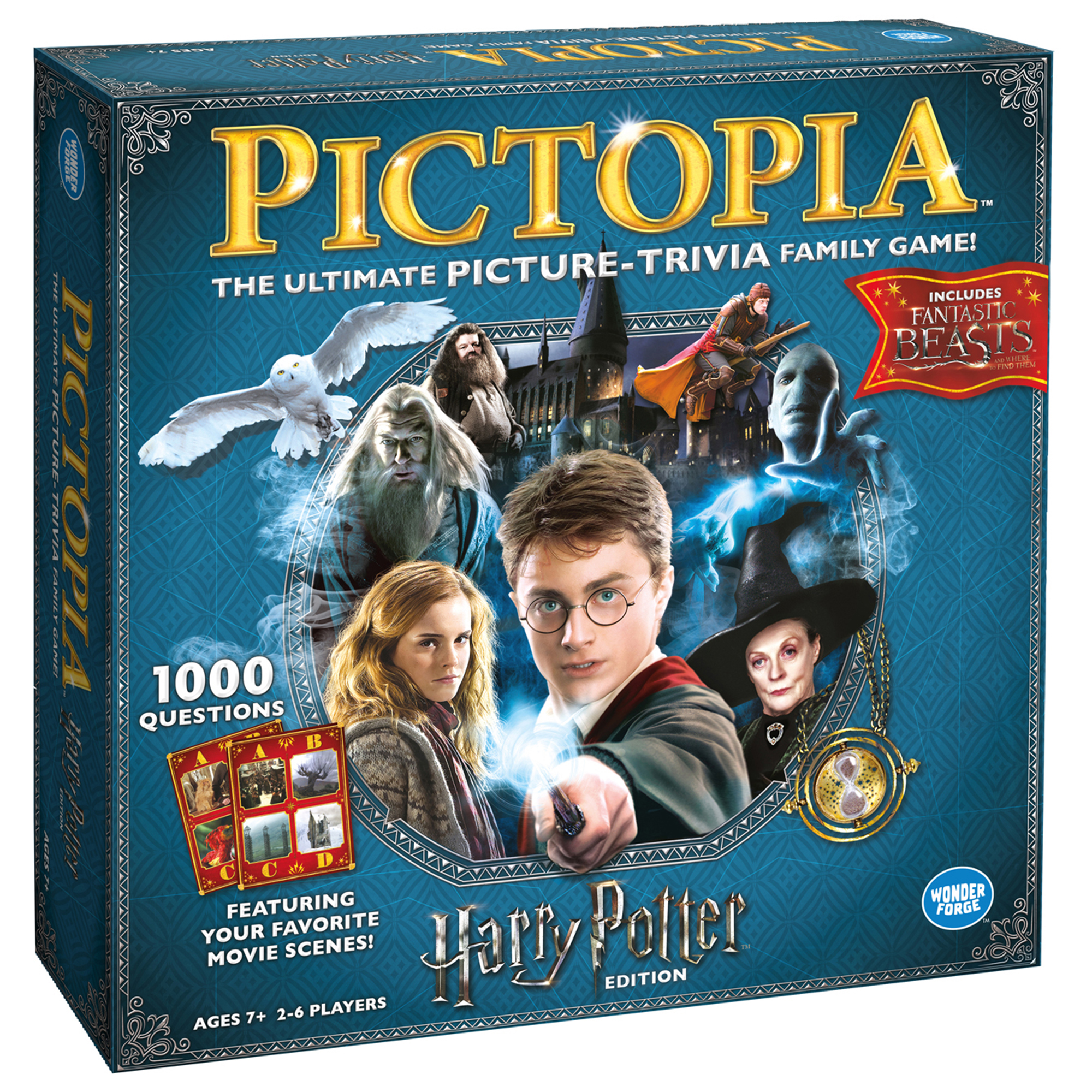 So who is the biggest Potterhead? The Ravensburger Pictopia Harry Potter Edition The Picture Trivia Game will uncover the truth! Showcase your knowledge of J.K. Rowling's wizarding world when you encounter 1,000 picture trivia questions featuring the beloved characters, extraordinary places, magical creatures, and enchanted objects from the epic Harry Potter movies. It's a game of teamwork – with a competitive twist! Sometimes you'll work together and other times answer alone, but you'll wager your points every time! How much you wager will depend on how well you know the pictures on the card, before you hear the question! Along the way are guess-my-answer questions that reveal how much you know about the other players! Make Family game time enchanting!This game includes 200x Cards, 6x Answer Dials, 30x Prophecy Coins, 1x Game Board, 6x Movers, 1x Die & Instructions. This game is suitable for 2-6 players. Suitable for ages 7 years and up. Playing Time: 25-45 minutes
EAN: 4005556224913
Posted in Toys by ToyMaster
Ravensburger Harry Potter Labyrinth Moving Maze Game
Who can keep a watchful eye over the Harry Potter maze and find the hidden paths to Hogwarts? Harry, Ron, Hermione, Professor Dumbledore, Hagrid, and Harry's owl Hedwig are waiting for you to find them. If you move the maze tactically, you'll soon find paths to where there were dead-ends. Keep making new paths to find some of your favourite Harry Potter characters. This item includes 1x Game board, 34x Maze cards, 24x Treasure cards, 4x playing pieces, 1x Set of Instructions.
EAN: 4005556260317
Posted in Toys by ToyMaster
Posted in Toys by ToyMaster
Harry Potter Hogwarts Express Tin Sign
Make part of your home a gateway to the halls of Hogwarts itself with this cool Hogwarts Express sign. Made entirely of metal, this sign features the Hogwarts Express logo and the platform number 9 and 3/4 on the front. The back features a lip running round the edge as well as a hole in each corner to help you hang the sign wherever you want. We can't guarantee that the door you place it on will take you to the train platform frequented by Harry Potter and friends, but it will definitely look the part!
EAN: 5055453443398
Posted in Toys by ToyMaster
Harry Potter Sirius Black Lenticlar Notebook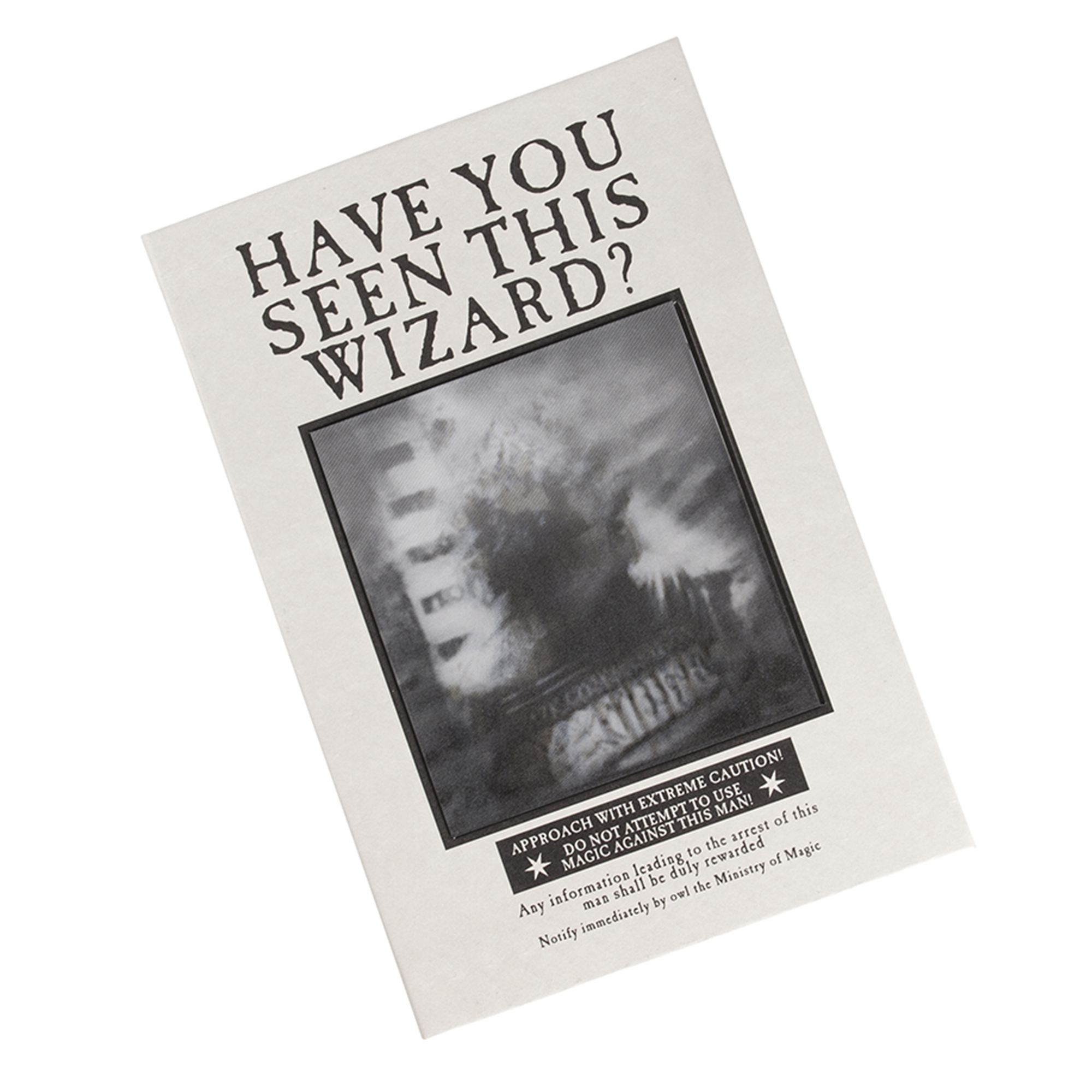 Why oh why oh why, is real school not like Hogwarts? Pledge your allegiance to the school that we mere muggles can only dream of, with this Harry Potter Sirius Black Lenticlar Notebook.
EAN: 5055394010703
Search
Recent Posts
Get Social With Us!
Categories
Pages
Toy Retailers
Popular Tags
Toy Archive