Browsing all articles tagged with game
Posted in Board Games by ToyMaster
5 Second Rule Spintensity Board Game
Spintensity an all-new, spinfully intense electronic version of 5 Second Rule! You re racing to name 3 things in 5 seconds and press the timer to see what the spinner wants you to do next: name 3 more, 2 more, draw a new card or move on to the next player… or will the timer turn Red and sound you out! This electronic version is even more frantic and fun than before! You can also combine this with the original and Junior game for even more fun.
EAN: 5026175524054
Posted in Toys by ToyMaster
Gamebank – 240 Arcade Game Powerbank
So, you need to charge your phone while you're out and about. You plug it in and then wait, bored… unless you have this Game Bank Retro Games Power Bank! This power bank is also a handheld retro games console, which contains 240 arcade style games. Play games based on sports, puzzles, shoot 'em ups, and fantasy as you charge your devices. This power bank has a 4000 mAh charge capacity, so you can charge a standard smartphone up to two times. So, for loads of fun while you charge your devices, order your Game Bank Retro Games Power Bank now!
EAN: 5023664003076
Posted in Board Games by ToyMaster
Posted in Toys by ToyMaster
Ridleys Celebrity Trivia Game
Step onto the red carpet and thrust your friends and family into the limelight with this Celebrity Trivia from Games Room! Who will become Hollywood Royalty and who'll become a box office flop? From questions about The Weeknd's real name to which Spice Girl married first, see who comes out on top as the ultimate celeb fanatic! Packaged in a geometric print box, the set contains 140 question cards and instructions.
EAN: 5055923781067
Posted in Toys by ToyMaster
Posted in Toys by ToyMaster
Asmodee Taco Cat Card Game
Keep these 5 crazy words in mind. As soon as there is a match between a card and a spoken word, race against each other to slap your hand on the central pile of cards. The last one to do so must take them all. Be quick to be the first to get rid of all your cards. But watch out! Your mind will play tricks on you. This addictive game is as unique as its name. Enjoy!
EAN: 3664824001116
Posted in Board Games by ToyMaster
Confident Board Game
There are quiz games, and then there are quiz games. Confident is making trivia fun again with its unique gameplay that gives everyone a chance thanks to quirky questions, dramatic reveals and cheeky answer swaps. Confident is different because instead of answering questions with one answer, you give a range. The aim is to get the answer in your range, while also getting the smallest range compared to the other players. So, you don't need to be a trivia buff to win, you'll just need to balance being correct and being confident: go small or go home! Use your special powers once per game to copy a friend's answer, cause some havoc with a swap or go for double points if you're feeling confident. Includes 180 cards with questions, answers and interesting facts, 6 dry wipe answer boards, 1 dry wipe scoreboard, 6 dry wipe pens and a rule sheet.
EAN: 5060633250000
Posted in Toys by ToyMaster
Talking Tables Boogieland 77 Murder Mystery Game
Dangerous deeds have been taking place at Boogieland 77, the glitziest club in New York. Can your guests work out whodunnit? You'll find all you need to throw a killer 1970's murder mystery dinner party from the comfort of your home with 3 alternative endings for multiple game nights!
EAN: 5052715116113
Posted in Toys by ToyMaster
Haynes – Memory Game Kit
This Haynes kit includes everything you need to build your own flashing light memory game. Remember the pattern of the LEDs and then repeat it using the buttons. Between the assembly and the game itself, it's fantastic fun for ages 14+.
EAN: 4019631150363
Posted in Toys by ToyMaster
Disney Trivia Quiz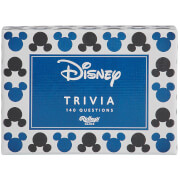 From Mulan to Finding Nemo, put your Disney knowledge to the test with this Disney Trivia Game from Ridley's Games! Who will answer the most questions correctly in this fun Disney and Pixar quiz game? Featuring 140 multiple choice questions across classic and new Disney and Pixar films, you'll find questions like 'In Toy Story, who is Buzz Lightyear's nemesis?'. Do you have what it takes to be crowned the ultimate Disney fan?
EAN: 5055923785256
Search
Recent Posts
Get Social With Us!
Categories
Pages
Toy Retailers
Popular Tags
Toy Archive