Browsing all articles tagged with game
Posted in Toys by ToyMaster
Game of Thrones (I Drink And I Know Things) Metal Drinks Bottle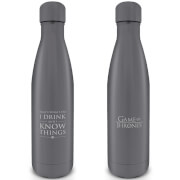 Let the world know that you too Drink and Know things with this officially licensed Metal Bottle. Featuring the Iconic saying from Tyrion Lannister, this Metal Bottle is great for any Game of Thrones fan. Made from Stainless Steel (Valyrian wasnít available) the bottle is double walled and vacuum sealed to keep your favourite drinks the perfect temperature. Now you can travel from the Wall down to Kings Landing refreshed.
EAN: 5050574254007
Posted in Toys by ToyMaster
Hasbro Crocodile Dentist Game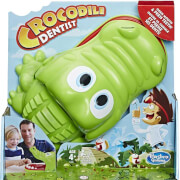 Get ready to have loads of fun playing this Crocodile Dentist kids game. Gather friends and family for fun and frenzy as players pretend to be the crocodile dentist and check the teeth in the croc's mouth. But don't get chomped! The croc will let players know if someone pressed his sore tooth by playfully chomping down. Easily reset the game after each chomp by opening the croc's mouth again. Be the only player not to get chomped to win.
EAN: 5010993576340
Posted in Board Games by ToyMaster
Disney Frozen 2 Home Sprint Board Game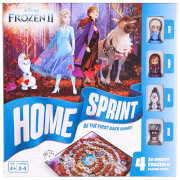 Play the Frozen 2 Home Sprint Board Game with Elsa, Anna, Olaf and Sven and be the first home to win ! Some spaces leap you forward, but others can make you miss a turn; so watch out where you land on the way! Family friendly fun for all ages from 4 years old upwards for 2-4 players, roll the dice and start your race home.
EAN: 5411068301711
Posted in Toys by ToyMaster
Game Over Chopping Board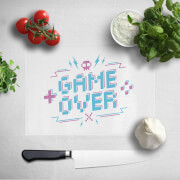 Ready player one? Whether you're questing through another epic open world or smashing your mates in the latest online multiplayer game, we've got the perfect t-shirt, sweatshirt, mug and more to take your gaming greatness to a whole new level!Brighten up your kitchen with one of our amazing cutting boards! Whether you want a summery theme or to show a favourite movie, thereís something for everyone!Bold, full-colour print onto a toughened Glass Chopping Board with Chinchilla finish.High durability30cm x 40cm dimension
EAN: 5059478426077
Posted in Toys by ToyMaster
Top Trumps Card Game – Dinosaur Roar Edition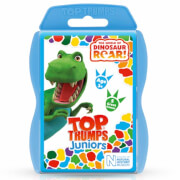 This brand new Top Trumps Juniors pack is ideal for pre school fand of The World of Dinosaur Roar! With 12 creaturesm you can Roar, Stomp, Chew and Bash your way through 5 great games and exciting activities, itís a great introduction to the world of Top Trumps!
EAN: 5036905032766
Posted in Toys by ToyMaster
Buzzed First Expansion Card Game
READY FOR THE REMIX: This is the first expansion pack for Buzzed ó same (easy) rules, all new cards to compete and confess with. Does not require Buzzed to play. ADULTS ONLY: This is a drinking game, designed for ages 21+. Always drink responsibly! HOW TO PLAY: Itís simple ó take turns drawing a card from the top of the deck. When itís your turn, read the card out loud and either you or the group will drink based on the prompt on the card, depending on what it is. Lather, rinse, repeat until youíre buzzed! Designed for 3 to up to 20 players. WHATíS INSIDE: 180 cards to add to Buzzed core game, printed on premium playing cards (thick with gloss finish); shrink-wrapped in a custom box. By purchasing this game, you release BUZZED from any and all liability related to or stemming from any game play, including from any action, inaction, or use of the game by any player, and you and all players further release BUZZED from any claims or actions of any kind resulting from any game play. You further acknowledge that if consuming alcoholic beverages when playing this game, that you are at least 21 years of age and that you will play responsibly. Alcohol consumption is not required.
EAN: 810816030425
Posted in Toys by ToyMaster
Top Trumps Card Game – STEM Peculiar Problems Edition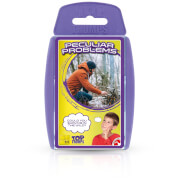 STEM comes to life with Top Trumps Peculiar Problems. Find out how Math can be used to solve the strangest situations, the craziest questions and the most confusing conundrums in this pack of 30 intriguing problems. Features: Entertaining educational card game loved for bringing your favourite mathematical subjects to life Play Top Trumps anytime, anywhere, with as many people as you like Find out how to divide a pizza perfectly, or how to build a castle Easy-to-carry plastic case means there are no limits on gameplay Prepare to outsmart your opponents, discover new and exciting facts and duel your way to becoming the Top Trump Suitable Age: 6+ Number of Players: 2+
EAN: 5036905034074
Posted in Toys by ToyMaster
Hasbro Tiger Electronics Sonic the Hedgehog 3 Electronic LCD Video Game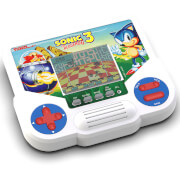 Just imagine going back in time! Gamers who are die-hard fans into retro tech, or are new to this genre, will love this Tiger Electronics Sonic the Hedgehog 3 electronic LCD video game, inspired by the original from the 1990s. It's an exciting adventure as players try to defeat Dr. Eggman in all 6 stages to win the game. The design and technology were created with the original handheld game unit in mind. Look for other retro-inspired Tiger Electronics LCD video games. (Each sold separately. Subject to availability.) Tiger Electronics Inc. SEGA, the SEGA logo and SONIC THE HEDGEHOG are either registered trademarks or trademarks of SEGA Holdings Co., Ltd. or its affiliates. All rights reserved. Hasbro Gaming and all related trademarks and logos are trademarks of Hasbro, Inc. Includes LCD video game and instructions. Features: RETRO INSPIRED VIDEO GAME ACTION: Blast back to the 1990s with this retro-inspired Tiger Electronics Sonic the Hedgehog 3 handheld video game. For ages 8 and up NOD TO NOSTALGIA: Did you play handheld video games as a child? Introduce your own kids to this electronic LCD video game inspired by the Sonic the Hedgehog 3 vintage game from the 1990s SONIC THE HEDGEHOG CHARACTERS: Kids can join Sonic the Hedgehog and his pal Tails as they battle Dr. Eggman and Badniks on a Floating Island COMPLETE 6 STAGES: The game features 6 stages of play, each filled with challenges and obstacles. Kids can pick up Rings and Chaos Emeralds, call Tails for help, and enter the Gumball Bonus Stage for extra points HANDHELD GAME: This electronic LCD video game is great for fans of Sonic the Hedgehog and for those who grew up playing 1-player handheld games. Designed for kids 8 and up, itís also fun for teens and adults
EAN: 5010993752102
Posted in Toys by ToyMaster
Master Thief Card Game
Master Thief is a turn-based card game for all level of gamers. Each player takes the mantle of a thief in a museum heist Precise and beautiful design Select holographic cards with special abilities Settle disputes or catch cheating with the Jury of Thieves
EAN: 47393782823
Posted in Board Games by ToyMaster
Ravensburger Minecraft Builders and Biomes Board Game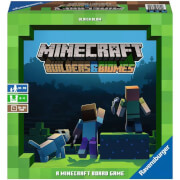 A brand new Minecraft adventure, right at your fingertips! Collect rare blocks and build spectacular structures, but beware of the dangerous mobs and scheming opponents. May the most clever and courageous crafter win! This game includes 64x wooden blocks, 64x building and monster cards, 35x weapon tokens, 4x player boards, 4x experience counters, 4x character skins, 4x game piece bases, 12x overview cards, 1x block base, 1x support structure and instructions. Playing time 30-60 minutes.
EAN: 4005556261321
Search
Recent Posts
Get Social With Us!
Categories
Pages
Toy Retailers
Popular Tags
Toy Archive