Browsing all articles tagged with game
Posted in Board Games by ToyMaster
Harry Potter Lexicon GO! Board Game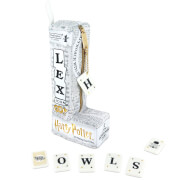 | Retailer | Price | Discount Code? | P&P | |
| --- | --- | --- | --- | --- |
| | £12.99 | Yes | | |
| | £12.99 | No | £3.95 | |
Lex-GO; Is one L; of a super-fast word game. Race against other players to get rid of all your playing card tiles, swapping letters and even adding your tiles onto other players; words. This game comes in a cool, portable bag, which makes it the perfect game for on-the-go, whether youre playing with friends or the kids; In this special Harry Potter Edition of Lex-Go; , there are 4 spell tiles to increase your chances of winning, the Polyjuice Potion tile can be used as any letter and if you can spell the word SNITCH you win the round; The Classic Word Game ; Lexicon Go meets the Wizarding World of Harry Potter. Fun-filled educational word game with a magical twist. Prepare to become a champion wordsmith using special Harry Potter tiles – including Revelio and Depulso. Create crosswords and anagrams as you compete to get rid of all your letters by making words. The classic game of quick thinking. Can you turn your words into rewards; Contents: x1 Zip bag, 52 card tiles. 2 or more players. For ages 4 years and over. 2 year manufacturers guarantee. WARNING(S): Not suitable for children under 3 years old. Only for domestic use. To be used under the direct supervision of an adult.
EAN: 5036905033350
Posted in Toys by ToyMaster
Posted in Toys by ToyMaster
Chad Valley Fishing Game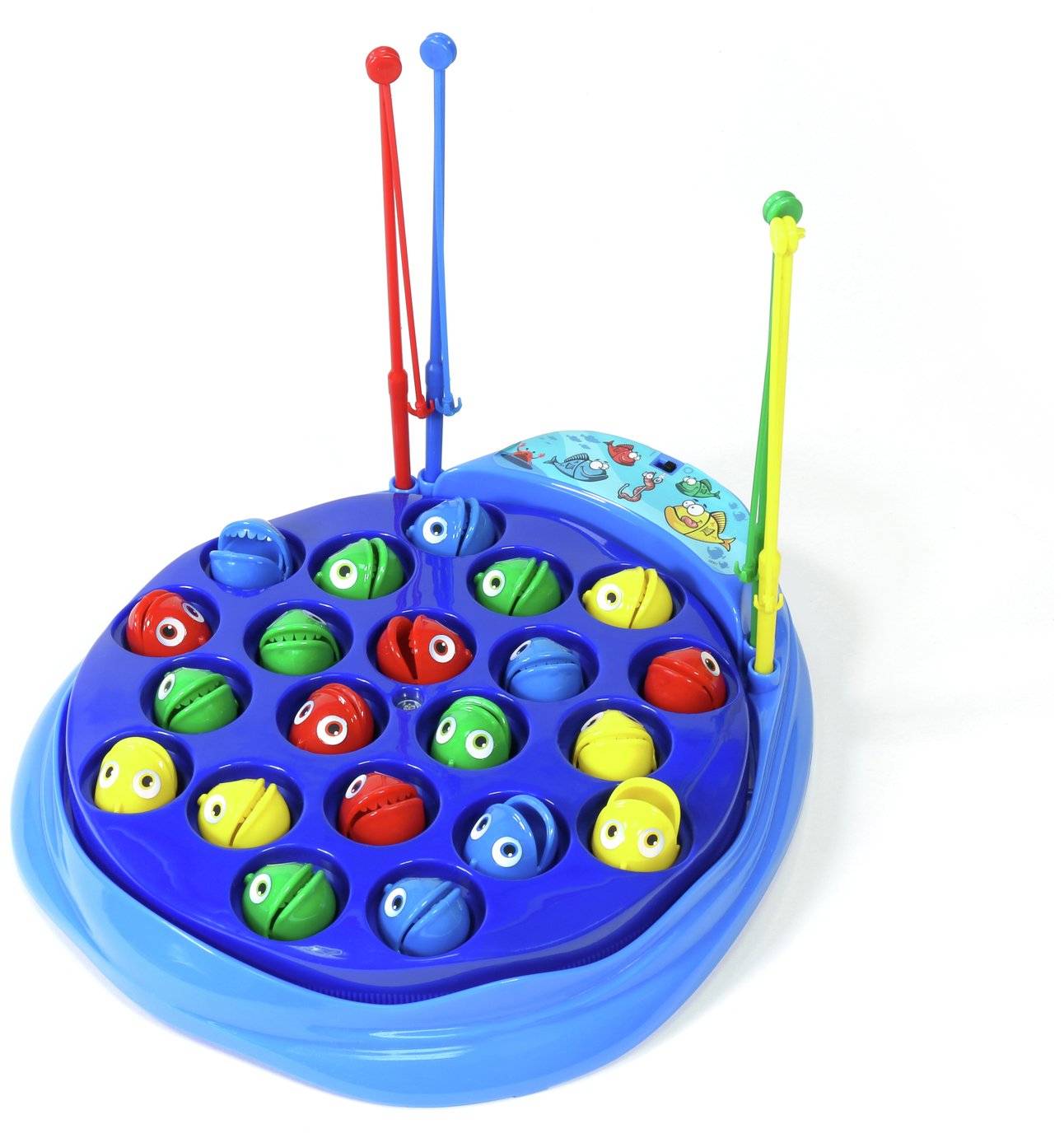 The Chad Valley Fishing Game is sure to provide hours of stimulation and entertainment for all the family: a spinning fish pool with wave-motions makes these colorful fish even harder to catch; This classic kids game teaches hand-eye coordination as players use their mini fishing poles to try to catch the most fish. Includes 21 colourful fish and 4 fishing poles. Requires 2x C batteries (not included). Up to 4 players. Batteries required: 2 x C (not included). For ages 5 years and over. WARNING(S): Not suitable for children under 3 years old. Only for domestic use. To be used under the direct supervision of an adult.
EAN: 4897049303614
Posted in Toys by ToyMaster
This toy no longer exists.
Try visiting www.xmas-toys.co.uk you may find it there.
EAN: 5055964712860
Posted in Toys by ToyMaster
This toy no longer exists.
Try visiting www.xmas-toys.co.uk you may find it there.
EAN: 5055964712877
Posted in Toys by ToyMaster
What Do You Meme
Play time: 30-90+ minutes | Players: 3-20+ (best with 6) | For ages 17+ It's the exciting new adult party game that everyone's talking about! What Do You Meme- challenges players to match captions to an image to generate a meme that will get the most LOLs. Simply prop up the picture on the included easel, then look through your hand of hilarious (and usually quite inappropriate) caption cards. For example, the picture may depict a house burning down in the distance, with a girl in the foreground looking unusually smug. Should the meme be "When you rap the whole verse correctly" or "When you're trick or treating and someone gives you raisins"- You decide. This was one of the safer examples we were allowed to publish, there's a lot of NSFW material in the box! When everyone has picked a caption to match the picture, all players present their suggestions and a rotating judge awards a point to the funniest. Play continues until you run out of cards (which can make it a hilarious night-long game!) or you get hungry and need to order pizza. There are 360 caption cards in the box and 75 photo cards for you to turn into memes, meaning there are thousands of possible combinations. And with another cards for three to 20 players per game, you can break it out at almost any party or night in with friends.
EAN: 810816030104
Posted in Toys by ToyMaster
Orchard Toys Dinosaur Lotto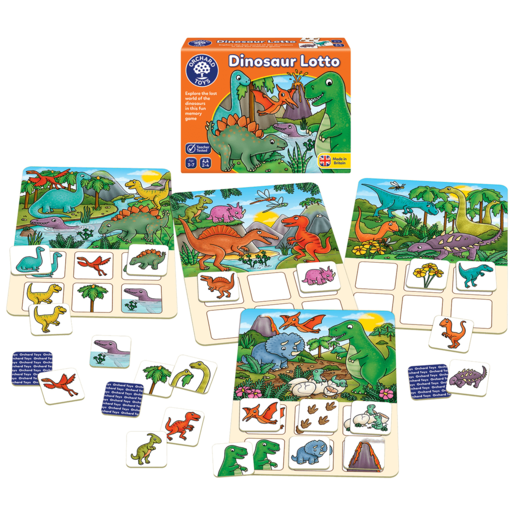 "Fill your board and win Dinosaur Lotto! From Orchard Toys, this fun matching game features over 20 items card. Bright, dinosaur themed pictures take up the top half of the boards, and the bottom half has slots filled with pictures for matching. Turn the cards over and see who can fill their board first! Turn your board over for a challenge. The slots are blank! You'll have to find the matching items in the dinosaur picture on your own. For 2-4 players 3 and over."
EAN: 5011863102997
Posted in Board Games by ToyMaster
Monopoly Fortnite Board Game
Fortnite meets Monopoly in this incredible crossover board game that combines two amazing titles into one. The game board may look familiar to Monopoly fans, but in this game you're battling for health points instead of cash! Choose from one of 27 different outfits and then make your way around the board to secure your favourite Fortnite locations. Roll the dice and use loot chest items to battle your opponents and stay ahead of the storm – last player standing wins!
EAN: 5010993586974
Posted in Toys by ToyMaster
A Game of Thrones LCG 2nd Edition Game (Core Set)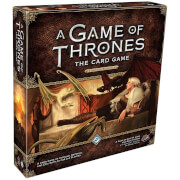 | Retailer | Price | Discount Code? | P&P | |
| --- | --- | --- | --- | --- |
| | £27.99 | Yes | | |
Enter the world of Westeros with A Game of Thrones: The Card Game Second Edition! In this second edition of our longest-running Living Card Game (LCG), you command iconic characters from A Song of Ice and Fire in treacherous battles for the Iron Throne. Every turn, you hatch a new plot, then attack your foes in three types of deadly challenges. Whether you play a head-to-head joust or a ultiplayer melee, your struggles span the field of battle, cunning intrigues, and political machinations. Call your banners and battle for the Iron Throne!
EAN: 9781633441903
Posted in Toys by ToyMaster
Galt Toys Snakes and Ladders Ludo Game Set
"There's double the board game fun with this Snakes & Ladders and Ludo set. Each classic game is a firm family favourite and features colourful animal pictures. In Snakes & Ladders, beat the other players to the top of the board, avoiding the snakes and using the ladders to further your progress. Become an explorer in Ludo, and race your opponents around the board and back to base. These games are lots of fun for 2-4 players and ages three and up. What's in the box? Double-sided playing board Counters Shaker Dice Instructions "
EAN: 5011979312150
Search
Recent Posts
Get Social With Us!
Categories
Pages
Toy Retailers
Popular Tags
Toy Archive