Browsing all articles tagged with game
Posted in Toys by ToyMaster
Over-Rated Card Game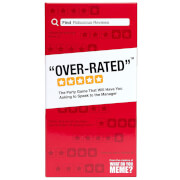 ADULTS ONLY: This game contains mature content and is designed for ages 17+. NOT intended for children. Trust us. GET RIDICULOUS: Over-Rated is the game of ridiculous reviews where players compete to match the funniest "Review" card with the "Location" card for each round. Brought to you by the creators of What Do You Meme. HOW TO PLAY: Players rotate drawing a Location card while the rest of the group competes to play the funniest Review card. Once everyone has played their chosen Review card, the rotating judge awards a point to the funniest one. The player with the most points at the end of the game takes the crown. WHAT'S INSIDE: Contains 150 "Location" cards, 350 "Review" cards plus instructions. Printed on premium playing cards (thick with gloss finish), shrink-wrapped in a custom box. MORE FUN: Did you know that we have other awesome games? Check out our OG bestseller What Do You Meme (plus a ton of fun expansion packs), and tons of NEW adult and family-friendly party games.
EAN: 810816030678
Posted in Toys by ToyMaster
Top Trumps Card Game – Falmouth Edition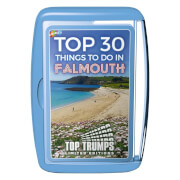 Does Pendennis Castle trump your Princess Pavilion? How do the Harbour Lights compare with the River Cruises? Embark on a journey across this amazing seaside town to discover lots of landmarks, culture and fun facts. Challenge your opponents with the all-new Top Trumps Falmouth: 30 Things To See. Key Features Entertaining educational card game loved for bringing your favourite 30 things to see in Falmouth to life. Play Top Trumps anytime, anywhere, with as many people as you like. Find out how family friendly the Falmouth Oyster Festival is, the Must See rating of the Queen Mary Gradens, and the Top Trumps rating for Falmouth Spring Festival in this edition of Falmouth Top Trumps: 30 Things to See Easy-to-carry plastic case means there are no limits on gameplay Prepare to outsmart your opponents, discover new and exciting facts and duel your way to becoming the Top Trump.
EAN: 5036905035446
Posted in Board Games by ToyMaster
Talisman (Revised 4th Edition) Board Game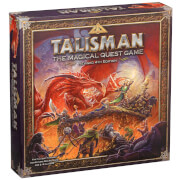 Talisman takes you on a journey through magical lands, as you endeavour to reclaim the Crown of Command. Each turn will see your hero advancing, battling, gaining the knowledge and power necessary to defeat the guardians lurking behind the Portal of Power and the Valley of Fire!
EAN: 4250231719097
Posted in Board Games by ToyMaster
Monopoly Board Game – Margate Edition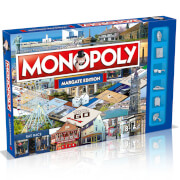 MONOPOLY, the great property trading board game, finds its home in the coastal town of Margate. From award-winning beaches at Margate Main Sands to quirky shopping in The Old Kent Market. Journey around the gameboard via the Thanet Loop and explore locations including, the Harbour Arm, The Grand Garage and Drapers Windmill. Don't forget to stop off for some refreshments en route at The Mad Hatter Tea Rooms or shopping at Rat Race Margate. You can relax while watching Margate FC play football, or take in some culture at The Tom Thumb Theatre. Take a spin around this beautiful seaside town and perhaps you'll own your favourite location, or discover a hidden gem in Kent's finest resort! Key Features The world's favourite family board game brings you another exciting MONOPOLY – Margate Edition Choose your favourite token, tour the beautiful sights of Margate, including the splendid Margate Lighthouse and Dreamland, and accumulate fortunes, but watch out for taxes, jail and bankruptcy Advance to Rat Race Margate, The Grand Garage, Turner Contemporary, or even the Thanet Loop – will you owe rent or reap the rewards? Invest in beach huts and hotels and trade your way to success The Fast-Dealing Property Trading Game is fun for the whole family Suitable Age: 8+ Number of Players: 2+
EAN: 5036905035385
Posted in Toys by ToyMaster
Stand up Sit Down Card Game
A kids' quiz with a difference – each question has two possible solutions – simply Stand Up or Sit Down depending on which answer you think is correct. A great way to get quiet kids to join in the fun… no-one is put on the spot and the game helps children brush up on their general knowledge too!
EAN: 5015766001739
Posted in Toys by ToyMaster
Mysterium Card Game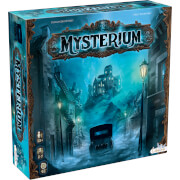 In the 1920s, Mr. MacDowell, a gifted astrologist, immediately detected a supernatural being upon entering his new house in Scotland. He gathered eminent mediums of his time for an extraordinary seance, and they have seven hours to contact the ghost and investigate any clues that it can provide to unlock an old mystery. Unable to talk, the amnesic ghost communicates with the mediums through visions, which are represented in the game by illustrated cards. The mediums must decipher the images to help the ghost remember how he was murdered: Who did the crime? Where did it take place? Which weapon caused the death? The more the mediums cooperate and guess well, the easier it is to catch the right culprit. In Mysterium, a reworking of the game system present in Tajemnicze Domostwo, one player takes the role of ghost while everyone else represents a medium. To solve the crime, the ghost must first recall (with the aid of the mediums) all of the suspects present on the night of the murder. A number of suspect, location and murder weapon cards are placed on the table, and the ghost randomly assigns one of each of these in secret to a medium. Each hour (i.e., game turn), the ghost hands one or more vision cards face up to each medium, refilling their hand to seven each time they share vision cards. These vision cards present dream like images to the mediums, with each medium first needing to deduce which suspect corresponds to the vision cards received. Once the ghost has handed cards to the final medium, they start a two-minute sandtimer. Once a medium has placed their token on a suspect, they may also place clairvoyancy tokens on the guesses made by other mediums to show whether they agree or disagree with those guesses. After time runs out, the ghost reveals to each medium whether the guesses were correct or not. Mediums who guessed correctly move on to guess the location of the crime (and then the murder weapon), while those who didn't keep their vision cards and receive new ones next hour corresponding to the same suspect. Once a medium has correctly guessed the suspect, location and weapon, they move their token to the epilogue board and receive one clairvoyancy point for each hour remaining on the clock. They can still use their remaining clairvoyancy tokens to score additional points. If one or more mediums fail to identify their proper suspect, location and weapon before the end of the seventh hour, then the ghost has failed and dissipates, leaving the mystery unsolved. If, however, they have all succeeded, then the ghost has recovered enough of its memory to identify the culprit. Mediums then group their suspect, location and weapon cards on the table and place a number by each group. The ghost then selects one group, places the matching culprit number face down on the epilogue board, picks three vision cards – one for the suspect, one for the location, and one for the weapon – then shuffles these cards. Players who have achieved few clairvoyancy points flip over one vision card at random, then secretly vote on which suspect they think is guilty; players with more points then flip over a second vision card and vote; then those with the most points see the final card and vote. If a majority of the mediums have identified the proper suspect, with ties being broken by the vote of the most clairvoyant medium, then the killer has been identified and the ghost can now rest peacefully. If not, well, perhaps you can try again…
EAN: 3558380029564
Posted in Toys by ToyMaster
Read my Mind Card Game
It's the game where like minds battle rapid thinkers! Write your own ending to a given statement then try to communicate it to just one other player. Beware! Your opponents will try to second-guess you and grab your points. Can you get your message across without being robbed by rivals? Can you hijack their efforts and add to your score? Think fast, think smart to make the connection – and don't get lost for words!
EAN: 5015766014531
Posted in Toys by ToyMaster
Arkham Horror The Card Game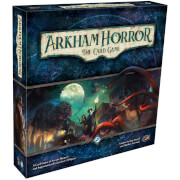 Something evil stirs in Arkham, and only you can stop it. Blurring the traditional lines between roleplaying and card game experiences, Arkham Horror: The Card Game is a Living Card Game of Lovecraftian mystery, monsters, and madness! In the game, you and your friend (or up to three friends with two Core Sets) become characters within the quiet New England town of Arkham. You have your talents, sure, but you also have your flaws. Perhaps youve dabbled a little too much in the writings of the Necronomicon, and its words continue to haunt you. Perhaps you feel compelled to cover up any signs of otherworldly evils, hampering your own investigations in order to protect the quiet confidence of the greater population. Perhaps youll be scarred by your encounters with a ghoulish cult. No matter what compels you, no matter what haunts you, youll find both your strengths and weaknesses reflected in your custom deck of cards, and these cards will be your resources as you work with your friends to unravel the worlds most terrifying mysteries. Each of your adventures in Arkham Horror LCG carries you deeper into mystery. Youll find cultists and foul rituals. Youll find haunted houses and strange creatures. And you may find signs of the Ancient Ones straining against the barriers to our world… The basic mode of play in Arkham LCG is not the adventure, but the campaign. You might be scarred by your adventures, your sanity may be strained, and you may alter Arkhams landscape, burning buildings to the ground. All your choices and actions have consequences that reach far beyond the immediate resolution of the scenario at hand — and your actions may earn you valuable experience with which you can better prepare yourself for the adventures that still lie before you.
EAN: 841333101633
Posted in Toys by ToyMaster
Munchkin: Rick and Morty Card Game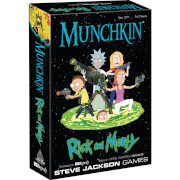 Munchkin: Rick And Morty fuses the classic card game fun of monster-slaying and role-playing with cyborgs, aliens and demons from the popular television series, Rick And Morty. Play as Rick, Morty, Beth, Jerry, Summer or Mr. Poopybutthole to defeat the greatest adversaries in the Rick and Morty universe and become the hero as you reach Level 10 for the win.
EAN: 700304048714
Posted in Toys by ToyMaster
Call Em All Game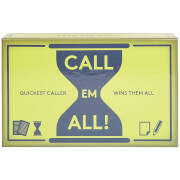 Call em All – quickest caller wins them all! – Summon your most creative vocabulary skills to help your team-mates guess a word or phrase…without saying it! Describe as many as you can before your 60 seconds are up. The first team to twenty points wins.
EAN: 5411068300851
Search
Recent Posts
Get Social With Us!
Categories
Pages
Toy Retailers
Popular Tags
Toy Archive