Browsing all articles tagged with game
Posted in Toys by ToyMaster
Orchard Toys Dinosaur Lotto Match and Memory Game
"Fill your board and win Dinosaur Lotto! From Orchard Toys, this fun matching game features over 20 items card. Bright, dinosaur themed pictures take up the top half of the boards, and the bottom half has slots filled with pictures for matching. Turn the cards over and see who can fill their board first! Turn your board over for a challenge. The slots are blank! You'll have to find the matching items in the dinosaur picture on your own. For 2-4 players 3 and over."
EAN: 5011863102997
Posted in Board Games by ToyMaster
Monopoly E6603102 Fortnite Edition Board Game, Multi-Color
| Retailer | Price | Discount Code? | P&P | |
| --- | --- | --- | --- | --- |
| | £21.99 | No | Free | |
| | £21.99 | No | £3.95 | |
| | £22.00 | No | £2.99 | |
| | £30.00 | Yes | | |
Fortnite meets Monopoly in this incredible crossover board game that combines two amazing titles into one. The game board may look familiar to Monopoly fans, but in this game you're battling for health points instead of cash! Choose from one of 27 different outfits and then make your way around the board to secure your favourite Fortnite locations. Roll the dice and use loot chest items to battle your opponents and stay ahead of the storm – last player standing wins!
EAN: 5010993586974
Posted in Toys by ToyMaster
A Game of Thrones LCG 2nd Edition Game (Core Set)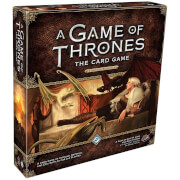 Enter the world of Westeros with A Game of Thrones: The Card Game Second Edition! In this second edition of our longest-running Living Card Game (LCG), you command iconic characters from A Song of Ice and Fire in treacherous battles for the Iron Throne. Every turn, you hatch a new plot, then attack your foes in three types of deadly challenges. Whether you play a head-to-head joust or a ultiplayer melee, your struggles span the field of battle, cunning intrigues, and political machinations. Call your banners and battle for the Iron Throne!
EAN: 9781633441903
Posted in Toys by ToyMaster
Galt Toys Snakes and Ladders Ludo Game Set
"There's double the board game fun with this Snakes & Ladders and Ludo set. Each classic game is a firm family favourite and features colourful animal pictures. In Snakes & Ladders, beat the other players to the top of the board, avoiding the snakes and using the ladders to further your progress. Become an explorer in Ludo, and race your opponents around the board and back to base. These games are lots of fun for 2-4 players and ages three and up. What's in the box? Double-sided playing board Counters Shaker Dice Instructions "
EAN: 5011979312150
Posted in Toys by ToyMaster
Cool Catch Game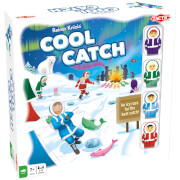 Move the adventurers along their paths and try to collect as many fish discs of the same kind as you can. The player who has the best total catch at the end of the game wins. Use a little bit of strategy and hope for the best to win this adventure for the whole family.
EAN: 6416739552286
Posted in Toys by ToyMaster
Junior Party Alias Game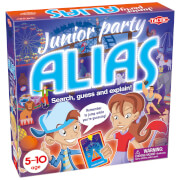 Explain and guess words to the other players and try to imitate the characters on the acting cards. I the other players can't figure out what your trying to portray, they can look for the right image on the game board.
EAN: 6416739544458
Posted in Toys by ToyMaster
Star Wars: Rebellion Game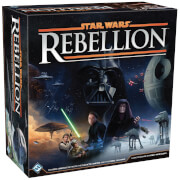 Star Wars: Rebellion is a board game of epic conflict between the Galactic Empire and Rebel Alliance for two to four players! Experience the Galactic Civil War like never before. In Rebellion, you control the entire Galactic Empire or the fledgling Rebel Alliance. You must command starships, account for troop movements, and rally systems to your cause. Given the differences between the Empire and Rebel Alliance, each side has different win conditions, and youll need to adjust your play style depending on who you represent: As the Imperial player, you can command legions of Stormtroopers, swarms of TIEs, Star Destroyers, and even the Death Star. You rule the galaxy by fear, relying on the power of your massive military to enforce your will. To win the game, you need to snuff out the budding Rebel Alliance by finding its base and obliterating it. Along the way, you can subjugate worlds or even destroy them. As the Rebel player, you can command dozens of troopers, T-47 airspeeders, Corellian corvettes, and fighter squadrons. However, these forces are no match for the Imperial military. In terms of raw strength, youll find yourself clearly overmatched from the very outset, so youll need to rally the planets to join your cause and execute targeted military strikes to sabotage Imperial build yards and steal valuable intelligence. To win the Galactic Civil War, youll need to sway the galaxys citizens to your cause. If you survive long enough and strengthen your reputation, you inspire the galaxy to a full-scale revolt, and you win. Featuring more than 150 plastic miniatures and two game boards that account for thirty-two of the Star Wars galaxys most notable systems, Rebellion features a scope that is as large and sweeping as any Star Wars game before it.
EAN: 841333101053
Posted in Toys by ToyMaster
This toy no longer exists.
Try visiting www.xmas-toys.co.uk you may find it there.
EAN: 643690762898
Posted in Toys by ToyMaster
This toy no longer exists.
Try visiting www.xmas-toys.co.uk you may find it there.
EAN: 857848004352
Posted in Toys by ToyMaster
Search
Recent Posts
Get Social With Us!
Categories
Pages
Toy Retailers
Popular Tags
Toy Archive