Browsing all articles tagged with game
Posted in Board Games by ToyMaster
Ravensburger Monster Splat Board Game
"Find out if you're quick enough with the Ravensburger Monster Splat — The Frenzied Fast-Reaction Game. The catch 'em, splat 'em monster game is lots of fun for the whole family, but who will catch the slime monsters with their sticky hands and win the game once and for all? Set includes four slime hands, four slime monsters, ten city monsters, one trash can, one spinner with pointer and holder, plus playing pieces. Suitable for children aged 3 years and over. "
EAN: 4005556205417
Posted in Board Games by ToyMaster
Cluedo Harry Potter Board Game
Play time: 30 minutes | Players: 3-5 (best with 4) | For ages: 9+ A friend has gone missing in the wizarding world, so it's up to Harry, Ron, Hermione, Ginny, Luna and Neville to find out what has happened! Explore beyond the walls of Hogwarts in this brilliant Harry Potter version of Cluedo, unearthing evidence as you go to discover who did it, what spell or magical item they used and where the student was attacked. Tired of travelling around the board like a muggle- Use Floo Powder and take a trip across the Floo Network to teleport between rooms as you get closer and closer to solving the mystery. Was it Fenrir Greyback with a cursed necklace in the Forbidden Forest-
EAN: 5036905037198
Posted in Toys by ToyMaster
Operation Game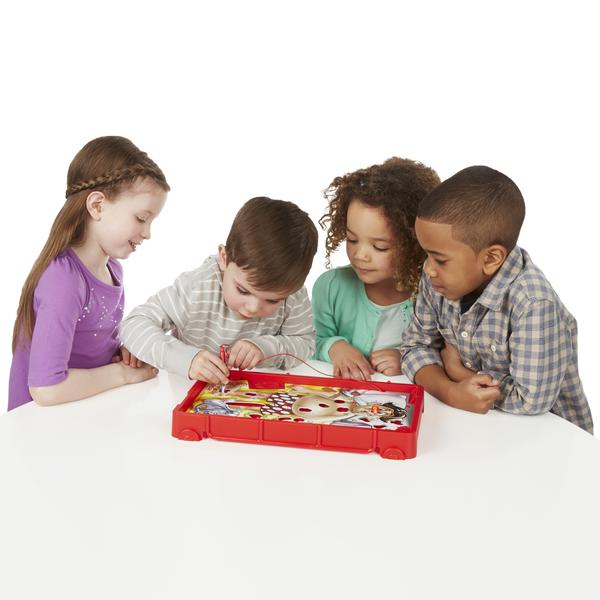 Its the family favorite Operation game with fun Try Me packaging and truly classic funny ailments! Cavity Sam is feeling a bit under the weather. and kids will love to "operate" and make him better. Use the tweezers to take out all of Cavity Sams 12 funny ailment parts that parents might remember — such as a wishbone. Charlie horse. and Adams apple. Players choose a doctor card and "operate" to remove that ailment from Sam. and collect the money if they can avoid the buzz. The player with the most money wins!
EAN: 5015353996189
Posted in Board Games by ToyMaster
Rick and Morty Board Game – The Pickle Rick Game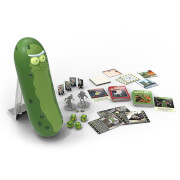 Play time: 30 minutes | Players: 1-2 (best with 2) | For ages 17+ Relive the tense and extremely funny Pickle Rick episode of Rick and Morty with this fantastic game that comes in a giant pickle! One player is Pickle Rick with the aim of escaping the heavily armed compound, whilst the other assumes the role of Jaguar and the Russians trying to stop him. The set includes detailed miniatures of both Pickle Rick and Jaguar as well as four custom dice and a number of cards, building tiles and Russian guard standees that inject excitement into the game at every turn. Solenya versus the Russians
EAN: 814552027084
Posted in Board Games by ToyMaster
Tension Board Game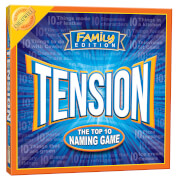 A fun word-based game for two teams of players. Categories include 'James Bond films', 'pizza toppings' and even some as easy as 'words ending in Z'. Teams of players have to name as many items within a category as they can manage before the time runs out. Only those responses listed on the cards will count and allow players to move their pieces on the game board.
EAN: 5015766006130
Posted in Board Games by ToyMaster
Posted in Toys by ToyMaster
Ravensburger Jurassic Park Game
Welcome to Jurassic Park. The first visitors have arrived at Jurassic Park to see its miraculous dinosaurs firsthand. But Chaos has hit Isla Nubular – the power is out, and the prehistoric creatures are on the hunt! One player controls the T.Rex, Dilophosaurus and the Velociraptor, prowling through the jungle to attach the humans. The other players team up as the characters from the classic movie, struggling to get Jurassic Park back online and escape the island before they fall prey! Learn how to play at Ravensburger.com/dangergame. This game includes 110x Cards, 11 Player Mats, 19 x Island Tiles, 5x Perimeter Frames, 10 Character Movers, 3x Dinosaur Movers, 13x Fences, 19x Tokens, 1x Dice & Instructions. This game is suitable for 2-5 players. Suitable for ages 10 years and up. Playing Time: 50 minutes
EAN: 4005556224906
Posted in Toys by ToyMaster
Ravensburger Pictopia Harry Potter Picture Trivia Game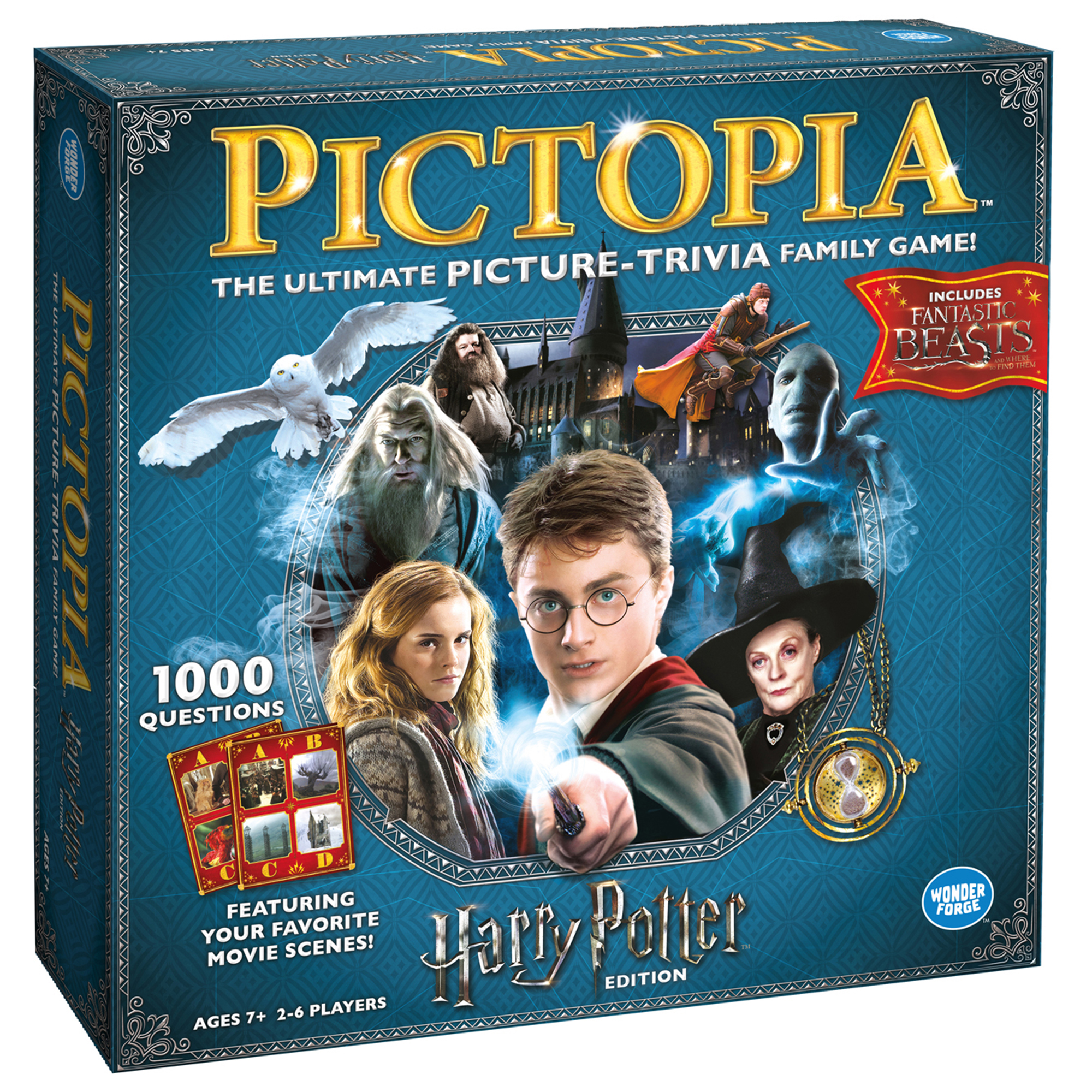 So who is the biggest Potterhead? The Ravensburger Pictopia Harry Potter Edition The Picture Trivia Game will uncover the truth! Showcase your knowledge of J.K. Rowling's wizarding world when you encounter 1,000 picture trivia questions featuring the beloved characters, extraordinary places, magical creatures, and enchanted objects from the epic Harry Potter movies. It's a game of teamwork – with a competitive twist! Sometimes you'll work together and other times answer alone, but you'll wager your points every time! How much you wager will depend on how well you know the pictures on the card, before you hear the question! Along the way are guess-my-answer questions that reveal how much you know about the other players! Make Family game time enchanting!This game includes 200x Cards, 6x Answer Dials, 30x Prophecy Coins, 1x Game Board, 6x Movers, 1x Die & Instructions. This game is suitable for 2-6 players. Suitable for ages 7 years and up. Playing Time: 25-45 minutes
EAN: 4005556224913
Posted in Toys by ToyMaster
Paw Patrol Pop Up Game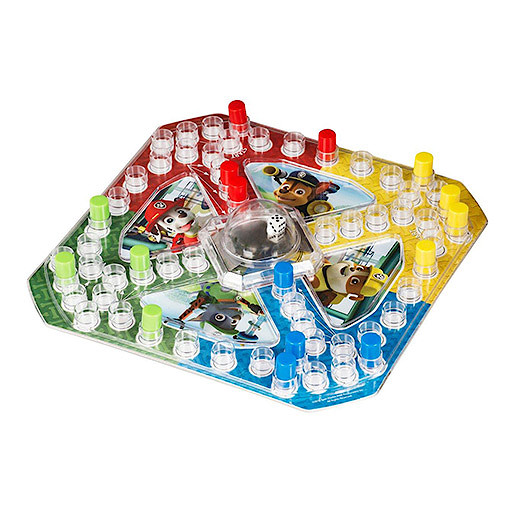 "Play the Pop-Up Game with the Paw Patrol. Based on the classic Frustration, the aim is to move your coloured pegs around the gameboard to home. The Paw Patrol Pop-Up Game comes with special Pop-a-Matic dice to ramp up the excitement. Get your pegs home and win the game! This board game is for 2-4 players and ages 3+. What's in the box? Gameboard Playing pieces Rules "
EAN: 5055114309858
Posted in Toys by ToyMaster
Fun Time Spin N Drop Game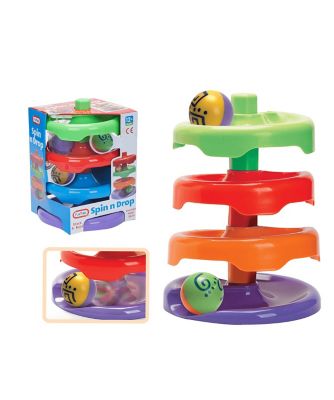 "Toddlers will be mesmerised by the Fun Time Spin N Drop. It's colourful, educational and makes an ideal choice for your little one. Stack the brightly coloured pieces to build a track and watch as the patterned balls roll downwards. The fun never stops! A great gift for ages 12 months and up."
EAN: 28503053682
Search
Recent Posts
Get Social With Us!
Categories
Pages
Toy Retailers
Popular Tags
Toy Archive