Browsing all articles tagged with friends | toys4xmas
Posted in Lego by ToyMaster
LEGO Friends Doggy Day Care – 41691
"Get ready for a pup-tastic playtime with this Doggy Day Care playset from the LEGO® Friends range. Whether theyâ??re looking after their favourite doggos or helping the puppy learn new tricks, little animal lovers can enjoy lots of creative playtimes with this exciting set. With plenty of accessories and loads of colourful features, this playset is a must-have for every LEGO® Friends fan. Inside the box, children will love playing with: â?˘ 221x piecesâ?˘ 2x LEGO® Friends mini-dolls (Emma and Roxy)â?˘ 2x dog figures (1x puppy and 1x adult dog)â?˘ 1x Day Care playset (including grooming area, cash register, separate bathing pool and agility tunnel)â?˘ Plenty of accessories For ages 6 years and over."
EAN: 5702016971750
Posted in Lego by ToyMaster
LEGO Friends Heartlake City Organic Café Set 41444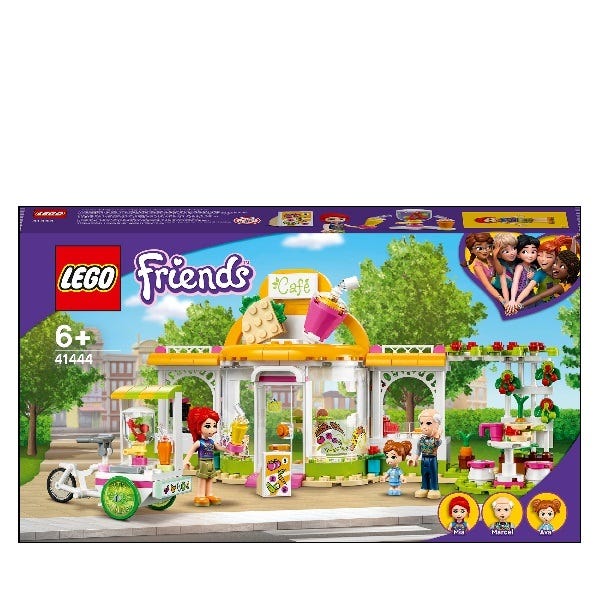 | Retailer | Price | Discount Code? | P&P | |
| --- | --- | --- | --- | --- |
| | £24.99 | No | £3.95 | |
| | £24.99 | Yes | £4.49 | |
| | £25.00 | No | £3.99 | |
"Indulge in some healthy treats with this Heartlake City Organic CafĂ© playset from the LEGO® Friends range. This bright and colourful playset is a must-have for little LEGO® Friends fans! It includes a buildable Organic CafĂ©, as well as all the accessories and minifigures they need to inspire plenty of fun at playtime. Inside the box, children will find: â?˘ 314x piecesâ?˘ 1x buildable Heartlake City Organic CafĂ© sceneâ?˘ 1x juice delivery bikeâ?˘ 3x LEGO® Friends mini-dollsâ?˘ Accessories For ages 6 years and over."
EAN: 5702016914818
Posted in Lego by ToyMaster
LEGO Friends Olivias Electric Car Toy 41443 | Retailer | Price | Discount Code? | P&P | |
| --- | --- | --- | --- | --- |
| | £12.99 | No | £3.95 | |
| | £12.99 | Yes | £4.49 | |
| | £13.00 | No | £3.99 | |
"Children can take their playtime on the go with this Oliviaâ??s Electric Car playset from the LEGO® Friends range. Environmentally conscious children will be delighted by this eco-friendly playset. Children will love building the special Electric Car and wind turbine scene, then using the mini-dolls and accessories to play out their favourite LEGO® Friends storylines. Inside the box, children will find: â?˘ 183x piecesâ?˘ 1x buildable Electric Carâ?˘ 1x buildable wind turbineâ?˘ 2x LEGO® Friends mini-dolls (Olivia and Mia)â?˘ 1x puppy figureâ?˘ Accessories For ages 6 years and over."
EAN: 5702016914801
Posted in Lego by ToyMaster
LEGO Friends Cat Grooming Car Toy Kittens 41439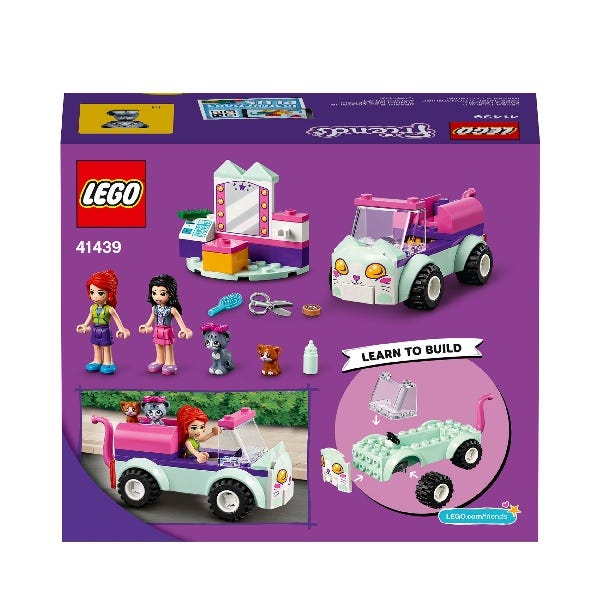 | Retailer | Price | Discount Code? | P&P | |
| --- | --- | --- | --- | --- |
| | £8.99 | No | £3.95 | |
| | £8.99 | Yes | £4.49 | |
| | £9.00 | No | £3.99 | |
"Inspire some pet-care fun with this Cat Grooming Car from the LEGO® Friends range. Children can take the salon on the go with this delightful Cat Grooming Car. First, they can build up the scene using the included pieces. Then, they can play out their favourite LEGO® Friends storylines using the accessories and mini-dolls. Inside the box, children will find everything they need to inspire their playtimes, including: â?˘ 60x piecesâ?˘ 1x buildable Cat Grooming Carâ?˘ 2x LEGO® Friends mini-dolls (Emma and Mia)â?˘ 1x cat and 1x kitten figuresâ?˘ Accessories For ages 4 years and over."
EAN: 5702016911503
Posted in Lego by ToyMaster
LEGO Friends: Mia's Pug Cube Playset Series 4 (41664)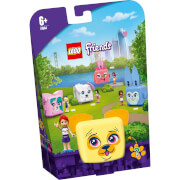 "Itâ??s time for some storytelling fun with this Miaâ??s Pug Cube playset from the LEGO® Friends range. Inspire plenty of pet-care adventures with this delightful playset. Children will love helping Mia take care of the sweet Pug figure using all the grooming accessories. Thereâ??s even a scoop to help clear away the little pupâ??s poop in the garden! Inside the portage storage cube, children will find: â?˘ 40x piecesâ?˘ 1x Mia mini-dollâ?˘ 1x mystery pug figureâ?˘ 1x buildable cabinetâ?˘ Accessories For ages 6 years and over."
EAN: 5702016915587
Posted in Lego by ToyMaster
LEGO Friends: Emma's Dalmatian Cube Playset Series 4 (41663)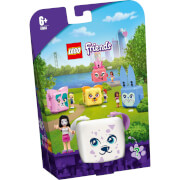 "Take a trip to Heartlake City with this Emmaâ??s Dalmatian Cube playset from the LEGO® Friends range. With this sweet, portable playset, children can host a special birthday party for their Dalmatian friend! Little ones will love fitting together the pieces, then using the accessories to inspire their festive fun. They can help Emma take photographs or even enjoy a slice of dog-friendly cake! Inside the compact box, children will find: â?˘ 41x piecesâ?˘ 1x Emma mini-dollâ?˘ 1x mystery Dalmatian figureâ?˘ 1x buildable tree and standsâ?˘ Accessories For ages 6 years and over."
EAN: 5702016915570
Posted in Lego by ToyMaster
LEGO Friends Stephanies Cat Cube Playset 41665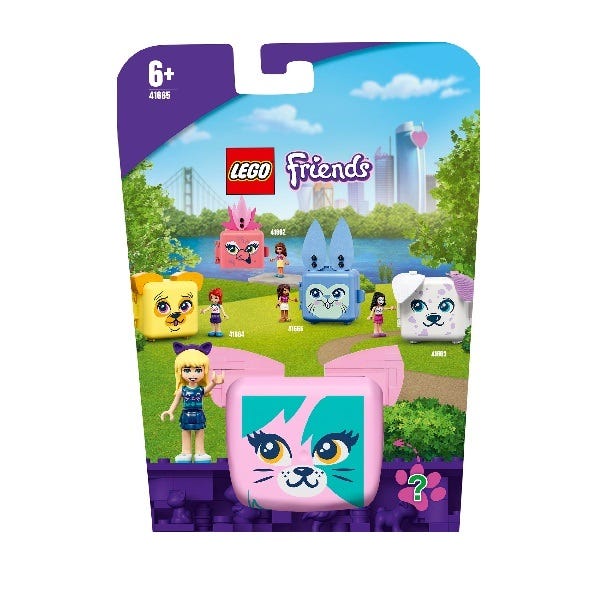 | Retailer | Price | Discount Code? | P&P | |
| --- | --- | --- | --- | --- |
| | £8.99 | No | £3.95 | |
| | £8.99 | Yes | £4.49 | |
| | £9.00 | No | £3.99 | |
"Children will love building and taking care of their animal friends with this Stephanieâ??s Cat Cube playset from the LEGO® Friends range. Cat-loving children will adore this mini playset. Inside the Cat Cube, theyâ??ll discover lots of amazing buildable surprises. Using the pieces provided, they can create an amazing cat gym, as well as a nature park. Inside the portable storage cube, children will find: â?˘ 46x piecesâ?˘ 1x Stephanie mini-dollâ?˘ 1x mystery cat figureâ?˘ 1x buildable cat gym, plant and treeâ?˘ 1x birdâ?˘ Accessories For ages 6 years and over."
EAN: 5702016915464
Posted in Lego by ToyMaster
LEGO Friends: Heartlake City: Movie Theater Cinema Set (41448)
| Retailer | Price | Discount Code? | P&P | |
| --- | --- | --- | --- | --- |
| | £44.99 | No | | |
| | £44.99 | Yes | | |
| | £44.99 | No | £3.95 | |
| | £44.99 | No | Free | |
| | £44.99 | Yes | Free | |
Treat kids to a red-carpet play experience as they imagine attending a movie premier at the LEGO Friends Heartlake City Cinema (41448) playset. This gift for kids features a premier night at this vintage-style cinema, with a red carpet and a glamorous LEGO Friends movie star! It comes complete with a starlet, ready to sign autographs for adoring fans. Everything in a toy a kid needs to transport them to a glamorous night at the movies.The model is hinged so kids can open it out to reveal a VIP screening room with exclusive seats for 5 of their most fabulous friends. The characters can ?view? the film on the screen, but this also flips to accommodate a cell phone, so kids can play director by showing their very own movies.LEGO Heartlake City birthday gifts for kids come packed with real-world details and relatable characters. They encourage kids to conjure up a creative world of role-play fun, alone or with their friends and family.Measures over 6.5 in. (17 cm) high, 10 in. (27 cm) wide and 7 in. (19 cm) deep.Contains 451 pieces.
EAN: 5702016917246
Posted in Lego by ToyMaster
LEGO Friends: Olivia's Flamingo Cube Set Series 4 (41662)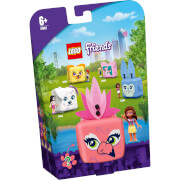 "Take care of exotic new pets with this Oliviaâ??s Flamingo Cube playset from the LEGO® Friends range. Whether sheâ??s exploring the jungle or hanging out with her favourite Flamingo pal, children will love making up exciting adventures with Olivia. Theyâ??ll love the tropical scene, complete with tasty watermelon treats and cute little frogs. Inside the compact, portable box, children will find: â?˘ 41x piecesâ?˘ 1x Olivia mini-dollâ?˘ 1x mystery Flamingo figureâ?˘ 1x buildable lake sceneâ?˘ Accessories For ages 6 years and over."
EAN: 5702016915068
Posted in Lego by ToyMaster
LEGO Friends Andreas Family House Playset 41449
| Retailer | Price | Discount Code? | P&P | |
| --- | --- | --- | --- | --- |
| | £59.99 | No | Free | |
| | £59.99 | No | Free | |
| | £59.99 | Yes | Free | |
For a gift with real impact, try LEGO Friends Andrea?s Family House (41449) playset. Fantastically detailed, from the solar panels on the roof to the mini keyboard in the garage studio, this premium playset will delight LEGO Friends fans and wow friends who come to play. Kids can hang out in Andrea?s bedroom or make cupcakes in the kitchen with the cute cooking accessories. There?s a heart-shaped pool and a cool garage studio with musical toys where Andrea and her friends can put on a show for the neighbourhood! The roof features solar panels, helping the family live in a modern way, and the top floor is removable, making it easy for little fingers to explore the features.The set comes with 5 LEGO Friends minidolls ? including Liz, Andrea?s little sister, a new-for-January-2021 micro-doll ? so there are limitless ways for kids to play out LEGO family life. Introduce kids to Heartlake City where kids will find a best friend who?s just like them!Measures over 7 in. (20 cm) high, 10 in. (26 cm) wide and 4 in. (12 cm) deep.Contains 802 pieces.
EAN: 5702016916133
Search
Recent Posts
Get Social With Us!
Categories
Pages
Toy Retailers
Popular Tags
Toy Archive