Browsing all articles tagged with friends
Posted in Toys by ToyMaster
Posted in Toys by ToyMaster
Steiff Soft Cuddly Friends Lita Lamb (White/Taupe)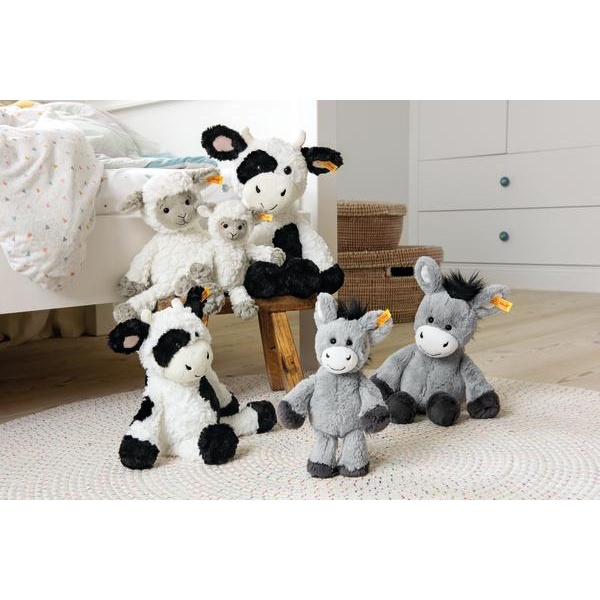 | Retailer | Price | Discount Code? | P&P | |
| --- | --- | --- | --- | --- |
| | £25.00 | No | £3.50 | |
| | £26.00 | Yes | £5.50 | |
The 30 cm tall soft Soft Cuddly Friends Lita lamb is so cute with its slightly structured plush pelt. Its soft pink ears and its brown/grey paws are in stark contrast to its white body. Its nose, mouth and eyebrows give Lita lamb a truly sweet appearance. With bean bags sewn into its bottom and paws. 
EAN: 4001505073427
Posted in Toys by ToyMaster
Friends Advent Calendar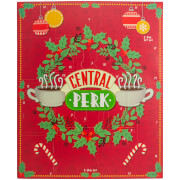 2020… the one where you get a Friends Central Perk advent calendar! It's full of awesome, Friends themed stationery with the Central Perk logo on the front of the calendar. It's so festive it's like Santa, the Holiday Armadillo, and Superman all showed up at your door together!
EAN: 5055964756000
Posted in Toys by ToyMaster
Steiff Soft Cuddly Friends Cobb Cow (White/ Black)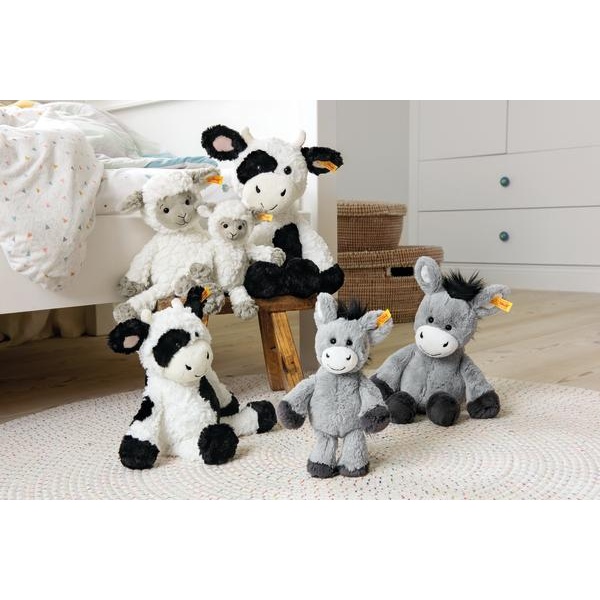 | Retailer | Price | Discount Code? | P&P | |
| --- | --- | --- | --- | --- |
| | £25.00 | No | £3.50 | |
| | £26.00 | Yes | £5.50 | |
The black dappled Cobb cow is 30 cm tall. Her left eye has a black patch and fits wonderfully with the cream coloured mouth and the stitched nostrils and mouth. The cream horns project funnily from her head. The bean bags sewn into its bottom support her posture when in sitting position. The four black hooves are easy to grasp and hold as they also contain bean bags.
EAN: 4001505073663
Posted in Toys by ToyMaster
Friends Peephole Photo Frame
Add a slice of true Friends nostalgia to your home with this super-fun Friends Peephole Picture Frame. This wonderful piece of memorabilia allows you to have the iconic peephole picture frame from Monica and Rachel's apartment in your own home. This picture frame is in the shape and style of the one from Friends and can either be hung on your wall or stood up on a mantlepiece or table. Perfect for your favourite pictures of you and your friends, the Peephole Picture Frame also makes a great gift for lovers of this popular TV show. The multi-award winning sitcom Friends is one of the most cherished TV shows of all time. Adored by hardcore fans and critics alike, it's more than just a show and is now a part of popular culture. Set in New York, Friends followed the trials and tribulations of Rachel, Monica, Phoebe, Joey, Chandler, and Ross. Hilarious and heart-warming in equal measure, Friends spanned 10 seasons, and over 200 episodes, between 1994 and 2004. Having finished many years ago, it's huge popularity meant that reruns of Friends have been continually shown on UK TV channels, and the show was recently added to Netflix. The Friends Peephole Picture Frame is an officially licensed Friends product.
EAN: 5055964728083
Posted in Toys by ToyMaster
Steiff Light Brown Soft Cuddly Friends Jimmy Teddy bear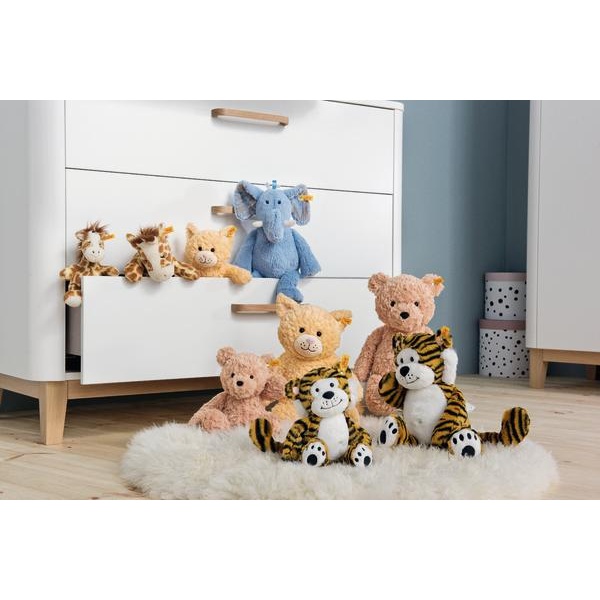 | Retailer | Price | Discount Code? | P&P | |
| --- | --- | --- | --- | --- |
| | £26.00 | Yes | £5.50 | |
Jimmy Teddy bear measures 30 cm and its smiling face is great to put the smile back on a child's face when comforting and snuggling are needed. The wavy and beautifully soft plush fabric is light brown. The cute black nose and smiling mouth are embroidered in black stitching. A bean bag is sewn into its bottom to provide support. There are also bean bags in the arms and legs.
EAN: 4001505113505
Posted in Toys by ToyMaster
Posted in Toys by ToyMaster
1000 Piece Jigsaw Puzzle – Friends Scrapbook Edition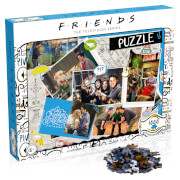 Can there be any more pieces in this officially-licensed Friends jigsaw puzzle?! Assemble this stunning scrapbook montage from one of the most beloved sitcoms in television history; it's the perfect activity to complete whether you're sipping coffee, or hanging out with your chick and duck. Running for 236 episodes over 10 incredible seasons, Friends remains one of the most instantly recognisable and endlessly quotable comedies ever broadcast, and now you can own a piece of television history. Just don't forget to "pivot" those corner pieces as you assemble our favourite New Yorkers in a selection of hilarious photos from the show, like the One with the Giant Poking Device, or The One with the Thanksgiving Flashbacks. When complete, this jigsaw would look stunning on the wall of any fan or collector. Like the show itself, this puzzle is a high-quality, official product that is created to stand the test of time, so put it on display and guests will be screaming "OH. MY. GOD!" before you know it. Delve into the world of Central Perk with this charming, quirky Friends jigsaw puzzle "How you doin'?" – Check out Ross, Rachel, Monica, Chandler, Joey and Phoebe in a selection of memorable scenes from the show Gather your friends and family to help assemble this piece of television history This 1000-piece puzzle will keep you entertained for hours as you put the picture together
EAN: 5036905039611
Posted in Lego by ToyMaster
This toy no longer exists.
Try visiting www.xmas-toys.co.uk you may find it there.
EAN: 5702016618983
Posted in Toys by ToyMaster
The Voting Card Game – The Adult Party Card Game About Your Friends (NSFW Edition)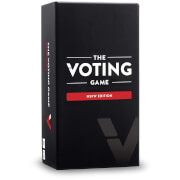 The Voting Game NSFW Edition is a group card game that uncovers the sometimes disturbing, sometime risqué, but always hilarious truths behind your friendships. Play again and again—gameplay varies dramatically based on the friends you play with. Get to know one another—personal stories are often shared after a revealing vote. Ages: 17 + | Players: 4 – 10 | Time: 30 – 90 minutes | 200 All New Question Cards Warning: Not recommended for accountants and other people without a personality.
EAN: 856732007080
Search
Recent Posts
Get Social With Us!
Categories
Pages
Toy Retailers
Popular Tags
Toy Archive