Browsing all articles tagged with figure
Posted in Toys by ToyMaster
Godzilla ChiBi Figure 2 Pack – Godzilla & Mechagodzilla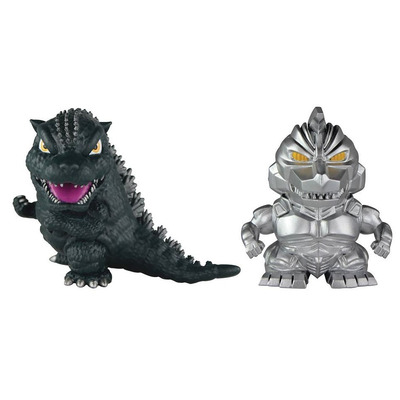 The Godzilla Chibi Figure 2-Pack Case features some of the most iconic Godzilla, mecha and kaiju ever created. From Toho's hit Godzilla film franchise these Chibi kaiju figures feature intricate sculpting and enhanced deco with a super deformed style that makes them ready for play or display.
EAN: 3296580979202
Posted in Toys by ToyMaster
Marvel Classic Mighty Muggs Captain America No.1 Figure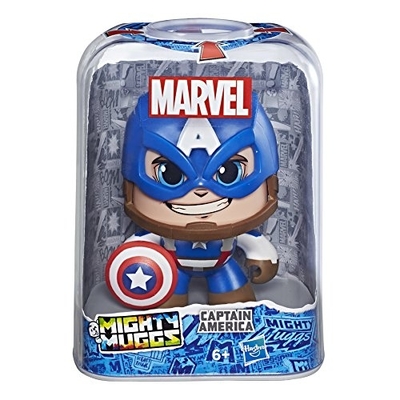 "Shield? Check. Mask? Check. Head on straight? Mostly." – Captain America Call it a moodswing, or call it a moodSPIN, with Marvel Mighty Muggs, heads are going to turn…literally. This Captain America Mighty Muggs figure features a push-and-turn mechanism so that when kids and fans continue pressing the button, they'll send Cap's head spinning! With 3 different expressions and a classic character design that'll have collectors doing a triple take, Marvel Mighty Muggs send moodswings on the upswing. Additional Mighty Muggs figures each sold separately.
EAN: 5010993469239
Posted in Toys by ToyMaster
My Little Pony Guardians Of Harmony Rainbow Dash Figure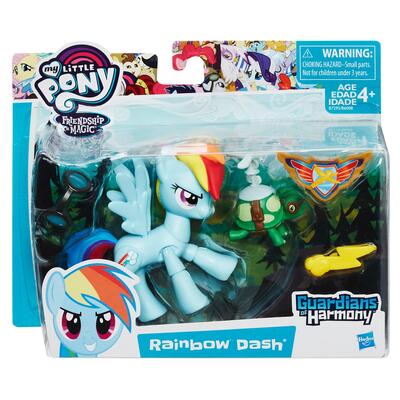 My Little Pony Guardians of Harmony pony friends are ready for adventure—especially Shining Armor! He's captain of the royal guard! Inspired by the My Little Pony Friendship is Magic television series, this Shining Armor figure comes dressed for action with a bold helmet, royal armor, and spear accessories. He also has 8 points of articulation—pose him and imagine favorite scenes from the series. The set includes a fun badge accessory that the child can wear. Also look for other Guardians of Harmony pony friends. (Each figure sold separately. Subject to availability.)
EAN: 5010994954109
Posted in Toys by ToyMaster
Hasbro Solo: A Star Wars Story 12-Inch Imperial Patrol Trooper Figure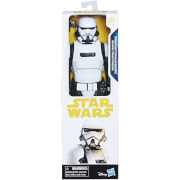 As the Empire reinforces its hold on worlds across the galaxy, Imperial Patrol Troopers police the streets and alleys aboard swift interceptor speeder bikes. Kids can imagine creating their own Star Wars action with this 12-inch Imperial Patrol Trooper figure! This figure features movie-inspired design and comes with a character-inspired accessory for fun figure play. Expand and enhance any collection with figures, vehicles, and more from Star Wars! Additional products each sold separately. Features: Includes figure and accessory. 12-inch, Solo: A Star Wars Story Imperial Patrol Trooper figure Movie-inspired design Includes character-inspired accessory Recreate adventures and scenes from the Star Wars universe Figure scale: 12 inches Ages 4 and up WARNING: CHOKING HAZARD
EAN: 5010993457717
Posted in Toys by ToyMaster
Spider-Man Titan Hero Figure Spiderman Vs Sinister 6 – Ultimate Spider Man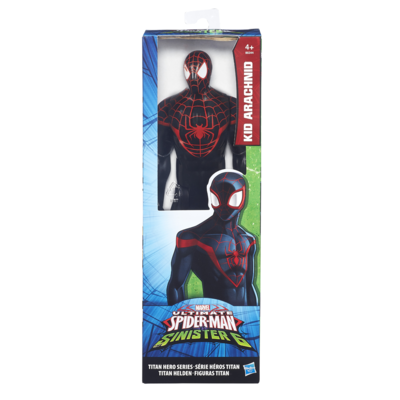 Approximately 30. With a variety of spinning hero of Ultimate Spider-Man vs Sinister 6 can re-enact your favourite scenes for fans of the TV series. Contains 1 figure.
EAN: 5010994943929
Posted in Soft Toys by ToyMaster
Shimmer and Shine – Nahal Plush 6 inch Figure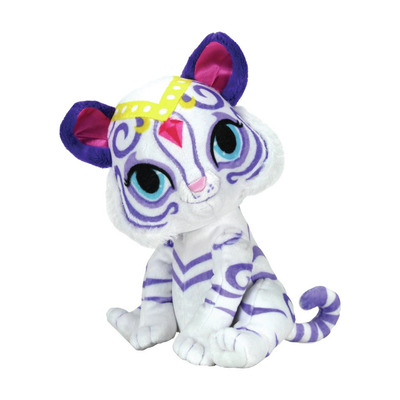 Re-live Shimmer and Shine's magical adventures with these beautiful soft plush characters. Each 15cm plush character in the assortment is silky soft and smooth! 4 to collect: Shimmer, Shine, Tala and Nahal. Super soft, shimmer and shine plush characters! 4 characters to collect – including your favourite pets tala and nahal!
EAN: 8056379019633
Posted in Toys by ToyMaster
Despicable Me 3: Deluxe Talking Minion Action Figure – Dave with Banana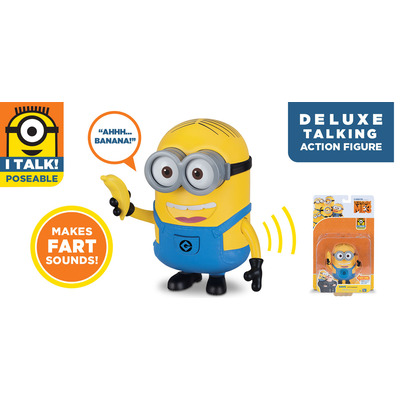 Tim makes himself clear with the Despicable Me 3 Deluxe Talking Action Figure Tim with Megaphone! Press his pocket to activate Original Voice and sound effects! Talking Tim is quite the big mouth with his Minion Megaphone! Press and hold the pocket button to enter Megaphone Mode with amplified Voice & Sound Effects! Tim has articulated arms and feet.
EAN: 5452004402802
Posted in Toys by ToyMaster
Rise of the Teenage Mutant Ninja Turtle Battle Shell Leonardo Action Figure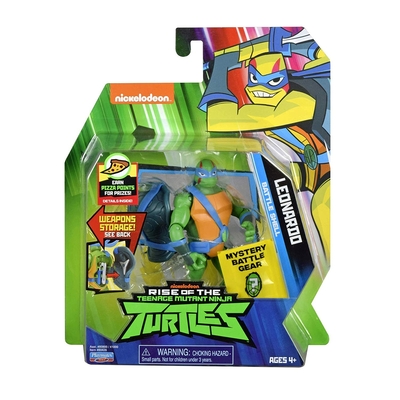 | Retailer | Price | Discount Code? | P&P | |
| --- | --- | --- | --- | --- |
| | £9.49 | No | | |
| | £9.49 | No | | |
| | £9.49 | No | | |
| | £9.49 | No | | |
| | £9.49 | No | | |
| | £9.49 | No | | |
| | £9.49 | No | | |
| | £9.49 | No | | |
| | £9.49 | No | | |
Trained by their sense I rat master Splinter, four Mutant Ninja Turtles have completed their Ninja training and have come above ground where they encounter absurd mutans (some allies, some enemies), battle bizarre creatures, but always find time for a slice of pizza! Oh…and did we mention they soon discover a mystical world They never knew existed!
EAN: 8056379070948
Posted in Toys by ToyMaster
Posted in Toys by ToyMaster
Super Hero Adventures Playskool Heroes Marvel Spider-Man Jetquarters, 5-Inch Action Figure and Vehic
"Your Marvel Super Hero Adventures can really take flight with the incredible Spider-Man Jetquarters. This awesome vehicle and 12.5cm action figure are ready to soar. Open the cockpit and place the Spider-Man action figure inside to prepare for take-off! Perfectly scaled for smaller hands, this spider-inspired jet will look awesome flying through the skies as you imagine exciting adventures for everyone's favourite webslinger. Combine the Spider-Man Jetquarters with the Super Hero Adventures Kid Arachnid Web Wheels or Captain America Victory Racer vehicles, which fit in the jet's storage area, for more ways to play. Super hero fun for 3 and over."
EAN: 5010993598717
Search
Recent Posts
Get Social With Us!
Categories
Pages
Toy Retailers
Popular Tags
Toy Archive