Browsing all articles tagged with edition
Posted in Toys by ToyMaster
Monopoly – Fast & Furious Edition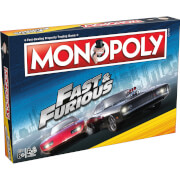 The Fast and Furious MONOPOLY edition is packed full of thrills, high-stakes action and supercharged races. Your first port of call is to pick from the diverse selection of custom car tokens from the original movie, right up to the most recent addition, The Fate of the Furious. The tokens include the classic 1970 Dodge Charger, the lightning quick Lykan Hypersport and the unstoppable Rally Fighter! As you travel round the board you will discover iconic moments from the franchise; experience the nail-biting quarter-mile drag race between Brian O
EAN: 5036905001540
Posted in Toys by ToyMaster
Monopoly Toy Story Board Game
"There's fun for the whole family as Pixar's Toy Story meets one of the world's favourite board games. Toy Story Monopoly includes locations from the film series including Andy's Room and Al's Toy Barn, while players can journey around the board as Woody, Buzz Lightyear, Bo Peep, Jessie, Alien or Rex. Between two and eight players can buy properties and locations, and pick up Andy's Toy Chest and Birthday cards as they compete with each other to earn the most money and win the game. Suitable for children ages 7 and over."
EAN: 5010993573080
Posted in Toys by ToyMaster
Posted in Toys by ToyMaster
Monopoly – Isle of Man Edition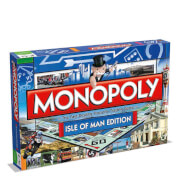 The Isle of Man has rightly been called an island of contrasts: it combines simplicity with sophistication; traditional and modern attractions; rolling countryside and a striking coastline. Rediscover the Isle of Man with this unique edition of Monopoly. Visit your favourite hotspots from the dramatic TT Grandstand to the magical Fairy Bridge. You can own it all, trade your way to success and win Monopoly: the Isle of Man Edition! Age 8+ Players 2-6
EAN: 5036905018418
Posted in Toys by ToyMaster
Monopoly – Belfast Edition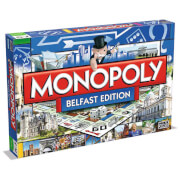 The city of Belfast has long been one of the few destinations that is able to cater for all interests, with its rich heritage of naval connections, lively arts, great restaurants and bars. And now you can tour this amazing city and all its famous locations with the new Belfast Monopoly! From Donegall Square to the Titanic Quarter, and from the Belfast Waterfront to the historic Parliament Buildings at Stormont, it's all up for grabs as you race around the board building a property empire to beat your opponents. Order your limited edition copy of the World's best board game today! Features: The world
EAN: 5036905013000
Posted in Toys by ToyMaster
This toy no longer exists.
Try visiting www.xmas-toys.co.uk you may find it there.
EAN: 5036905001618
Posted in Toys by ToyMaster
Monopoly – Brighton & Hove Edition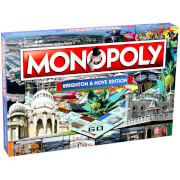 MONOPOLY, the great property trading board game finds its home in fun-filled Brighton & Hove: a seaside city with its iconic neon-lit Brighton Palace Pier. Journey around the gameboard and explore attractions including: The Booth Museum of Natural History, SEA LIFE Brighton and Brighton Toy & Model Museum. Don't forget to stop off for some refreshments en route at Small Batch Coffee Roasters or partake in some retail therapy at Churchill Square, explore The Lanes and for the best feel-good party of the year be sure to visit Brighton Pride! Order your limited edition copy of the World's best board game today! Features: Age 8+ Players 2-6
EAN: 5036905029704
Posted in Toys by ToyMaster
Monopoly – Guernsey Edition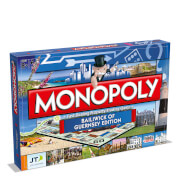 The Bailiwick of Guernsey includes jurisdiction over the islands of Guernsey, Sark and Alderney as well as the smaller island of Herm. Monopoly captures the magic of these regions in this Bailiwick of Guernsey edition. Invest in the best locations the Channel Islands has to offer from La Seigneurie Gardens to Shell Beach, stopping by Alderney Lighthouse before ending your run at Hauteville House. All these sites and more are immortalised on the Bailiwick of Guernsey Monopoly board, so locate your favourite hotspots and roll the dice to begin your property building empire in this unique version of Monopoly. Age 8+ Players 2-6
EAN: 5036905021210
Posted in Toys by ToyMaster
Posted in Toys by ToyMaster
Search
Recent Posts
Get Social With Us!
Categories
Pages
Toy Retailers
Popular Tags
Toy Archive