Browsing all articles tagged with edition
Posted in Toys by ToyMaster
Monopoly – LOL Surprise Edition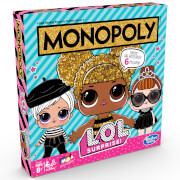 The Monopoly game meets the super-cute L.O.L. SURPRISE! Instead of locations and properties, in this Monopoly: L.O.L. SURPRISE! Edition game players buy, sell, and swap other players' Dolls shown on the gameboard, aiming to collect the rare ones. Surprise! cards replace Chance cards, Stars and Emojis replace houses and hotels, and the tokens are authentic L.O.L. Surprise! Doll accessories. Players are offered an exciting surprise experience when they unwrap the tokens. What a great gift idea for L.O.L. SURPRISE! fans as well as Monopoly fans. Inspired by L.O.L. Surprise!: This awesome Monopoly board game for kids ages 8 and up is inspired by the adorable L.O.L. SURPRISE! dolls and accessories Buy, Trade, and Swap Dolls: Instead of properties, the gameboard artwork features images of L.O.L. Surprise! dolls that players buy, trade, and swap using Surprise! cards Surprise Tokens: This Monopoly L.O.L. SURPRISE! Edition board game offers players a fun unwrapping experience as they discover the 6 doll accessory tokens included Collect Rare Dolls: In this Monopoly game, instead of buying properties and locations, players aim to collect the rarest L.O.L. Surprise! dolls depicted on the gameboard. Stars and emojis replace houses and hotels Best L.O.L. Surprise! Doll Collection Wins: The more dolls shown on the gameboard that a player has earned, the more rent they can collect. The last player with money when other players have gone bankrupt wins the game Suitable Age: 8+ Number of Players: 2+
EAN: 5010993633289
Posted in Toys by ToyMaster
Monopoly – Mass Effect Edition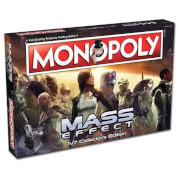 Mass Effect Monopoly – Welcome to the world of Mass Effect, join the mission to save the galaxy from a powerful race of mechanical beings known as Reapers. Officially licensed Monopoly Board Game! Players: 2-6 Recommended Age: 13 years and up Playing Time: 1-2 hours English Edition
EAN: 5053410002572
Posted in Toys by ToyMaster
Waddingtons Number 1 Playing Cards – Rick and Morty Edition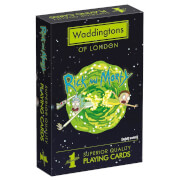 Nobody exists on purpose, nobody belongs anywhere, everybody's gonna love this bespoke pack of Waddingtons Number 1 Playing Cards! Fans of the hilarious Adult Swim cartoon Rick and Morty can finally play their favourite card games with this deck of cards with custom artwork from the show. Wubba lubba dub-dub! Relive moments from your favourite episodes with these 52 custom character cards. Evil Morty, Mr. Meeseeks, Pickle Rick and Birdperson all make an appearance. The portal gun might not help you escape this dimension, nor will Rick's space cruiser get you off the planet, but their new roles as the two jokers of the pack will certainly break your Go Fish ties, and turn the tables in Euchre. There's hours of fun to be had with this set, which offers a durable product with crisp and colourful artwork – the kind of quality you can always expect from a Waddingtons product. Key Features Rick and Morty fans can now play with this brand new bespoke Waddingtons Number 1 pack Play your favourite card games with your favourite characters including Jerry, Beth and Summer High quality playing cards Hours of entertainment as you master much-loved card games from Poker to Bridge and Snap to Blackjack Suitable Age: 4+ Number of Players: 2+
EAN: 5036905035965
Posted in Board Games by ToyMaster
Top Trumps Match Board Game – Pikmi Pops Edition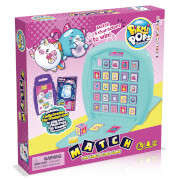 Top Trumps Match, the Crazy Cube Game, gets a Pikmi Pops makeover! Be the first to match 5 cute Pikmi Pops to win this game. But wait the game's not over yet, can your opponent snatch the match in the final moment? If they match their Top Trumps card with the winning character, they WIN the game! Fantastic for memory development, it's jam-packed with adorable characters. Pikmi Pops Match is the perfect travel companion and can be played anywhere with its all-in-one carry case design!
EAN: 5036905035941
Posted in Toys by ToyMaster
Monopoly – Stranger Things Collectors Edition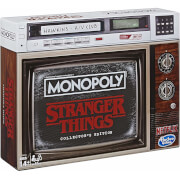 In this Monopoly game inspired by the Netflix Original Series, Stranger Things, Will Byers has gone missing. Players choose an 80s-inspired token or one ripped from the Upside Down to move around the board trying to find him. Pretend to search the town of Hawkins and buy, sell, and trade locations and vehicles from the show. The game includes Walkie-Talkie and Blinking Lights cards, replacing Community Chest and Chance cards, while Forts and Hideouts replace houses and hotels. Who will win the game and avoid getting trapped in the Upside Down? Includes gameboard, 8 tokens, 28 Title Deed cards, 16 Walkie-Talkie cards, 16 Blinking Lights cards, 32 Forts, 12 Hideouts, 2 dice, money pack, and game guide. Monopoly game with a Stranger Things theme Features 80s-inspired tokens and tokens ripped from the Upside Down Walkie-Talkie and Blinking Lights cards as Community Chest and Chance cards Features forts and hideouts instead of houses and hotels Ages 14 and up For 2 to 8 players.
EAN: 5010993644827
Posted in Board Games by ToyMaster
Monopoly Board Game – Leicester Edition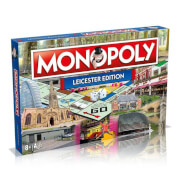 Pay a visit to the vibrant and historic city of Leicester in this special edition of MONOPOLY. Leicester is renowned for its huge Victoria and Abbey parks, fascinating historical sites like Leicester Cathedral, and memorable landmarks and attractions – all of which can be yours, if you can strike a deal. Explore some of Leicester's most beloved features, from the Haymarket Memorial Clock Tower to Leicester City Football Club, the Golden Mile and the elegant Curve Theatre. Each location has been specially selected for its local interest and universal appeal. The utilities and modes of transport in the game feature local services, and many spaces are inspired by popular local businesses for an authentic and modern experience. Who will be the first to claim the University of Leicester for their own? Maybe Leicester Airport will bring you a step closer to success. Featuring stunning and authentic photography from the local area, there's plenty to enjoy whether you're a seasoned MONOPOLY expert or a first-time player. So choose a token, roll the dice and seek your fortune! Key Features The world's favourite family board game brings you another exciting edition of MONOPOLY – Leicester! Choose your favourite token, tour your favourite sites and accumulate fortunes, but watch out for taxes, jail and bankruptcy Advance to Victoria Park, Jubilee Square and the National Space Centre – will you owe rent or reap the rewards? Invest in houses and hotels and trade your way to success The Fast-Dealing Property Trading Game is fun for the whole family Suitable Age: 8+ Number of Players: 2+
EAN: 5036905036764
Posted in Toys by ToyMaster
Top Trumps Collectors Tin Card Game – Harry Potter Witches and Wizards Edition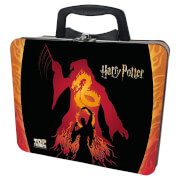 Did the sorting hat put you in Gryffindor? Brave, chivalrous and daring – sound like you? Get on board the Hogwarts Express with this Top Trumps Gryffindor Suitcase Tin! Containing two packs of Harry Potter Top Trumps based around Harry Potter and the Prisoner of Azkaban and Harry Potter and the Goblet of Fire, this is a great addition to any Potter fan's wizarding world.
EAN: 5036905036771
Posted in Toys by ToyMaster
Top Trumps Card Game – Poopsie Unicorn Edition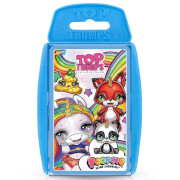 Bring the magical world of Poopsie Slime Surprise to life with this colourful new edition of Top Trumps, the beloved, competitive card game! All of your favourite characters from the world of rainbow unicorns are here to play with, like Dazzle Darling and Oopsie Starlight. Any number of players can get involved. Just shuffle your cards, pick your best stat and outsmart your opponents at every turn. Will you choose Queen Moo for her unique scent, or will Ash's Top Trumps Rating be high enough to capture your opponents' cards? Maybe Rainbow Brightstar's rarity will help you win… This pack contains thirty characters from the sparkly world of Poopsie Slime Surprise and every card will tell you exactly how rare that character is! From Regular to Rare, Ultra Rare to Ultra Ultra Rare, you will have to play wisely to collect every card in the pack and earn the title of Top Trump. Key Features Entertaining card game loved for bringing your favourite characters to life Play Top Trumps anytime, anywhere, with as many people as you like Find out how rare Toastie is, or how slimy Veggie Pie is! Easy-to-carry plastic case means there are no limits on gameplay Prepare to out-slime your opponents, discover new and exciting scents and duel your way to becoming the Top Trump! Suitable Age: 6+ Number of Players: 2+
EAN: 5036905037976
Posted in Toys by ToyMaster
Hasbro Risk – 60th Anniversary Edition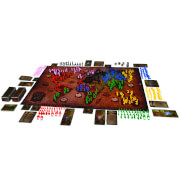 Betrayal. Alliances. Surprise attacks. The risk game continues to be one of the world's most popular and influential strategic board games decades after its inception. This special 60th anniversary edition of the Risk game celebrates Its legacy with premium packaging and game pieces. For true risk fans, The included game guide reveals the history of the Risk strategy game. It also features 5 ways to play the risk board game, including the classic game plus the original 1957 la conquête du Monde rules. Anything goes on the battlefield of the Risk game. Using strategy, smart moves and a little bit of luck, a player will either defeat the enemy or be defeated. Take over the world in this game of strategy and conquest! The risk 60th anniversary edition board game is great for game nights. Engage family members from age 10 with this classic strategic combat game. Hasbro Gaming and all related terms are trademarks of Hasbro.
EAN: 5010993588206
Posted in Board Games by ToyMaster
Planet UK Edition Board Game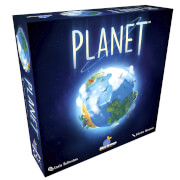 A world is taking shape in the palm of your hands. Strategically position your continents to form hospitable environments for animal life to develop and try to create the most populated and diverse Planet!
EAN: 5060377424309
Search
Recent Posts
Get Social With Us!
Categories
Pages
Toy Retailers
Popular Tags
Toy Archive