Browsing all articles tagged with city
Posted in Lego by ToyMaster
LEGO City 60194 Arctic Scout Truck
| Retailer | Price | Discount Code? | P&P | |
| --- | --- | --- | --- | --- |
| | £30.00 | No | Free | |
| | £31.99 | No | £2.99 | |
| | £35.97 | No | £3.50 | |
| | £35.99 | No | £3.95 | |
| | £39.99 | Yes | | |
| | £39.99 | No | £3.95 | |
Retrieve samples from the tundra with the half-track Arctic Scout Truck, snow bike, ice wall and an ice cave. Includes 3 minifigures, plus polar bear and dog figures.
EAN: 791266103535
Posted in Toys by ToyMaster
Posted in Dolls by ToyMaster
BABY Born City RC Scooter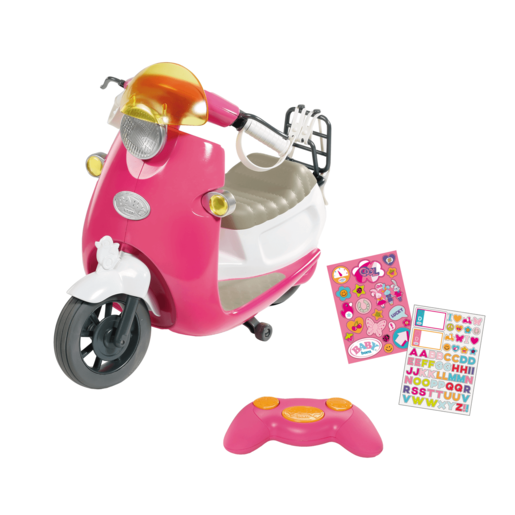 The City Remote Control Scooter is perfect for BABY Born to get around. Use the remote control to guide the scooter forward, back, left and right. The comfort handlebars are suited to BABY Borns little hands and the stabiliser helps keep scooter upright. Featuring flashing indicator lights when it turns. Comes with two sticker sheets. Fantastic remote controlled scooter to help BABY Born get around. Includes a handheld remote control to guide scooter forwards, left and right. Includes 2 sticker sheets to decorate scooter with. General information: Doll sold seperately. Size H35, W40, D20cm. Batteries required: 4 x AA (not included) plus 2 x AAA (not included). For ages 3 years and over. WARNING(S): Not suitable for children under 3 years old. Only for domestic use.
EAN: 4001167824771
Posted in Toys by ToyMaster
Joie Sansa Rocker, Petit City
A little lounger with big motion designed and engineered to sway and glide this way, that way and every which way. With so many seat directions, so many motions and so many ways to soothe your baby this multi-motion seat will help them ride or glide the day away with the front to back or side to side seat. With a simple twist, you can turn and transition to a whole new move. Sway on, rock off, seat lifts off the frame and doubles as a rocker for an easy tag-along package and for more motion options as little ones grow. Multi-motion soother sways side to side, glides front to back, or combines both for ultimate options. Seat turns 90 degrees on the frame to change the direction of all motions. Small footprint frame fits easily in any space. A/C power adapter or battery operated. Rock stop foot flips down to halt rocking motion. Features: Features soothing vibrations and 10 tunes. Toy bar with 2 toys. Multi-position recline seat for babys comfort; whether they are playing or taking a nap. 5 point safety harness. General information: Suitable from birth. Removable washable cover – . Size H55, W49.7, D71.2cm. Folds for storage. Manufacturers 2 year guarantee. WARNING(S): Only for domestic use.
EAN: 5056080602059
Posted in Hot Wheels by ToyMaster
Hot Wheels City Ultimate Gator Car Wash Play Set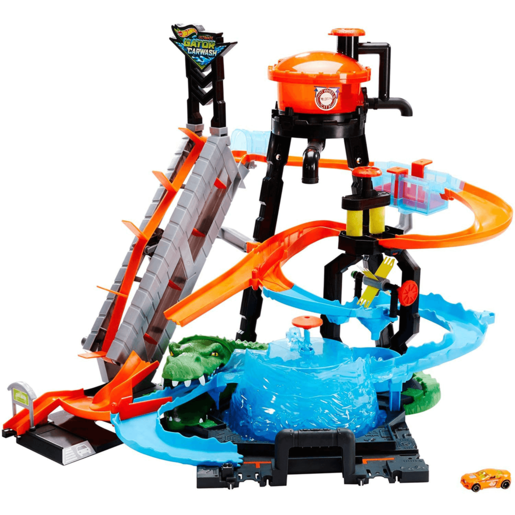 "Get in on the excitement with the Hot Wheels City Ultimate Gator Car Wash Play Set! Crank the elevator to lift your cars to the top or the track and launch them into the adventure. Release a wave from the water tower and the included Hot Wheels Colour Shifters car will magically change colour. Race through the crazy, twisting track into the whirlpool and see if you can avoid the Gator's snapping jaws! Connect the Gator Car Wash to other Hot Wheels Tracks for endless racing action. Hot Wheels action for 4 and over."
EAN: 887961639919
Posted in Toys by ToyMaster
This toy no longer exists.
Try visiting www.xmas-toys.co.uk you may find it there.
EAN: 5050841657111
Posted in Toys by ToyMaster
Fisher-Price Imaginext Streets of Gotham City – Cyborg and Saw Buggy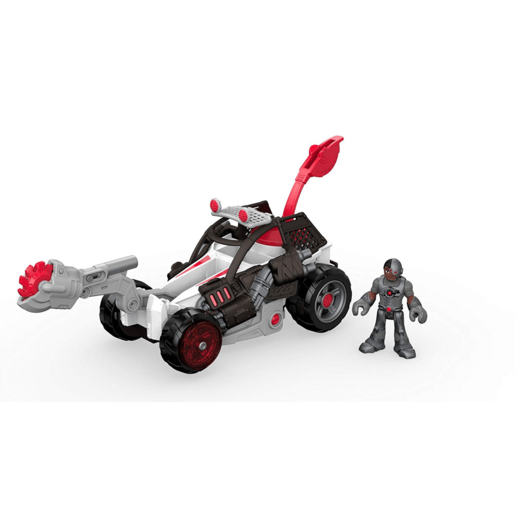 "Help Cyborg fight criminals on the Streets of Gotham City with the awesome Imaginext Saw Buggy from Fisher-Price. Sit the included Imaginext Cyborg figure in the driver's seat and press the power pad to flip out the Dune Buggy's awesome saw arm! The set includes three saw blade disk projectiles to fire at villains and restore peace to Gotham and beyond. Combine the Streets of Gotham – Cyborg and Saw Buggy with other Imaginext playsets for endless imagination adventures. Interactive heroics for 3 and over."
EAN: 887961349535
Posted in Hot Wheels by ToyMaster
Hot Wheels City Downtown Playset – Fire Station Spinout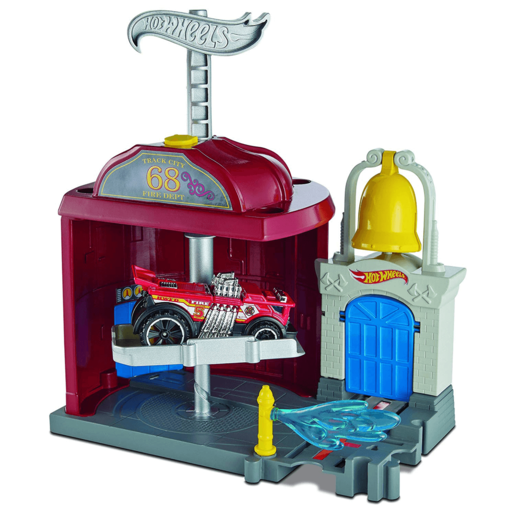 "Explore Hot Wheels City with the iconic locations of the Downtown Playsets, including the Fire Station Spinout. When the alarm sounds, it's time to speed out of the Fire Station and to the rescue! Spin your exclusive, Fire Station themed Hot Wheels vehicle down the fireman's pole to get it into position. Twist the fire hydrant to open the garage door and race out. Will you get to the fire in time? Connect the Fire Station Spinout Downtown Playset to other Hot Wheels City sets or to your orange tracks to create an awesome Hot Wheels metropolis of racing and play. Exciting racing and imaginative play for 4 and over."
EAN: 887961625615
Posted in Lego by ToyMaster
Posted in Lego by ToyMaster
LEGO City 60201 Advent Calendar
"Countdown to Christmas with the awesome LEGO City Advent Calendar – 60201. Unpack the 24, mini, buildable LEGO surprises from their individual compartments on the advent calendar. Every day you'll find an exciting new treat. Build awesome mini vehicles and add five seasonal minifigures to your LEGO collection, including a snowman, Santa himself and an adorable husky puppy. Celebrate Christmas all month long and create a festive scene from all your completed builds. An unbeatable advent calendar for LEGO enthusiasts 5 and over."
EAN: 5702016109771
Search
Recent Posts
Get Social With Us!
Categories
Pages
Toy Retailers
Popular Tags
Toy Archive