Browsing all articles tagged with city
Posted in Lego by ToyMaster
LEGO Trolls: Volcano Rock City Concert (41254)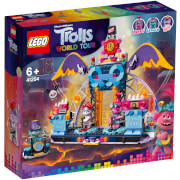 This cool LEGO Trolls World Tour Volcano Rock City Concert toy brings the world of music to life for Trolls fans. With 3 minifigures, play starts straightaway. Kids will love helping Poppy get ready, with different hair accessories, as she prepares to take on Queen Barb in the ultimate rock battle. Then they can put Poppy and Barb on the spinning podiums to role-play dramatic music scenes from the movie. Kids will enjoy imaginative play long after this Trolls movie toy set is built. Check out the movable felt wings, the spinning platforms and backstage snacks. Kids will love finding the collectible string to place in the lyre along with strings collected from other LEGO Trolls World Tour sets. LEGO Trolls World Tour opens a world of play for fans of the DreamWorks Trolls movies. Each set has printed instructions and comes with Instructions PLUS to help youngsters enjoy building.
EAN: 5702016616804
Posted in Toys by ToyMaster
Personalised Coventry City Football Team History Book
The perfect addition to a true fan's bookcase! Coventry City football clubís greatest moments in history are told through newspapers written at the time. Starting over 100 years ago with coverage of Coventry's 3rd round FA Cup game, this book charts a glorious history of great league and cup games and names through the decades. Top stories include a 7-1 win over Wolves, a 5-5 draw with Fulham, beating Sunderland 6-1 and Man. Utd 3-0. The promotion and relegation battles and the day Jimmy Hill became manager. This is a unique and wonderful gift and a must-have for all Coventry City fans. Reproduced to near full tabloid newspaper size it is bound in a premium tan leatherette, gold embossed, hardback cover. On the opening page of your book, you will find a special redemption code and web address which will allow you to order a free label to personalise your book. This label is designed to form part of a personalised page. It can include the recipientís name along with your message to them and will be sent to you free of charge within 3 working days of you redeeming it online. When the personalised element of your gift is received through the post, simply remove the original label and replace it with your new personalised version to create the ideal gift.
EAN: 9781782716143
Posted in Hot Wheels by ToyMaster
Hot Wheels City Downtown Playset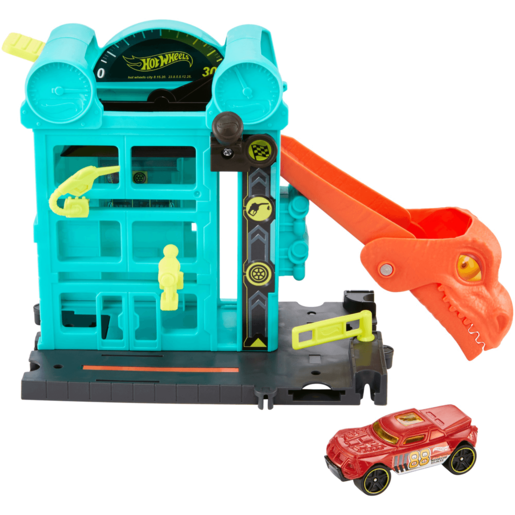 "Dinosaurs are rampaging through Hot Wheels City! Can you survive the terrifying Downtown Speed Shop Escape Playset? Enjoy imaginative storytelling where you get to decide what happens next on this extraordinary trip downtown. Use the lever to lower the Dinosaur head up and down the side of the Speed Shop and open its fearsome mouth for your Hot Wheels vehicle to race through! With one, exclusive Hot Wheels vehicle included in the playset, you'll be ready for an adventure straight out of the box. Connect the Downtown Speed Shop Escape Playset to other Hot Wheels City and orange track playsets to create your own epic Hot Wheels metropolis. Awesome Hot Wheels action for 4 and over."
EAN: 887961773446
Posted in Hot Wheels by ToyMaster
Hot Wheels City Super Spin Tire Shop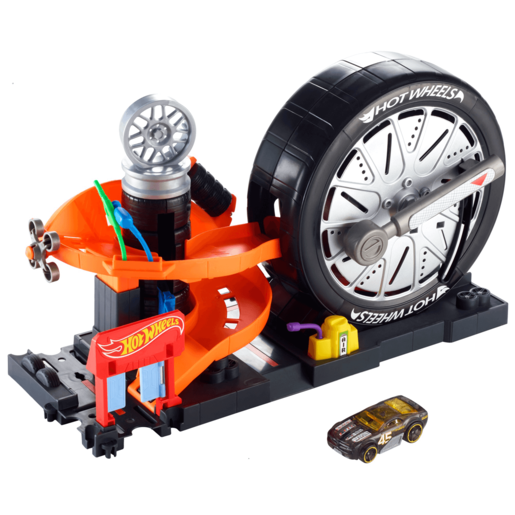 The Hot Wheels™ City Super Sets inspire epic storytelling and imaginative ways to play! The deluxe city-themed Super Spin Tire Shop™ play set includes big key features and performance push-around-play the Hot Wheels® way! Kids drive all the way up the orange spiral ramp and choose new tires and rims. After a tune up the track takes the vehicle into the giant wheel. Pull the lever and give it a spin and the car will go around the loop inside the tire, come shooting out the other side, and speed off for more adventures in Hot Wheels™ City! Fun features help improve motor skills and boost confidence. Build up Hot Wheels™ City by connecting other City play sets together. City play sets are also compatible with orange track and other sets. Includes one Hot Wheels® vehicle.
EAN: 887961585957
Posted in Toys by ToyMaster
Littlest Pet Shop City Rides Cat and Fish Kayak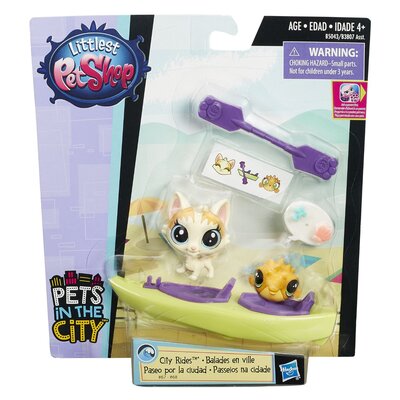 Now pets can explore their favourite neighbourhoods of Downtown City in their own unique ways. And what's more stylish than touring Main Place in a colorful rickshaw? Pretend this turtle (Toodles Tortuga #73) and little bunny friend (Lolly Lapinfluff #74) are off to see what they can discover around every corner. Deco Bits pieces, an emoji bubble, and stickers are included to help tell stories about their adventures. And girls can bring their pets to life in the LPS Your World app*. Once the app is launched, simply hold the pet and scan the code to unlock it in the game! Play activities, decorate, and design a cool Littlest Pet Shop world digitally!
EAN: 5010994919542
Posted in Playmobil by ToyMaster
Playmobil City Life Grocery Shop with Fridge Counter (9403)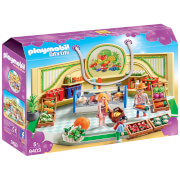 Most suitable for children aged 5+ years Encourages narrative development Inspires the imagination Pick up some of your favourite fruit, veg and nibbles from the Playmobil City Life Grocery Shop. There's plenty of food and drink to choose from, even at the fridge counter! Fill up your basket and take it to the checkout. The set comes with 3 Playmobil figures and many accessories.
EAN: 4008789094032
Posted in Lego by ToyMaster
LEGO City Police Officer Figure Link Buildable Watch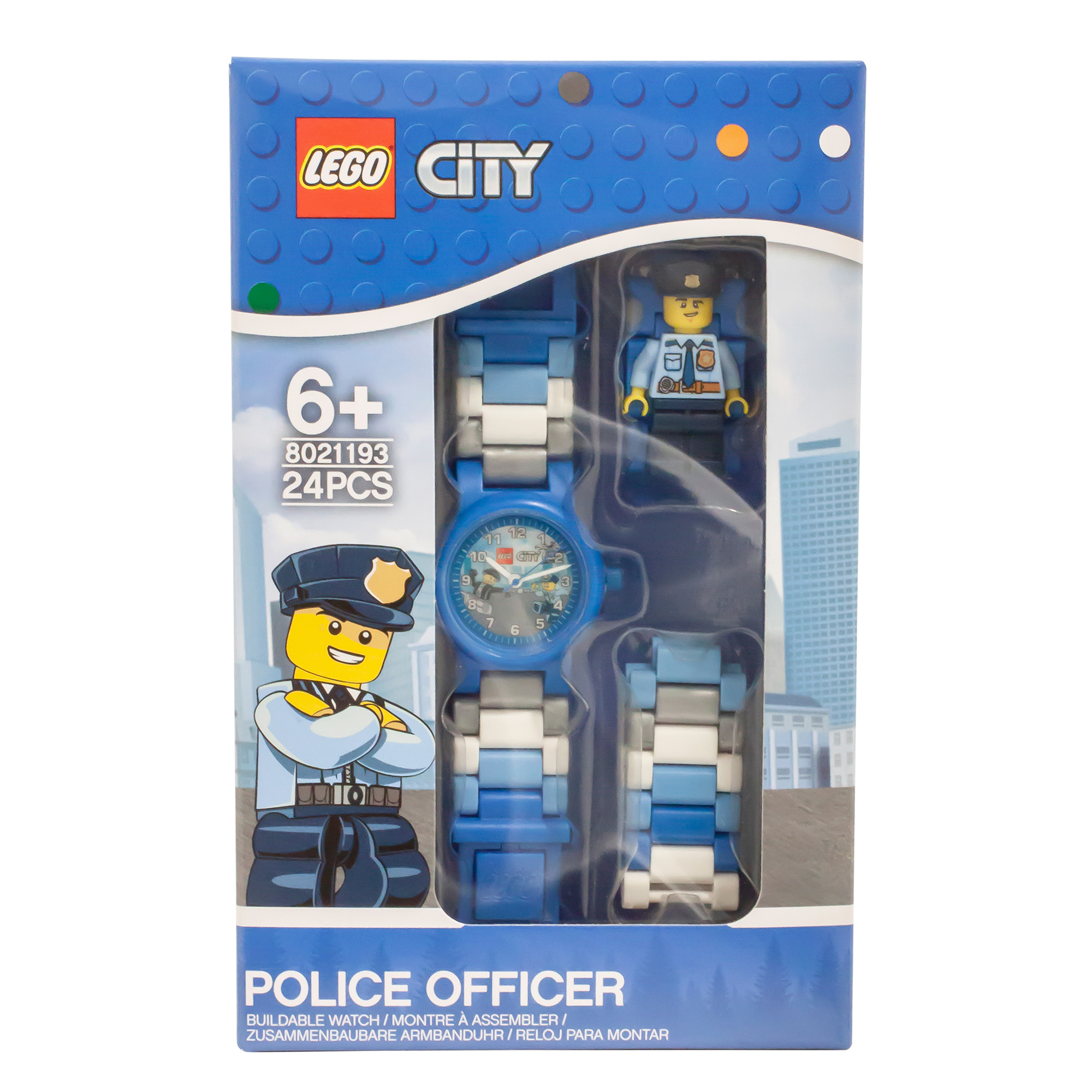 Stop in the name of the law! Join in the fun and adventure of the LEGO City Police Force. Time to find where those bad guys have gone! The LEGO City Police Officer Figure Link Buildable Watch comes with multi-coloured, interchangeable links and an easy-to-read watch face that is not only exciting but also comfortable and durable. With a LEGO Police minifigure link built into your watch strap, you will always be ready to protect and serve!.Requires 1 x SR626SW batteries (included).
EAN: 5060286804971
Posted in Hot Wheels by ToyMaster
Hot Wheels City Smashing Triceratops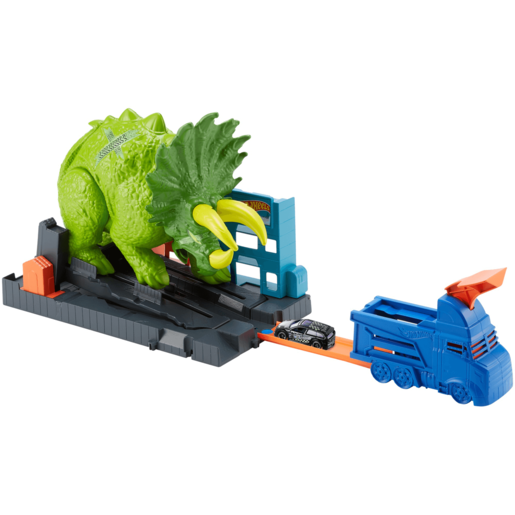 Kids are challenged to save Hot Wheels City from a giant rampaging Triceratops! The dramatic takedown moment is impressive with a try-me feature for an impactful presence on-shelf. Includes one Hot wheels vehicle.
EAN: 887961713954
Posted in Hot Wheels by ToyMaster
Hot Wheels City Super Spin Dealership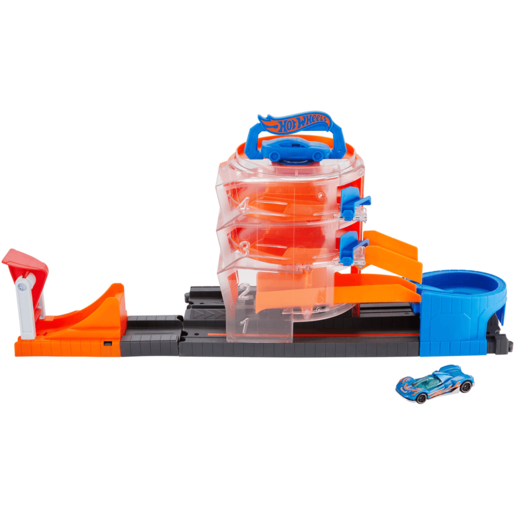 "This Hot Wheels City Super Spin Dealership has everything you need to create awesome car dealing adventures at home! The Super Spin Dealership has four levels, so you can load up your favourite Hot Wheels vehicles and keep them safe inside. There's a handle on top, too, so you can carry your dealership (and the vehicles inside) all around with you. Spin the handle to move the cars around, and release the ones you want to race. This set includes one Hot Wheels vehicle. Suitable for ages 4 and over."
EAN: 887961713947
Posted in Lego by ToyMaster
Search
Recent Posts
Get Social With Us!
Categories
Pages
Toy Retailers
Popular Tags
Toy Archive