Browsing all articles tagged with box
Posted in Toys by ToyMaster
Ravensburger Toy Story 4 4 in a Box Jigsaw Puzzle
These bright, colourful and fun puzzles capture the fun and excitement of Disney's Toy Story 4! Meet friends you know and love – like Buzz, Woody, Rex and Slinky Dog, and say hello to newbies – Homemade Forky, Duke Caboom, Gabby Gabby, the Dummy General and Ducky & Bunny. Four high-quality cardboard jigsaw puzzles in 12, 16, 20 and 24 pieces. The finished puzzle measures 19 x 14cm when complete. Suitable for ages 3 years and up. Made from strong premium grade cardboard, with linen finish print to minimise glare on puzzle image.
EAN: 4005556068333
Posted in Toys by ToyMaster
Posted in Lego by ToyMaster
LEGO Batman Lunch Box with Handle – Black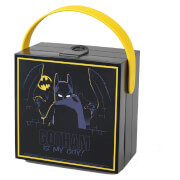 The LEGO Batman Lunch Box with handle is the perfect gift for anyone who is a fan of LEGO's Batman. The black and yellow box features lively images of the Dark Knight, has a soft silicone yellow carry handle and an easy to open clip suitable for little hands. Made from food safe plastic, the sturdy box will ensure lots of fun at lunch time. Features: LEGO Lunch Box with Handle – LEGO Batman Black and yellow box with Batman images Yellow silicone carry handle Easy to open clip fasten Made from food safe plastic Size: Dimensions: H: 16cm x W: 17cm x D: 10cm
EAN: 5711938027407
Posted in Toys by ToyMaster
Posted in Lego by ToyMaster
LEGO Lunch Box – Bright Lime Green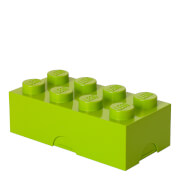 Guaranteed to appeal to any LEGO fan, the lime green lunch box is designed to look just like an oversized LEGO brick and will make any lunch time fun. The food safe lunch box is made from BPA free and phthalate free plastic, has a fully removable lid and is dishwasher safe. Features: LEGO Lunch Box – Bright Lime Green Oversized LEGO brick shape Fully removable lid Made from food safe plastic BPA-free and phthalate free Dishwasher safe Size: Dimensions: H: 7.5cm x W: 10cm x D: 20cm
EAN: 5701922402303
Posted in Toys by ToyMaster
18th Birthday Heart Trinket Box
Personalise this Birthday Craft mug with an age up to 2 characters, any name up to 12 characters and a further 4 lines of up to 20 characters each on the reverse of the mug, for a message. What's more, this fantastic gift can also be made and despatched in 24 hours. Hand washing is recommended. Material is ceramic. NOTE: Due to the font type used please refrain from using all capitals in your personalised message. If the message is all in capitals you will find the personalisation extremely difficult to understand and may even result in personalisation being missed off the product. Many thanks for your cooperation. Ideal for Birthdays. Weight: 0.306 KG Height: 8.6 CM Width: 11.5 CM Depth: 9.5 CM
EAN: 5055325685291
Posted in Toys by ToyMaster
Craft Box Make Your Own Unicorn Jewellery
Create your own fabulous Unicorn jewellery with this wonderful creative kit from Craft Box. Thread together beautiful charms and sparkling beads to create over 10 pieces of delightful Unicorn inspired jewellery. The fun activities encourage positive creativity by using high quality metal, enamel charms and beads that give great results. Just follow the detailed step-by-step instructions to make bracelets and necklaces you'll be proud to wear and share with friends! Ideal for inspiring creativity, it's great for helping to develop hand-to-eye co-ordination and confidence in young minds.
EAN: 5026175601069
Posted in Toys by ToyMaster
Posted in Toys by ToyMaster
Melissa & Doug Dinosaurs Puzzles in a Box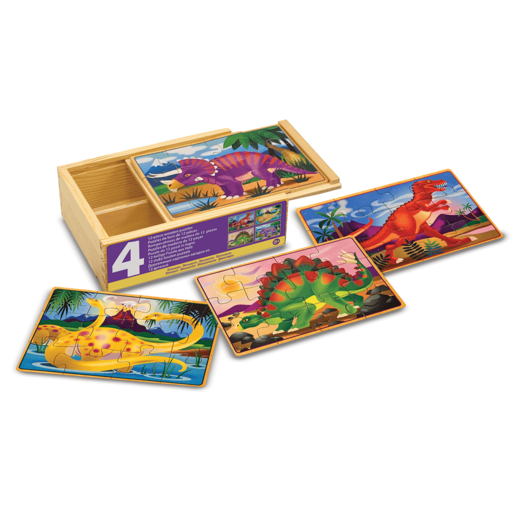 "Melissa & Doug have bought back the dinosaurs in this brilliant Puzzle Set. There are four 12-piece jigsaw puzzles in this set – including a triceratops, apatosaurus, a stegosaurus and a T-Rex. Each puzzle is stored in a separate compartment of a sturdy wooden box and the lid doubles as a convenient puzzle board. The pieces are perfect for little hands and shape-coded on the back for easy sorting. Just the thing for long car journeys! An ideal gift for kids aged three years and up."
EAN: 772137911
Posted in Toys by ToyMaster
Polly Pocket World Ballet Music Box
"Polly Pocket and her pals love going on tiny adventures with Polly's magic locket. Open up the Polly Pocket World Ballet Playset for delightful, dance show fun. Open the Music Box shaped playset to reveal a backstage area for rehearsals and costume changes as well as a stage for Polly and Lila to twirl and perform on. Explore the moving parts and secret reveals in the playset. Open the piano and snack stand to make this a truly magical show. All the pieces easily fit inside the Ballet Playset for cute storage and convenient transport. Polly Pocket adventures for 4 and over."
EAN: 887961728538
Search
Recent Posts
Get Social With Us!
Categories
Pages
Toy Retailers
Popular Tags
Toy Archive