Browsing all articles tagged with box
Posted in Lego by ToyMaster
LEGO Mini Box 8 – Bright Blue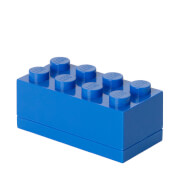 Designed to look like a classic LEGO 8 brick, this mini box with 8 studs is the ideal mini storage box for tiny but precious bits and bobs. Perfect for holding little treats, favours, charms, jewellery or cufflinks, the mini box 8 is stackable and available in a range of classic and contemporary LEGO colours and will look great on any bedroom or office desk. Features: LEGO Mini Box 8 Bright blue Fully removable lid Ideal for favours, charms, cufflinks and any mini bits and bobs Stackable with any Mini Box 8 Size: Dimensions: H: 4cm x W: 9cm x D: 4.5cm
EAN: 5706773401215
Posted in Lego by ToyMaster
Posted in Toys by ToyMaster
Personalised Mirrored Jewellery Box
This modern mirrored jewellery box is fabric lined inside and features three compartments to store jewellery. Perfect for her and suitable for plenty of occasions including Wedding, Anniversary, Motherís Day and special Birthdays. This would take pride of place on any dressing table. Personalise with a message of your choice over 3 lines, of up to 25 characters on each line. PLEASE NOTE: Due to the font type used please refrain from using all capitals in your personalised message. If the message is all in capitals you will find the personalisation extremely difficult to understand and may even result in personalisation being missed off the product. Many thanks for your cooperation.
EAN: 5055325611832
Posted in Toys by ToyMaster
Personalised Carousel Money Box
This silver plated Carousel Money Box is a great gift suitable for Birthdays, Christenings, Baptisms and New-bornís. If you are looking for a gift that can be treasured by the recipient for years to come then youíre in the right place. Add a personalised message around the base over 2 lines and up to 30 characters per line. The horses move up and down when the carousel is twisted at the base. The money slot cut into the top of the carousel this also has a removable plastic stopper concealed underneath the base.
EAN: 5055325601765
Posted in Toys by ToyMaster
Personalised Valentines Favorites Box – Wispa
Cadbury Wispa Valentineís Box: What is it? Itís a big box of Wispa bars with special-edition, Valentineís packaging. And, to make it even sweeter, you can add unique text to it! Personalise it! Add a name to the heart-themed packaging! It allows for up to 20 characters, which will be printed in the Wispa font. Plus, you can add a name of up to 15 characters to the gift tag! The rest of the text is fixed and canít be changed. About the product The packaging is an additional sleeve that fits over a regular box of 36-gram Wispa bars. We say regular, but a box containing 20 Wispa bars isnít really regular, now is it? Itís awesome. Why you should buy it With its heart packaging and its chocolatey deliciousness, this Wispa box makes a great gift. Plus, you can personalise it! Thatís sure to go down well on Valentineís Day. So, order this Cadbury Wispa Valentineís Box now!
EAN: 5056132790178
Posted in Toys by ToyMaster
Mr. Meeseeks Box of Fun: Rick and Morty Dice and Dares Game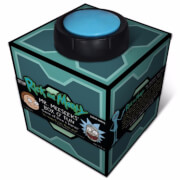 Do you have a problem that needs fixing and you just donít know where to start? Perhaps thereís some task thatís beneath you. Then why not hit the button on your Meeseeks Box, summon up a Meeseeks (or three or eight) and let them help you out? Thatís their purpose! They want you to succeed and only get slightly angry if you donít. In this dice game, players draw Request cards. Simple things like ďMake Me a SandwichĒ or ďI Want to be a More Complete Woman.Ē Then roll your dice and see if you complete the Request. If not, press the button and summon Mr. Meeseeks to help you out. He wants to help. He hates his existence. As soon as your Request is completed, he can cease to exist and everything will be just grand. Donít disappoint Mr. Meeseeks. He will make you do all sorts of embarrassing and foolish things. That is, if he doesnít simply kill you off. The longer it takes for you to complete your Request, the more Mr. Meeseeks will appear. Soon, they may turn violent. So please, do try your hardest. In the end, the player who scores the required number of Victory Points first wins the game. Score points by completing Requests and doing Dares. Unless youíre chickenÖ Features: Number of Players: 2-6 Ages: 18+ Time to Play One Game: 20-30 Minutes
EAN: 9781617686283
Posted in Toys by ToyMaster
Posted in Lego by ToyMaster
LEGO Mini Box 8 – Light Royal Blue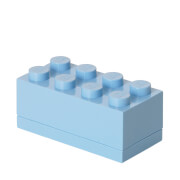 Designed to look like a classic LEGO 8 brick, this mini box with 8 studs is the ideal mini storage box for tiny but precious bits and bobs. Perfect for holding little treats, favours, charms, jewellery or cufflinks, the mini box 8 is stackable and available in a range of classic and contemporary LEGO colours and will look great on any bedroom or office desk. Features: LEGO Mini Box 8 Light royal blue Fully removable lid Ideal for favours, charms, cufflinks and any mini bits and bobs Stackable with any Mini Box 8 Size: Dimensions: H: 4cm x W: 9cm x D: 4.5cm
EAN: 5706773401260
Posted in Toys by ToyMaster
Ravensburger 4 in a Box Puzzles – DreamWorks Trolls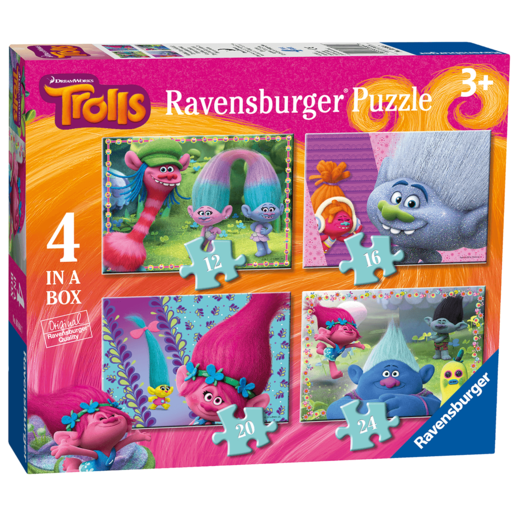 "There are four fun Jigsaw Puzzles in this DreamWorks Trolls Set for everyone to enjoy. Each of the puzzles features colourful characters from the smash-hit movie. They increase in the number of pieces used, making it an ideal set for families or kids of different ages.Made from strong premium grade cardboard with linen finish print, Ravensburger jigsaws always meet the highest possible standards. An ideal gift for Disney fans aged four years and up. What's in the box? 1 x 12-piece jigsaw 1 x 16-piece jigsaw 1 x 20-piece jigsaw 1 x 24-piece jigsaw "
EAN: 4005556068647
Posted in Toys by ToyMaster
Personalised Heart Trinket Box
A personalised heart shaped trinket box perfect for keeping treasured items safe. This heart shaped trinket is fabric lined and can be personalised with a special engraved message of 4 lines, up to 20 characters each. A suitable gift for a loved one on Valentineís Day or Motherís Day. This would also make a great thank you gift for a bridesmaid.†
EAN: 5055325638440
Search
Recent Posts
Get Social With Us!
Categories
Pages
Toy Retailers
Popular Tags
Toy Archive