Browsing all articles tagged with board
Posted in Board Games by ToyMaster
5 Second Rule Spintensity Board Game
Spintensity an all-new, spinfully intense electronic version of 5 Second Rule! You re racing to name 3 things in 5 seconds and press the timer to see what the spinner wants you to do next: name 3 more, 2 more, draw a new card or move on to the next player… or will the timer turn Red and sound you out! This electronic version is even more frantic and fun than before! You can also combine this with the original and Junior game for even more fun.
EAN: 5026175524054
Posted in Board Games by ToyMaster
Posted in Board Games by ToyMaster
Confident Board Game
There are quiz games, and then there are quiz games. Confident is making trivia fun again with its unique gameplay that gives everyone a chance thanks to quirky questions, dramatic reveals and cheeky answer swaps. Confident is different because instead of answering questions with one answer, you give a range. The aim is to get the answer in your range, while also getting the smallest range compared to the other players. So, you don't need to be a trivia buff to win, you'll just need to balance being correct and being confident: go small or go home! Use your special powers once per game to copy a friend's answer, cause some havoc with a swap or go for double points if you're feeling confident. Includes 180 cards with questions, answers and interesting facts, 6 dry wipe answer boards, 1 dry wipe scoreboard, 6 dry wipe pens and a rule sheet.
EAN: 5060633250000
Posted in Board Games by ToyMaster
Top Gun Board Game
Do you feel the need – the need for speed? Go from the sand to the skies in this strategy game based on the hit movie! Improve your skills by strutting your stuff on the volleyball court and enter the fighter school phase to pilot your way with weapons system operators to get a target lock on your opponent! Can you take home the coveted Top Gun Trophy?
EAN: 3558380068594
Posted in Board Games by ToyMaster
This toy no longer exists.
Try visiting www.xmas-toys.co.uk you may find it there.
EAN: 5010993779604
Posted in Board Games by ToyMaster
Totally 90s Board Game
| Retailer | Price | Discount Code? | P&P | |
| --- | --- | --- | --- | --- |
| | £14.99 | No | | |
| | £19.99 | Yes | £2.25 | |
You don't need to dig out your Pog collection and listen to N'Sync on your dodgy walkman to transport you and your mates back to the 90s – you just need the Totally 90s Board Game. This 90s-themed trivia game is jammed full of nostalgic questions covering everything from Furbys to the Fresh Prince of Bel-Air and everything in between.
EAN: 5056004324012
Posted in Board Games by ToyMaster
Awesome 80s Board Game
| Retailer | Price | Discount Code? | P&P | |
| --- | --- | --- | --- | --- |
| | £14.99 | No | | |
| | £19.99 | Yes | £2.25 | |
Not massively enthused by our current decade? We hear yer. Time to dust off your cassettes, comb out that mullet, pull on your Air Jordans and get ready to take a whirlwind trip back to the 80s! The Awesome 80s Board Game is packed full of juicy trivia covering all topics from sport, TV and pop-cultural mome…
EAN: 5056004324043
Posted in Board Games by ToyMaster
Ginger Fox Richard Osmans House of Games Board Game
Based on the hit BBC2 show hosted by Richard Osman, the House of Games board game is the ultimate test of knowledge and skill. Enjoy some of your favourite challenges from the show in the comfort of your home. Team up to tackle some trivia or face off against each other in the iconic Answer Smash. Who will be the House of Games champion in this competitive compendium of games?
EAN: 5060756131156
Posted in Board Games by ToyMaster
Monopoly Board Game – Top Gun Edition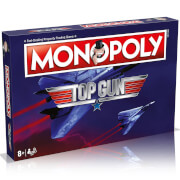 Since its release, Top Gun has captured the American imagination with an action-packed self-portrait of who we want to be – a rock 'n roll spirit in a white tee, Levi's and a flight jacket taking to the skies to fulfill our destiny. It's the film that gave us THAT volleyball scene. It also birthed a generation of actual military fighter pilots and a legion of aspiring ones who never entered a cockpit but were determined to look as cool as Maverick in aviators. Perhaps most importantly, it taught us what it means to be a real wingman. Relive the magic of the highest-grossing film of 1986 with this officially- licensed edition of MONOPOLY: Top Gun. Buy up fighter pilots, aircraft, hangars and military barracks and bankrupt your opponents as you battle for total control of the board. So grab your aviators and, once again, prepare to have your breath taken away. The world's favourite family board game brings you another exciting edition of MONOPOLY– Top Gun! Choose your favourite custom token, tour your favourite sites and accumulate fortunes, but watch out for taxes, jail and bankruptcy Advance to Cougar, Hollywood, Goose and Iceman – will you owe rent or reap the rewards? Invest in military barracks and hangars and trade your way to success The Fast-Dealing Property Trading Game is fun for the whole family
EAN: 5036905040273
Posted in Board Games by ToyMaster
Top Trumps Match Board Game – Roald Dahl Edition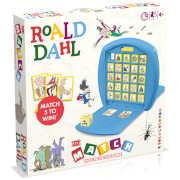 Wonka, Matilda and James, star in one of our favourite games. With this lovable cast, you'll have to act fast to fit all of the cubes in the frames! All of Roald Dahl's most beloved characters come together in this exciting new edition of TOP TRUMPS Match, the crazy cube game in which you and a friend race to be the first to match five in a row of your favourite character. With classic heroes and villains like the BFG, Miss Trunchbull, Sophie and The Twits, you can relive the events of your favourite Roald Dahl books as you compete for victory. You must play strategically to outsmart your opponent, sabotage their lines and complete your own! With officially-licensed artwork, this game is guaranteed to inspire children and adults alike, and it's contained within a durable, portable carry case so you can take it wherever you go. Perfect for those long trips inside a giant peach. The Crazy Cube Game gets a Roald Dahl transformation! Be the first to match five of your favourite Roald Dahl characters in a row – horizontally, vertically or diagonally But wait! Can your opponent steal the game? Turn over the Top Trump card to reveal if they can take the match and win the game Play with 15 of your favourite characters including Sophie, Matilda, Willy Wonka and Mr Fox Easy to set up and pack away, TOP TRUMPS Match comes in a handy self-contained plastic case – play anytime, anywhere 4+
EAN: 5036905039666
Search
Recent Posts
Get Social With Us!
Categories
Pages
Toy Retailers
Popular Tags
Toy Archive