Browsing all articles tagged with blue
Posted in Toys by ToyMaster
Posted in Toys by ToyMaster
Posted in Toys by ToyMaster
Posted in Toys by ToyMaster
Posted in Toys by ToyMaster
Posted in Toys by ToyMaster
Bobby Compact Diver Anti-Theft Blue Backpack
Considered one of the best anti-theft backpacks available to buy, The Bobby Compact Anti Theft Backpack has been designed with a series of innovative features to keep your belongings safe. Crafted from 300D/600D fabric, 6mm anti-shock foam and protection board, the back and sides of the backpack are completely cut-proof. A hidden zipper in the bag ensures that no pickpocket or thief will be able to even find the opening of the bag without you noticing. It has card pockets in the front so your IDs and travel cards are easy to access. Hidden pockets in the sides and back are perfect for your valuables such as wallet, phone and passport. Further useful features include reflective bars on the back and sides that can be seen from 360° and within 100m for safe travelling at night. For the ultimate in convenience, the bag includes an external integrated USB charging port. Connect a powerbank (not included) from the inside and charge your mobile device on the go. Designed with 'Weight Balance', the backpack relieves the weight pushing down on your shoulders as it leans firmly against your back, distributing the weight evenly. The front and base of the backpack are made from water-resistant PU that can be wiped clean easily and it even comes with a rain cover in case of heavy downpours. The backpack is perfect for work, commuting and travelling and has plenty of space to hold notebooks, a 14-inch laptop, stationery and water bottles. It can be opened three ways, 30°, 90° and 180° for total flexibility. An elastic strap on the back can be used to attach it to your suitcase when you are travelling further afield. Beautifully designed from soft touch PU Leather, the Diver Blue and Grey backpack will keep your belongings secure, giving you the confidence to travel safely every day. PU Cut-Proof Leather Dimensions: H: 42cm x W: 26.5cm x D: 16cm Internal Capacity: 8L Weight: 63g
EAN: 8714612105115
Posted in Toys by ToyMaster
Tucker Disc Jock-e Flying Music Disc – Blue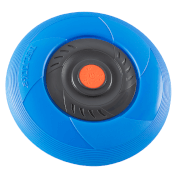 Throw a few alfresco shapes and rock out to your favourite tunes with this Bluetooth-connected disco saucer with a built-in waterproof speaker. It pairs in a jiffy with any compatible mobile device and you can even increase/decrease the volume, play, or pause right from the disc itself using the chunky, easy-to-push buttons. The surprisingly impressive-sounding speaker rests in the centre of the disc, so it doesn
EAN: 857138005915
Posted in Toys by ToyMaster
Sphero Mini (Blue)
Sphero Mini – Available in five exciting new colours and bundled with mini traffic cones and bowling pins, this ping ping ball-sized droid is perfect for table-top adventures. Just pair it up the with your IOS or Android device via Bluetooth and start cruising around –
EAN: 817961020493
Posted in Toys by ToyMaster
This toy no longer exists.
Try visiting www.xmas-toys.co.uk you may find it there.
EAN: 3296580428021
Posted in Toys by ToyMaster
The Off Bits Robot Kit – Blue Car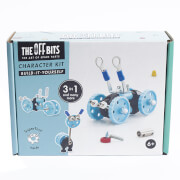 The OFFBITS are build-it-yourself characters and models made of up-cycled components; connect the bots and create your own designs! Originally designed with unused and unloved bits and pieces which were upcycled and transformed into something so much greater. Create fun designs using parts provided and collecting spare 'bits' from around your home to create infinite building options and give you unlimited creative expression! BUILD countless Offbits models. CREATE your own unique inventions. SHARE with the online community! Features: Instruction booklet and SuperTool included Non-toxic, lead-free coatings and paints High quality steel and PP plastic components Dimensions: Product: 9.5 x 5.5 x 4.8 cm
EAN: 7290016390216
Search
Recent Posts
Get Social With Us!
Categories
Pages
Toy Retailers
Popular Tags
Toy Archive