Browsing all articles tagged with black
Posted in Toys by ToyMaster
Posted in Lego by ToyMaster
LEGO Magnet Set – Black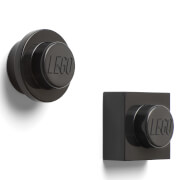 Decorative and colorful magnets are shaped as round and square LEGO elements. They are ideal for display of drawings, postcards or notes. The classic design links perfectly to the creative universe of LEGO and it extends the the LEGO adventure.
EAN: 5711938033118
Posted in Toys by ToyMaster
Steiff Soft Cuddly Friends Cobb Cow (White/ Black)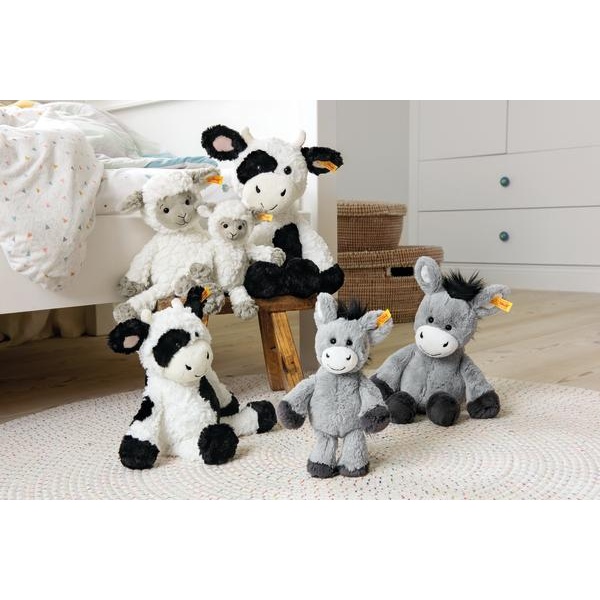 | Retailer | Price | Discount Code? | P&P | |
| --- | --- | --- | --- | --- |
| | £25.00 | No | £3.50 | |
| | £26.00 | Yes | £5.50 | |
The black dappled Cobb cow is 30 cm tall. Her left eye has a black patch and fits wonderfully with the cream coloured mouth and the stitched nostrils and mouth. The cream horns project funnily from her head. The bean bags sewn into its bottom support her posture when in sitting position. The four black hooves are easy to grasp and hold as they also contain bean bags.
EAN: 4001505073663
Posted in Toys by ToyMaster
Oblio Phone Sanitiser & Wireless Charger (Black)
| Retailer | Price | Discount Code? | P&P | |
| --- | --- | --- | --- | --- |
| | £79.00 | No | | |
| | £79.99 | Yes | Free | |
It's like there's one rule for hands and another for smartphones… even though they're practically glued together for most of the time. Let's be honest – our phones are beyond filthy. A recent study even found that the average handset has 18x more bacteria than a public toilet. Nice! But who can be bothered to give their smartphone a rigorous wipe down at the end of each day? Enter the Oblio Phone Sanitiser & Wireless Charger. This sleek-looking gadget uses…
EAN: 3660491200913
Posted in Lego by ToyMaster
LEGO Storage Desk Drawer 4 – Black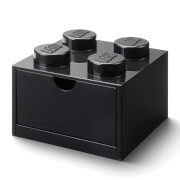 The LEGOŽ brick shaped desk drawers are stackable and can be combined in various ways. They are ideal for organizing and tidy up the office, kids room or bathroom, and perfect for smaller toys, LEGO bricks, pen, paper and toiletries. They are designed with drawers for easy access to the stored items, even when the bricks are stacked. The classic LEGO shape and the five colours makes organizing more fun and playful. Dimensions: 158 x 158 x 113 mm / 6.2 x 6.2 x 4.4 in Material: Polypropylene (PP)
EAN: 5711938031909
Posted in Lego by ToyMaster
LEGO Storage Head & Round Brick Bundle (Includes 1 Small Boy Head and 1 Round Brick Black)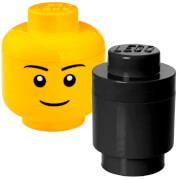 Use this enlarged LEGO Minifigure head for storage and enjoy having this big icon in the room. The LEGO Iconic Storage Head L can be used for storing LEGO bricks or other toys or you can even use it as a fruit bowl.
EAN: 2129865452453
Posted in Lego by ToyMaster
LEGO Storage Display Case Bundle (Includes 2 Black Mini Figure Cases)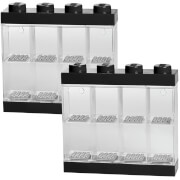 Put your LEGO minifigures on display while storing them safely in this LEGO Minifigure Display with space for 8 minifigures. Place the minifigures on the LEGO plates and close the transparant doors for safe storage. The display cases can be stacked into a costumized storage / sorting system. They can either stand on a desk or be mounted on the wall for a visible display of your LEGO Minifigures. Please note: LEGO minifigures not included.
EAN: 2129865452460
Posted in Lego by ToyMaster
LEGO Storage Brick 2- Black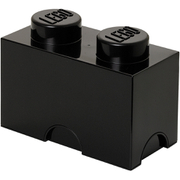 Brick tidy Keep your Lego pieces tidy and organised in this storage case that's designed as an oversized Lego brick. The storage brick is stackable, so if you have more than one, you can have even more fun stacking the oversized bricks up. It's not just Lego pieces that can be stored, but anything that needs tidying up and put out of sight! Add a touch of retro to the office or tidy up miscellaneous bits around the house. Storage bricks come in classic Lego colours, they will appeal to all; everyone loves Lego! Features: The boxes stack with the others in the set Available in 4 colours: Red, Blue, Green and Yellow See our range of different sized Lego Brick Containers! Size: Dimensions: 26.1 X 38.6 X 34.7cm Weight: 3kg approx – R.K.
EAN: 5706773400232
Posted in Lego by ToyMaster
LEGO Mini Box 8 – Black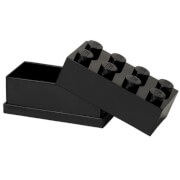 The LEGO Mini Box 8 is a small storage box for snacks such as nuts, fruit or veggies. The small container is a reusable carry-on for lunch that will keep snacks separate from sandwiches and larger items. The box is part of the LEGO Lunch series, making everyday lunchtime more fun. Place two alongside each other and they fit perfectly into the LEGO Lunch Box with 8 knobs / studs. Additionally, the small container can be used as a jewellery or tooth box.
EAN: 5706773401239
Posted in Toys by ToyMaster
Star Wars The Black Series Boba Fett Prototype Armour Electronic Helmet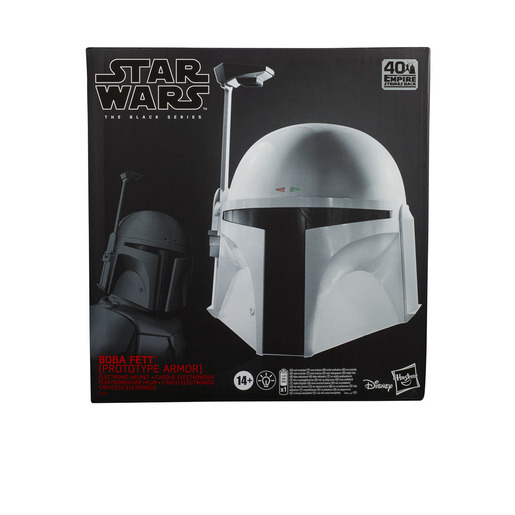 "Act out your favourite scenes from Star Wars with this awesome Boba Fett (Prototype Armour) Electronic Helmet from the Black Series range. Boba Fett was originally imagined as a super Stormtrooper, complete with the iconic white Mandalorian armour. Pretend to be just like the prototype with this epic Electronic Helmet. With loads of interactive features, including a flip-down rangefinder with flashing lights and an illuminated heads-up display, you'll love roleplaying as your favourite bounty hunter. This super-cool helmet is adjustable and looks great when displayed on a shelf too. For ages 14 and over."
EAN: 5010993733743
Search
Recent Posts
Get Social With Us!
Categories
Pages
Toy Retailers
Popular Tags
Toy Archive