Browsing all articles tagged with avengers
Posted in Toys by ToyMaster
Posted in Toys by ToyMaster
Marvel Avengers Classic Iron Man Christmas Sweatshirt – Black – 5XL – Black
The billionaire philanthropist in his original comic book style. Bringing in the Christmas season, his red and gold armour fits in perfectly with the colours of Christmas. He's confident that it was all planned that way, of course. Celebrate Christmas in style with our exclusive Christmas prints! With a wide variety available, we are sure you'll find something to catch your eye and make Christmas extra special! Crafted from a 80% Cotton / 20% Polyester mix, If you prefer a baggy fit, please order a size up.
EAN: 5059478412988
Posted in Lego by ToyMaster
LEGO Super Heroes: Avengers Speeder Bike Attack (76142)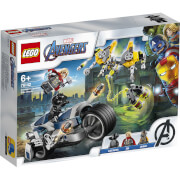 With Black Panther s amazing bike, 3 LEGO minifigures, awesome weaponry and deadly canisters, kids who like high-speed superhero action will love this cool LEGO Marvel Avengers Speeder Bike Attack (76142) building toy! Non-stop action on land and in air! When kids get their hands on this Marvel Avengers set, they'll be transported to a world of high-octane role-play. A well-armed villain swoops in on a jetpack armed with stud shooters, saw blades, grapple-hook shooter and a blaster, to steal 2 deadly canisters. Black Panther races to the scene on his supercool, stud-shooting motorcycle. Thor appears, wielding his mighty hammer. With 3 minifigures, a motorcycle and copious weaponry, this LEGO Marvel Avengers set makes a great gift for your budding superhero. Superhero LEGO sets for Marvel Avengers fansLEGO Marvel Avengers building toys take kids on a superhero thrill ride! With awesome vehicles, mechs, buildings, minifigures, weapons and gadgets, kids can recreate excitingmovie scenes and make up adventures of their own.
EAN: 5702016618044
Posted in Lego by ToyMaster
LEGO Super Heroes: Avengers Truck Take-down (76143)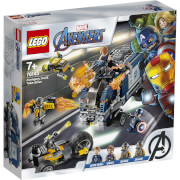 Captain America and Hawkeye s LEGO Avengers truck is ambushed by 2 bad guys on a motor-trike with a drone. Time to reveal the truck s secret 6-shot crossbow! Kids will love this cool superhero action set with 4 LEGO minifigures and the Avengers truck. Superhero minifigure action great gift for kidsPut Marvel action into the hands of young superheroes with this supercool set. Stud bullets fly as 2 bad guys swerve their trike in front of the Avengers' truck then launch an attack with a drone. Kids will love opening the truck to reveal the secret weapon & a huge 6-shot crossbow! With 4 minifigures (3 of them new-for-January-2020), Avengers truck, motor-trike, armed drone and lots of stud-shooting weaponry, this buildable LEGO Marvel Avengers toy will inspire endless imaginative fun. Popular LEGO toys for solo or group playGive kids the hot toys they love! With awesome vehicles, mechs, buildings, minifigures, weapons and gadgets, LEGO Marvel Avengers sets are great for fans ofthe movies.
EAN: 5702016618051
Posted in Toys by ToyMaster
Avengers Titan Hero Series 12 Figure – Captain America with Battle Cycle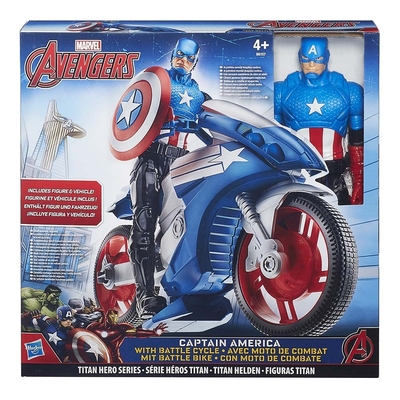 Re-enact your favourite scenes with this epic Iron Man action figure! Iron Man suits up and lifts off into the battle with his high-flying hover pack! Create giant-sized action figure battles with the Marvel Titan Hero Series! These Super Heroes are ready to team up in combat to save the world, and when they need to get to the scene as fast as possible, they use their specialised vehicles! The vehicles work with most Titan Hero Series figures, and each Marvel Titan Hero Series figure is 12 inches tall and features basic articulation (additional figures sold separately). Launch into the action with this figure!
EAN: 5010994944872
Posted in Toys by ToyMaster
Posted in Toys by ToyMaster
Avengers Endgame Water Bottle
Balancing the universe isn't easy – you have to be strong-willed, powerfully built and, importantly, hydrated if you're going to try to extinguish 50% of all life in the universe. With this Avengers Endgame Water Bottle, you can work on conquering the universe while still remembering your goal: getting all of those blasted Infinity Stones. Designed with the gold shimmer of Thanos' infamous Infinity Gauntlet, this water bottle can obliterate more than half of your thirst if you use it correctly. Don't let those pesky Avengers stand in the way of your thirst for water and power any longer! This makes an awesome gift for the Avengers fan in your life (we're betting you have at least ten) and is a great way to stop conversations by saying to people that you think Thanos was right (wasn't he, though?). Order your Avengers Endgame Water Bottle today and try not to cry after watching that movie for the eighth time!
EAN: 5055964735050
Posted in Toys by ToyMaster
Posted in Toys by ToyMaster
Posted in Toys by ToyMaster
Search
Recent Posts
Get Social With Us!
Categories
Pages
Toy Retailers
Popular Tags
Toy Archive