Browsing all articles in Toys
Posted in Toys by ToyMaster
Posted in Toys by ToyMaster
Sshh! Dont Wake Dad! Game
"Everyone enjoys a sweet midnight snack, but you'll have to be extra lucky to reach the fridge first in this exciting Sssh! Don't Wake Dad Game. Spin the spinner to creep through the house and look out for the exemption cards that will save you from sounds or set them off! Can you avoid stepping on the cat's tail or knocking over the pots and pans long enough to win the delicious chocolate cake? With electronic sound effects, including a snoring dad, this late-night trip to the fridge board game is extra exciting. A fun challenge for 2 to 4 players of 5 and over."
EAN: 9352214010025
Posted in Toys by ToyMaster
Funko Pop! Heroes: DC WW84 – The Cheetah
This Wonder Woman 84 Cheetah Funko Pop! Is officially licensed DC Wonder Woman merch and is modelled in clawsome detail. Standing about 10 cm tall, it's amazing for Wonder Woman fans!
EAN: 889698466677
Posted in Toys by ToyMaster
Posted in Toys by ToyMaster
Posted in Toys by ToyMaster
Modarri Deluxe 3 Pack Build Your Car Kit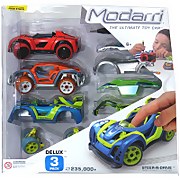 With the S1 Street, X1 Dirt, and T1 Track cars all in one box, you can make any terrain your playground! Mix & Match right out of the box with the extra Concept Car and Roadster body packs for thousands of design possibilities! Right out of the box, there are 235,000 unique combinations that kids can customize to make their car their very own! Thats a lot of play! With this set, your child will be playing and learning for hours of endless fun while creating thousands of different design combinations! Modarri's Modular Building System uses retained screws that won't fall out for quick and easy on-the-go customization. Just loosen the screws with the hex tool provided and swap out parts! Every piece is interchangeable across every Modarri car. Put yourself in the driver's seat. With Modarri PRO's real suspension and finger-steering mechanics, you can perform figure eights and tight turns without ever having to re-position your hand! Each pack includes: Orange X1 Dirt Car chassis Orange X1 Dirt Car hood, fender, and frame Blue T1 Track Car chassis Blue T1 Track Car hood, fender, and frame Black S1 Street Car chassis Black S1 Street Car hood Red S1 Street Car fender and frame Green Concept Hood Green Concept Fender Blue Concept Hood Silver Concept Fender 3 suspensions 3 seats 3 hex tools 9 soft rubber traffic cones
EAN: 863952011025
Posted in Toys by ToyMaster
Scavenger Hunt
Itís a race against time in this rapid-fire scavenger hunt game! Players take it in turns to spin the spinner and draw a card to see which household object they need to find. Will it be a shiny necklace? A yellow sock? Players then have two minutes to race around the home and claim their bounty! Guaranteed for hours of family fun.
EAN: 5060506535845
Posted in Toys by ToyMaster
Posted in Toys by ToyMaster
Blobfish Stress Ball
| Retailer | Price | Discount Code? | P&P | |
| --- | --- | --- | --- | --- |
| | £7.99 | Yes | £2.25 | |
| | £8.99 | No | | |
Meet Bob, he lives in the land down under, at depths of 2,000 below sea level. If youíve ever seen a photo of these curious creatures youíll understand why they life so far away! However, we feel blobfish donít always get the air time they deserve so weíve created Bob, a portable and squishy companion to relieve some of the stress in your life.
EAN: 5056004330570
Posted in Toys by ToyMaster
Jedi Outfit Inspired Star Wars Fleece Robe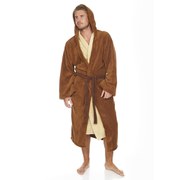 You are a Jedi, with your bed before you. So, whatís the best way to prepare your body for the sleep that awaits you? The answer, of course, lies in this Star Wars Jedi Bathrobe! Are you ready to join the secret snore-der of the Jedi and have endlessly comfy Jedi knights (and days, for that matter!)? Yes? Then you need this super-comfortable, adult-sized, fleece bathrobe! Wear this bathrobe and, if you lie down, you will become more comfortable than you can possibly imagine! But, aside from being cosier than Ben Kenobi was in his Tattooine retirement, this robe definitely looks the part! It has the 2-tone cream and brown layers of a true Jediís robes and features an embroidered Jedi order badge on its back. It also has a giant hood, letting you look suitably mysterious while your hair is drying underneath! So, you want to know what size this robe is? If it could talk, it would quote master Yoda in saying, ĎJudge me by my size, do you?í And, if you said yes, it would tell you thatís itís a comfy 69 cm across the chest, when laid flat, and 122 cm in length. Only a Sith deals in absolutes, so we wonít say that you absolutely need this Star Wars Jedi bathrobe. But, we will say that, when the Force awakens, it wants to be comfortable. So, young Jedi, may the fleece be with you!
EAN: 5055437908585
Search
Recent Posts
Get Social With Us!
Categories
Pages
Toy Retailers
Popular Tags
Toy Archive