Browsing all articles in Scalextric
Posted in Scalextric by ToyMaster
Scalextric Batman Car – Scale 1:32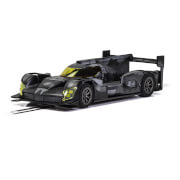 The famous caped crusader has been fighting crime for 80 years, and he is never usually found without his vehicle of choice. This stylish Batman inspired vehicle is sure to be up to the challenge of chasing Gotham's best criminals.
EAN: 5055286669064
Posted in Scalextric by ToyMaster
Scalextric Joker Inspired Car – Scale 1:32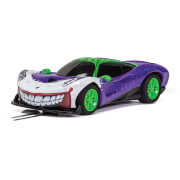 The Joker has been one of Batman's worst enemies since his first appearance in 1940. The Clown Prince of Crime typically sports green hair and a purple suit, and has a notoriously wide red grin, all featured in this themed vehicle. Is this Joker inspired car fast and crazy enough to escape the Caped Crusader?
EAN: 5055286669088
Posted in Scalextric by ToyMaster
Scalextric Gulf Racing (Team GT Gulf vs Team LMP Gulf) Race Set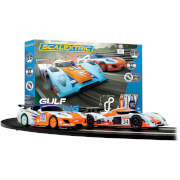 Ever since the 1960s, the distinctive blue and orange livery of Gulf Racing has been a regular sight on race tracks around the world. Since the early days, Gulf Racing has competed in all the top European and International Endurance races and now makes a welcome return to the World Endurance Championship and Le Mans. Bring the iconic blue and orange into your living room and race on multiple track layouts!
EAN: 5055286649790
Posted in Scalextric by ToyMaster
Scalextric C1415M Spark Plug – Batman vs Joker Slot Car Racing Set
Batman and the Joker have been adversaries since they first met in 1940. Since then, the Clown Prince of Crime has found creative ways to escape the Caped Crusader, and in this Scalextric Batman vs Joker Spark Plug set the themed Joker car, complete with a green roof, purple body and wide grin to mimic his famous look, takes on the black Batman car, dark enough to hide in the shadows and pounce on one of his worst enemies. This set also features 2 x Spark Plug Dongles, the latest innovation from Scalextric which allows you to race your car using your Android or IOS smart device. Simply plug the Spark Plug dongle into your Scalextric analogue powerbase rather than a traditional hand controller, download the app and race away meaning no more wires! Other App Features Include: Single Player or Versus Mode options Bespoke DC themes skin, so you can pick your favourite hero or villain in Gotham Option to use smart device vs hand controller on single player option Function to BOOST your own and RESTRICT your opponents speed Rumble and sound effects Please Note : this set requires 1 x smart device per car to race, with no hand controllers included in the box. To run this set with standard hand controllers simply plug these in to the powerbase where the Spark Plug dongles fit. Space Required: 210cm x 140cm Track Length: 532cm
EAN: 5055286669606
Posted in Scalextric by ToyMaster
Scalextric C1401 Jaguar I-Pace Challenge Slot Car Racing Set
Pitting two of the newest and most advanced electric racing cars against each other, this new set combines all of the age old excitement of Scalextric along with the latest in EV technology. Space Required: 191cm x 132cm Track Length: 484cm
EAN: 5055286653964
Posted in Scalextric by ToyMaster
Scalextric Batman vs Joker Race Set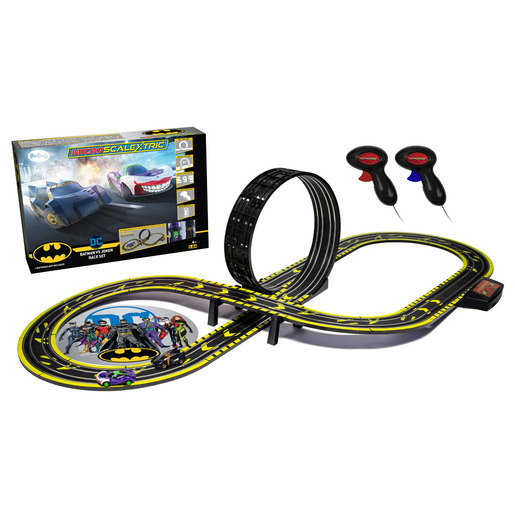 "Zoom through the streets of Gotham City with this awesome Batman vs Joker Race Set from the Scalextric range. Who will win in the race between good and evil? You decide! This awesome Scalextric set includes a Bat-Mobile and Joker-inspired race car, as well as a super-cool track. Show off your stunting skills on the loop, or prepare for an epic crash at the crossroads. This upgraded Scalextric set is compatible with Android and iOS apps, which means you can control and customise your car from your smartphone. It includes 2 race cars, two Spark Plug dongles and plenty of track pieces. For ages 4 and over."
EAN: 5055286671456
Search
Recent Posts
Get Social With Us!
Categories
Pages
Toy Retailers
Popular Tags
Toy Archive