Browsing all articles in Remote Control Toys
Posted in Remote Control Toys by ToyMaster
Hasbro Star Wars Episode 9 Ultimate Remote Control D-O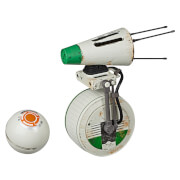 The D-O Interactive Droid lets kids and fans display and play with a droid inspired by the little roller droid from Star Wars: The Rise of Skywalker. Drive D-O around using the free downloadable app, or play in one of multiple modes, whether D-O is resting in the included docking station or rolling around on the floor! This interactive droid has premium deco, so it looks great on shelves while displayed in the docking station. With the D-O Interactive Droid, bring the fun and magic of the Star Wars saga home! May the Force be with you! Features: Premium D-O Droid: The D-O Interactive Droid Has A Self-Balancing Wheel, Multiple Modes Of Play, Moving Head And Antennas, And Features Light-Up Led Eyes, Sound Effects, And Premium Deco Inspired By Star Wars: The Rise Of Skywalker Control D-O With The Free App: Download The Free Ultimate D-O App, Follow The Onscreen Instructions, And Kids Can Control The Droid Multiple Modes Of Play: D-O Will Play In Follow Mode, Chase Mode, Guard Mode, And Even Features A High-Alert Alarm Mode, In Which D-O Will Sound An Alarm When The Ball Controller Is Pressed 3 Times Little Droid, Big Personality: Cobbled From Odds And Ends In The Workshop Of A Droidsmith, D-O Is An Impressionable Little Roller That Becomes Fixated Upon Bb-8 Includes Docking Station And Charge Cable: D-O Can Hang Out On A Desk Or Shelf While He Charges, Resting In The Included Docking Station
EAN: 5010993637959
Posted in Remote Control Toys by ToyMaster
VTech Turbo Force Racer – Red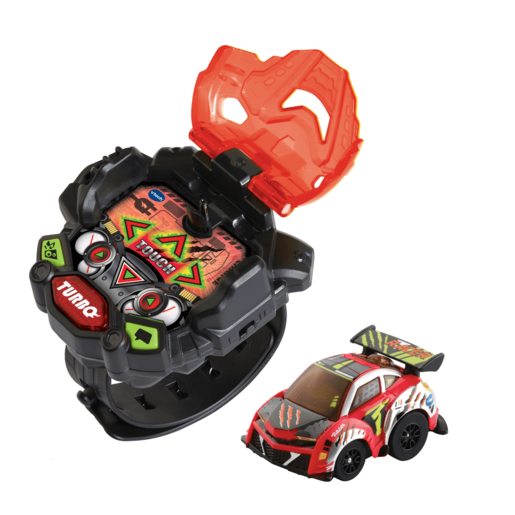 "Zoom into action with this Vtech Turbo Force Racer. Watch your bright red car whizz and race, all while you control it with your super cool control wristband. This portable vehicle charges up when it is docked in the wristband, then its ready to go! Shake your wristband to enter Turbo Mode for an extra acceleration boost or put your racer into competition mode and use the direction buttons to compete with other Turbo Force Racer owners. For ages 4 and over."
EAN: 3417761982037
Posted in Remote Control Toys by ToyMaster
Remote Control Wall Climbing Car
If you or someone you know is a fan of remote control cars then you'll be sure to love this Wall Climbing Car in red! This amazing RC toy has the ability to defy gravity and drive up walls and across ceilings providing hours of fun. This car uses an infra-red controller and can go right, left, forwards and backwards even when it's upside down. Driving isn't just limited to daylight hours either as this nifty little RC toy has working headlights for night-time driving. Made from strong and sturdy plastic, this little car can drive across windows and up living room walls.
EAN: 5055371509299
Posted in Remote Control Toys by ToyMaster
LeapFrog Scouts Learning Lights Remote Control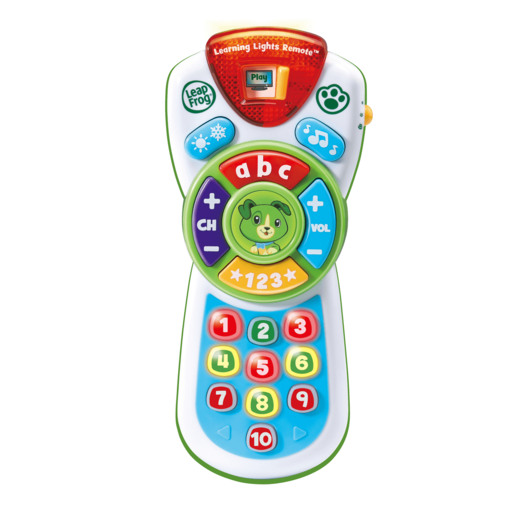 "Pick a fun, learning channel with Scout's Learning Lights Remote Control from LeapFrog. There are more than 15 buttons on the Remote Control to explore. Discover over 100 engaging and educational phrases, sounds and tunes while developing fine motor skills. Use the learning mode for an introduction to numbers and letters or switch to the role-playing mode for more fun. Listen to common French phrases on the French channel, different weather sound effects on the weather channel and fun tunes to dance along to on the music channel. Engaging LeapFrog learning for 6 months and over."
EAN: 3417766062031
Posted in Remote Control Toys by ToyMaster
Paw Patrol Chase Remote Control Police Cruiser
"Get ready for exciting adventures with you pup pal Chase and his remote-controlled cruiser. Chase is a member of the Paw Patrol team, and he loves to help save the day. This Chase playset comes with a remote-controlled vehicle which you can drive. Chase's Cruiser can change direction, and can go forward, reverse, turn, spin, and even does wheelies! This remote is perfectly sized for little hands, so your child can have hours of racing fun. For ages 3 and over."
EAN: 778988278659
Posted in Remote Control Toys by ToyMaster
VTech Toot Toot Drivers Remote Control Police Car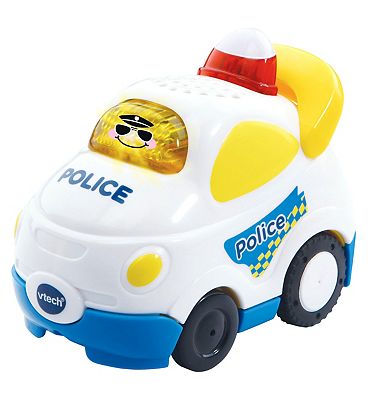 Race the Toot-Toot Drivers Remote Control Police Car around for driving fun. The remote control is simple for your little one to use with chunky forward and backward buttons. Press the light-up button to hear lots of fun phrases and realistic racing sound effects! R acer also features three fun sing-along songs and six jolly melodies. The racer will also respond when driven over SmartPoint recognition sensor locations on Toot-Toot Driver play sets (each sold separately). 5 x AAA batteries are included.
EAN: 3417761803639
Posted in Remote Control Toys by ToyMaster
Really Rad Robots – Mibro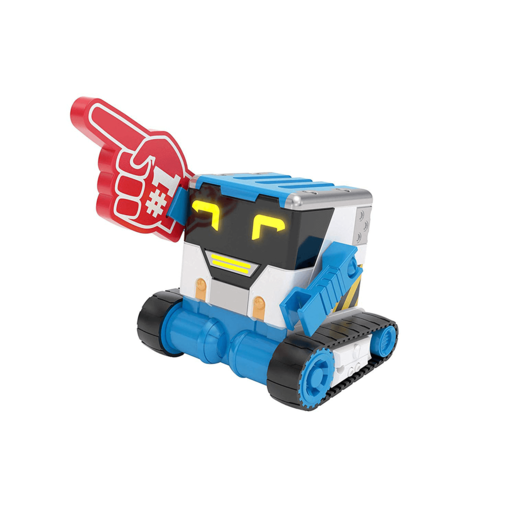 "Meet MiBro. Your new robot pal is always ready to play. He can really talk, just speak into the remote and MiBro will say whatever you told him to, no matter where he is! If you're feeling really sneaky, you can send MiBro in to spy on your family – he'll tell you what they're saying through the remote. Trick, prank and surprise your friends with your very own robot helper. There are loads of cool accessories included, so you can think of so many great ways to play. Fun for kids aged 5 and over."
EAN: 630996278055
Posted in Remote Control Toys by ToyMaster
Super Wings Remote Control Paul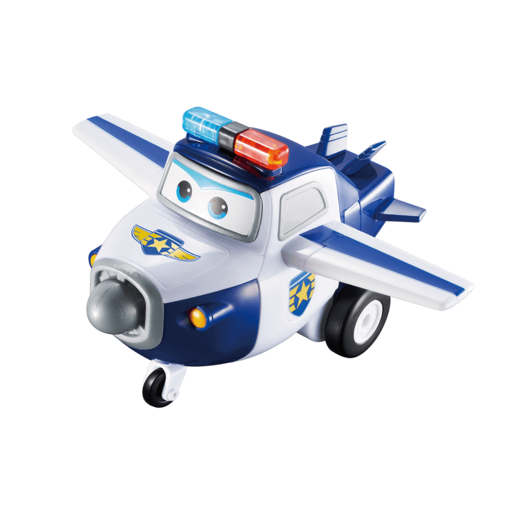 Get ready for take-off! Super Wings can zoom forward and spin 360°, all with an easy-to-use controller, designed especially for little hands, so Super Wings fans can have fun re-enacting their favourite missions from the popular TV show, or creating their own adventures! in addition to motion, you can activate lights and sounds with the push of a button. Work with other Super Wings heroes in a team for new adventures! other remote control Super Wings heroes include Donnie and Paul (each sold separately). frequency 27.145. Requires 5 AAA batteries (not included).
EAN: 6911400352108
Posted in Remote Control Toys by ToyMaster
Despicable Me 3 Radio Control Inflatable Jumbo Mel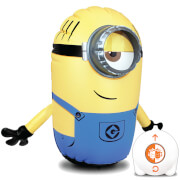 Inflate and play with leader of the Minions Mel and watch him spin around the room and say phrases from the Despicable Me 3 movie. When inflated, Mel is 34cm tall and he comes with an easy to use handset controller for drive and spin function. Features: 2.4GHz Radio Control – Drive Forwards / Spin Original Movie Sounds Jumbo Size Multiplayer Suitable both indoors and outdoors Product Information: Drive Range: 30 metres Batteries Required: 6xAA (Not Included) Product Dimensions (CM): 42.0 x 18.5 x 35.0 Packaging Dimensions (CM): 25.0 x 8.5 x 28.0 Product Weight (KG): 0.4 Contents Included: 1x Inflatable Body 1x Handset 1x Drive Unit 1x Instruction Manual 1x PVC repair patch Documents ?Warning: Not suitable for children under 3 years. Use only under adult supervision. Keep product away from all sources of heat. Do not use in water. This product is not a floatation device. This is not a life saving device. Keep the spinning wheels clear from fingers/body parts, clothing and hair at all times.
EAN: 5060158854004
Posted in Remote Control Toys by ToyMaster
Teletubbies RC Jumbo Inflatable Tinky Winky
Ehh Ohh!With easy to use one button controller designed especially for preschoolers, the Teletubbies RC Jumbo Inflatable Tinky Winky brings your favourite Teletubbies character to life in your own living room. With original phrases from the series, this soft and friendly Inflatable is a great My First RC toy!Requires 6 x AA batteries (not included).
EAN: 5060158853717
Search
Recent Posts
Get Social With Us!
Categories
Pages
Toy Retailers
Popular Tags
Toy Archive