Browsing all articles in Lego
Posted in Lego by ToyMaster
LEGO Storage Brick 2- White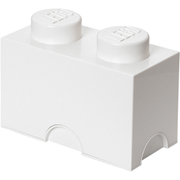 Brick tidy Keep your Lego pieces tidy and organised in this storage case that's designed as an oversized Lego brick. The storage brick is stackable, so if you have more than one, you can have even more fun stacking the oversized bricks up. It's not just Lego pieces that can be stored, but anything that needs tidying up and put out of sight! Add a touch of retro to the office or tidy up miscellaneous bits around the house. Storage bricks come in classic Lego colours, they will appeal to all; everyone loves Lego! Features: The boxes stack with the others in the set Available in 4 colours: Red, Blue, Green and Yellow See our range of different sized Lego Brick Containers! Size: Dimensions: 26.1 X 38.6 X 34.7cm Weight: 3kg approx – R.K.
EAN: 5706773400256
Posted in Lego by ToyMaster
Posted in Lego by ToyMaster
Posted in Lego by ToyMaster
Posted in Lego by ToyMaster
LEGO Batman Lunch Box with Handle – Black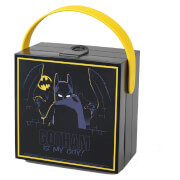 The LEGO Batman Lunch Box with handle is the perfect gift for anyone who is a fan of LEGO's Batman. The black and yellow box features lively images of the Dark Knight, has a soft silicone yellow carry handle and an easy to open clip suitable for little hands. Made from food safe plastic, the sturdy box will ensure lots of fun at lunch time. Features: LEGO Lunch Box with Handle – LEGO Batman Black and yellow box with Batman images Yellow silicone carry handle Easy to open clip fasten Made from food safe plastic Size: Dimensions: H: 16cm x W: 17cm x D: 10cm
EAN: 5711938027407
Posted in Lego by ToyMaster
Posted in Lego by ToyMaster
LEGO DUPLO 2304 Large Building Plate
"The most awesome LEGO building adventure for beginners – the LEGO Duplo Large Green Building Plate is perfect for little hands. LEGO Duplo is chunkier than traditional LEGO, so it's easy to grip and less fiddly to build with. This great Duplo Green Building Plate is the perfect base for Duplo creations. Clip LEGOs onto the Green Plate and keep creations in one place. You can attach two or more plates together using LEGOs for even bigger creations. Suitable for 18 months and over."
EAN: 5702015989480
Posted in Lego by ToyMaster
LEGO DUPLO 10894 Toy Story 4 Train
"Team up with two of your favourites thanks to this Duplo Toy Story 4 Train set. Whether you're taking on one-eyed Bart or the evil Dr Porkchop, you'll be able to play with Woody and Buzz Lightyear atop of this buildable steam train. Coming with a 'Wanted' poster featuring Dr Porkchop himself, a bank vault, lasso, and bricks decorated as money, you can create adventures you'll remember forever. Bring a little Disney Pixar magic into your home. For ages 2 and over."
EAN: 5702016367546
Posted in Lego by ToyMaster
LEGO Toy Story 4 10771 Carnival Thrill Coaster
"Get ready for hours of fun with some old favourites by building this LEGO Toy Story 4 Carnival Thrill Coaster. Featuring 98 pieces, this Disney LEGO set features a mini three-carriage rollercoaster to construct alongside the tracks. You'll also find Buzz Lightyear and an alien inside too, just waiting to hop on board for some funfair excitement. Just what any Toy Story fan needs, this will bring hours of playtime fun with added Disney magic. Pixar LEGO sets are suitable for ages 4 and over."
EAN: 5702016477863
Posted in Lego by ToyMaster
LEGO Juniors Toy Story 4: RV Vacation (10769)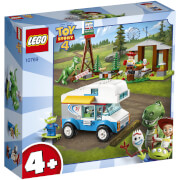 "Prepare for another fun-filled adventure with this amazing LEGO Toy Story 4 RV Vacation set. Featuring 178 pieces, you'll be able to build multiple structures including a lodge, boom gates, and the small RV itself. Then comes the fun part. Inside the set, you'll find multiple minifigures, including Jessie, Rex, an Alien, and new addition Forky – all waiting to start a fun-filled adventure with you. Perfect for adding Disney magic to playtime, this is ideal for lovers of the Toy Story films. Suitable for ages 4 and over."
EAN: 5702016367744
Search
Recent Posts
Get Social With Us!
Categories
Pages
Toy Retailers
Popular Tags
Toy Archive