Browsing all articles in Lego
Posted in Lego by ToyMaster
LEGO Storage Desk Drawer 8 – White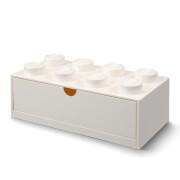 The LEGO® brick shaped desk organizers are stackable and can be combined in various ways. They are ideal for organizing and tidy up the office, kids room or bathroom, and perfect for smaller toys, LEGO bricks, pen, paper and toiletries. They are designed with drawers for easy access to the stored items, even when the bricks are stacked. The classic LEGO shape and the five colours makes organizing more fun and playful. Dimensions: 316 x 158 x 113 mm / 12.4 x 6.2 x 4.4 in Material: Polypropylene (PP)
EAN: 5711938032043
Posted in Lego by ToyMaster
LEGO Hidden Side: Mystery Castle (70437)
Fans of virtual reality and video games will love the amazing LEGO Hidden Side sets, where physical and digital worlds meet to provide an incredible, single or multiplayer augmented reality (AR) play experience. This LEGO Hidden Side Mystery Castle (70437) playset combines a buildable LEGO model with an app, such that interacting with the model prompts events in a digital world. The Mystery Castle springs to life when viewed through a smart device with the free LEGO Hidden Side AR Games App for iPhone/Android. Children then get to explore, solve mysteries, hunt ghosts and battle boss ghost The Maw in a ghostly digital world. Even without the app the castle model is an exciting build, setting the scene for action-packed role play with 5 minifigures. This mixed-reality, ghostly experience is constantly enhanced through new content, ghosts and special events. Tthe app is compatible with selected iOS/Android/mobile devices – check compatibility at lego.com/devicecheck The LEGO Hidden Side Mystery Castle (70437) augmented reality playset measures over 13 (34cm) high, 12 (31cm) wide and 10 (27cm) deep. Features a digitally interactive castle model that folds out, with an accessible observatory tower, multiple chambers and hidden functions! The LEGO castle toy transforms when viewed through the AR app, where kids can hunt ghosts, alone or together, in an ethereal digital world Includes 6 minifigures: Jack, Vaughn Geist, Parker, Nehmaar Reem and 2 Shadow-Walkers, plus an array of cool weapons and accessories Kids can build the set and scan it to see the ghosts on their tablet/mobile phones (not included) for the full, immersive experience The experience has been extended with a multiplayer option; compatible with 180+ iOS and Android devices – check product description for details Number of Pieces: 1,035 Age: 9+
EAN: 5702016617580
Posted in Lego by ToyMaster
LEGO MINDSTORMS: EV4 (51515)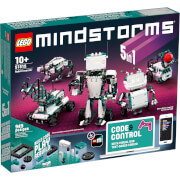 Enter the amazing physical and digital world of programmable, remote-control robots and intelligent creations. With LEGO MINDSTORMS Robot Inventor (51515), young robot fans build 5 unique, motorized robots and vehicles using the free LEGO MINDSTORMS Robot Inventor App. Then they bring them to life, one at a time, using the drag-and-drop coding environment based on Scratch and complete fun activities and challenging missions (visit LEGO.com/devicecheck for a list of compatible devices). And with almost 1,000 pieces, kids will love to come up with their own tech toy creations and share them with other robot fans on LEGO Life. Level up the play experienceFrom the intelligent Hub with its 5×5 LED screen, 6-axis gyro and speaker, to powerful motors and accurate sensors, the latest evolution of LEGO MINDSTORMS coding robots for kids is the perfect way to help youngsters express and develop their creativity, while gaining essential 21st century STEM skills.
EAN: 5702016369861
Posted in Lego by ToyMaster
LEGO Storage Desk Drawer 8 – Black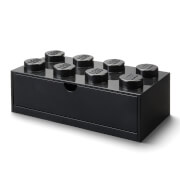 The LEGO® brick shaped desk organizers are stackable and can be combined in various ways. They are ideal for organizing and tidy up the office, kids room or bathroom, and perfect for smaller toys, LEGO bricks, pen, paper and toiletries. They are designed with drawers for easy access to the stored items, even when the bricks are stacked. The classic LEGO shape and the five colours makes organizing more fun and playful. Dimensions: 316 x 158 x 113 mm / 12.4 x 6.2 x 4.4 in Material: Polypropylene (PP)
EAN: 5711938032036
Posted in Lego by ToyMaster
LEGO Wall Hanger Set – Grey/Black/White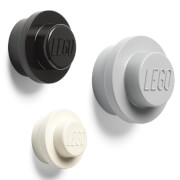 The LEGO Wall Hanger Set are colorful upscaled LEGO elements. The multifunctional iconic shaped wall hangers fit in any room and can be arranged in numerous combinations. Use them as coat hangers or for a fun and playful wall decoration in the kid's room.
EAN: 5711938031855
Posted in Lego by ToyMaster
LEGO Art 31199 Marvel Studios Iron Man
If you re a Superhero fan, we have a thrilling set for you. Build 1 of 3 portraits of the iconic Iron Man suits of armor with this LEGO Art Marvel Studios Iron Man (31199) set, while you relish a creative escape from everyday life. Ingenious projectBuild 1 of 3 detailed portraits of Iron Man s armour, the MARK III, the HULKBUSTER MARK I or the MARK LXXXV. If you want more, buy and combine 3 sets into an ultimate Iron Man piece. As part of this new LEGO building experience, listen to the included Soundtrack for stories and cool details about the set as you build. Finish the project with a Marvel Studios signature plate, then display it on a wall or shelf. Artistic mindfulnessYou don t need to be an artist or have loads of LEGO models to enjoy the satisfaction of completing this wall art kit. This LEGO Art set is part of a collection of building kits focused on music, art, design and architecture, which make great gifts for anyone (including yourself) seeking a new project.
EAN: 5702016677706
Posted in Lego by ToyMaster
LEGO Lunch Set Iconic Classic
Extend the LEGO adventure with this LEGO Lunch Set including a Lunch box and a Drinking Bottle with LEGO Emoticon graphics. The Drinking Bottle has a silicone spout covered by a semitransparent cap to keep it free from dirt when not used. The movable divider in the Lunch Box easily separates sandwiches, fruits, vegetables etc. LUNCHTIME FUN: This LEGO Lunch set with a drinking bottle and lunch box is full of LEGO DNA and will make the lunch break or family picnics truly awesome COOL AND FUNCTIONAL DESIGN: The design is cool and playful and extending the LEGO adventure. The lunch box has a movable divider and the drinking bottle spout is covered by the cap EASY TO USE FOR SMALL HANDS: The lunch box is made easy for kids to open and close. The drinking bottle has a nice grip suitable for small hands DIMENSION: 200 x 173 x 71 mm; AGE GRADE 3+
EAN: 5711938030469
Posted in Lego by ToyMaster
LEGO Storage 4 Knob Brick – 1 Drawer (Light Royal Blue)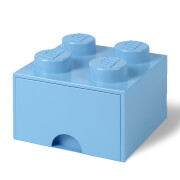 The LEGO Brick Drawer is a fun storage box with drawers for toys, LEGO bricks, office utensils and other small items. Alternatively, use it in the nursery to store the baby's diapers, bibs, blankets and lotions. The box can be placed on a desk, a shelf or on the floor and is designed to fit with the LEGO Storage Brick System. Decorate, play, form and have fun with the drawers while using them for storage. Please note: LEGO bricks not included. Always open the drawer on a level surface to avoid the risk of the box tipping over. Drawer may tilt when open freestanding
EAN: 5711938029470
Posted in Lego by ToyMaster
LEGO DOTS 41903 Cosmic Wonder Bracelet
"Show off your passion for fashion with the LEGO Dots Cosmic Wonder Bracelet. Design your own bracelet and change up your style whenever you like with this amazing LEGO Dots kit. With 32 pieces to help you create beautiful designs, you'll always have the coolest jewellery to match every outfit. With pretty pastel colours and designs inspired by the galaxy, the creative opportunities are endless. The comfortable strap fits little jewellery designers from age 6 and up, just adjust the buckle as you grow! For ages 6 and over."
EAN: 5702016616729
Posted in Lego by ToyMaster
LEGO DOTS 41902 Sparkly Unicorn Bracelet
"Bring some glittery magic to your look with the LEGO Dots Sparkly Unicorn Bracelet kit. Create your own jewellery with this amazing LEGO Dots kit. With 33 Dots included, you can mix and match the pieces to customise your look whenever you want to. This kit includes a beautiful purple strap, which can be adjusted to fit little wrists. The Dots feature magical unicorn shapes and shining stars in pretty pastel colours. Want even more fun? Collect all the LEGO Dots Bracelet kits to create lots and lots of unique designs. For ages 6 and over."
EAN: 5702016616712
Search
Recent Posts
Get Social With Us!
Categories
Pages
Toy Retailers
Popular Tags
Toy Archive