Browsing all articles in Lego
Posted in Lego by ToyMaster
LEGO Super Heroes: Hulk Helicopter Drop (76144)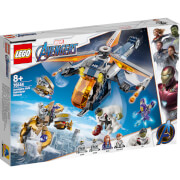 Your little superhero will feel like they are in the Marvel Avengers: Endgame movie with this exciting 76144 Hulk Helicopter Rescue LEGO set. There are so many ways to play with the Avengers helicopter, featuring 2 triple stud shooters and a cool function to drop the Hulk onto enemies, plus the Chitauri s Marvel Leviathan creature and stud-shooting flyer for aerial battles. Role-play action!A great gift for kids, it includes 4 minifigures for role-play action, including Rescue (aka Pepper Potts) with 2 Power Blasts and Black Widow with 2 batons to fight the Chitauri. The Hulk big figure and his Infinity Gauntlet glove with collectible Infinity Stones add even more creative storytelling options. Marvel Avengers thrills! LEGO Marvel Avengers playsets open up a thrilling universe of role-play adventures. With collectible vehicles, mechs, buildings, minifigures, weapons and gadgets, superhero fans can recreate movie scenes, dream up their own stories or simply display the supercool models.
EAN: 5702016618068
Posted in Lego by ToyMaster
LEGO Technic: App-Controlled Top Gear Rally Car (42109)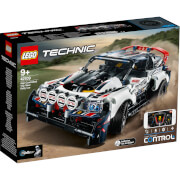 Know a race car fan who would love to drive like the Stig from TV s BBC Top Gear? Let them put their skills to the test with this awesome LEGO Technic" (42109) App-Controlled Top Gear Rally Car. First, they can have fun building the rally car toy, discovering all the elements that make this Rally Car model work. Then the adrenaline builds as they try out cool moves all using the LEGO Technic CONTROL+ App. Powered by a smart hub, the app allows super-precise movement, giving endless play combinations with authentic sound effects. Choose from different control screens to drive forward, reverse, steer, accelerate, brake and tackle obstacles. They will also get real-time feedback, including a speed and tilt log and can test out their skills in the app s racing challenges section. There s inspirational content and videos to discover in the app too! LEGO Technic sets bring an advanced building challenge for kids and adults who love to learn new engineering skills.
EAN: 5702016617481
Posted in Lego by ToyMaster
Posted in Lego by ToyMaster
LEGO Storage Brick 8 – Pink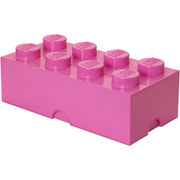 Keep your LEGO pieces tidy and organised in this storage case that's designed to look just like an oversized LEGO brick. The storage brick is stackable, so if you have more than one, you can have even more fun stacking the oversized bricks up. It's not just LEGO pieces that can be stored, but anything that needs tidying up and put out of sight! Add a touch of retro to the office or tidy up miscellaneous bits around the house. Storage bricks come in classic LEGO colours and will appeal to anyone who loves LEGO! – R.K. Features: The boxes stack with the others in the set LEGO brick with 8 studs Perfect for storing toys or other bits and bobs See our range of different sized Lego Brick Containers! Size: Dimensions: 25cm X 50cm X 18cm
EAN: 5706773400492
Posted in Lego by ToyMaster
LEGO Friends Hydration Bottle 0.5L – Lilac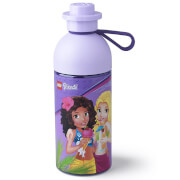 The LEGO Friends Hydration Bottle features a wide neck for ice and a LEGO stud top with a double closure that can be used as a cup. The 500ml capacity bottle is made from food safe, BPA free and phthalate free plastic that is dishwasher safe. The lilac bottle is decorated with a brightly coloured picture of the five friends and will delight any lilac-loving LEGO fan. The bottle comes complete with a useful loop suitable for clipping to a backpack, bike or school bag. Features: LEGO Friends Hydration Bottle 500ml Lilac and purple design Wide neck allows ice to be added easily LEGO stud top with double closure for use as a cup Includes a loop for attaching to a backpack or bag Made from food safe, BPA free and phthalate free plastic Dishwasher safe Size: Capacity: 500ml
EAN: 5711938027346
Posted in Lego by ToyMaster
LEGO Architecture: New York City (21028)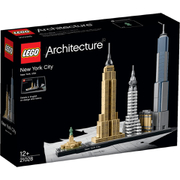 | Retailer | Price | Discount Code? | P&P | |
| --- | --- | --- | --- | --- |
| | £39.95 | No | Free | |
| | £39.99 | No | | |
| | £39.99 | No | | |
| | £44.99 | No | £3.50 | |
| | £44.99 | No | £3.95 | |
Celebrate the architectural diversity of New York City with this detailed LEGO brick model. The LEGO Architecture Skyline Collection offers models suitable for display in the home and office, and has been developed for all with an interest in travel, architectural culture, history and design. Each set is scaled to give an accurate representation of the comparative size of each structure, with true-to-life color depiction. This set features the Flatiron Building, Chrysler Building", Empire State Building, One World Trade Center and the Statue of Liberty, and is finished with a decorative New York City nameplate.
EAN: 5054242390363
Posted in Lego by ToyMaster
LEGO THE LEGO MOVIE 2 Wyldstyle Minifigure Link Watch
With multi-coloured interchangeable links and plenty of design possibilities you can build a unique watch to fit all wrist sizes. Featuring a Wyldstyle minifigure built into your watch strap, you'll be fully equipped to return Bricksburg to its former glory.
EAN: 812768021452
Posted in Lego by ToyMaster
LEGO Batman Movie: Harley Quin Minifigure Clock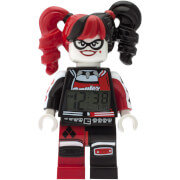 Create chaos and mayhem in all of Gotham City with your new LEGO DC Super Heroes Harley Quinn Minifigure Clock. Press down on the minifigure's head to activate the snooze and backlight functions. A great addition to the LEGO DC Super Heroes collection. Movement: Digital LCD Display: Digital 12hr Back Light Colour: TBC Height: 9.5 inches tall Alarm function: Yes Snooze function: Yes Moveable parts: Wrists, legs, arms and head (for alarm and light) Manufacturer's warranty: 2 years Battery type: 2x AAA Battery (included) Age: 6+ Safety: Conforms with relevant EU and US safety standards
EAN: 5060286802243
Posted in Lego by ToyMaster
LEGO Storage 4 Knob Brick – 1 Drawer (Black)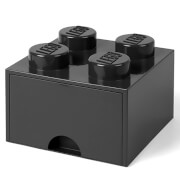 The LEGO Brick Drawer is a fun storage box with drawers for toys, LEGO bricks, office utensils and other small items. Alternatively, use it in the nursery to store the baby's diapers, bibs, blankets and lotions. The box can be placed on a desk, a shelf or on the floor and is designed to fit with the LEGO Storage Brick System. Decorate, play, form and have fun with the drawers while using them for storage. Please note: LEGO bricks not included. Always open the drawer on a level surface to avoid the risk of the box tipping over. Drawer may tilt when open freestanding
EAN: 5711938029449
Posted in Lego by ToyMaster
LEGO Friends: Mias Tree House (41335)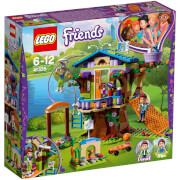 | Retailer | Price | Discount Code? | P&P | |
| --- | --- | --- | --- | --- |
| | £15.97 | No | Free | |
| | £22.99 | No | | |
| | £23.99 | No | | |
| | £24.99 | No | £3.95 | |
| | £25.00 | No | £2.99 | |
| | £25.00 | No | £5.50 | |
Help Mia turn her brother's tree house into the perfect park hangout spot for all her friends with the LEGO Friends Mias Tree House 41335. Pack Daniel's belongings into a box in the roof before he leaves for college, and help Mia decorate by putting up pictures of her friends and family. Scramble up the net to the second floor and use the water gun to keep out any unwanted visitors! Then slide down the zip wire to visit Mia's bunny Mimì in her little house and give her a carrot.
EAN: 758710717847
Search
Recent Posts
Get Social With Us!
Categories
Pages
Toy Retailers
Popular Tags
Toy Archive