Browsing all articles in Hot Wheels
Posted in Hot Wheels by ToyMaster
Hot Wheels Tile Track Set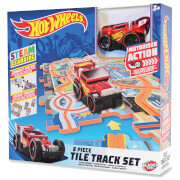 Connect the jumbo puzzle pieces to create your Hot Wheels™ Track then watch the Bonespeeder™ car with motorised action drive around! Break apart and reconfigure in over 50 combinations! Features: Motorised Action Create 50+ Track Combinations Connect and Play Tile Pieces STEAM Learning Specification: Batteries Required: 1 x AAA (Not Included) Product Dimensions (CM): 52.0 x 28.0 x 0.6 Packaging Dimensions (CM): 30.0 x 6.5 x 28.0 Product Weight (KG): 0.6
EAN: 5060158854875
Posted in Hot Wheels by ToyMaster
Hot Wheels 9 Monster Action Sharkruiser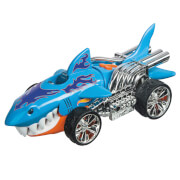 Unique Hot Wheels style with extreme action! Watch out, the Hot Wheels Sharkruiser is on the prowl! With its sound effects, lights and mechanical movement, this is a killer of a car. Press buttons on the car for realistic wheel spin and engine sounds. As it starts up you'll hear sounds, and as it moves forward watch its jaws chomp up and down and see its eyes glow! Forward/backward rocking motion accompanies energetic lights and music and the car also includes motorised action and free-wheeling drive. Features: Unique Hot Wheels style with Xtreme Action Chomping action Press buttons on the car for realistic wheel spin and engine sounds Motorised drive and freewheeling Lights & sounds
EAN: 8001011512041
Posted in Hot Wheels by ToyMaster
Hot Wheels City Downtown Pizza Toss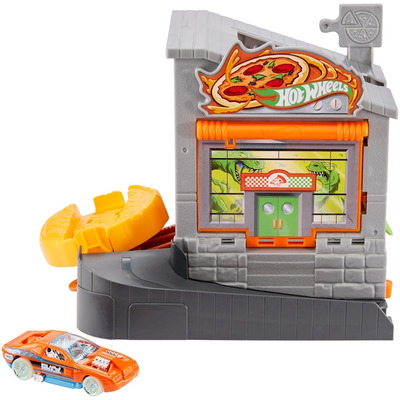 Kids can explore Hot Wheels® City through their favourite iconic city locations using their Hot Wheels® cars. Lock up bad guys in the police station, spin down the fire pole at the fire station, fuel up and go at the gas station, capture the mischievous monkey at the power plant, and dodge the piranhas at the aquarium. Each set connects directly to other Hot Wheels® City sets with the new connection system, still compatible with your orange track. Includes one Hot Wheels® vehicle.
EAN: 887961773439
Posted in Hot Wheels by ToyMaster
Hot Wheels City Downtown Playset – Speedy Fuel Stop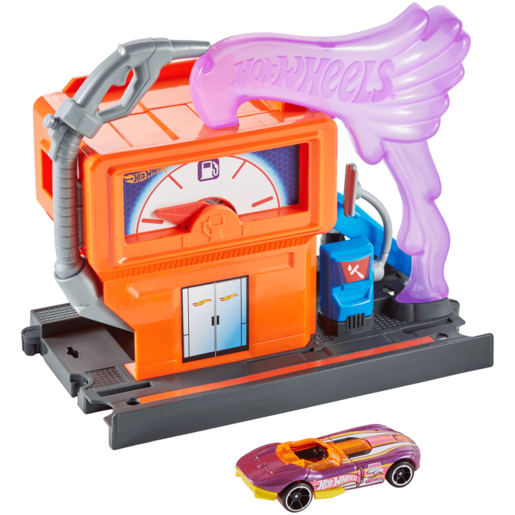 "Explore Hot Wheels City with the iconic locations of the Downtown Playsets, including the Speedy Fuel Stop. Every Hot Wheels car needs to pause and refuel every once in a while. Swing by the Speedy Fuel Stop to make sure you're ready for some Downtown racing. Pull on the over-sized petrol pump to send your exclusive, themed Hot Wheels vehicle zooming out of the Fuel Stop and into more adventures. Connect the Speedy Fuel Stop Downtown Playset to other Hot Wheels City sets or to your orange tracks to create an awesome Hot Wheels metropolis of racing and play. Exciting racing and imaginative play for 4 and over."
EAN: 887961625585
Posted in Hot Wheels by ToyMaster
Hot Wheels DRX Cyber Drone FPV Racing Set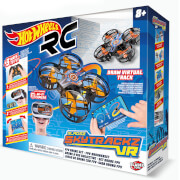 Experience the thrill of flying a mini drone via first person view headgear! YOU are the pilot as your environment becomes a drone racing circuit! Set includes FPV headgear compatible with your smartphone and free download of our FPV app! Draw a track circuit on your mobile phone and watch the drone fly on autopilot on the sky track you have created! Features: 3 ways to fly your Hot Wheels™ Skytrackz VR Drone with the free app. Become the pilot and experience FPV Drone Racing. Draw virtual 'Skytrackz' on your smartphone and drone will follow it exactly. Use app control to fly using smartphone's tilt sensor. Take photos and record video direct to your mobile using the live streaming Wi-Fi camera. Specification: Flight Time: 5-6 minutes Flight Range: 25 metres Charge Time: 60 minutes Batteries Required: 3 x AAA (Not Included) Product Dimensions (CM): 7.5 x 7.5 x 2.5 Packaging Dimensions (CM): 37.5 x 12.0 x 30.0 Product Weight (KG): 0.8
EAN: 5060158855056
Posted in Hot Wheels by ToyMaster
Hot Wheels DRX Monster X-Terrain Drone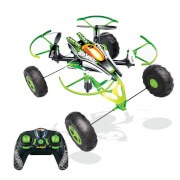 he Monster is the ultimate X-Terrain machine! Fly with 3x Speeds – then hit the ground running and drive on the toughest terrain. This Monster even drives on water! Click Here to View The Hot Wheels DRX Monster X-Terrain Drone Manual Features 3 in 1 Land-Water-Air RC Drone Drive and Fly Modes Go Totally Off-Road Product Information Flight Time: 5-6 minutes Flight Range: 30 metres Charge Time: 45 minutes Batteries Required: 4 x AAA (Not Included) Product Dimensions (CM): 17.0 x 16.5 x 9.5 Packaging Dimensions (CM): 38.0 x 21.0 x 22.0 Contents Included 1x 2.4GHz Drone Handset 4x Spare Rotor Blades 1x Instruction Manual 1x USB Charger WARNING(S) Not suitable for children under 8 years. Use only under adult supervision. Keep a minimum distance of 10 meters away from this product. Do not operate outside of flying range. Operation is strictly forbidden near high voltage poles, railway tracks and roads. Always operate with direct visual contact. Only operate under good visibility and in dry, calm weather conditions. Adult supervision required when using in water. Keep minimum 2 metres away from waters edge.
EAN: 5060158854851
Posted in Hot Wheels by ToyMaster
Hot Wheels Bladez Drone Racerz – Triple Threat Stunt Set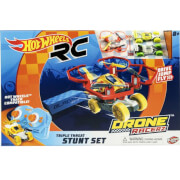 Fly & race mini drone, then connect racing chassis to drive, drift and race! Comes with ramp and drone gates to create your own stunts and race circuit! It's even compatible with the Hot Wheels track! 2.4 GHz Radio Control drone. Racing Chassis to drive & drift. Interchangeable parts to customise and collect! Suitable Age: 6+
EAN: 5060158854622
Posted in Hot Wheels by ToyMaster
Posted in Hot Wheels by ToyMaster
Hot Wheels Super Spin Tire Shop
The Hot Wheels™ City Super Sets inspire epic storytelling and imaginative ways to play! The deluxe city-themed Super Spin Tire Shop™ play set includes big key features and performance push-around-play the Hot Wheels® way! Kids drive all the way up the orange spiral ramp and choose new tires and rims. After a tune up the track takes the vehicle into the giant wheel. Pull the lever and give it a spin and the car will go around the loop inside the tire, come shooting out the other side, and speed off for more adventures in Hot Wheels™ City! Fun features help improve motor skills and boost confidence. Build up Hot Wheels™ City by connecting other City play sets together. City play sets are also compatible with orange track and other sets. Includes one Hot Wheels® vehicle.
EAN: 887961585957
Posted in Hot Wheels by ToyMaster
Hot Wheels Avengers Moto with Rider: Captain America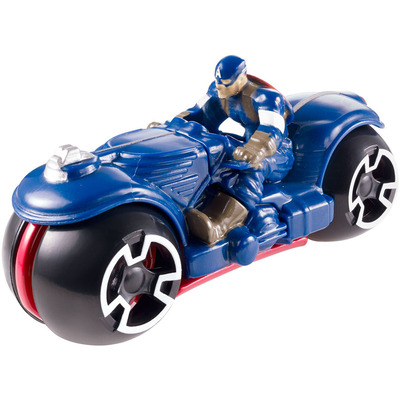 This is a collectible bike and figure inspired by the Marvel Avengers: Age of Ultron film. It features Ultron riding his unique bike from the film. It is from the Hot Wheels collectible range CDM36 and is designed for children age 3 and older.
EAN: 887961045925
Search
Recent Posts
Get Social With Us!
Categories
Pages
Toy Retailers
Popular Tags
Toy Archive