Browsing all articles in Hot Wheels
Posted in Hot Wheels by ToyMaster
Hot Wheels City Downtown Playset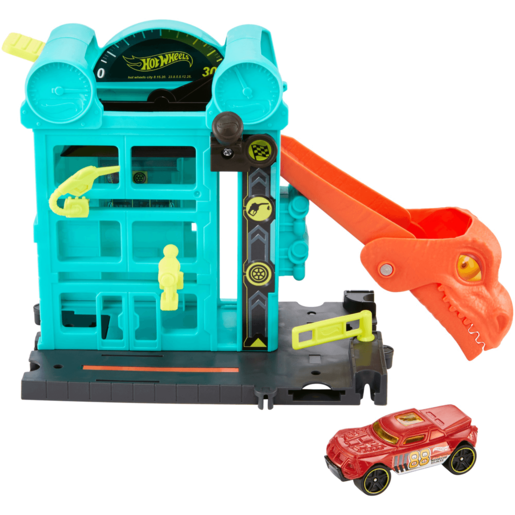 "Dinosaurs are rampaging through Hot Wheels City! Can you survive the terrifying Downtown Speed Shop Escape Playset? Enjoy imaginative storytelling where you get to decide what happens next on this extraordinary trip downtown. Use the lever to lower the Dinosaur head up and down the side of the Speed Shop and open its fearsome mouth for your Hot Wheels vehicle to race through! With one, exclusive Hot Wheels vehicle included in the playset, you'll be ready for an adventure straight out of the box. Connect the Downtown Speed Shop Escape Playset to other Hot Wheels City and orange track playsets to create your own epic Hot Wheels metropolis. Awesome Hot Wheels action for 4 and over."
EAN: 887961773446
Posted in Hot Wheels by ToyMaster
Hot Wheels City Super Spin Tire Shop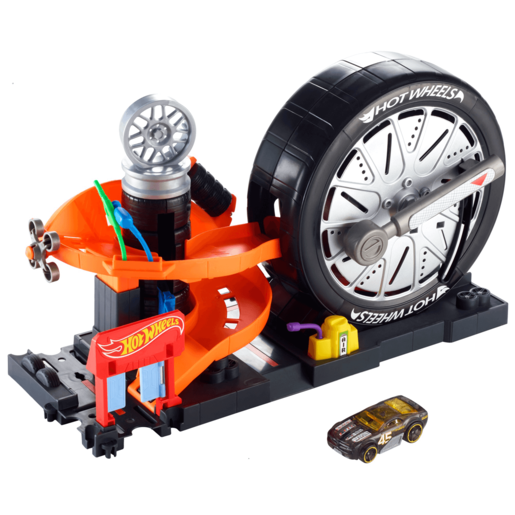 The Hot Wheels™ City Super Sets inspire epic storytelling and imaginative ways to play! The deluxe city-themed Super Spin Tire Shop™ play set includes big key features and performance push-around-play the Hot Wheels® way! Kids drive all the way up the orange spiral ramp and choose new tires and rims. After a tune up the track takes the vehicle into the giant wheel. Pull the lever and give it a spin and the car will go around the loop inside the tire, come shooting out the other side, and speed off for more adventures in Hot Wheels™ City! Fun features help improve motor skills and boost confidence. Build up Hot Wheels™ City by connecting other City play sets together. City play sets are also compatible with orange track and other sets. Includes one Hot Wheels® vehicle.
EAN: 887961585957
Posted in Hot Wheels by ToyMaster
Hot Wheels Avengers Moto with Rider: Captain America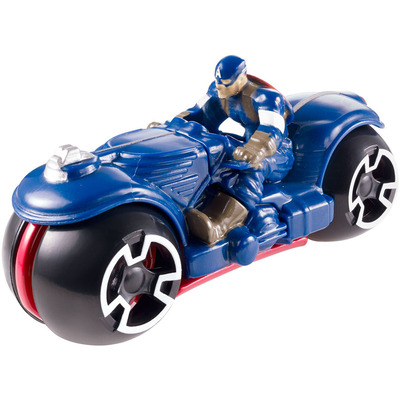 This is a collectible bike and figure inspired by the Marvel Avengers: Age of Ultron film. It features Ultron riding his unique bike from the film. It is from the Hot Wheels collectible range CDM36 and is designed for children age 3 and older.
EAN: 887961045925
Posted in Hot Wheels by ToyMaster
Posted in Hot Wheels by ToyMaster
Hot Wheels Action – Dragstrip Champion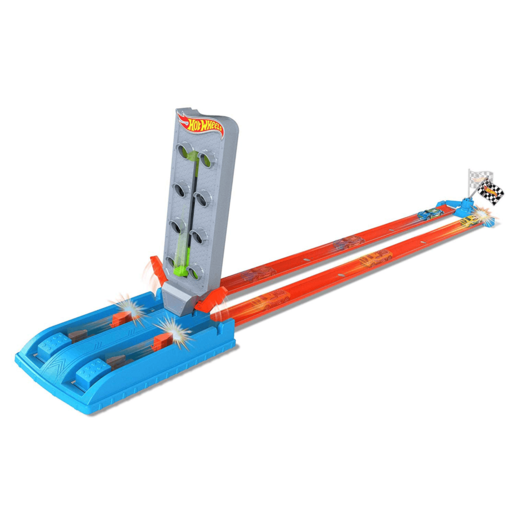 Kids face off with friends with a variety of newsets for ultimate performance-based adrenaline-charged speed and crashing action! Everything kids need to get racing right out of the package— orange track, banked turns, side-by-side racing and launchers plus one Hot Wheel vehicle! Each set connects to other Hot Wheels track sets (sold separately) for a great way to build an epic track.
EAN: 887961713848
Posted in Hot Wheels by ToyMaster
Hot Wheels Track Builder Custom Curve Kicker Playset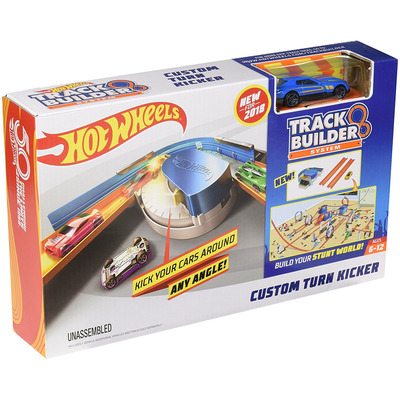 Epic thrills are right on track with the Custom Curve Kicker accelerator—part of the Hot Wheels Track Builder System! The Custom Curve Kicker accelerates cars around turns and adjusts the turn angle so kids can kick their vehicle around the track at any angle from zero to 180-degrees! The adjustable feature lets kids create a crazy amount of angles! Kids will love testing their skills and timing while racing their Hot Wheels cars. The Custom Curve Kicker also includes connectors, track pieces and one Hot Wheels vehicle. The possibilities are endless with open system play! Enhance builds with household items like red cups, paper tubes or add-ons like bricks.
EAN: 887961299007
Posted in Hot Wheels by ToyMaster
Hot Wheels Colossal Crash Track Set
Hot Wheels Colossal Crash track set is the ultimate, show-stopping toy for the Hot Wheels® Action lover! The biggest boosted set Hot Wheels has ever made, this track's layout is over 5 feet wide and comes packed with speed and boosted action to get your cars crashing and smashing! A double figure-eight design offers multi-player fun, lets you race lots of cars at once, and ups the potential crash factor! Use the levers to control the action as you send cars zooming through the crash zone on the ground or into the air for spectacular aerial crashes! Pack up is easy too as it folds up in a couple of easy steps for easy storage, making hours of Hot Wheels action fun for all!
EAN: 887961762594
Posted in Hot Wheels by ToyMaster
Hot Wheels 50-Car Mega Hauler
The Hot Wheels Mega Hauler is a big rig for big adventures with endless storytelling possibilities. This massive Hauler can be loaded with up to 50 cars in its six expandable levels—and that's just the beginning! At the back of the Hauler there is a ramp that comes down to connect to Hot Wheels city sets. The cab of the rig opens with space to park 2 more vehicles and the cool transparent side panel opens so kids can store their favorite rides in a special spot. Connect the Mega Hauler to Hot Wheels orange track and roll cars right into a side-by-side race for traditional track play, too!
EAN: 887961800517
Posted in Hot Wheels by ToyMaster
Hot Wheels City Smashing Triceratops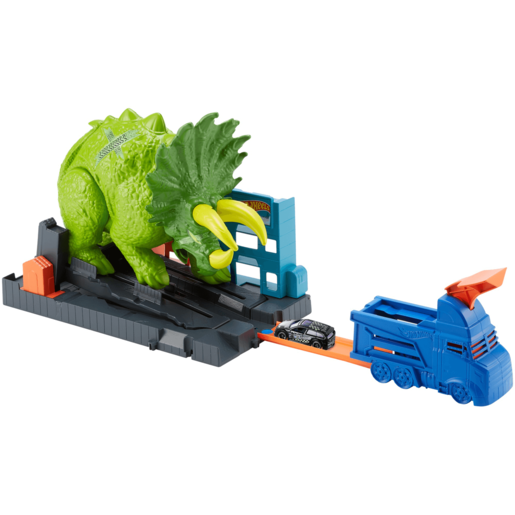 Kids are challenged to save Hot Wheels City from a giant rampaging Triceratops! The dramatic takedown moment is impressive with a try-me feature for an impactful presence on-shelf. Includes one Hot wheels vehicle.
EAN: 887961713954
Posted in Hot Wheels by ToyMaster
Hot Wheels City Super Spin Dealership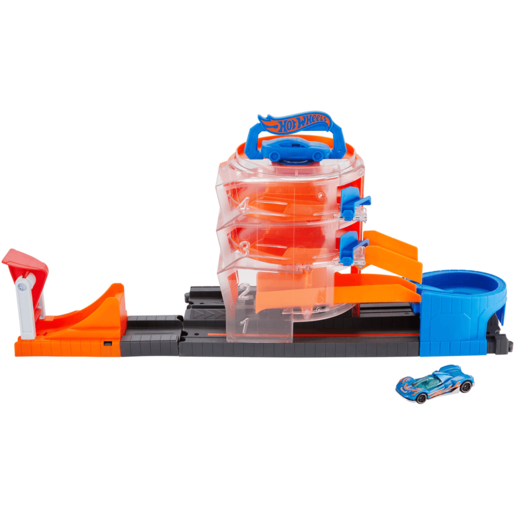 "This Hot Wheels City Super Spin Dealership has everything you need to create awesome car dealing adventures at home! The Super Spin Dealership has four levels, so you can load up your favourite Hot Wheels vehicles and keep them safe inside. There's a handle on top, too, so you can carry your dealership (and the vehicles inside) all around with you. Spin the handle to move the cars around, and release the ones you want to race. This set includes one Hot Wheels vehicle. Suitable for ages 4 and over."
EAN: 887961713947
Search
Recent Posts
Get Social With Us!
Categories
Pages
Toy Retailers
Popular Tags
Toy Archive