Browsing all articles in FurReal
Posted in FurReal by ToyMaster
Hasbro Furreal Friends Star Wars Chewbacca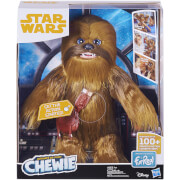 Chewbacca ("Chewie" to his best pals) is famous as Han Solo's loyal friend and co-pilot – and now the Ultimate Co-pilot Chewie figure can be kids' trusted companion in adventure, wherever their imagination takes them! This amazing interactive plush friend features 100+ sound-and-motion combinations, responds in the Wookiee language, and reacts whenever he's in motion – sometimes in surprising ways! Kids will love their favorite Wookiee's fun facial expressions and the way he responds when they talk to him (he laughs, roars, and even snores!). He'll often raise his arms as he roars… and make contented sounds when he gets a friendly scratch on the head. This furry best friend is always ready for the next mission, big or small! Features: Interactive plush Chewie figure is the ultimate sidekick for kids who love imagining their own intergalactic adventures 100+ sound-and-motion combinations, including arm-raising roars He reacts whenever he's in motion (sometimes in surprising ways), and responds in the Wookiee language when he's spoken to Fun facial expressions
EAN: 5010993510429
Posted in FurReal by ToyMaster
FurReal Cubby The Curious Bear
"You'll never get the smile off your kids' faces when FurReal Cubby The Curious Bear comes to play, with this cuddly interactive toy capable of over 100 sound and motion combinations. Able to make different playful noises and move its head, eyes, ears, nose, mouth and arms, Cubby is a joyful friend who plays peek-a-boo and even helps children off to sleep with soft music. So cuddly and lifelike, he even talks when spoken too and makes a fine companion for youngsters! Suitable for children ages 4 and over."
EAN: 5010993599301
Posted in FurReal by ToyMaster
FurReal Ricky The Trick-Lovin Pup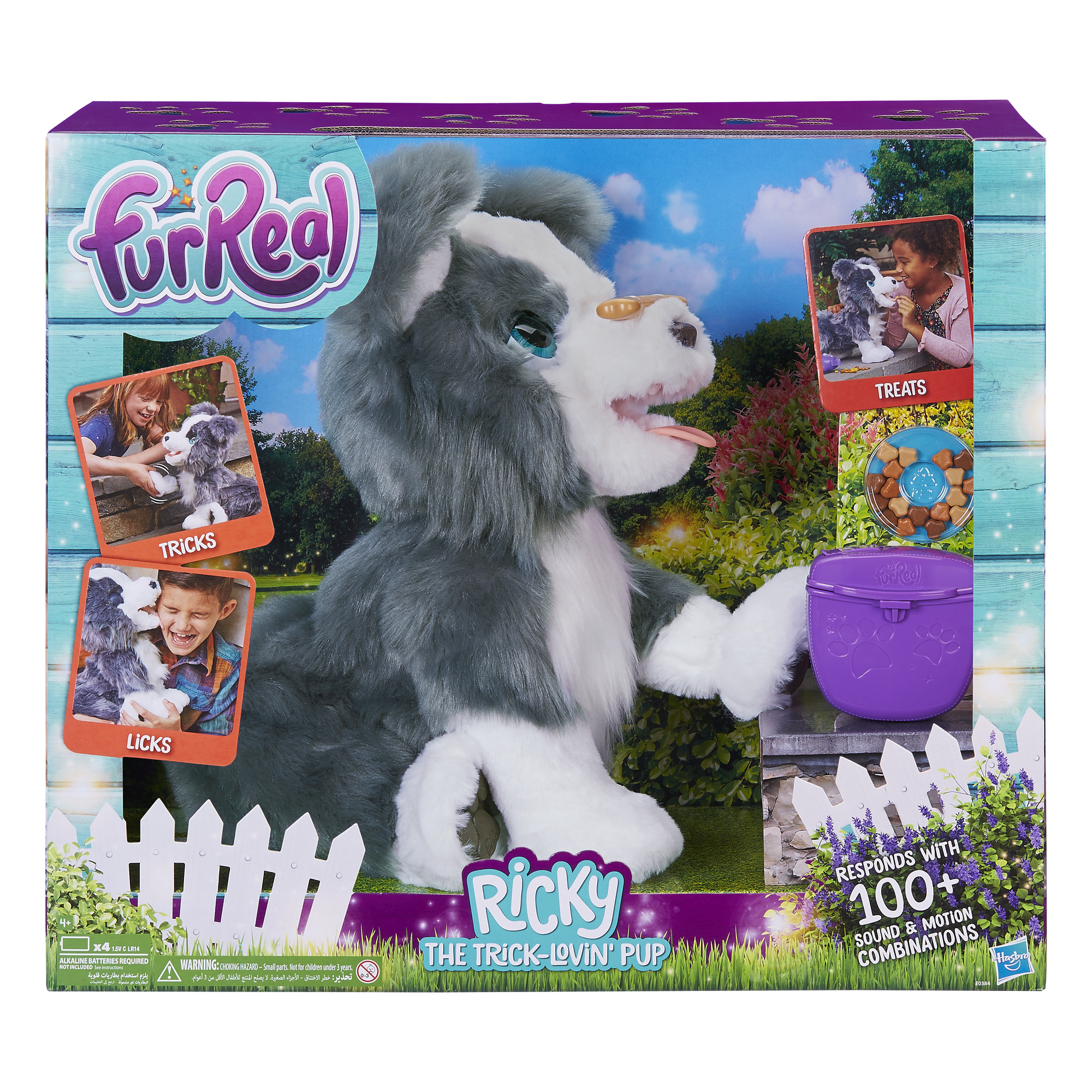 Ricky, the Trick-Lovin' Pup pet from FurReal is eager to perform tricks, and is sure to amaze everyone who watches him. He's full of surprises and affection, and responds with 100+ sound-&-motion combinations that keep children guessing.He's all about tricks, licks, and treats! He can balance his bone toy on his nose, and with a voice command, flip it into his mouth! Reach for his paw and he'll raise it for a friendly handshake. When he's excited, he'll shuffle his paws and bark happily. And he's very affectionate, so get ready for lots of doggie licks! Reward him with an included doggie treat… then pet his back for toots and poops!Requires 4 x C batteries (not included). – Height: 44.5 CM- Width: 50.8 CM- Length: 21.59 CM
EAN: 5010993505999
Posted in FurReal by ToyMaster
FurReal Munchin? Rex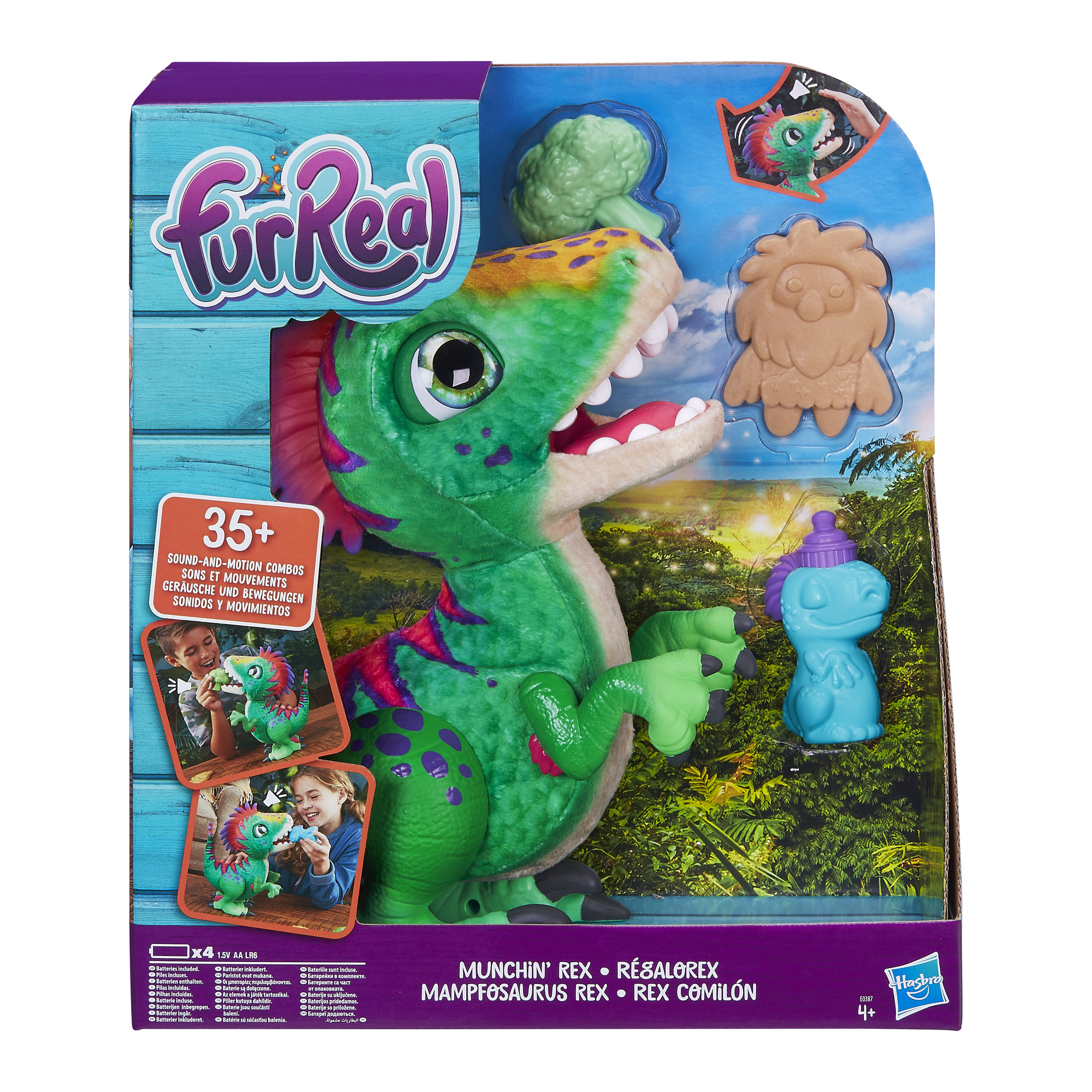 This adorable, funny baby dino has quite an appetite, but that doesn't mean he's not a picky eater. He's happy to slurp on his bottle, but his treats? He'll either chomp on them or try to spit them out. Could be this lil' dino needs to learn some table manners!Pet this poseable prehistoric baby on his head and he'll respond with more than 35 sound-and-motion combinations – along with awesome dino-habitat sounds. Wave at him and he'll roar and bounce. The Munchin' Rex pet's a handful, all right – unpredictable, huggable, and oh-so-loveable!Requires 4 x AA batteries (included).
EAN: 5010993505340
Posted in FurReal by ToyMaster
Hasbro Furreal Friends Shaggy Shawn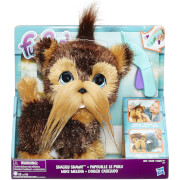 The Shaggy Shawn pet is a cute canine in search of a new look! Kids can enjoy styling him over and over again with the help of a buzzer accessory that really buzzes! As they gently press the accessory to the pup's head, it makes fun buzzing sounds and vibrates, and the pup makes happy sounds. Kids can pretend they're pet groomers at a grooming salon. Their challenge? To turn this hairy hound into a handsome leader of the pack!
EAN: 5010993472185
Posted in FurReal by ToyMaster
FurReal Roarin Tyler The Playful Tiger
Roarin' Tyler, the Playful Tiger is ready to play… and his favourite way to play is to ROAR! Make noise and he roars back, talk to him and he responds! Pet his head and his eyes might close, stroke his ears and his head might move, tickle his tummy and try to guess what he might do next! And when he's not playing and roaring, Tyler loves nothing more than hugs and cuddles. Just like a real pet, Tyler even has his own chicken toy to play with. Pick it up and watch Tyler react! Featuring fully poseable back legs and over 100 sound and motion combinations, Tyler is an exotic fun-loving pet who'll soon become a part of the family!
EAN: 5010993400195
Search
Recent Posts
Get Social With Us!
Categories
Pages
Toy Retailers
Popular Tags
Toy Archive