Browsing all articles in Dolls
Posted in Dolls by ToyMaster
Baby Annabell Travel Jeans for 43cm Dolls (Styles Vary, One Supplied)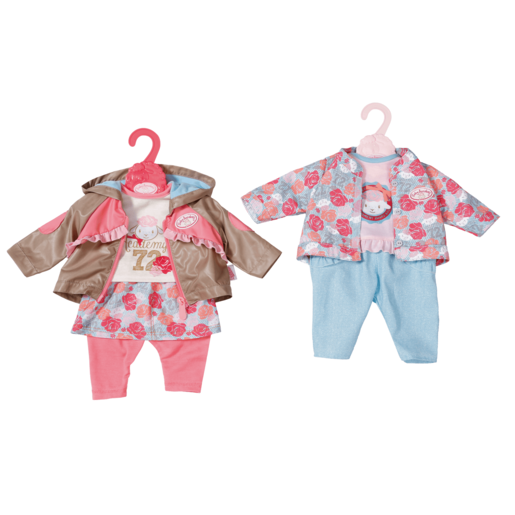 "Little ones will love dressing up their Baby Annabell dolls with these Travel Jeans. Designed to fit 43cm Baby Annabell Dolls, this outfit will ensure your children's' Baby Annabell doll is looking and feeling good! There are different sets to collect â?? a pair of jeans with denim jacket and a rose print with all the colours of the rainbow (both sold separately). Both sets come with a cool little hooded jacket which is ideal in case the weather changes. Suitable for children aged 3 and over."
EAN: 4001167701973
Posted in Dolls by ToyMaster
Baby Born Sporty Collection (Pink)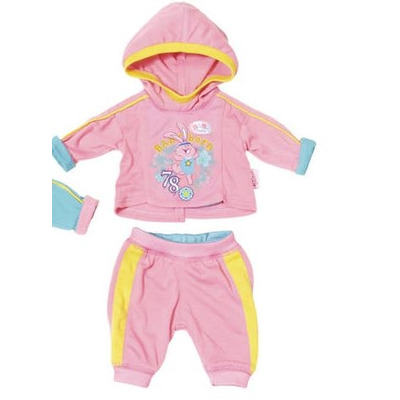 A jump to the right, a jump to the left and a few star jumps… phew, sport can be hard work! But it's no problem for BABY born®, as her sporty collection of jogging bottoms and hoody lets her move around in total freedom. BABY born®'s sister is just as sporty. Dressed in turquoise with grey-flecked sleeves, fun colourful prints and zip applications, they do forward and backward rolls, jump over boxes and balance along beams. But the two of them also love to laze around on the sofa. Whatever they are doing, they always look good in these tracksuits.
EAN: 4001167823774
Posted in Dolls by ToyMaster
Baby Born Romper (Blue)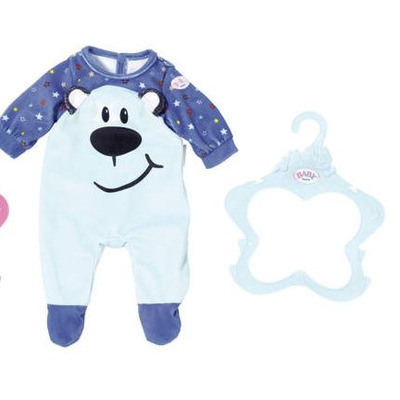 "BABY born® stop fidgeting so much!" But she's wearing her romper and, true to the name, she has to romp around for all she's worth. The one-piece in pink is made of soft fabric which is incredibly comfortable – perfect for extensive hours of lounging about and cuddling on the sofa. There's the cute pink version with bunny ears.
EAN: 4001167824566
Posted in Dolls by ToyMaster
Baby Annabell Shoes – Ballerinas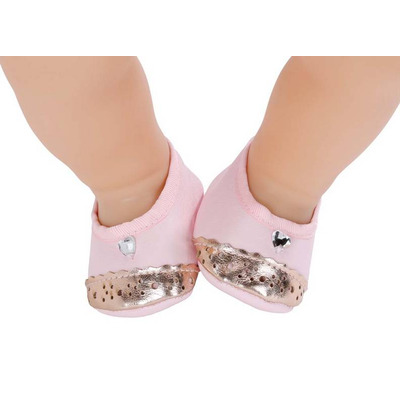 "Show me your feet, show me your shoes"… Baby Annabell is wearing such fantastic shoes that she just loves showing off her feet. But every day she's faced with the same dilemma – Baby Annabell has a hard time choosing between these two fantastic models: elegant ballerinas embellished with small heart-shaped stones or smart trainers with trendy bronze-look shoelaces.
EAN: 4001167794579
Posted in Dolls by ToyMaster
Baby Born Sneakers Blue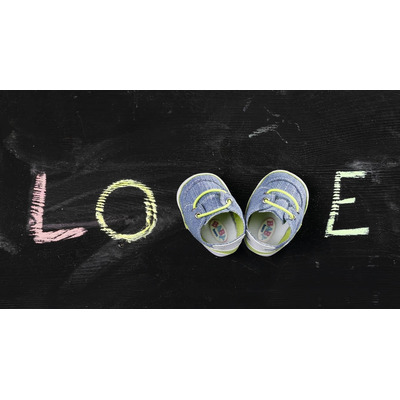 True to their name, sneakers are great for sneaking up on people. In these cool shoes, BABY born® will be great at creeping around playing cowboys and Indians, or perhaps at giving her big brother a shock. The pink pair glitters away under the velcro.
EAN: 4001167824207
Posted in Dolls by ToyMaster
BABY born Romper – Blue/Green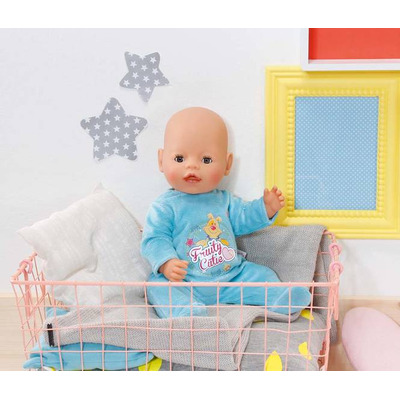 Who wouldn't want to spend the whole day in pyjamas from time to time? Sometimes you just don't have time to get dressed, because so many great activities await and you want to get started right away. For days like these, BABY born® has her romper assortment. The soft one-pieces in blue and pink with adorable prints are so comfortable and are perfect for playing and cuddling.
EAN: 4001167822128
Posted in Dolls by ToyMaster
Baby Annabell My First Day and Night Clothing: Night Time Romper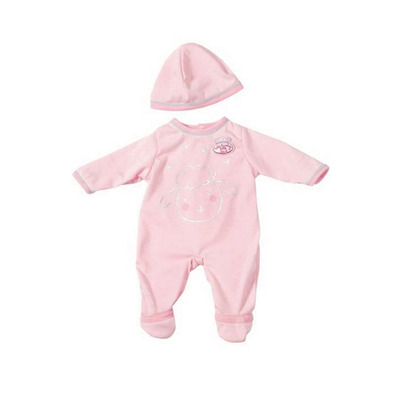 So much for "I'm sleepy in the mornings but up all night". My First Baby Annabell can't decide which outfit is her favourite. In the mornings she jumps out of bed to put on her smart playtime outfit. The top with lamb print goes perfectly with the floral-print shorts. A cool headscarf rounds off the casual look. The outfit is made in line with the easy on+off style, whose cut, fit and fastenings are designed so that even the smallest of hands are able to put them on and take them off easily.
EAN: 4001167794388
Posted in Dolls by ToyMaster
Baby Born Winter Boots Pink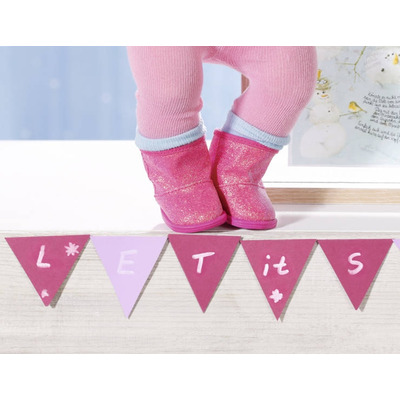 In winter, BABY born® wears her seven-league boots in silver, in the latest design. Wearing them, she can walk for seven leagues, and they are so glittery that they can be seen from seven leagues away, too. Sometimes BABY born® is too lazy to walk. Then she sits in her buggy, holds her feet in the sun and watches them sparkle.
EAN: 4001167824573
Posted in Dolls by ToyMaster
Baby Annabell Day Dress
Baby Annabell is a real flower child. This summer dress made of delicate rose fabric is embellished with bows and lamb pendants. Run through the summer meadow, Baby Annabell, so everyone can see you in these cute dresses! This dress is perfect for breezy summer days.
EAN: 4001167794531
Posted in Dolls by ToyMaster
Baby Born Fashion (Blue/White Stripe)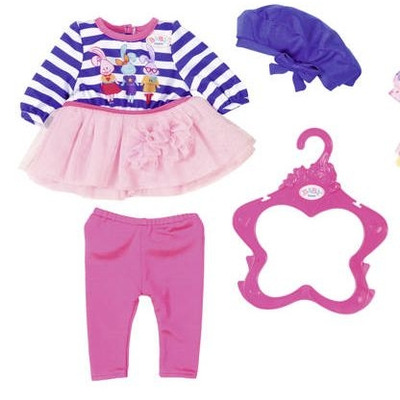 The little fashionista BABY born® wanted two very special outfits. They were to be playful and comfortable, with a hint of extravagance, a wow effect and a little multicultural. OK, the tops of the dresses with funny blue and white stripes or in pink with adorable little prints are playful. The extraordinary tulle skirts create the wow effect. And they come with matching comfortable colour-coordinated leggings, so her legs don't get cold. And for her head, she has a sweet little hat with a French touch. Voilà, BABY born®'s Fashion Collection.
EAN: 4001167824528
Search
Recent Posts
Get Social With Us!
Categories
Pages
Toy Retailers
Popular Tags
Toy Archive