Browsing all articles in Dolls
Posted in Dolls by ToyMaster
BABY Born 43cm Soft Touch – Girl with Brown Eyes Doll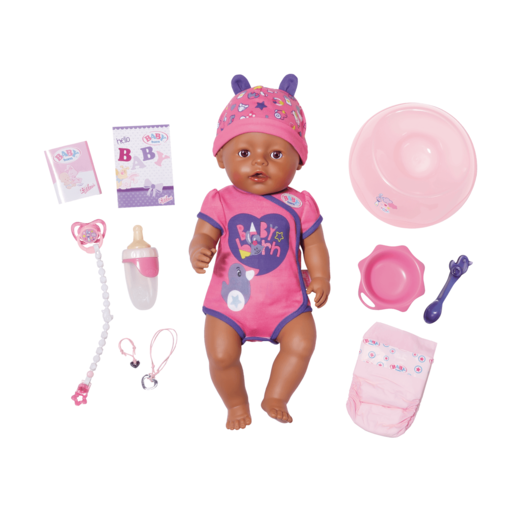 "Introducing the Baby Born Soft Touch – Girl with Brown Eyes Doll. She's so realistic, you'll feel like you're holding a real baby in your arms! With nine lifelike features, Baby Born can eat and drink, and if you press on her belly she'll wet herself, potty training easier. Baby Born even has a sleeping eyes feature, so she sleeps when you lay her down. Includes 11 accessories for realistic parental play. Suitable for little ones aged three and over. "
EAN: 4001167824382
Posted in Dolls by ToyMaster
Baby Annabell Milly Feels Better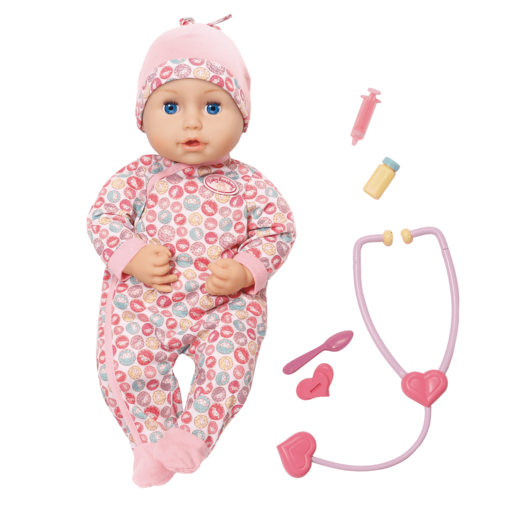 "With the Baby Annabell Milly Feels Better doll, you can play doctor and help Milly start giggling and laughing again. At the touch of a button Milly's cheeks will turn red and she'll start crying with a fever. Check her temperature with your thermometer and listen to her heart beat with your stethoscope. Milly will need some medicine to help her feel better. Hold the spoon near her mouth or give her an injection. When Milly's looking better, tickle her tummy to hear her happily giggle. Role-playing, baby doll fun for 3 and over."
EAN: 4001167701294
Posted in Dolls by ToyMaster
My First Baby Annabell Sleeping Eyes Doll
"My First Baby Annabell with Sleeping Eyes will always let you know when she's tired. She's as cute as they come, and Baby Annabell is perfect for learning about role play and how to look after babies. My First Baby Annabell has beautiful blue eyes when she's upright and awake, ready to see the big wide world. But when she's tired and you lay her down, she closes her eyes to go to sleep. Dressed in an adorable pink romper suit and hat, your doll comes with a bottle so you can feed her until she gets sleepy. Soft and small at 36cm, My First Baby Annabell is great for young very toddlers. Suitable for caring kids aged 12 months and up."
EAN: 4001167700532
Posted in Dolls by ToyMaster
Posted in Dolls by ToyMaster
BABY Born Travel Seat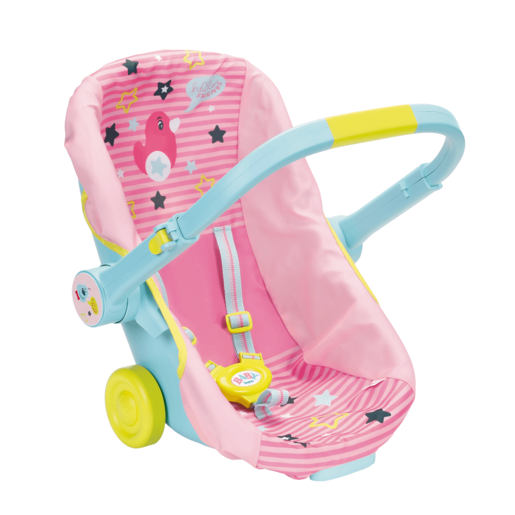 "The BABY Born Travel Seat is a cosy and comfortable way for your dolls to travel anywhere and any way. With the easy rotate handle, you can use the Travel Seat in three different modes. Push the handle back and prop the seat upright to use it as a chair. Strap BABY Born in to the adorable, pink, stars and stripes patterned seat to carry the Travel Seat like a cradle or extend the handle and use the wheel mode to take her for a ride! Baby doll roleplaying and travel fun for 3 and over."
EAN: 4001167824412
Posted in Dolls by ToyMaster
Zapf Baby Annabell Changing Bag
"Your Baby Annabell doll loves going on adventures to the playground, so make sure you're ready for anything with the adorable Baby Annabell Changing Bag. The bag is decorated with smiling sheep and a pink polka dot pattern that matches the sweet, soft changing mat. The spare nappy, teething ring and powder bottle accessories help to make roleplay with the Changing Bag set even more realistic and enjoyable. The Baby Annabell Changing Bag is compatible with all other Baby Annabell accessories. Role-playing, baby doll fun for 3 and over."
EAN: 4001167700730
Posted in Dolls by ToyMaster
Zapf My First Baby Annabell Newborn Doll
Your Baby Annabell Newborn Doll looks so adorable in her plush pink romper and matching hat. Her soft fabric body means she's ideal for snuggling up to. She is even a wonderful bedtime cuddling companion for newborn infants. This little doll's romper also features a heart-shaped sheep graphic on the front. A great gift for ages three years and up.
EAN: 4001167700495
Posted in Dolls by ToyMaster
My First Baby Annabell Brother with Sleeping Eyes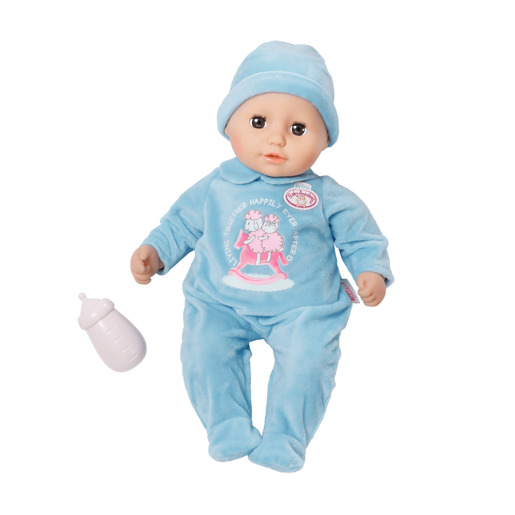 "Alexander is the adorable brother of Baby Annabell, and the two of them are just like real babies. Baby Annabell's precious brother has big brown eyes that are wide open and ready to learn about the world. But when he's feeling tired, you can lay him down to rest and see his eyes close. With a cute blue romper and hat, your 36cm doll comes with a bottle for feeding. Make sure you've got it ready for when he wakes up, as he'll probably be hungry for more. Alexander is soft and cuddly, and his small size makes him perfect for very young toddlers. Suitable for caring kids aged 12 months and up."
EAN: 4001167700549
Posted in Dolls by ToyMaster
BABY Born Little Sister Mermaid Doll
"The BABY Born Little Sister Mermaid Doll has a beautiful and elaborately decorated tail that magically moves when she's placed in water! Take her in the bathtub or pool for amazing mermaid and swimming adventures. The Mermaid Doll's turquoise and purple tail matches her halter-neck top with seashell details. Use the pearled tiara and included comb to brush and style the Mermaid Doll's long blonde and purple streaked hair outside of the water. Batteries required. Magical mermaid play for 3 and over."
EAN: 4001167824344
Posted in Dolls by ToyMaster
Baby Annabell Potty Training Set
Even potty training can be fun with Baby Annabell. Your doll can take a pee all by herself/! Put her on the potty then make her all fresh and clean with the sheep wipe dispenser. Now it's time to add talc and change Baby Annabell's nappy. She's such a big girl now! A great gift for ages three and up. What's in the box? Potty Nappies Wipe dispenser
EAN: 4001167700310
Search
Recent Posts
Get Social With Us!
Categories
Pages
Toy Retailers
Popular Tags
Toy Archive