Browsing all articles in Board Games
Posted in Board Games by ToyMaster
Ravensburger Disney Frozen 2 Labyrinth Junior Board Game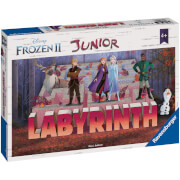 | Retailer | Price | Discount Code? | P&P | |
| --- | --- | --- | --- | --- |
| | £14.99 | No | | |
| | £14.99 | Yes | | |
Anna and Elsa are lost in the haunted forest. Can you free the two sisters and their faithful friends from the labyrinth? Skillfully move the maze tiles and create new paths that lead you to the popular characters from the movie Frozen 2 . It is up to you to move the walls so you can collect your chracters whilst blocking the path for the other players. This game is full of magical and addictive family fun. This item includes 1x Game Board, 17x maze cards, 12x tokens, 4x figures and instructions. This game is suitable for 2-4 players. Suitable for ages 7 years and up. Make your way through the labyrinth to find all the treasures
EAN: 4005556204168
Posted in Board Games by ToyMaster
Disney Pixar Toy Story 4 Race Home Board Game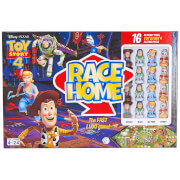 | Retailer | Price | Discount Code? | P&P | |
| --- | --- | --- | --- | --- |
| | £20.99 | Yes | | |
| | £24.99 | No | | |
Play the Disney Pixar Toy Story 4 Race Home Board Game for kids with Woody, Buzz Light-year, bo peep, and forky. Be the first home to win ! LAND on another character and send them back; so watch out where you land on the way… family friendly fun for all ages from 4 years old upwards for 2-4 players, roll the dice and start your race home. box contains sixteen toy Story 4 3D figurines (4 of each character) along with one themed game board and a dice and 12 speedy coins (these help get you home faster).
EAN: 5411068301667
Posted in Board Games by ToyMaster
Pictionary Board Game
| Retailer | Price | Discount Code? | P&P | |
| --- | --- | --- | --- | --- |
| | £19.99 | No | | |
| | £100.00 | Yes | Free | |
Pictionary, the classic game of Quick Sketches and Hilarious Guesses, makes a great way to get any party started! The Pictionary Board Game includes two erasable makers, boards for drawing and an updated category of clues.
EAN: 887961021738
Posted in Board Games by ToyMaster
Monopoly For Sore Losers Board Game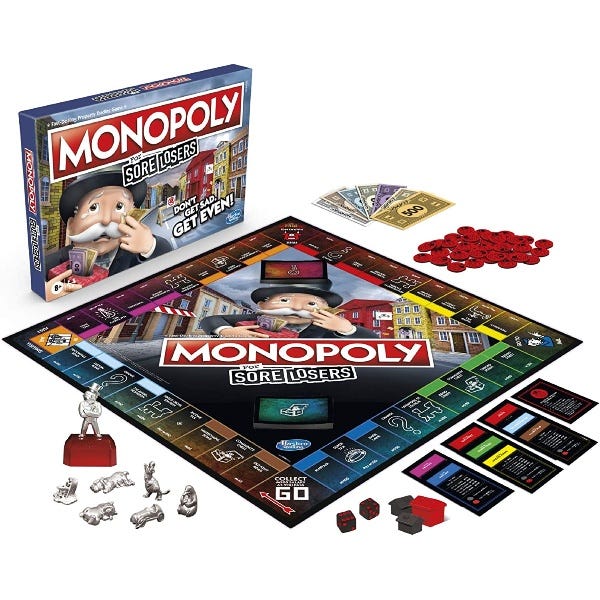 | Retailer | Price | Discount Code? | P&P | |
| --- | --- | --- | --- | --- |
| | £23.00 | No | £3.99 | |
| | £23.00 | Yes | £4.49 | |
Don't get sad… get even! Say goodbye to the frustration of losing while playing Monopoly, and say hello to the Monopoly For Sore Losers board game. This hilarious twist on Monopoly turns losing on its head and celebrates it instead. Players earn cash by doing the typically frustrating things in the game such as going to jail, paying rent on a property or going bankrupt. And those who really start sinking can make a comeback using the large Mr Monopoly token that gives players advantages over everyone else. So get playing, get the revenge you've been craving and feel good about losing! Family game night might never be the same again with this game for ages 8 and up. The Hasbro, Hasbro Gaming, Parker Brothers and Monopoly names and logos, the distinctive design of the game board, the four corner squares, the Mr Monopoly name and character, as well as each of the distinctive elements of the board and playing pieces are trademarks of Hasbro for its property trading game and game equipment.
EAN: 5010993717019
Posted in Board Games by ToyMaster
Dino Roar Board Game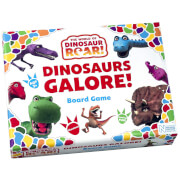 | Retailer | Price | Discount Code? | P&P | |
| --- | --- | --- | --- | --- |
| | £14.95 | No | | |
| | £14.95 | Yes | | |
Dinosaurs Galore is the perfect game for all little Dino fans! This entertaining and engaging Board Game from The World of Dinosaur Roar encourages learn through play and the Cooperative Games Play option encourages great teamwork in order to win the game! Dinosaur Squeak is looking for all her Dinosaur friends, in order to help find them each of the players needs to collect the four dinosaurs on their player card. They must first all collect Dinosaur Roar (the T Rex!) before trying to collect the other dinosaurs. On their journey, players will have to answer prehistoric questions, name different dinosaurs and make the loudest ROAR in order to help Dinosaur Squeak find her friends. In the Cooperative Games Play option, the rules remain the same but all the players have to work together to reunite eight of the Dinosaurs with their dino pal, Squeak! Dinosaurs Galore is a super fun board game for 2-4 players age 3 years and over Safety warning: Small parts, not suitable for chidlren 3 years and under
EAN: 5012822073556
Posted in Board Games by ToyMaster
Grandpas Great Escape Board Game
| Retailer | Price | Discount Code? | P&P | |
| --- | --- | --- | --- | --- |
| | £14.95 | No | | |
| | £14.95 | Yes | | |
This beautifully designed 3D game brings to life the best-selling book by David Walliams. Is it the end of days for Jack's rather confused grandpa or can you help him ESCAPE the evil clutches of the Twilight Towers! It's a race to save the old folk from the evil clutches of Miss Swine, the hideous matron that will happily zip you with her cattle prod! Climb the overhanging willow tree, take a wide berth to miss the 'not so lovely' nurses, then take to the skies aboard a World War Two RAF Spitfire whilst being chased down by the deadly German Messerschmitt! Be the first player to bring home Jack and the old folk in this fast, exciting cat-and-mouse style game for two to four players, based on the best-selling book from David Walliams. This fantastic, easy play, 3D family board game and is perfect for 2-4 players age 7 years and over. Safety warning: Not suitable for children under 36 months, small parts, choking hazard.
EAN: 5012822074058
Posted in Board Games by ToyMaster
Dumb Criminals Board Game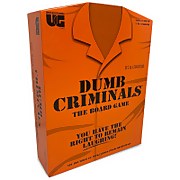 | Retailer | Price | Discount Code? | P&P | |
| --- | --- | --- | --- | --- |
| | £14.00 | No | | |
| | £18.99 | Yes | | |
| | £22.95 | No | | |
You have the right to remaining laughing with the new Dumb Criminals game! This family friendly game is perfect for all super sleuths out there, with easy to learn games play this game will have players questioning just why are criminals so dumb? The highly entertaining board game also offers additional strategic levels of play to keep inquisitive minds busy trying to solve the crime and secure the cash! Dumb Criminals will see players building and running the biggest criminal crews, whilst successfully pulling off heists and making as much cash as they can by correctly answering Dumb Criminal questions – the race is on to be the first player to secure $50,000. Starting from the four corners of the board with $15,000 each, players then hand pick their 'crew' by each selecting five criminal tokens. On their turn, players move around the board landing on various play spaces. When a player lands on an orange Heist space this is an opportunity to make some cash. The player must ?rst decide how many crew members, up to five, they will put on this heist, they then have to decide is a Dumb Criminal story is really true or false. If the player guess correctly, each of the crew members on the heist receive the amount of cash on the board space – up to $2,000. If they get it wrong, all of the crew members on the heist immediately move to Jail! Players need to think carefully about how many crew will be sent on each heist as the more they risk the more they could win…but also could lose! Other play spaces include Court Space where players have the opportunity to bail jailed crew members and build their own criminal crew, the Bounty Hunter space where cash is required to hang onto your crew and the Blood Fued space which could see players put out of the gam permanently! The brilliant strategic family board game is great for 2 to 4 players age 12 years and over
EAN: 794764014426
Posted in Board Games by ToyMaster
Battleship Shots Board Game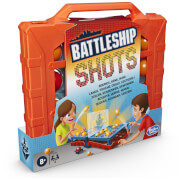 | Retailer | Price | Discount Code? | P&P | |
| --- | --- | --- | --- | --- |
| | £20.99 | No | | |
| | £20.99 | Yes | | |
Bounce 'em in to sink and win! The Battleship Shots game presents a ball-tossing twist to Battleship gameplay. It's head-to-head competition, strategy, and excitement as players get on their feet and bounce or toss their balls over the divider to land them inside their opponent's ships! Players can amp up the suspense when they go for an immediate win by getting the red ball into their opponent's life raft. No ship is safe in this game of stealth and suspense, so position ships strategically to survive an opponent's relentless onslaught. The Battleship Shots game is a great indoor activity for kids ages 8 and up. Ages 8 and up For 2 players.
EAN: 5010993632466
Posted in Board Games by ToyMaster
This toy no longer exists.
Try visiting www.xmas-toys.co.uk you may find it there.
EAN: 892884000852
Posted in Board Games by ToyMaster
Monopoly Junior Trolls Board Game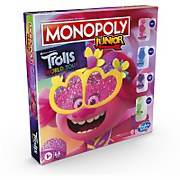 | Retailer | Price | Discount Code? | P&P | |
| --- | --- | --- | --- | --- |
| | £21.99 | No | | |
| | £21.99 | Yes | | |
Collect the most Tiny Diamond cash while taking an imaginary journey through the colourful DreamWorks Trolls World. In this Monopoly Junior: DreamWorks Trolls World Tour edition board game, players move their character token around the board buying and selling locations inspired by the Trolls World Tour film. It's so much fun for kids to place a 'sold' sign on their very own property. And if a player owns both properties in the same colour, they can charge double the rent! The board game makes a fun gift for Trolls fans and Monopoly Junior fans, ages 5 and up. DreamWorks Trolls Copyright 2019 DreamWorks Animation LLC. All Rights Reserved. Ages 5 and up 2 to 4 players WARNING: Choking Hazard – Small parts. Not for children under 3 years.
EAN: 5010993654833
Search
Recent Posts
Get Social With Us!
Categories
Pages
Toy Retailers
Popular Tags
Toy Archive