Browsing all articles in Barbie
Posted in Barbie by ToyMaster
Mega Bloks Barbie Build N Style Glam Salon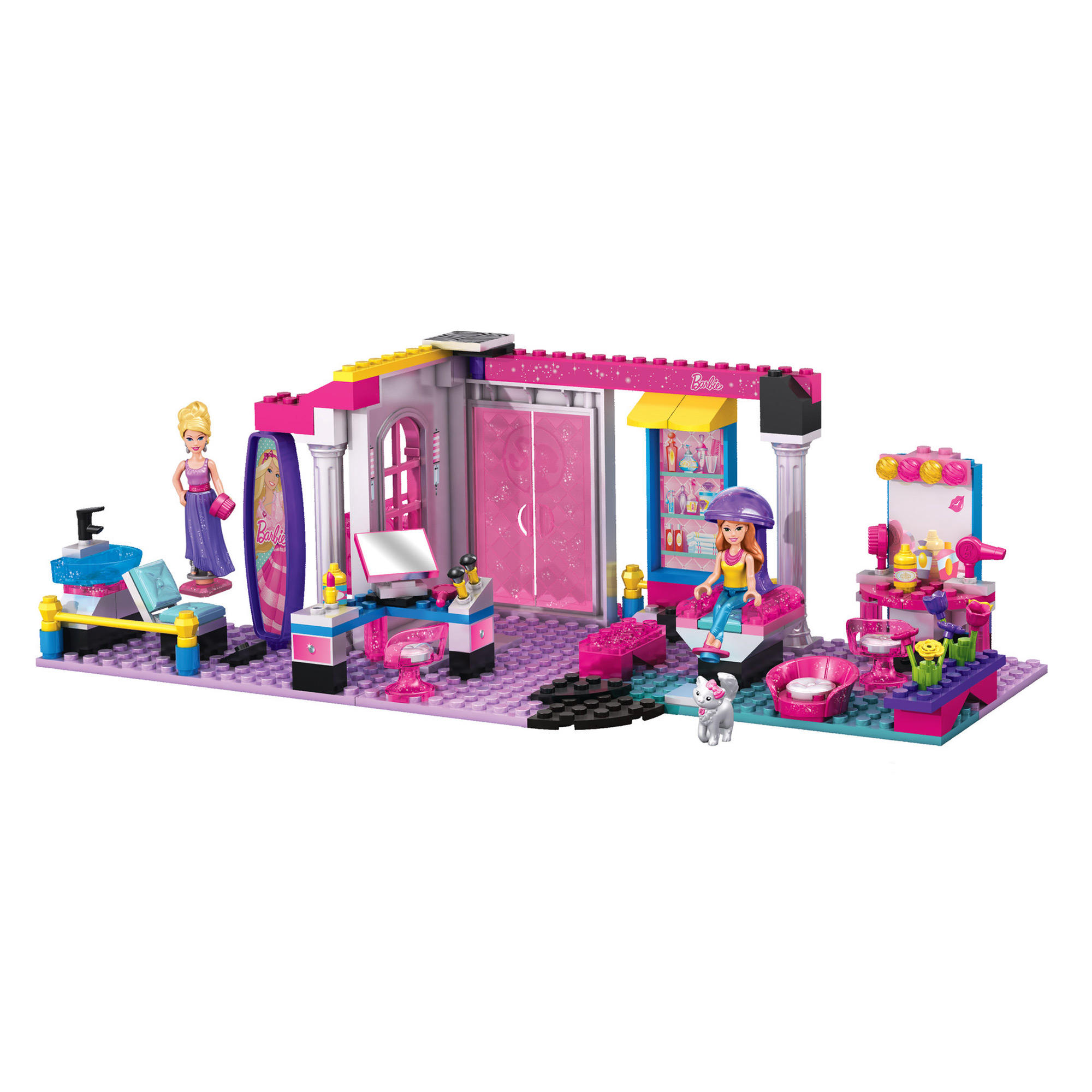 Straight or curly? Long or short? One colour, two or more? Barbie and Summer have many choices to make when visiting the Mega Bloks Barbie Build 'n Play Glam Salon. Build the Glam Salon with a sparkling staircase leading up to a mezzanine, set up the hair styling and vanity areas however you want, then choose between Hair Fun Barbie and Summer to stand or sit with a new seated pose! With everything they could possibly want in a Salon, the girls can wash each other's hair, cut it, try on all kinds of makeup and design hot new styles for all the latest parties. Ideal for children aged 4-10! Combine with all of the Mega Bloks Barbie sets to build a fabulous world of fashion, friends and fun! Features: A buildable stylin' beauty salon & Hair Fun Barbie and Summer mini-fashion figures with a little white kitty. Also includes 3 different hairstyles and 2 new leg poses that lets your mini-fashion figures sit or stand & many fun accessories like a glittering block stand, a styling chair, washing sink, dryer chair, make-up station, flowers and all kinds of beauty products.
EAN: 887961533453
Posted in Barbie by ToyMaster
Barbie Dreamhouse Dollhouse with Pool, Slide and Elevator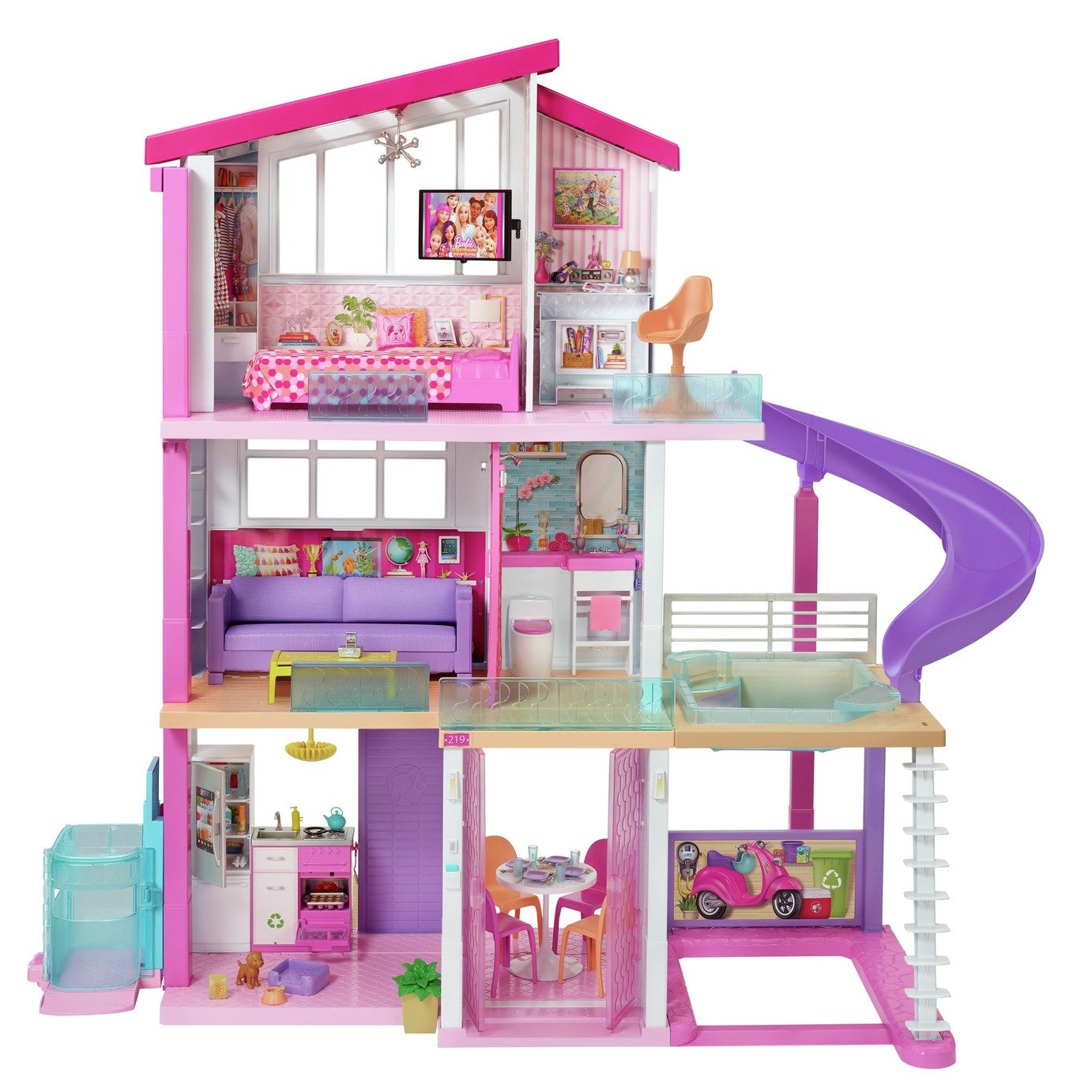 The incredible Barbie Dreamhouse measures 4ft tall by 4ft wide and features 3 storeys with 8 rooms between them for mega play potential; With fun, interactive features on every angle, including a working elevator and slide, your little Barbie fan will have hours of fun parading their dolls around their new home. The working elevator fits 4 Barbie dolls- slide it up and down so that your Barbie friends can access all 3 floors. A home office, downstairs garage and second-storey pool all feature- fill the pool with water and whoosh your dolls down the slide from the third-floor platform for a real splash; Lights and sounds add realistic touches and encourage role-play: place the frying pan on the stove and press for a sizzling sound; press the kettle for whistling; open the oven door to see it light up and turn the oven timer for a ticking noise; Two-in-one functions expand the possibilities for play: the couch opens to create bunk beds and the coffee table flips to reveal a guest bed for Chelsea doll (sold separately). The Barbie Dreamhouse comes with 70 additional accessories for inspired play and storytelling, encouraging a recognition of familiar objects. General information: Doll sold seperately. Size H120, W125, D21.5cm. Batteries required: 3 x AAA (not included) plus 1 x AAA (not included). For ages 3 years and over. General information: WARNING(S): Not suitable for children under 3 years old. Only for domestic use.
EAN: 887961531282
Posted in Barbie by ToyMaster
Barbie Chelsea Choo Train with Doll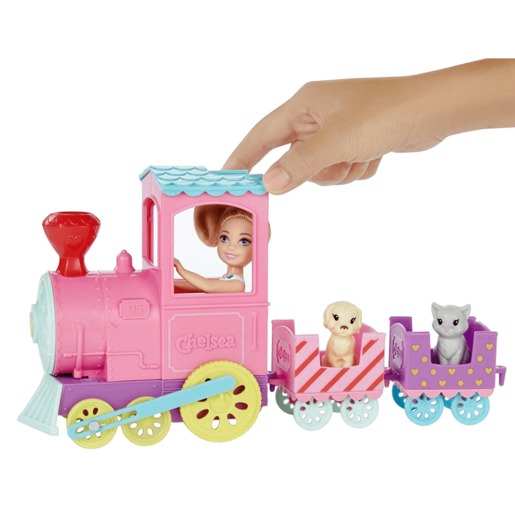 "Climb aboard Barbie's little sister Chelsea's Choo-Choo Train! Chelsea's ready to steam off on adorable adventures with her puppy and kitten pals. Chelsea is dressed in a cute, blue and white striped, train themed dress and is ready to roll. She's the perfect driver for the cotton candy pink train engine, and the two patterned train cars are a cute, cosy ride for her pets. Combine the Choo-Choo Train with other Chelsea doll sets for endless adventures! Fashionable train adventures for Chelsea fans 3 and over."
EAN: 887961628197
Posted in Barbie by ToyMaster
Barbie Nurse Doll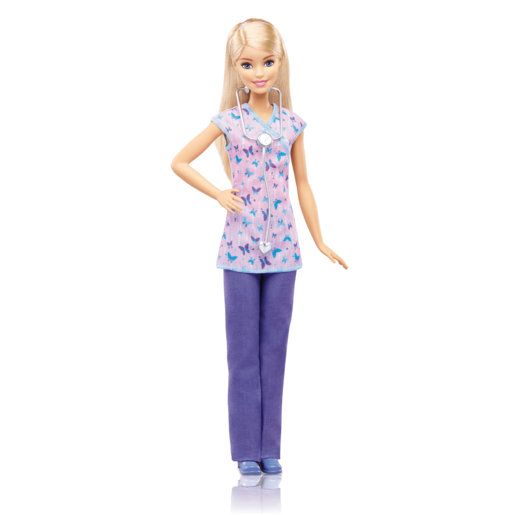 "Barbie can do anything! Pick up the Barbie Nurse Doll to help her take care of all her patients. Barbie is dressed for the ward in purple scrubs with an adorable butterfly print that will cheer up everyone in the hospital. The Barbie Nurse Doll comes with a stethoscope to help with her check-ups and make your hospital play move realistic. Create exciting hospital adventures for Nurse Doll Barbie with all her friends and family. Fashionable storytelling fun for Barbie fans 3 and over."
EAN: 887961368079
Posted in Barbie by ToyMaster
Barbie Care Clinic Playset
Young chefs can cook up playtime fun with Barbie doll and the Ultimate Kitchen playset; Lights, sounds, coloured dough, food molds and more than 20 pieces total provide all of the ingredients for delicious storytelling. The bright kitchen has a cool design with multiple play spaces and realistic working features. Barbie doll helps young food lovers cook up fun with the Ultimate Kitchen playset featuring lights and sounds, food molds and 5 dough colours and more than 20 pieces for role-play and storytelling fun; Multiple play areas feature an oven with pie mold, fry press, ; sandwich; maker and veggie mold. Fill the pie mold with dough and press to see it rise; then place in the oven and lift the lever to hear the timer ding — dessert is ready; Fill the fry press; with yellow dough and close the lid to form fries and hear a mouth-watering sizzle. Fill the sandwich maker with dough and close; open to reveal sandwich layers that can be assembled to make one to order. General information: Size H32.3, W53.3, D12.06cm. Batteries required: 3 x AAA (not included) plus . Suitable from birth. For ages 4 years and over. General information: WARNING(S): Not suitable for children under 3 years old. Only for domestic use.
EAN: 887961628739
Posted in Barbie by ToyMaster
Barbie Dreamtopia Playset
Both an ambulance and a hospital, the Barbie Care Clinic offers two-in-one fun with an easy transformation. Respond to calls as an ambulance — the siren sounds and the lights turn on with the push of a button — then deliver the care when you arrive. Respond to calls AND deliver the care with the Barbie care clinic — its both an ambulance vehicle and hospital playset in one with more than 20 themed pieces; Roll the ambulance to the rescue and activate the working lights and siren with a button; Lift the lever at the back of the vehicle to instantly transform the ambulance into a 2+-foot care clinic with three distinct areas: a check-in station, waiting room and exam room; Flip down the TV in the waiting room to reveal a gift shop — browse gifts like magazines, a teddy bear, balloon or bouquet of flowers; Slide the lever on the x-ray machine in the exam room to transform it into a vision chart. General information: Doll sold seperately. Size H26.6, W45.7, D19.05cm. Batteries required: 3 x AAA (included) plus . For ages 3 years and over. General information: WARNING(S): Not suitable for children under 3 years old. Only for domestic use.
EAN: 887961652611
Posted in Barbie by ToyMaster
Barbie Ultimate Kitchen with Doll and Playdough Playset
"When it's time for dinner, Barbie is ready with the Ultimate Kitchen Playset. Switch on the oven and stovetop to hear cooking sounds and see heating lights as Barbie cooks and bakes. There are five colours of playdough included in the set for you to press, mould and shape into delicious dishes for Barbie and all her friends and family. The included Barbie doll, dressed in a cute polka dot dress and apron, is perfect for the Playset, but loves to play in other playsets with all her Barbie friends as well. Batteries required. A baking Barbie dream for 4 and over."
EAN: 887961626094
Posted in Barbie by ToyMaster
Barbie Scooter
"Barbie can get everywhere in style with her adorable Barbie Scooter! This powder pink moped is super stylish with its yellow and silver highlights. Pop Barbie onto the Scooter and clip her into place so that she won't fall off during push and ride play. There's also a cute, yellow helmet in the set. It'll keep Barbie safe, and it matches the bike, so she'll look great too! The Barbie Scooter also comes with an adorable friend for Barbie to take with her on her travels. The happy little puppy fits perfectly in the Scooter's basket, so he can go everywhere with Barbie. Scooter fun for Barbie and friends 3 and over."
EAN: 887961632866
Posted in Barbie by ToyMaster
Barbie Kingdom Dreamtopia Rainbow Cove – Flying Wings Fairy Doll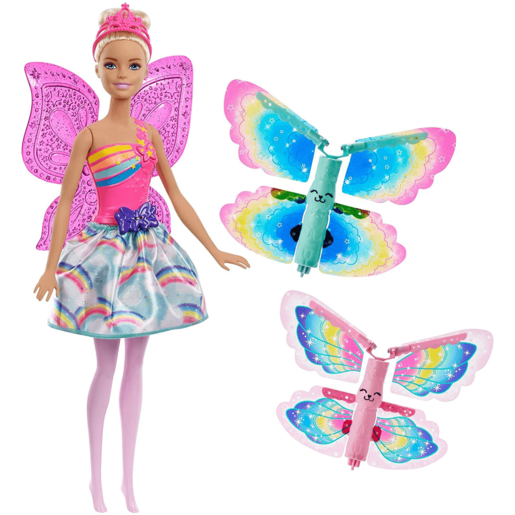 "In the magical Kingdom of Dreamtopia anything is possible for Barbie and her friends. Grab this Fairy Doll with adorable Flying Butterfly Wings to start making your own dreams come true. Attach the butterfly wings to the Rainbow Cove Barbie Fairy Doll, pull the purple bow at her waist four times and press the hidden butterfly button on her bodice to send the wings fluttering across the room. With two sets of adorable flying wings, and a colourful Rainbow Cove themed outfit, this Flying Wings Fairy Doll will make all of your playtimes truly magical. Dreamtopia, flying fun for 5 and over."
EAN: 887961620269
Posted in Barbie by ToyMaster
Barbie Glam Vacation House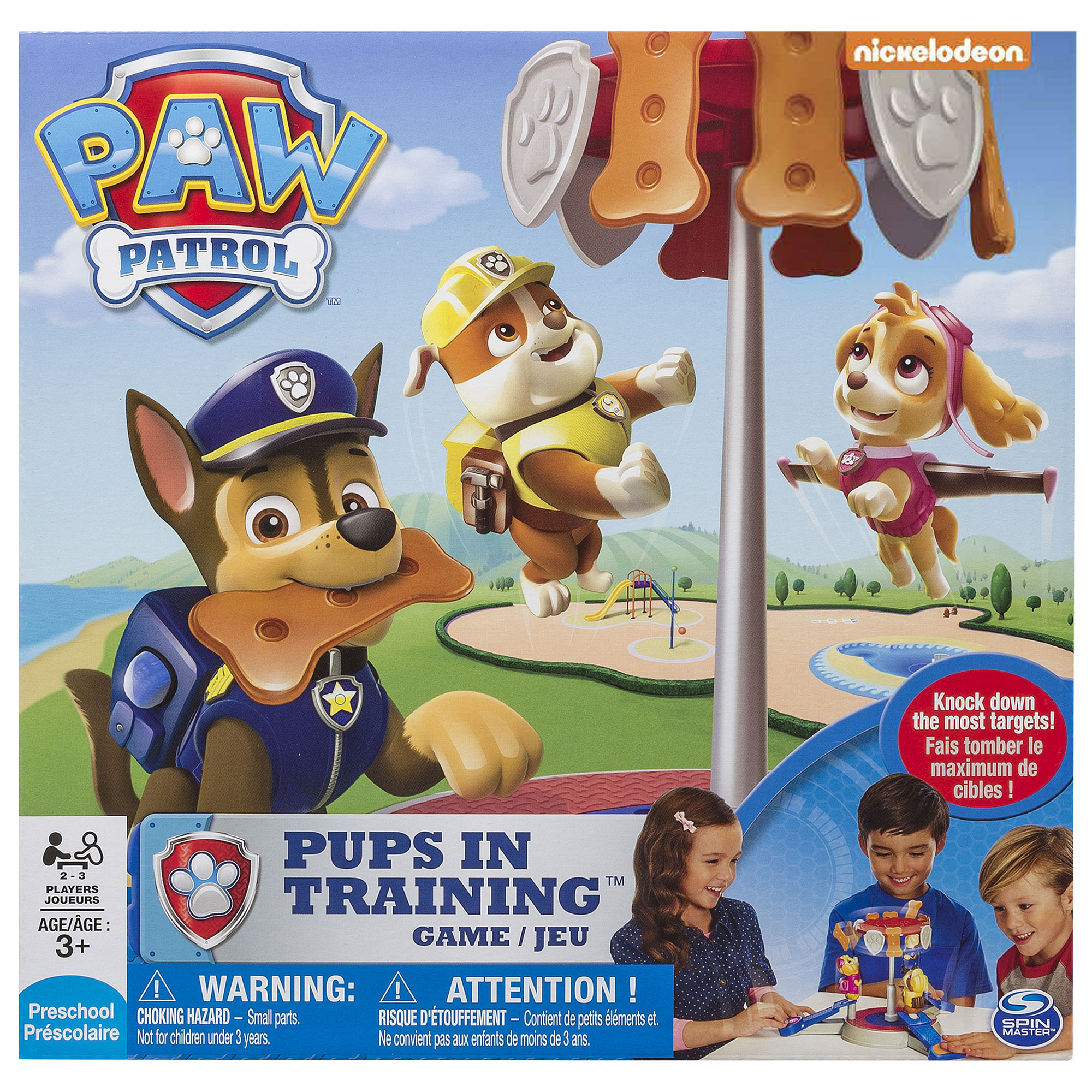 Barbie doll's new house is absolutely gorgeous! With one story that transforms into two, girls have plenty of room to arrange and rearrange furniture. A great new innovation feature allows girls to place furniture and accessories in different ways so that they stay in place. Pieces fit into the decorative grooves on the house and furniture, meaning there's no mess to clean up! Barbie doll and her friends can prepare food and snacks in the kitchen that features a refrigerator, stove and oven; then swing out the bar to dine. The living room is the perfect spot to relax and watch the flat-screen "television." When the day is done, transform the living room into a bedroom where Barbie doll can sleep soundly with the sofa that turns into a bed. On the top floor, a rooftop balcony is an ideal spot for Barbie doll and her friends to stargaze, sunbathe or just enjoy the FAB life! Includes house and piece-count. Doll sold separately.
EAN: 778988237731
Search
Recent Posts
Get Social With Us!
Categories
Pages
Toy Retailers
Popular Tags
Toy Archive