Browsing all articles in Barbie
Posted in Barbie by ToyMaster
Barbie Club Chelsea Camper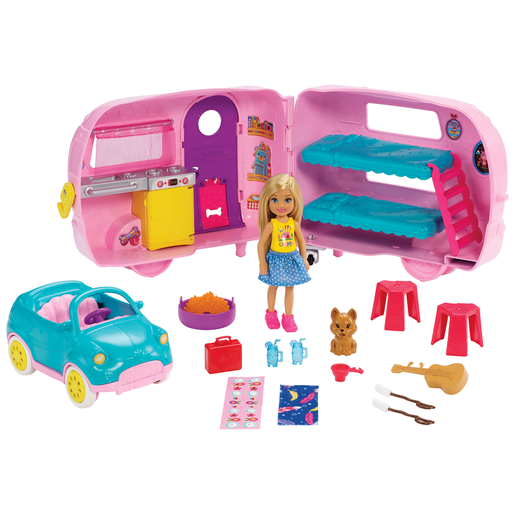 "It's time to go on a camping adventure with Barbie Club Chelsea Camper! This set comes with a cool blue convertible car and detachable camping trailer which opens to reveal a kitchen with a sink, stove and fridge, plus there's also a bedroom with two bunk beds ideal for sleepovers. There are more than 10 toy pieces (doll not included) in total to help your little one's imaginations run wild, including an adorable little doggie which even has its own doggie door. Suitable for children aged 3 and over."
EAN: 887961691115
Posted in Barbie by ToyMaster
Barbie Hugs N Horses Doll Set
"Your children's imaginations will gallop away with Barbie Hugs 'N' Horses. The ideal Barbie set for little animal lovers who want their own horse, watch as they engage in fun-filled playtime role play, whether they spend time feeding, grooming, nuzzling or riding. Barbie Hugs 'n' Horses includes fifteen pieces â?? including two dolls, a horse and pony, plus an adorable puppy and accessories to create a care space for the pets. The horse and pony both have bobbling heads that mimic real movement for nuzzling and hugs, while the soft manes and tails add to the realism and immersive experience! Suitable for children aged 3 years and over."
EAN: 887961691368
Posted in Barbie by ToyMaster
Barbie Travel Dream Plane
Take to the skies with the Barbie Dream Plane – the storytelling possibilities are endless! Designed in striking pink with the Barbie logo, the plane features realistic touches, like reclining seats, working overhead compartments and a snack cart with removable trays! Also includes an adorable puppy – perfect to keep Barbie company on a long haul flight! Flying just got an upgrade! Push it on its wheels to taxi on the ground or open up the top and side to reveal the inside and play out the ride. Collect other Barbie travel dolls and toys to expand the play possibilities. Please note: Dolls not included.
EAN: 887961742879
Posted in Barbie by ToyMaster
Barbie Cake Bakery Play Set
"Have fun cooking up sweet treats with Barbie You Can Be Anything Cake Decorating Playset. Ideal for little bakers, the set comes with pink, blue and white dough, and includes features that allow children to mimic baking and decorating their colourful creations! The perfect set for hours of playtime fun, simply place dough for two cakes into the oven and pull the lever to see them rise, then use the icing decorator to print a design on the side and the stamp to decorate the top. Includes Barbie baker doll wearing fashions and accessories, kitchen island with cake-rising oven and display case, three tubs of dough, cake decorating tool with three stencils, three cake toppers, a dough shaper, pastry bag, register, cake server, place setting and to-go box. Suitable for children aged 4 years and over."
EAN: 887961767643
Posted in Barbie by ToyMaster
Barbie Dreamtopia 30cm Sparkle Lights Mermaid Doll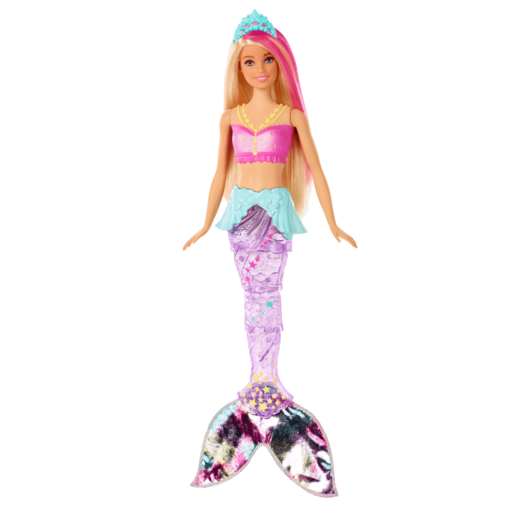 "Enjoy classic Barbie fun with this Barbie Dreamtopia 30cm Sparkle Lights Mermaid Doll. This sweet Barbie Doll has super-long blonde and pink hair that you can comb and style however you like. This Barbie wears shimmering mermaid tail proudly, and she has a crown on her head, looking great under the sea. Collect the rest of the Barbie Dolls and head out on fun friendship adventures together – the only limit is your imagination! Accessory packs are sold separately, great for even more styling creativity. Suitable for ages 3 and over."
EAN: 887961765236
Posted in Barbie by ToyMaster
Barbie FWV25 Doll and Travel Set with Puppy, Luggage and 10+ Accessories, Multicolour
"Where in the world will you go next with the Barbie Travel Doll? Barbie is wearing a cute but comfortable denim shirtdress, has her adorable puppy with her for company and is ready for any adventure you can imagine. Decorate her pink, collapsible-handle suitcase with the included stickers and then pack it full of all the cool accessories so that Barbie is ready to jet off! Barbie can stay fresh with her toothbrush and toothpaste, take a snooze with her cute neck pillow and capture all the best travel memories on her camera. Incredible adventures for imaginations 3 and over."
EAN: 887961683820
Posted in Barbie by ToyMaster
Barbie Dreamtopia Chelsea Mermaid Playground Playset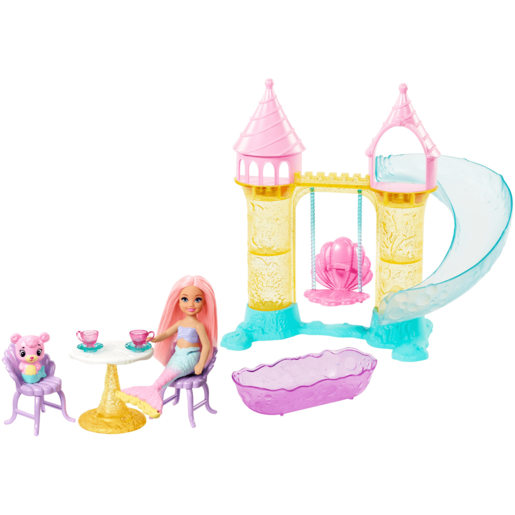 "Dive into playtime with this Barbie Dreamtopia Chelsea Mermaid Playground Playset. Chelsea Mermaid Doll and her friend Merbear are ready for fun – this playset has fantasy surprises for you to discover. There's a swing, a slide, a pool, and a tea party for two. Pop Chelsea into the swing and push her back and forth, while Merbear has fun on the slide. You can fill the pool with water for a real splash! Suitable for ages 3 and over."
EAN: 887961698985
Posted in Barbie by ToyMaster
Barbie Doggy Day-care Doll with Puppys Playset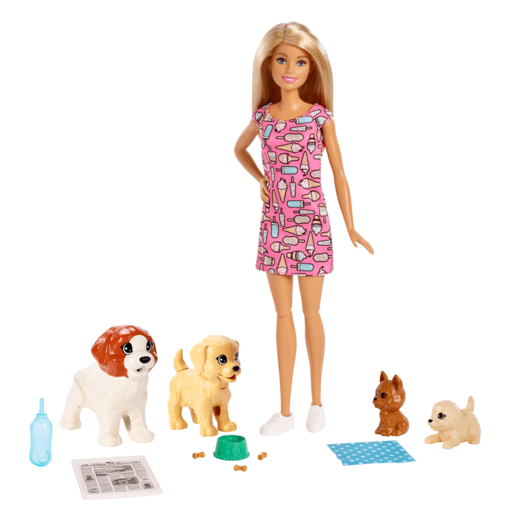 "Barbie loves all animals, especially dogs, so she's opened a Doggy Day-care to look after them. This Barbie Doggy Day-care Doll with Puppies playset includes four adorable puppy pals who need looking after. You can feed and give water to the big dogs and then take them outside to go potty! There are also two sweet little puppies and extra accessories to help you care for them. Barbie wears a pink ice cream print dress and white shoes – her knees bend so she can kneel and pet her dogs. Suitable for ages 3 and over."
EAN: 887961691290
Posted in Barbie by ToyMaster
Barbie Care Clinic Playset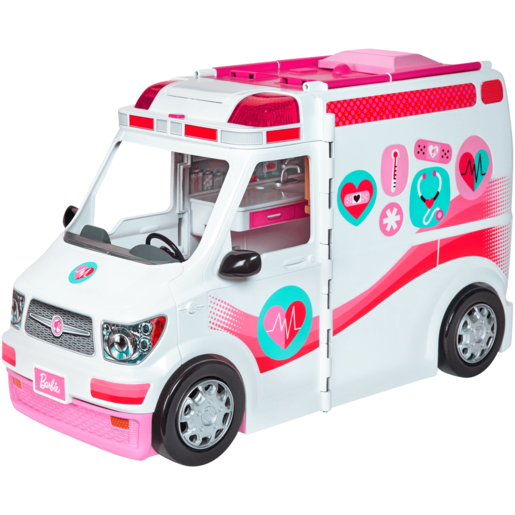 "It's Barbie to the rescue with the Care Clinic Playset! Open the left side of the vehicle and pull down the yellow couch to transform it into a waiting room with a fish tank. Behind the fish tank there's a mini gift shop, where you can buy a balloon or a teddy bear for Barbie's patients. The vehicle's right-side transforms into a clinic, with an x-ray machine, eye test and adjustable bed. With over 15 pieces in the set, there's plenty of accessories for Barbie to look after her patients. Pack up the vehicle and press the button to sound the siren and speed off to emergencies! Batteries required. Emergency fun for Barbie and friends 3 and over."
EAN: 887961628739
Posted in Barbie by ToyMaster
Barbie Chelses Clubhouse
Join the club -with the Barbie Chelse's Clubhouse!Two stories and lots of play space make the house the perfect place for young imaginations to explore. There's a kitchen with appliances that really open, a second floor and a working elevator that has a platform for Chelsea doll and a basket for her teddy bear.Furniture is included for fun new stories; a bright table and chairs with drinks and sundaes for two are a perfect clubhouse snack and a bed on the second floor is perfect for daydreaming, stargazing and sleeping tight.Includes clubhouse playset with working elevator, Chelsea doll (wearing a skirt with white polka dots and pink sandals), furniture, themed pieces and teddy bear.
EAN: 887961382723
Search
Recent Posts
Get Social With Us!
Categories
Pages
Toy Retailers
Popular Tags
Toy Archive