Browsing all articles from February, 2021
Posted in Board Games by ToyMaster
Articulate Phrases Board Game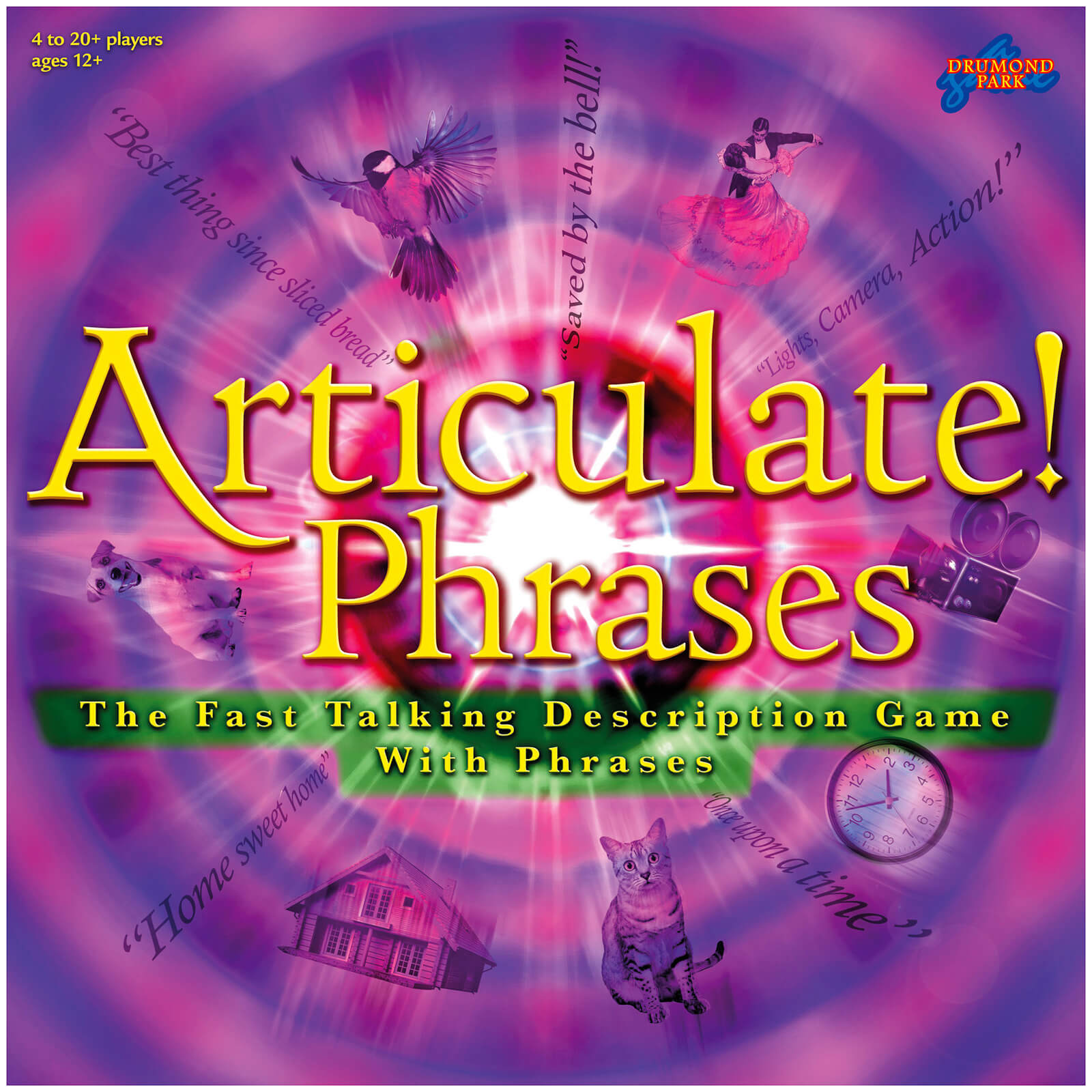 Articulate Phrases is an exciting and entertaining description game. From fast phrases to well-known sayings it has the same hilarious blend of fun and fury as the classic Articulate game. For 4 to 20+ players or teams, for ages 12+ years. Great new version of the classic Articualte Board Game. Players describe fast phrases and well known sayings. Articulate is ideal for parties and families with teenagers. For 4 to 20+ players or teams, for ages 12+ years.
EAN: 5011666729841
Posted in Board Games by ToyMaster
Monopoly Board Game – The Lakes Edition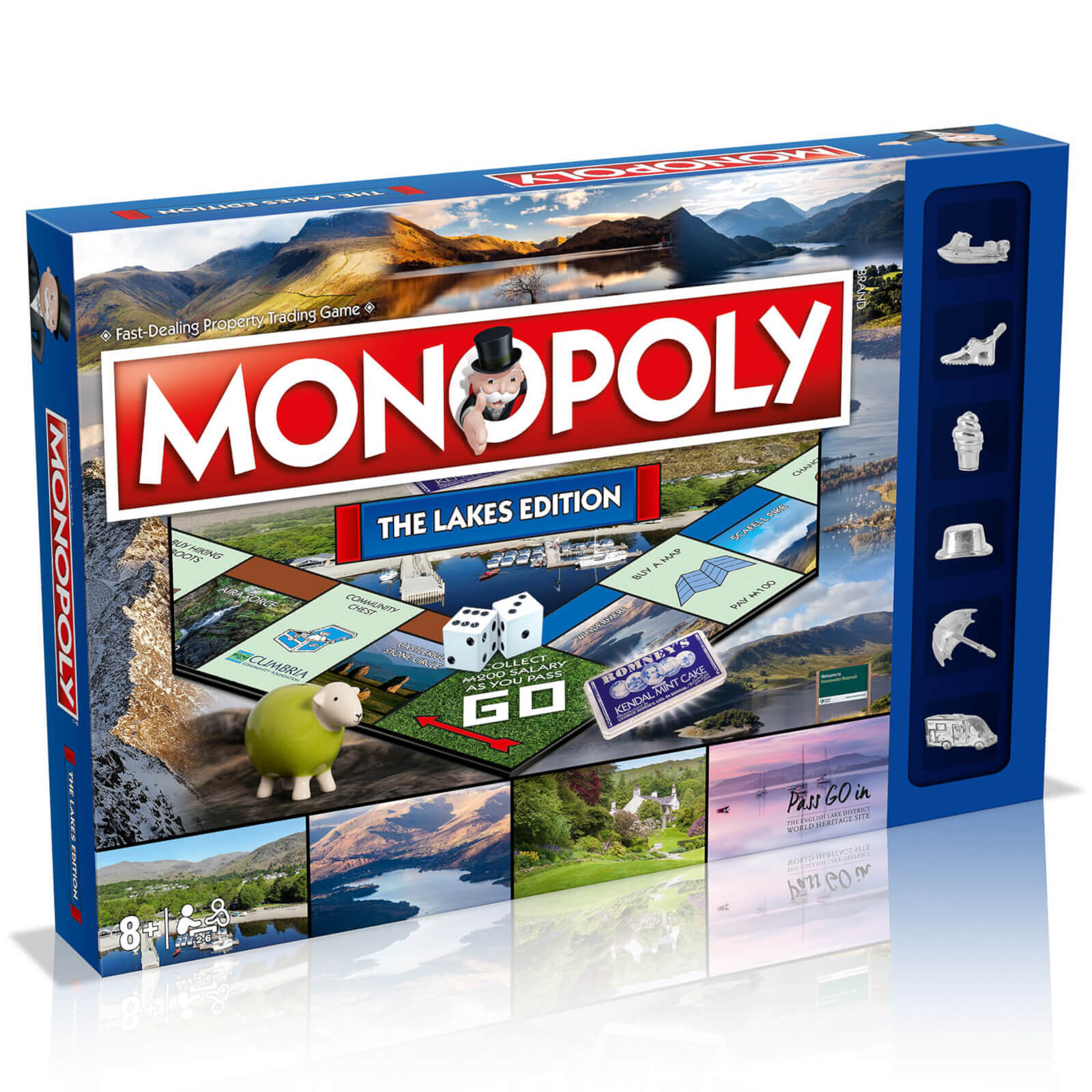 IWOOT – Stuff you really, really wantExplore some of the best and most iconic world heritage sites the UK has to offer in this exciting new edition of MONOPOLY: The Lakes! Relax with a stunning view of Aira Force before hopping on the Stagecoach bus to explore Lakeland's rich history. Take in some superb views from Beatrix Potter's hilltop home, explore the home of William Wordsworth at Rydal Mount and Gardens, and see the world's largest colouring pencil at the Derwent Pencil Museum. Climb the fells or set sail on Coniston Water before taking on a treetop hike at Brockhole on Windermere. Grab George Romney's Kendal Mint Cake – the world's first energy bar! – and fuel up before conquering the Wainwrights and setting a tough new record for the Bob Graham round. Then relax with a hot brew in your Herdy mug. It's time to roll the dice, scale the heights of Scafell and take the ferry across England's largest stretch of water.The world's favourite family board game brings you another exciting edition of MONOPOLY – The Lakes!Choose your favourite token, tour your favourite sites and accumulate fortunes, but watch out for taxes, jail and bankruptcyAdvance to Scafell Pike, Wray Castle and Windermere – will you owe rent or reap the rewards?Invest in houses and hotels and trade your way to successThe Fast-Dealing Property Trading Game is fun for the whole family
EAN: 5036905039161
Posted in Board Games by ToyMaster
Articulate Fame Board Game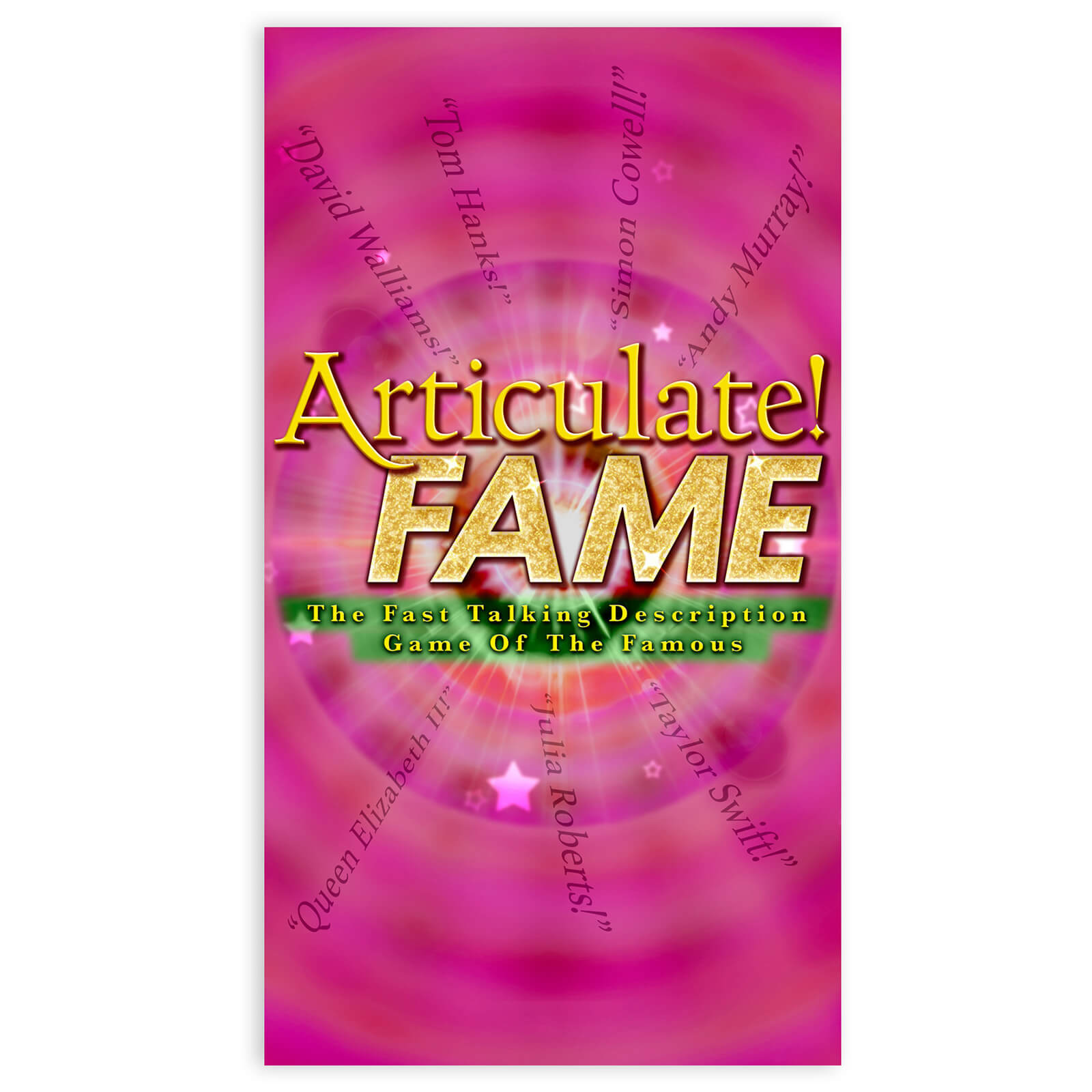 Enjoy 15 minutes of Fame, as often as you like, with this snappy, celebrity-packed version of Articulate. Articulate FAME has you describing everyone from Harry Potter to Harry Redknapp in three rounds of diminishing descriptions, ending in descriptions of just one word! So whether you're using "Queen" to describe Beyoncé, Freddie or Elizabeth II, or "King" to describe Elvis, Articulate Fame turns any gathering into an event to remember! A new way of playing the much loved Articulate with just ONE category: Famous People. Played in two teams with THREE rounds Round ONE each player puts five names into the BAG. First Team describes as many famous people in the bag as possible in 30 seconds. Team two have their go and so on until all the Famous names in the bag have been described and guessed correctly. Round Two each team describes as many of the famous names in the bag but this time using only TWO words to describe each name pulled out Round THREE and final round each team describes as many of the famous names in the bag but only using ONE word. The team with the highest score at the end of the third round is the WINNER Same great description challenge as Articulate with NEW twists
EAN: 5011666731530
Posted in Toys by ToyMaster
Sketchy Game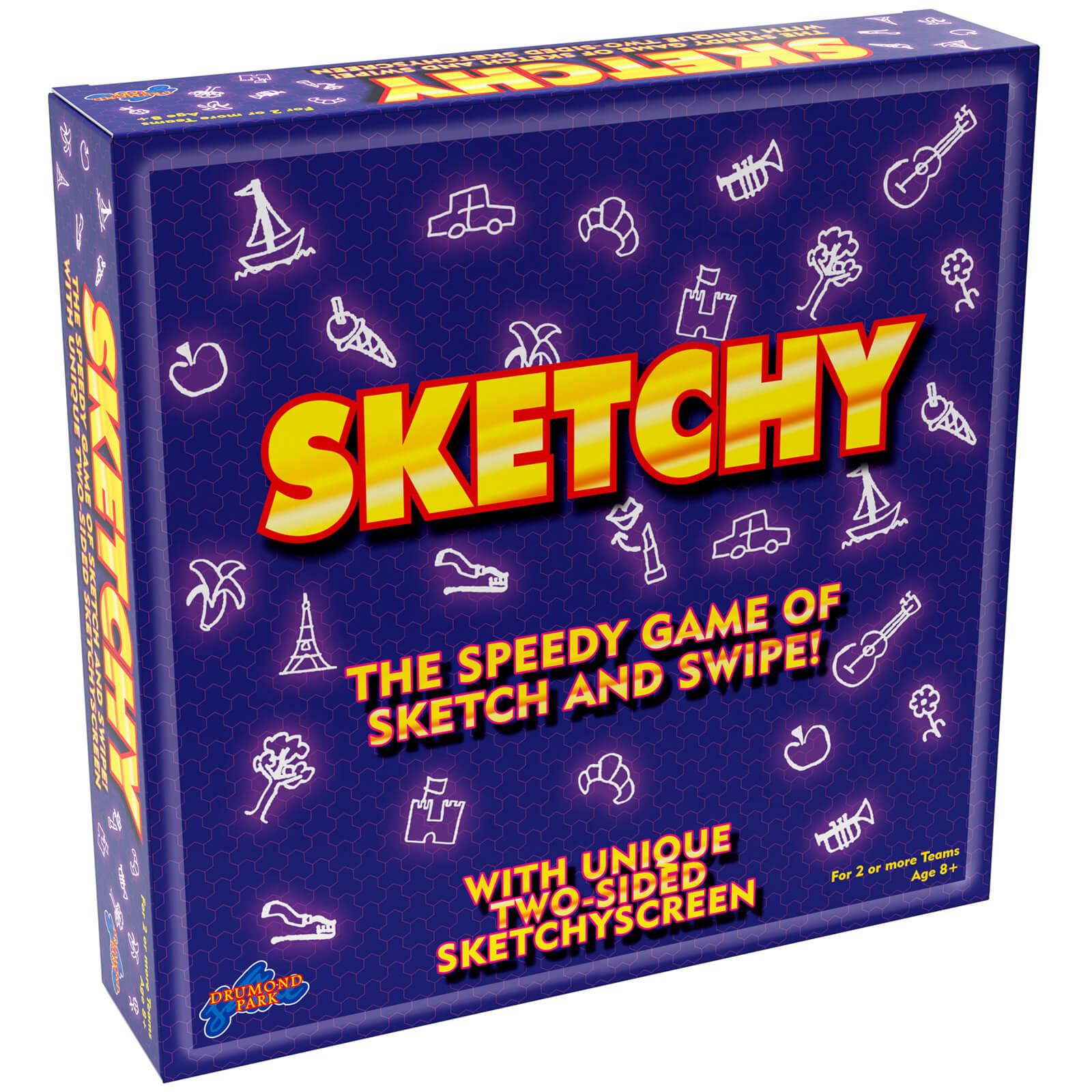 "Get ready for fast-paced drawing fun with this Sketchy Game with Two-Sided Screen.Letâ??s start drawing! This quick-fire sketching game promises plenty of fun. To get started, players pick a card and draw all 6 words on the screen. Their teammates have to guess them all to win a point. This two-sided sketchy screen brings a totally new element to the classic drawing game. Itâ??s suitable for 2 or more teams and 2 or more players. For ages 8 years and over."
EAN: 5011666731127
Posted in Lego by ToyMaster
LEGO Harry Potter: Hogwarts Transfiguration Class Set (76382)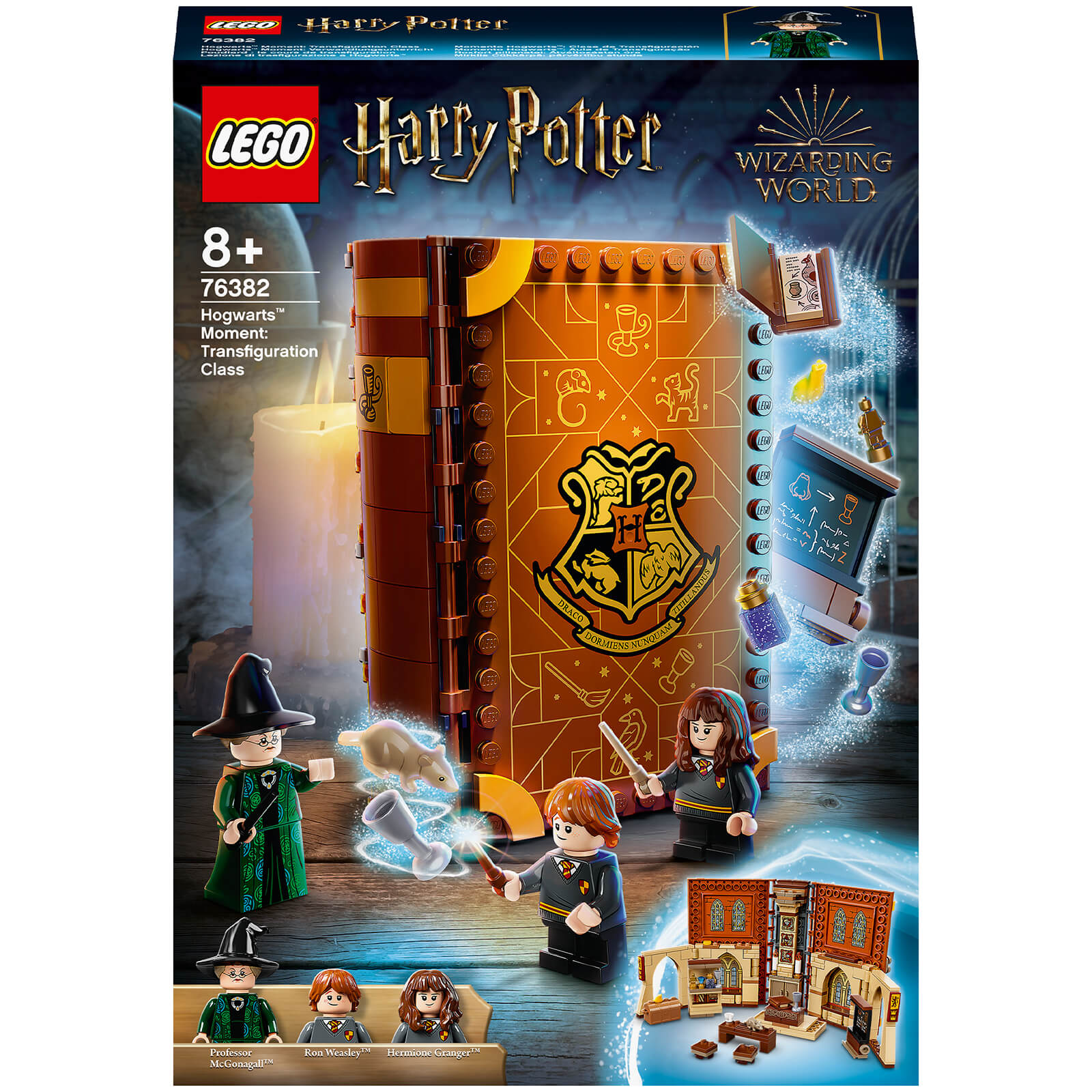 LEGO Harry Potter" Hogwarts" Moment: Transfiguration Class (76382) is an instant playset hidden inside a brick-built playbook. Kids open it up and immediately join a lesson in Professor McGonagall's Transfiguration classroom. Hogwarts magic for kids to enjoy wherever they goThis spellbinding set is filled with features and accessories to inspire endless enchanting role play. Some are built-in, such as the storage cupboard, while some are loose, like the furniture and blackboard, which lift out to expand the play space. This magical Harry Potter set also combines with others in the collection. Each is designed with a distinctive color and unique motif and opens to transport the child to a different Hogwarts classroom adventure. The full range also connect to create a 360-degree Hogwarts play experience. Enchanting gifts for curious kidsIf you're looking for a truly magical treat, LEGO Harry Potter playsets offer a range of captivating gifts that will delight any young witch or wizard.
EAN: 5702016913576
Posted in Toys by ToyMaster
Posted in Lego by ToyMaster
LEGO Harry Potter: Hogwarts Potions Class Building Set (76383)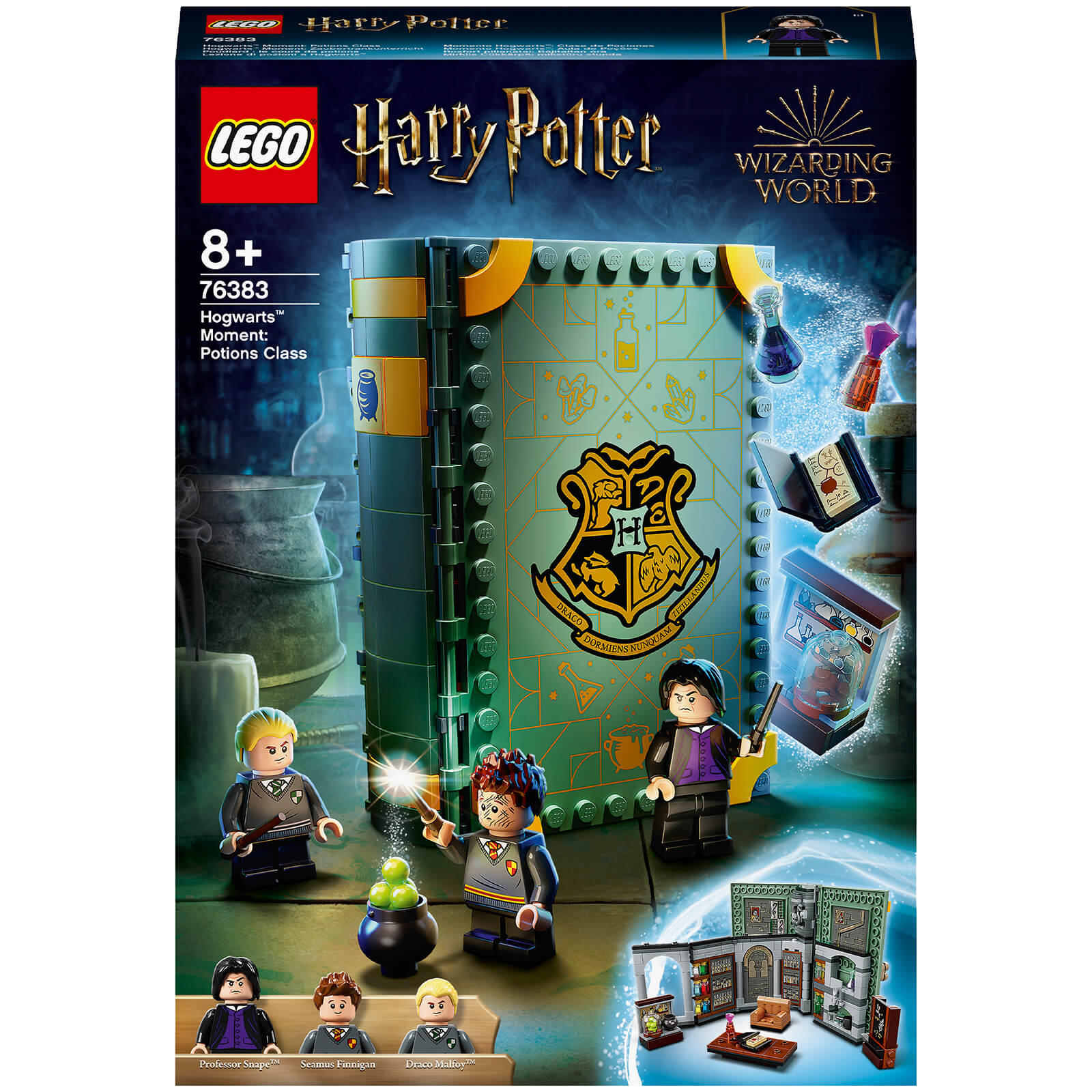 Open the magical, brick-built book playset and enter the Hogwarts™ dungeon! Professor Snape's Potions class is about to begin. Quick! Grab your equipment from the shelf and join Draco Malfoy™ and Seamus Finnigan as the Head of Slytherin™ House teaches the magic of making potions. LEGO® Harry Potter™ Hogwarts™ Moment: Potions Class (76383) is a brick-built playbook that opens and unfolds to reveal the dungeon Potions classroom from the Harry Potter movies. Includes Draco Malfoy™, Seamus Finnigan and Professor Snape™ minifigures, a potion book, blackboard, armchair, table, secret chamber and a dungeon backdrop. Kids lift the cover to enter Professor Snape's Potions lesson. There is potion-making equipment to practise with – and a secret chamber to explore! For ages 8 and up. Suitable for young witches and wizards looking for a new way to enjoy a Harry Potter™ adventure. This magical Hogwarts™ Moment set measures over 5 in. (12 cm) high, 3 in. (8 cm) wide and 1.5 in. (4 cm) deep – the perfect size for play, portability and placing on a kid's bookshelf. Features authentic accessories, such as a spoon, knife, cup, pot and a purple potion, plus a dungeon setting that kids will recognize from the Harry Potter™ movies. There are more magical sets like this to collect, each designed to recreate a different Hogwarts™ classroom. When placed together, they connect to create an innovative 360-degree play space. All LEGO® Harry Potter™ sets contain favourite characters, fun features and familiar locations from the popular movies. Captivating, convenient and a magical gift for any young witch or wizard. LEGO® pieces fulfil rigorous industry quality standards that ensure they are consistent, compatible and connect and pull apart perfectly every time – and it's been that way since 1958. LEGO® sets are dropped, heated, crushed, twisted and analysed to make sure they satisfy rigorous global safety standards. Number of Pieces: 271 Age: 8+ Warning: Not suitable for children under the age of 3 years due to small parts which could cause a choking hazard.
EAN: 5702016912944
Posted in Toys by ToyMaster
Waddingtons Number 1 Playing Cards – James Bond 007 Edition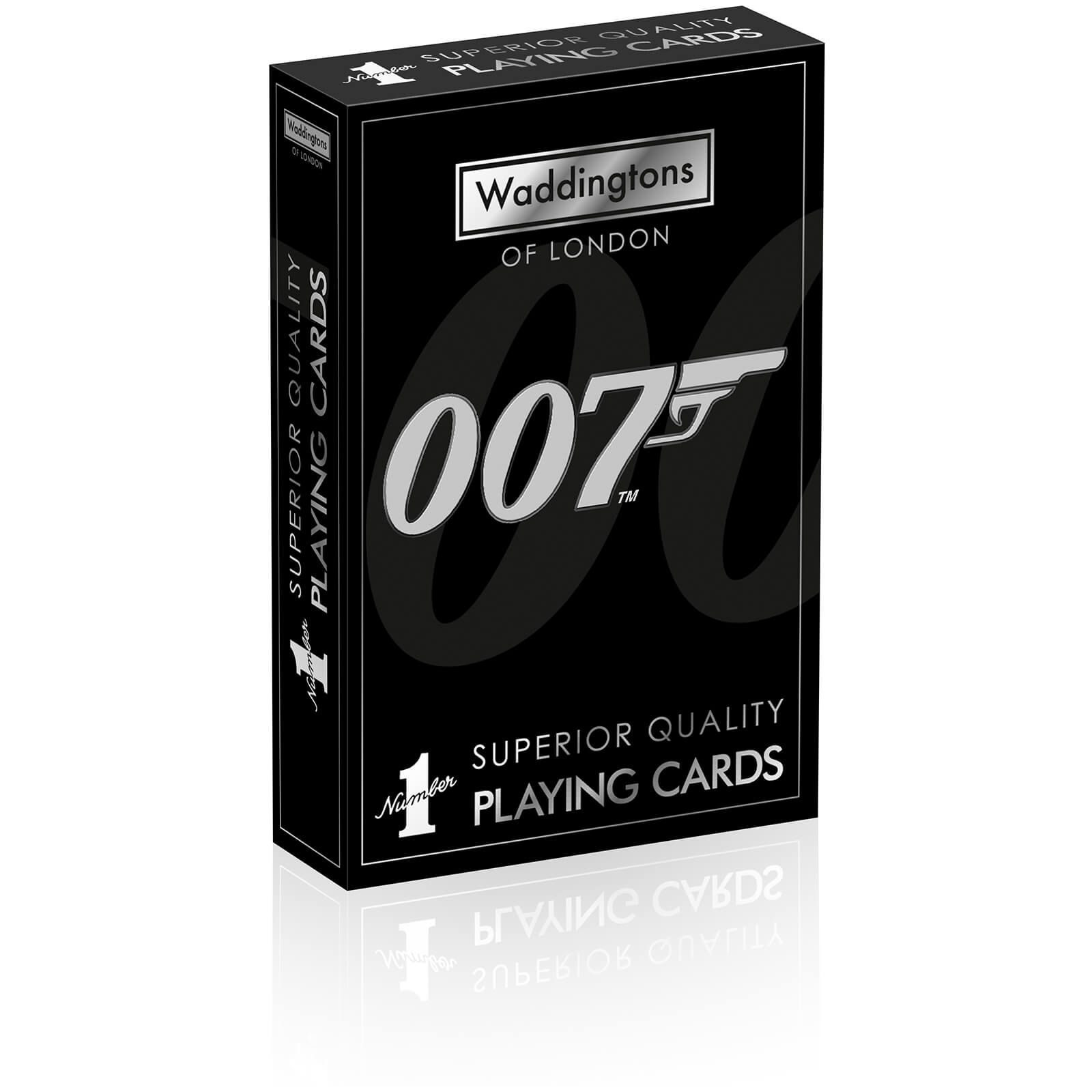 IWOOT – Stuff you really, really wantSometimes the old ways are the best. Whether you find yourself On Her Majesty's Secret Service, or you're just wishing you were, there's nothing like a classic pack of cards, and with this special 007 pack, you can revisit your favourite card games in style. Every spy needs a little Patience, after all. From Solitaire to Blackjack, you don't need to visit the Casino Royale for a high-stakes game – just a couple of friends and this quality pack of Waddington's playing cards containing 52 cards plus two jokers. You'll be playing Poker Galore before you know it. Each card is adorned with a classic Bond movie poster from around the world, from Germany's Moonraker poster to Japan's Licence to Kill. The perfect combination of cinema history and stylish gameplay, you'll think you must be dreaming when you unwrap this pack. From Russia with Love – to the palm of your hand.James Bond fans can now play with this brand new bespoke 007 Waddingtons No. 1 packPlay your favourite card games with your favourite Bond films including Die Another Day, Skyfall, Goldfinger and many more.High quality playing cards from a trusted nameHours of entertainment as you master much-loved card games from Poker to Bridge and Snap to Trumps
EAN: 5036905039642
Posted in Toys by ToyMaster
500 Piece Jigsaw Puzzle – Harry Potter House Crests Edition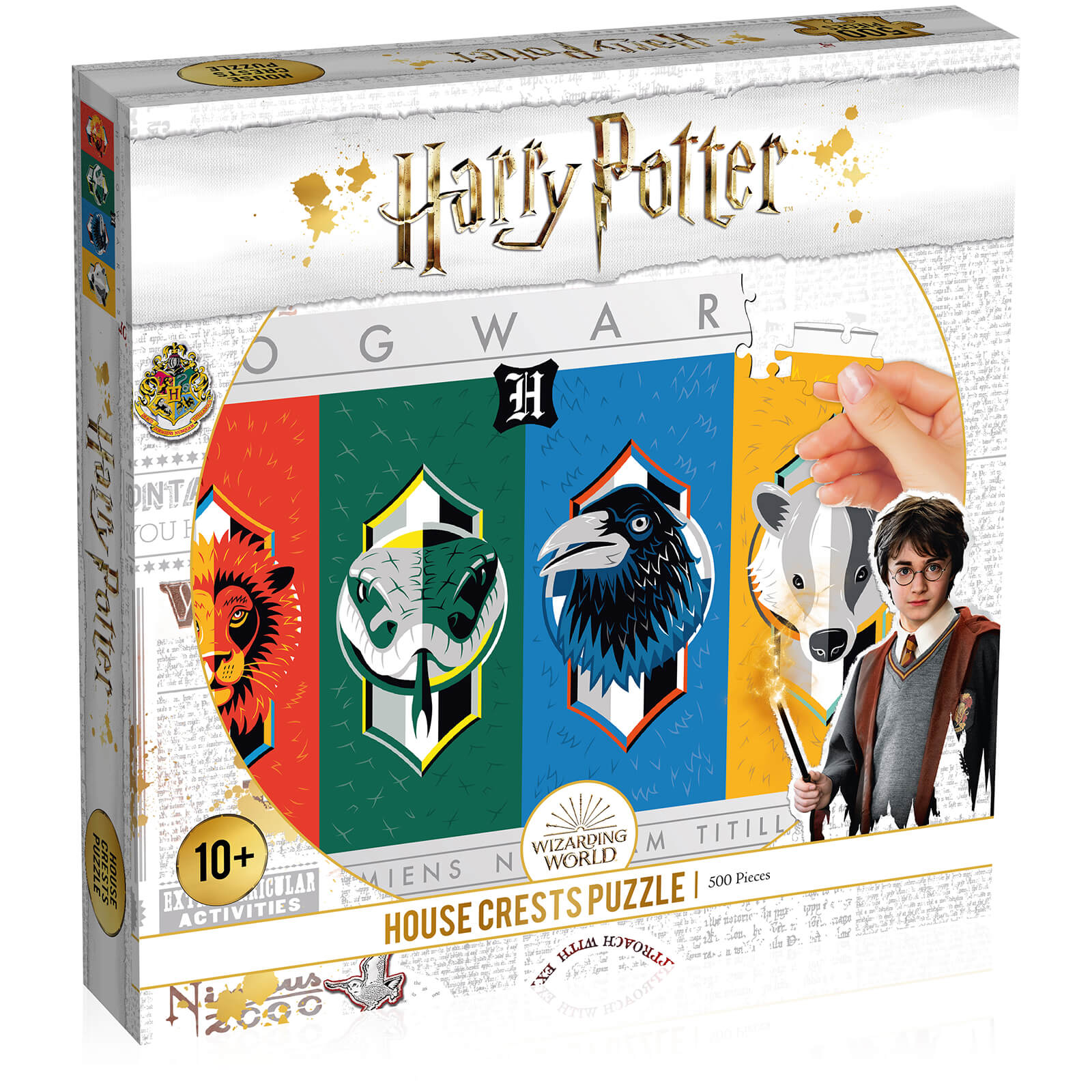 IWOOT – Stuff you really, really wantDifficult. Very difficult. Plenty of courage, I see. Not a bad mind, either. There's talent, oh yes. And a thirst to prove yourself. But where to put you?" It's a little-known fact that all four Hogwarts houses are equally good at jigsaw puzzles. Gryffindors start with the edges, obviously. Ravenclaws take a logical approach, and sort the pieces by colour. Slytherins race to finish first, no matter what, while Hufflepuffs just like to frame their puzzles on the walls after. No matter where you're sorted, you're guaranteed to love putting together this officially licensed 500-piece puzzle bearing the four house animals: the lion, the serpent, the raven and the badger. Featuring unique artwork and a sharp, vibrant art style, witches and wizards of all four Hogwarts houses can agree that such an eye-catching design is worthy of hanging in any Grand Staircase or Common Room – but we can't promise you'll agree on where to put it!Delve into the world of Harry Potter with this vibrant and stylish jigsaw puzzleThe four houses of Hogwarts make up this delightful puzzle, perfect for a rainy afternoon when Quidditch is cancelled.Gather your friends and family to help piece together this colourful and impressive jigsawThis 500-piece puzzle will keep you entertained for hours as the four house crests start to come together
EAN: 5036905039574
Posted in Toys by ToyMaster
1000 Piece Jigsaw Puzzle – Harry Potter Quidditch Edition
IWOOT – Stuff you really, really wantZoom around the Quidditch pitch in this fun 1,000 piece puzzle featuring iconic Quidditch moments and scenes from the Wizarding World of Harry Potter.Delve into the world of Harry Potter with this beautifully illustrated jigsaw puzzleInvolve all your friends and family in this challenging and enchanting puzzle for all ages1000 piece jigsaw puzzle will keep you entertained for hours as your Harry Potter scene starts to take shapeFeatures iconic Quidditch moments and scenes from the world of Harry PotterHigh quality 1000 piece jigsaw puzzle
EAN: 5036905039543
Search
Recent Posts
Get Social With Us!
Categories
Pages
Toy Retailers
Popular Tags
Toy Archive