Browsing all articles from October, 2020
Posted in Barbie by ToyMaster
Posted in Barbie by ToyMaster
Posted in Toys by ToyMaster
Posted in Toys by ToyMaster
Harry Potter – Hogwarts Castle 3D Jigsaw Puzzle (197 Pieces)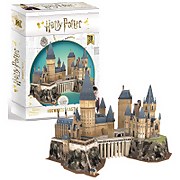 The Hogwarts Castle 3D Puzzle is the ultimate gift for any fan of the magical wizarding world Harry Potter Recapture the magic of the Harry Potter stories with this beautifully detailed Hogwarts School Model kit Create your very own magic as your assemble your own stunning Hogwarts Castle in the comfort of your own home and travel back to exciting scenes from the Harry Potter saga with this dramatic 3D model Perfect for any Potter fan 8 years and over this superbly detailed 197-piece 3D puzzle can be assembled with no need for tools or scissors just pop out the pieces and connect using tabs and holes and follow the easy-to-use instruction The stunning Hogwarts Castle model measures 45 5◊32 5◊32 5cm making it a perfect keepsake gift for any Harry Potter fan Create the complete wizarding world with other 3D puzzles in the series including The Hogwarts Express Gringotts Bank Quidditch Supplies Olivanders and Weasley Wizard Wheezes
EAN: 5012822075659
Posted in Hot Wheels by ToyMaster
Hot Wheels City – Dino Coaster Attack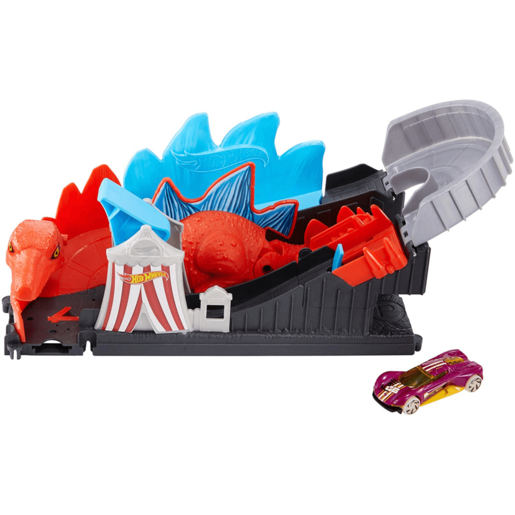 Fuel kids' imagination with this assortment of kid-favorite sets featuring dinosaurs! Kids can use their Hot Wheels cars to stunt, race and create adventurous battles. Each exciting set provides storytelling play based on heroic action and skill to save the day. Escape the flying pterodactyl at the airport. Race past the stegosaurus at the amusement park and beware the hungry T-Rex hiding in the grocery store. Each of these Hot Wheels City sets connect to other Hot Wheels City sets and is compatible with orange track, too. Includes one Hot Wheels vehicle.
EAN: 887961713909
Posted in Playmobil by ToyMaster
Playmobil Dollhouse Large Dollhouse (70205)
This set is most suitable for children aged 4+ Inspires imaginative play and allows storytelling skills to flourish Supports the development of their communication and social skills Includes 2 Playmobil figures and lots of accessories Build your dream home with the Playmobil Large Dollhouse! The Victorian style 2 storey Dollhouse features a working doorbell for realistic play and a large outdoor staircase to reach the rustic baloncy on the top floor where lunch and refreshments can be enjoyed. All doors and windows in the Dollhouse can be opened, as well as the window shutters. At the front of the Dollhouse is an opening letterbox, where the included letters can be placed for the family to open.
EAN: 4008789702050
Posted in Toys by ToyMaster
Disney Villains Panoramic Puzzle
| Retailer | Price | Discount Code? | P&P | |
| --- | --- | --- | --- | --- |
| | £13.00 | No | | |
| | £14.99 | Yes | £2.25 | |
Everyone knows the villains are the best Disney characters. Best outfits, best lines. Pure, delicious evil. And they always get their comeuppance so it's totally fine to root for them. Now you can pay your respects to these devilishly determined antiheroes with the Disney Villains Panoramic Puzzle.
EAN: 8005125395163
Posted in Toys by ToyMaster
Posted in Toys by ToyMaster
IT Chapter 2 Pennywise with Balloon Pop! Vinyl Figure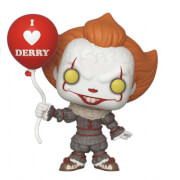 Do you love Derry? How about fear-eating clowns? If you do, then you are going to want this IT inspired Pop! Movie figure! Taken from the Chapter Two remake, this hideous clown might not look quite so menacing with his balloon, but we can promise you that he isnít here to make you laugh. Taken from the 2019 movie, this figure is sure to give anyone the shivers and it is definitely a great addition to any Pop! collection. Whether you are terrified of clowns or not. The rules to owning this particular Pop! figure is to make sure that he stays in his box (although we are not sure even that will keep him in) and also donít ever, ever follow him into the sewers. Buy this now as a treat for yourself or perhaps as a gift for someone who you think loves Derry as much as Pennywise!
EAN: 889698406307
Posted in Toys by ToyMaster
Search
Recent Posts
Get Social With Us!
Categories
Pages
Toy Retailers
Popular Tags
Toy Archive