Browsing all articles from June, 2020
Posted in Lego by ToyMaster
LEGO Super Mario Propeller Mario Power-Up Pack – 71371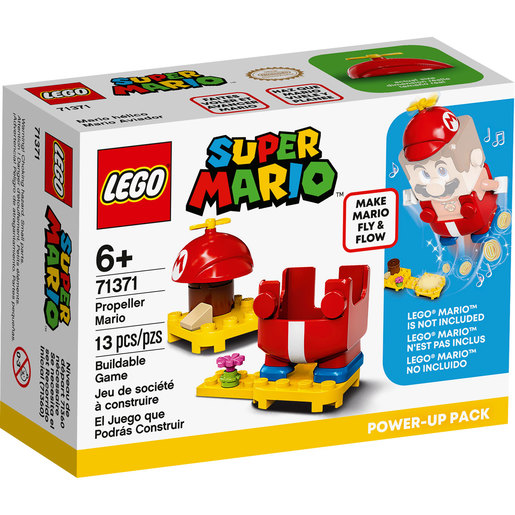 "Add something extra to your playtime with the Propeller Mario Power-Up Pack from the LEGO Super Mario range. Take your LEGO Super Mario Starter Course to the next level with this awesome expansion pack. Build all the pieces together to reveal a special outfit and propeller cap to help your Super Mario figure (sold separately) 'fly' into the air. Super-cool sound effects are triggered when Mario tries to fly to collect coins. You'll also get access to the exclusive LEGO Super Mario app, which has interactive advice and instructions to help make your playtime even more exciting. For ages 6 and over."
EAN: 5702016618501
Posted in Lego by ToyMaster
LEGO Dots Go Team! Bracelet D.l.Y Craft Set – 41911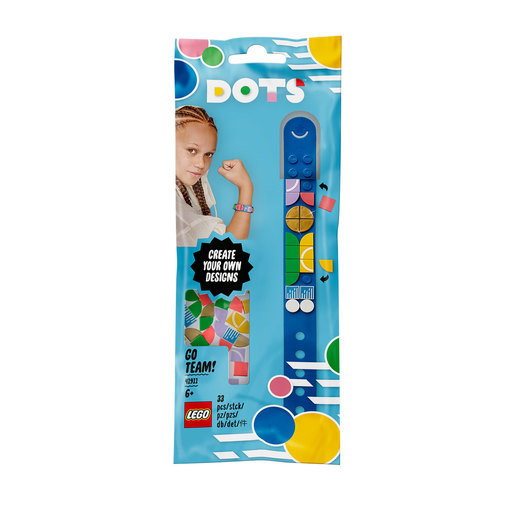 "Personalise your jewellery collection with the Go Team! Bracelet D.I.Y Craft Set from the LEGO Dots range. It's time for some creative fun! This awesome set lets you create your own bracelet. Use the assorted tiles to come up with a stylish design, then add them to the bright blue band. When you're ready for a change, start all over again! This set includes 32 colourful tiles and an adjustable blue band. What amazing designs will you create? For ages 6 and over."
EAN: 5702016668575
Posted in Lego by ToyMaster
Imperial Star Destroyer
Build and display an icon of the Galactic Empire the Devastator. With over 4,700 LEGO pieces, this Ultimate Collector Series 75252 Imperial Star Destroyer model captures all the authentic details of the starship as it appeared in the opening scene of Star Wars: A New Hope, including swiveling guns, a tilting radar dish, huge engine exhausts, intricate surface detailing and of course a buildable scale version of the Rebels' Tantive IV starship to chase down. This galactic civil war UCS set also includes a display stand with informational fact plaque and 2 Imperial minifigures, making it the perfect LEGO Star Wars collectible for discerning fans.
EAN: 5702016371116
Posted in Board Games by ToyMaster
Back To The Future Game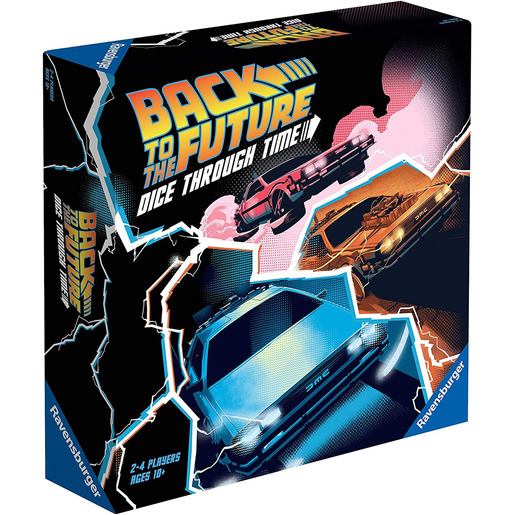 "Make game night even more fun with the Back To The Future Dice Through Time board game. Whether they're Back To The Future super fans or loving playing board games, this all-new Dice Through Time game is the perfect family fun. Roll the dice to travel through time, then return all the items before the OUTATIME tracker runs out to win. This exciting board game is suitable for 2-4 players and takes about 45 minutes to play. It comes with everything you need, as well as full instructions, to help get the action started. For ages 10 and over."
EAN: 4005556268429
Posted in Board Games by ToyMaster
Monopoly Speed Board Game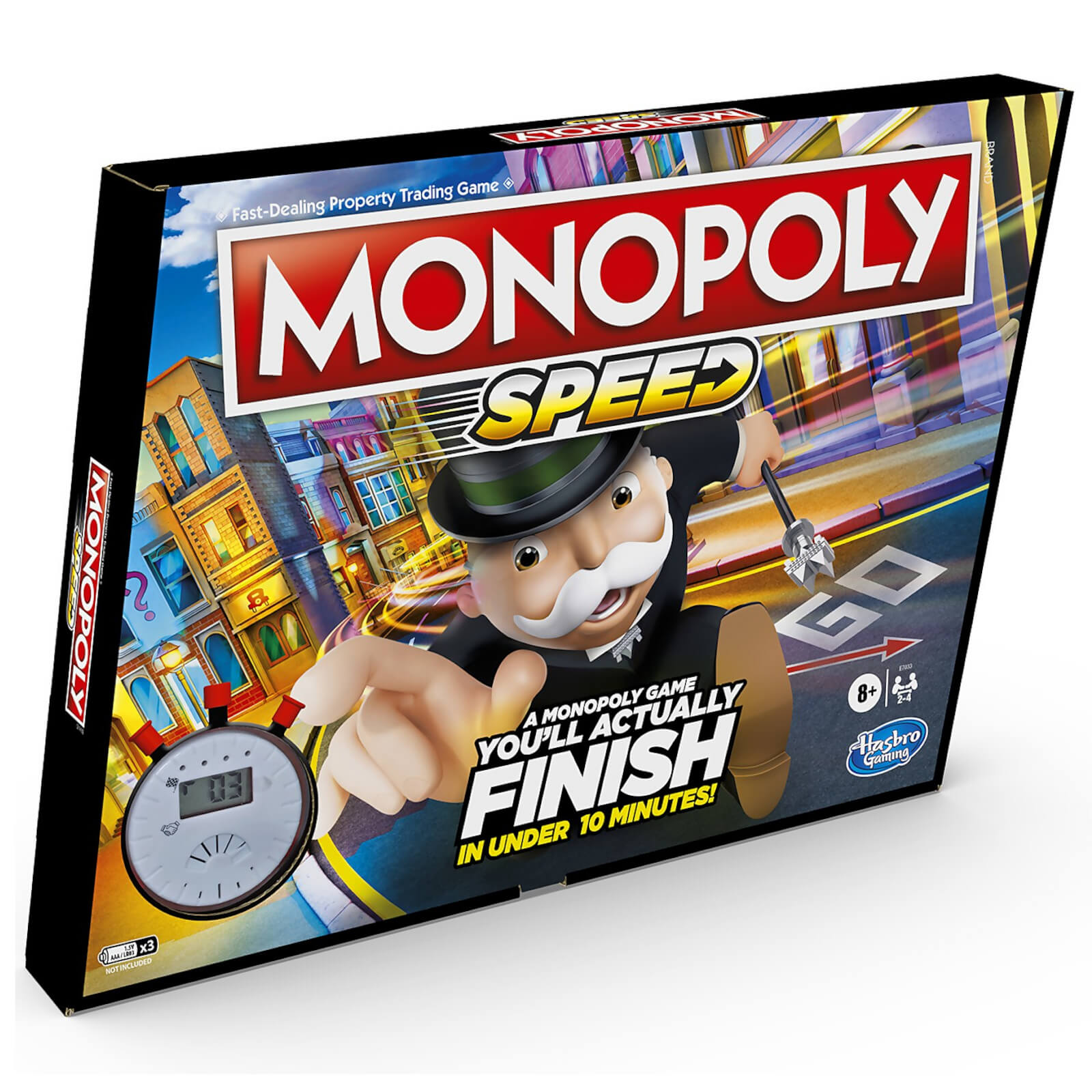 Not a lot of time? No problem! The Monopoly Speed board game can be played in under 10 minutes! Everyone rolls and buys at once so players don't have to wait for their turn. During 4 rounds, players race against the timer to buy, trade, and sell properties faster than ever. The timer counts down each buying and trading stage, and there's no break between stages. There are even 2 Go spaces, and players can get out of Jail free every time. The Monopoly Speed board game is great choice for family game night, parties with friends, and a quick break from the every day. Features: PLAY IN TIMED ROUNDS: This quick-playing Monopoly board game is played in rounds. The timer counts down each round's buying stage and trading stage EVERYONE BUYS AT ONCE: No need to wait your turn! Each player has a token and matching die. During the buying stages, everyone rolls and buys at the same time SUPER FAST TRADING: Chance cards help players wheel and deal during each trading stage. Get bonuses at the end of the game with Community Chest cards FUN FAMILY GAME: When you have the need for speed, play the Monopoly Speed board game! What a great way to bring family and friends together even when pressed for time Includes gameboard, 4 tokens, 4 dice, 28 Title Deed cards, 16 Chance cards, 12 Community Chest cards, money pack (150 (M) 1000 bills), and game guide. Requires 3 x 1.5V AAA alkaline batteries. (Batteries not included.)
EAN: 5010993638086
Posted in Toys by ToyMaster
Waddingtons Number 1 Playing Cards – Friends Edition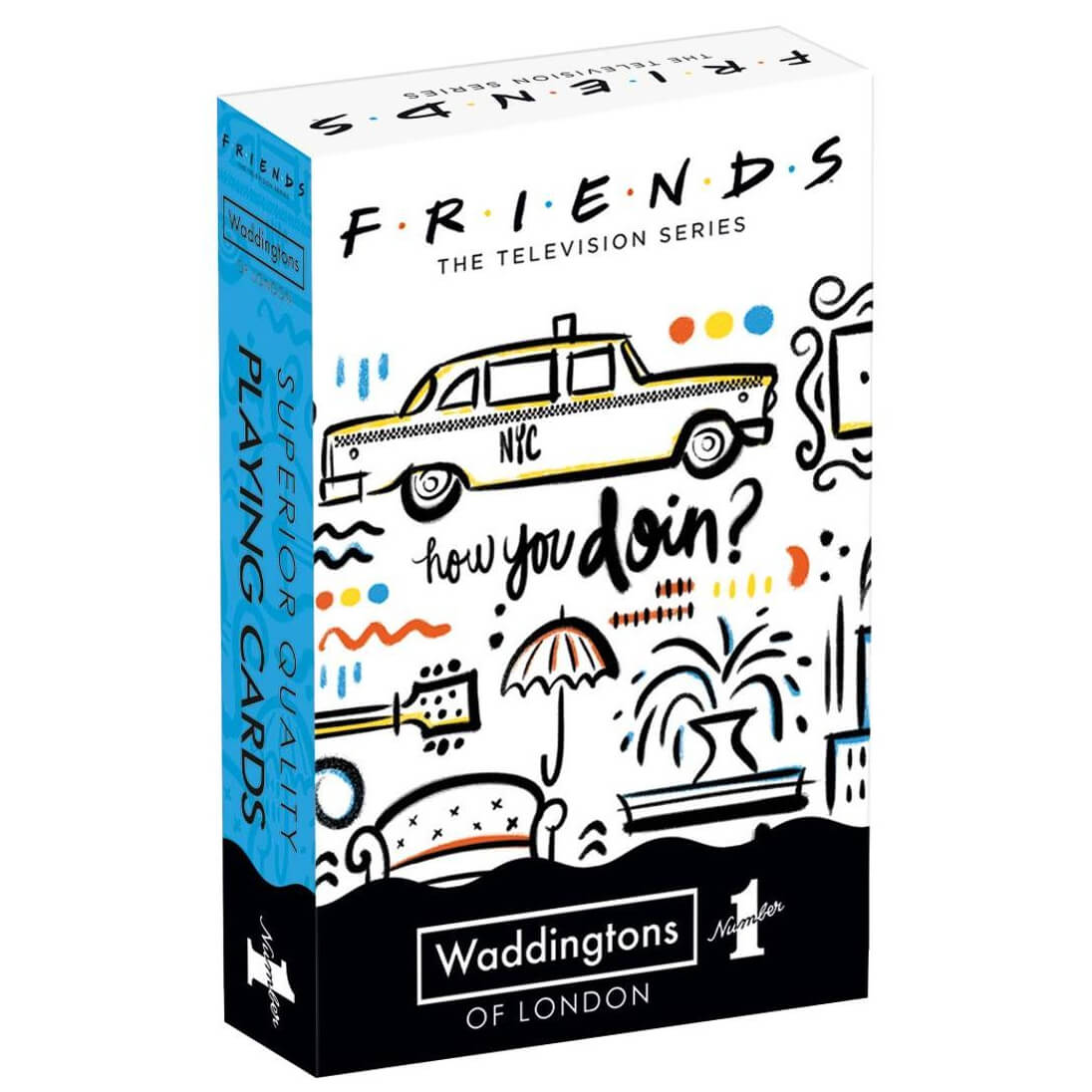 IWOOT – Stuff you really, really wantFriends fans can now play with this bespoke pack of Waddingtons Number 1 playing cards. Play your favourite card games with your favourite moments from the world's most loved television series. Every certified pack of Waddington's Number playing cards comes with a Winning Moves seal of approval. Great game on-the-go, at home and the perfect travel companion hours of entertainment as you master much-loved card games from snap to black jack.
EAN: 5036905035866
Posted in Board Games by ToyMaster
Monopoly Board Game – Christchurch Edition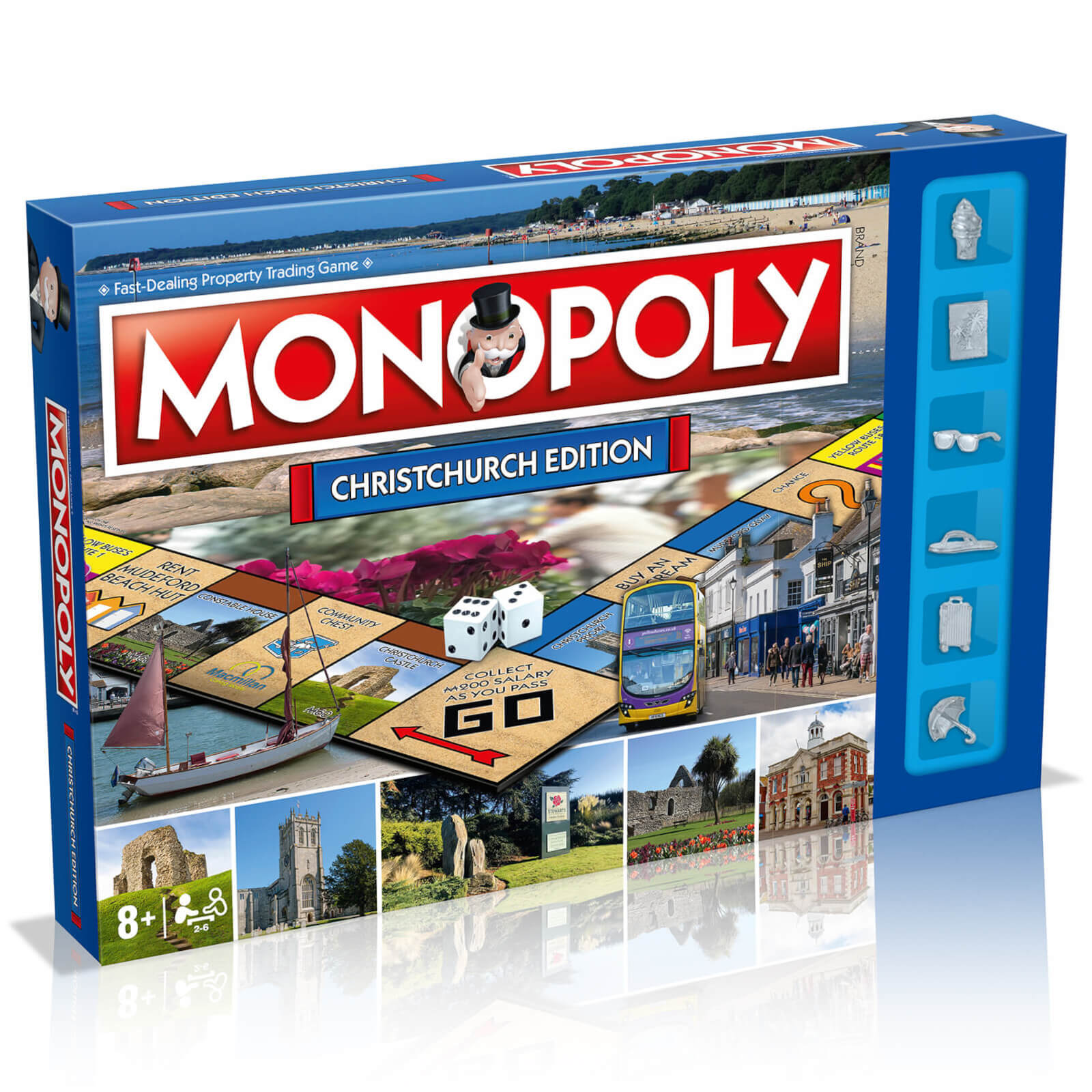 IWOOT – Stuff you really, really wantPay a visit to the charming and historic coastal town of Christchurch in this special edition of MONOPOLY. Christchurch is renowned for its relaxing beaches, lively festivals and memorable landmarks and attractions – all of which can be yours, if you can strike a deal. Featuring stunning and authentic photography from the local area, there's plenty to enjoy whether you're a seasoned MONOPOLY expert or a first-time player. So choose a token, roll the dice and seek your fortune!Key Features:The world's favourite family board game brings you another exciting edition of MONOPOLY – Christchurch Edition!Choose your favourite token, tour your favourite sites and accumulate fortunes, but watch out for taxes, jail and bankruptcyAdvance to ChristChurch historical sites – will you owe rent or reap the rewards?Invest in beach huts and hotels and trade your way to successThe Fast-Dealing Property Trading Game is fun for the whole familySuitable Age: 8+Number of Players: 2+
EAN: 5036905039017
Posted in Toys by ToyMaster
Trump Cards Card Game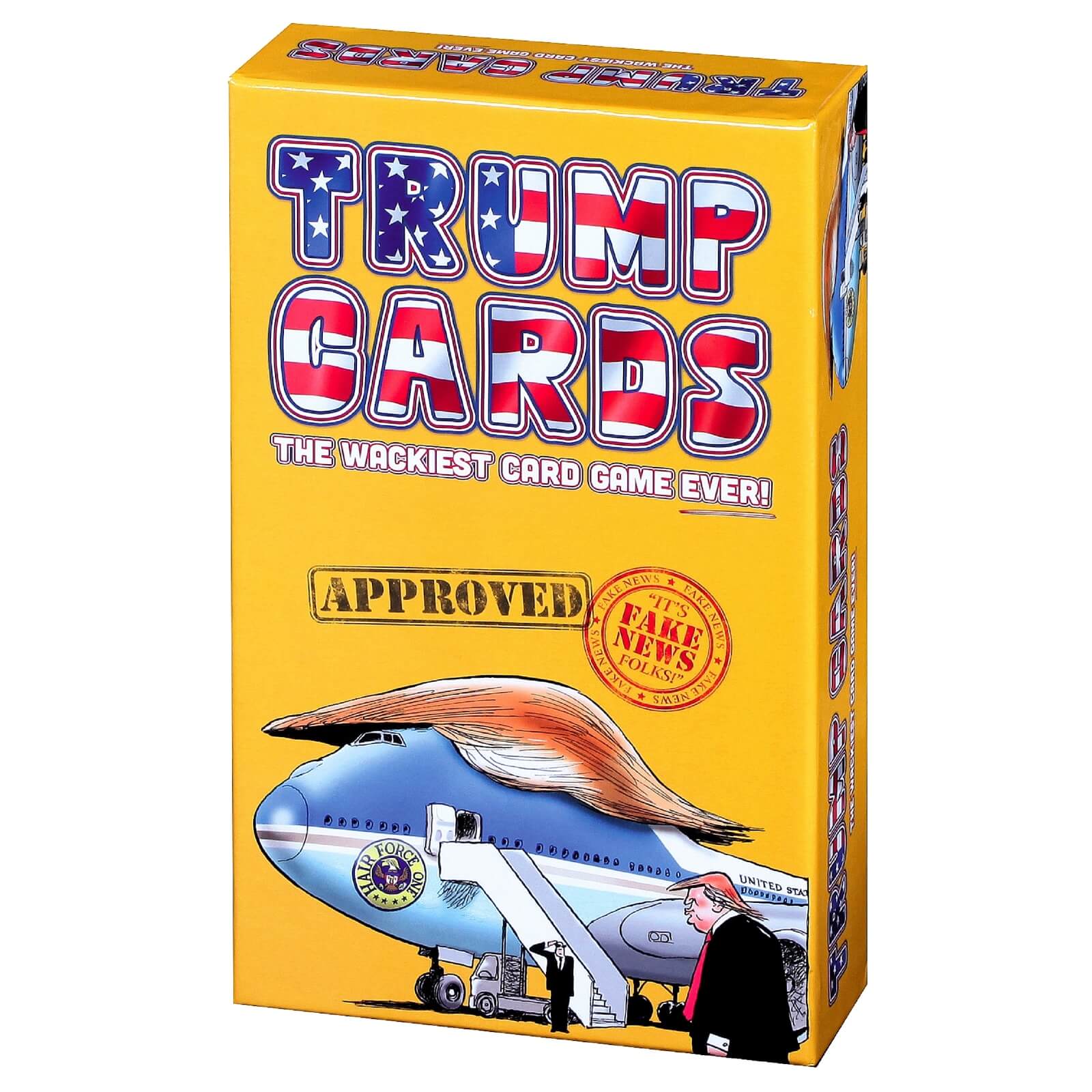 Is it "fake news, folks!" …or did he REALLY say it? Trump Cards is the hilarious game where players have to guess Trump fact from fiction. If you think Trump really said it then play your 'Approved' card. If you think it's fake news then slap down your 'Fake News' card. It's that simple! For 2 to 10 players.
EAN: 5060314590081
Posted in Toys by ToyMaster
Brio Cargo Transport Helicopter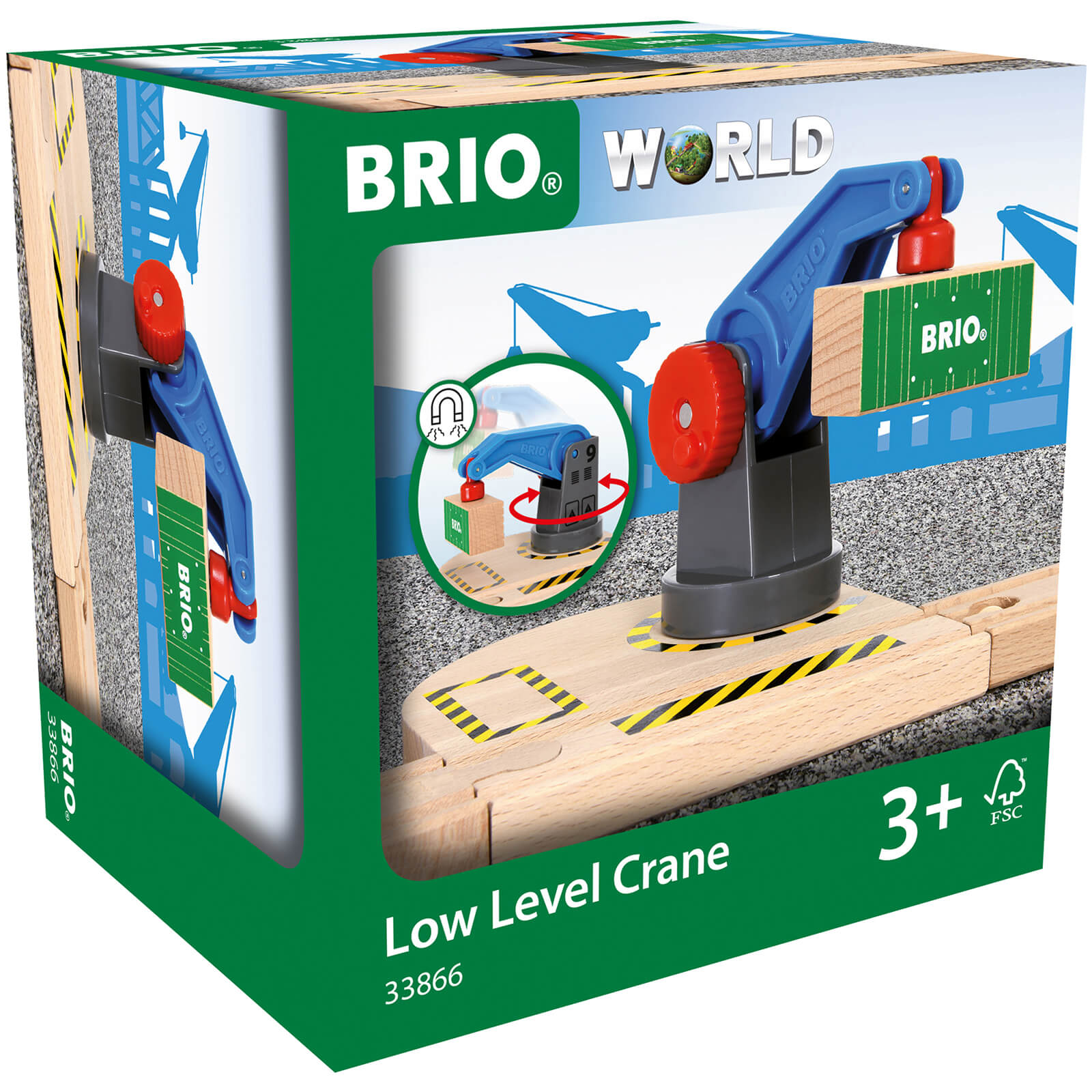 There's no cooler way to fly than by helicopter. Behind the pilot in the new Cargo Transport Helicopter toy, the cargo bay is ready to carry some serious weight – even two fully loaded wagons. With everything in place, spin the rotor of your BRIO helicopter, take off and soar high above your BRIO World. Includes 1x Cargo Helicopter, 1x Figure, 2x Wagons, 2x Wooden Loads, 2x Containers. The item measures 22.6 x 14.9 x 11.4cm. Suitable for ages 3 Years and up. Manufactured to BRIO's high standards and from FSC Certified wood. Each set is fully compatible with other BRIO sets, tracks and trains. BRIO products are made from very high quality plastic and Beech wood from sustainable sources. The Trains, Wagons, Carriages, and Road Vehicles all feature the classic BRIO magnetic couplings allowing for easy connection to each other.
EAN: 7312350338867
Posted in Lego by ToyMaster
LEGO Architecture: The White House Display Model (21054)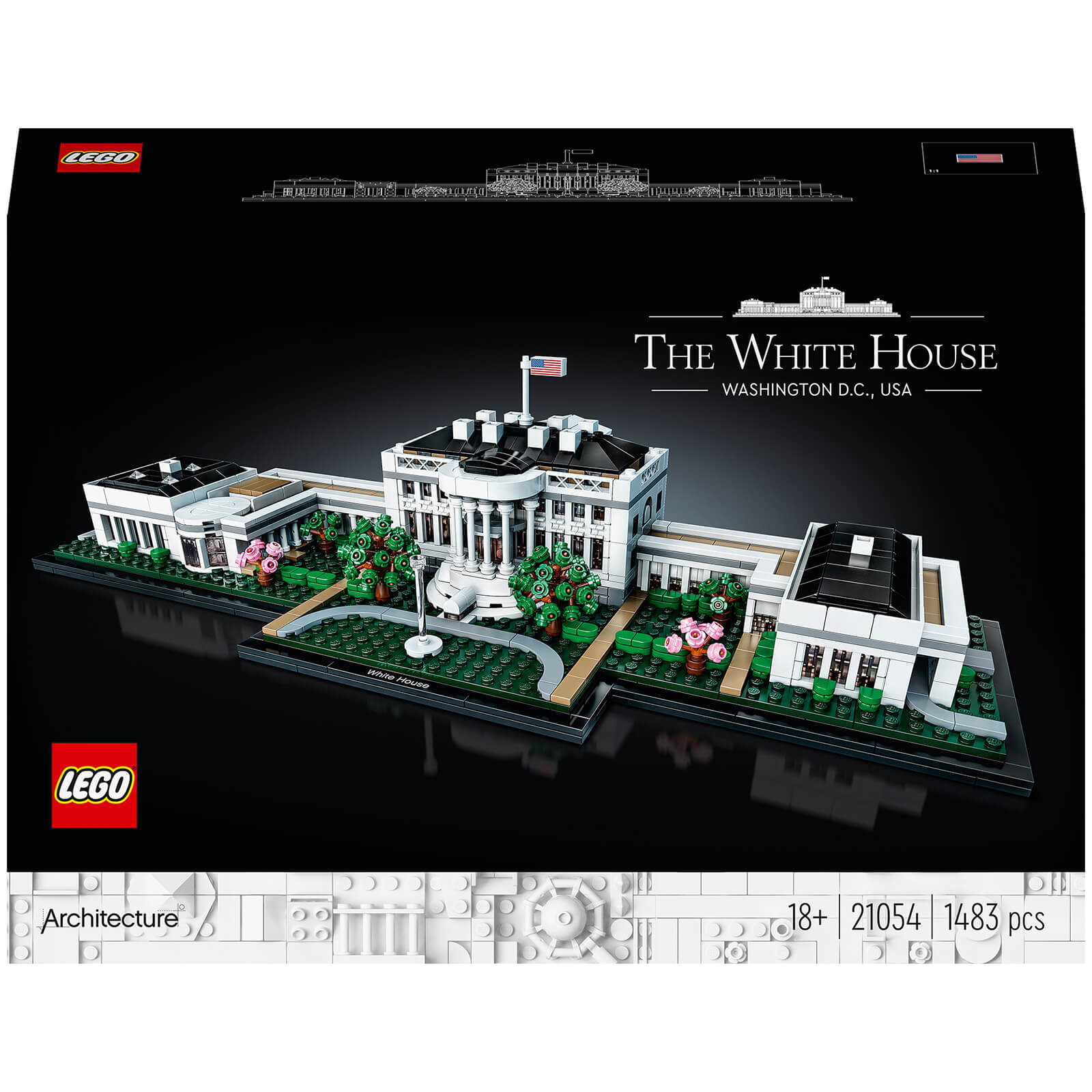 You re busy. It feels like you re always on the go. So when you do get some free time, you like to recharge your batteries by focusing on a fun, creative challenge. That s what building The White House with LEGO bricks is all about. Revel in the detailsWith this hands-on, minds-on craft project, you'll recreate details from the neoclassical columns of the president's Executive Residence and colonnades connecting the East and West Wings to the surrounding gardens and fountain. This LEGO Architecture White House model (21054) can be divided into 3 sections for closer inspection and includes a LEGO brick inscribed The White House to complete an inspiring display piece. LEGO sets for your lifestyleEscape the daily grind and click your stress away creating this stylish model that will look great in your home or office. Part of a collection of LEGO building sets for adults interested in art, design, architecture and pop culture, it makes the best gift for you or the hobbyist inyour life.
EAN: 5702016617368
Search
Recent Posts
Get Social With Us!
Categories
Pages
Toy Retailers
Popular Tags
Toy Archive