Browsing all articles from August, 2019
Posted in Toys by ToyMaster
Ravensburger Marvel Avengers XXL Puzzle – 100pc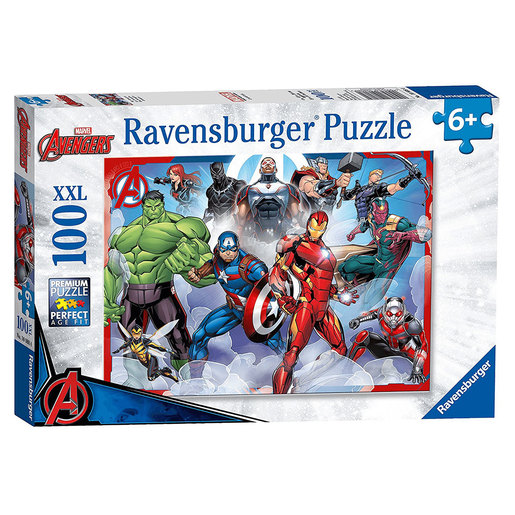 "Defeat the bad guys with this amazing Marvel Avengers XXL 100 Piece Puzzle from the Ravensburger range. Avengers Assemble! This incredibly detailed puzzle features all your favourite Marvel characters, including Captain America, Hulk, Iron Man and more. Fit all the chunky pieces together to reveal the action-packed scene. The finished puzzle measures 46cm x 36cm, and you'll find 100 pieces in the box. As a Ravensburger jigsaw, this puzzle is made from premium cardboard and features a high-quality design. For ages 6 and over."
EAN: 4005556108084
Posted in Toys by ToyMaster
Little Senses Glowing Stacking Rings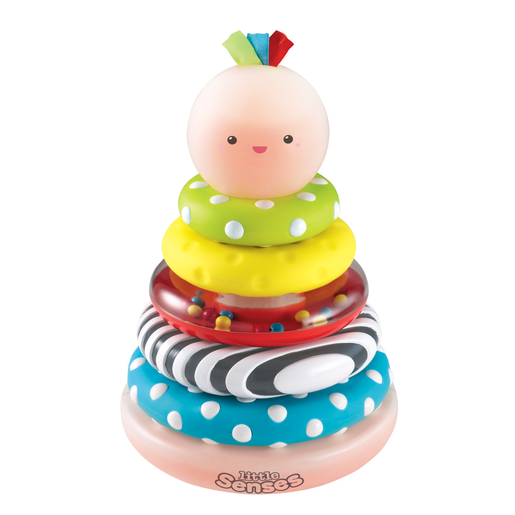 "Enjoy sensory stimulation and play with the ELC Little Senses Glowing Stacking Rings. Take the five, brightly coloured stacking rings off of the light up base in order to explore the unique and exciting textures. Run your hands over the spotty and stripy rings for tactile stimulation and shake the ring filled with beads for fun, rattling auditory stimulation. Place the rings on the base in order of their size. When you put the smiling face, with it's tickly, ribbon hair, on top of them, it will light up! Stimulating fun for 6 months and over."
EAN: 5050048167079
Posted in Toys by ToyMaster
Men In Black International Agent M Pop! Vinyl Figure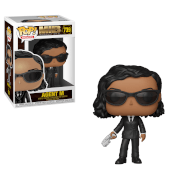 | Retailer | Price | Discount Code? | P&P | |
| --- | --- | --- | --- | --- |
| | £10.99 | Yes | | |
The new Men In Black: International Funko Pop! Vinyl figures are here!This Agent M figure measures about 3 3/4-inches tall and comes packaged in a window display box.
EAN: 889698384926
Posted in Lego by ToyMaster
LEGO Star Wars: BOOST: Droid Commander Robot Toy (75253)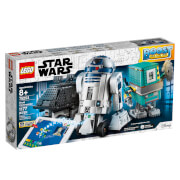 | Retailer | Price | Discount Code? | P&P | |
| --- | --- | --- | --- | --- |
| | £149.99 | No | | |
| | £149.99 | Yes | | |
Become a LEGO® Star Wars™ BOOST Droid Commander as you build, code and play your way through challenging missions with amazing droids! Download the free LEGO BOOST Star Wars app and build lovable astromech droid R2-D2, a Gonk droid and a Mouse droid. Travel to Alderaan, the Death Star and loads more exciting locations in the app as you command your droids to solve over 40 challenging missions for the Rebel Alliance or the mighty Empire. Build and attach rocket boosters, a cake shooter, a catapult and much more. Then code your droid to life using the app to spy on the Empire, train for battle and even decode a message for Princess Leia.… who knows which other LEGO Star Wars characters you'll meet on your journey across the galaxy. Prepare your droids, Commander! Kids will learn to code and develop creative problem-solving skills as they play with this interactive STEM toy, featuring 3 buildable LEGO® Star Wars™ droids and over 40 interactive missions. This fun LEGO® Star Wars™ tech toy for kids includes a colour & distance sensor, interactive motor, Move Hub and 1,177 pieces – enough to build all 3 lovable R2-D2, Gonk Droid and Mouse Droid LEGO figures. Please note that only one buildable robot can be brought to life at a time using the included Bluetooth-controlled Move Hub. Buildable props include rocket boosters, a catapult, a cake shooter, a target, colour decoder, obstacles and many more. Kids aged 8+ will love building the construction robot toys using the free LEGO® BOOST Star Wars™ app, attaching the tools and weapons, and bringing them to life to solve fun, challenging missions with the easy-to-use coding environment. Visit LEGO.com/devicecheck for a list of compatible devices. This great Christmas, birthday or gift idea for any occasion features unforgettable characters, locations, sounds and music from episodes I-VI of the Star Wars™ movie saga, which kids and adults will love to interact with. LEGO® brick R2-D2 measures over 7" (20cm) high, 3" (10cm) long and 5" (14cm) wide. LEGO Gonk Droid measures over 7" (18cm) high, 6" (16cm) long and 3" (9cm) wide. LEGO Mouse Droid measures over 5" (14cm) high, 6" (17cm) long and 3" (9cm) wide. Free LEGO® BOOST Star Wars™ Droid Commander app is available for selected iOS, Android and Fire smart devices. Ask your parents' permission before going online. Age: 8+ Number of pieces: 1177 Warning: Not suitable for children under the age of 3 years due to small parts which could cause a choking hazard.
EAN: 5702016369854
Posted in Toys by ToyMaster
Sylvanian Families Polar Bear Family
| Retailer | Price | Discount Code? | P&P | |
| --- | --- | --- | --- | --- |
| | £15.00 | No | £3.99 | |
| | £15.00 | Yes | £4.49 | |
Polar Bear Family is a three-piece set including Polar Bear Father, Mother and baby. The figures' heads, hands and feet can be moved, allowing them to take on a number of different poses. Father, Seamus enjoys fishing. He always researches the best bait to use for the fish that can be caught in each season ahead of time. Mother, Maya is a slow runner on land but can swim quickly in the water. She excels at cooking up egg dishes. Baby, Yana hates to be cold. She is always following father around.
EAN: 5054131053966
Posted in Toys by ToyMaster
Crayola Washimals Pet Salon Set
"Tots will love getting creative with the Crayola Washimals Pet Salon Set!This amazing kit opens up to reveal a gorgeous beauty salon, and comes with two cute pets, a trio of washable marker pens, a scrubbing brush, tub and spray bottle.Everything a little one needs to decorate their pets in endless colours and patterns, so theyâ??re ready for their next adventure!Wash it all off and start again when you fancy a new outfit!Lots of drawing and styling fun for fashionistas aged 3 years and over."
EAN: 71662173043
Posted in Toys by ToyMaster
Ravensburger Disney Pixar Cars 3, 4 in a box (12, 16, 20, 24pc) Jigsaw Puzzles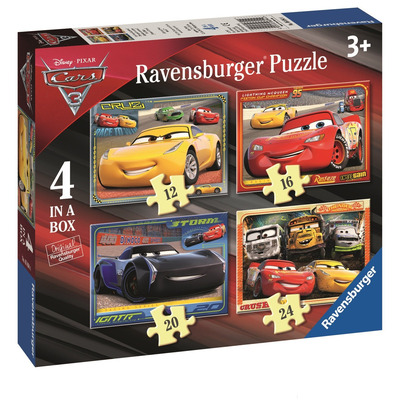 These bright, vibrant and fun puzzles features your favourite characters from the hit film Cars 3. Puzzle together Lightning McQueen, Cruz Ramirez, Jackson Storm, as well as Luigi, Guido, and Mack. Four high quality cardboard jigsaw puzzles in 12, 16, 20 and 24 pieces. The finished puzzle measures 19 x 14cm when complete. Suitable for ages 3 years and up. Made from strong premium grade cardboard, with linen finish print to minimise glare on puzzle image. At Ravensburger we have over 50 years' worth of experience in the manufacture of puzzles. Not only do we make the best selection of puzzles, we also pride ourselves on having the highest quality. Individual pieces are stamped with such precision that a quiet click can be heard when one piece is inserted in the other – this phenomenon is so unique that we have given it its own name 'Softclick Technology.' Our puzzles are made using unique punching templates and punching tools, which are hand-crafted with watchmaker precision to ensure the greatest possible accuracy and variety of the puzzle pieces.
EAN: 4005556068944
Posted in Toys by ToyMaster
Sylvanian Families Elephant Family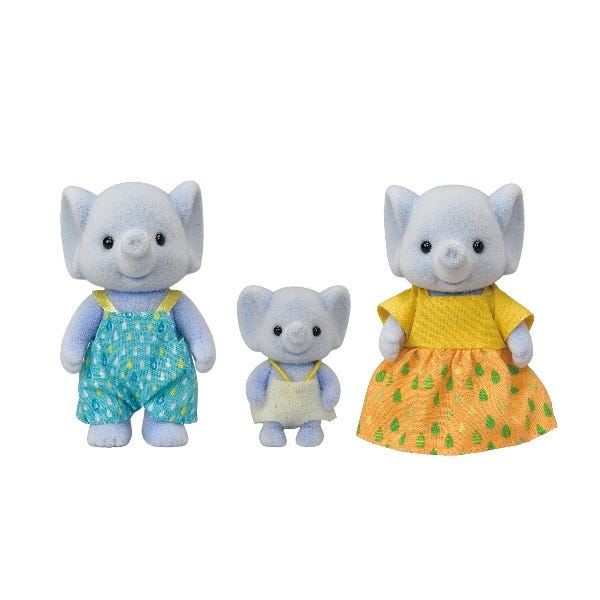 | Retailer | Price | Discount Code? | P&P | |
| --- | --- | --- | --- | --- |
| | £15.00 | No | £3.99 | |
| | £15.00 | Yes | £4.49 | |
Place the figures on the stage of Ballet Theatre (sold separately) and turn the handle to make the figures twirl. Play together with the Chocolate Rabbit girl (in ballerina style) included in Ballet Theatre on the stage too for even more fun.
EAN: 5054131053768
Posted in Toys by ToyMaster
Stickle Bricks Little Builder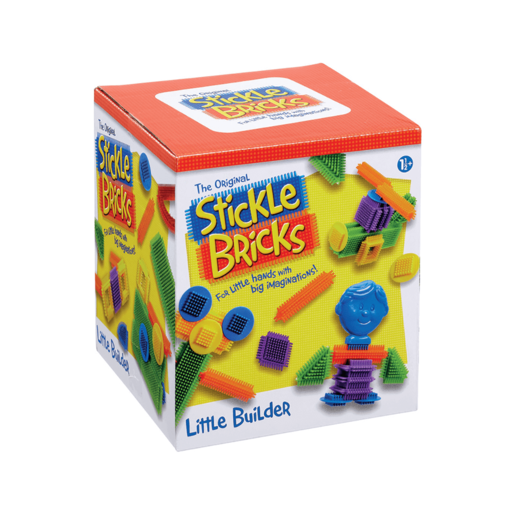 "Stickle Bricks is for little hands and big imaginations! This Little Builders set's crammed with easy to assemble pieces that lock together any way little ones like. Help them unlock their imagination as there's no telling where new ideas can lead. Ideal for promoting dexterity and imagination, Stickle Bricks is the big name in building fun! For ages 18 months and up."
EAN: 8056379049012
Posted in Toys by ToyMaster
This toy no longer exists.
Try visiting www.xmas-toys.co.uk you may find it there.
EAN: 887961759426
Search
Recent Posts
Get Social With Us!
Categories
Pages
Toy Retailers
Popular Tags
Toy Archive