Browsing all articles from February, 2019
Posted in Toys by ToyMaster
Top Trumps Quiz Game – World Football Stars Edition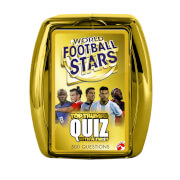 Think you know your football? Well, now's the time to test your knowledge with Top Trumps Quiz with a Twist! 500 questions and a unique form of gameplay that will test your mind on the world's greatest ever footballers! Key Features Quizzical fun with a Top Trumps Twist Entertaining educational card game loved for bringing your favourite footballers to life 500 puzzling and captivating questions that will test your knowledge and memory Easy-to-carry plastic case means there are no limits on gameplay Prepare to outsmart your opponents, discover new and exciting facts and duel your way to becoming the Top Trump Suitable Age: 3+ Number of Players: 2+
EAN: 5036905032193
Posted in Toys by ToyMaster
Top Trumps Juniors Thomas and Friends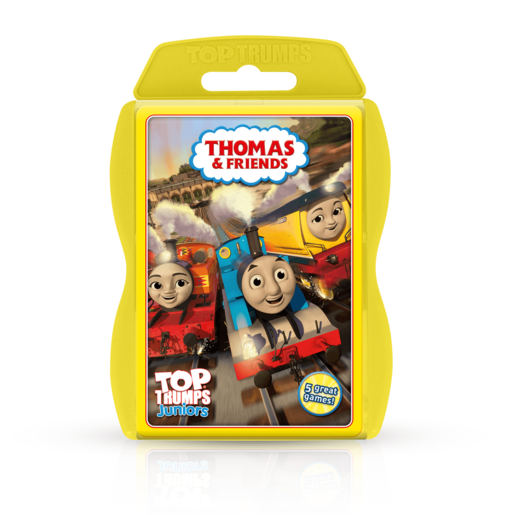 "Thomas the Tank Engine and all his friends are ready for some fun! Find out if you or your friends know Thomas better with the Top Trumps Juniors Thomas and Friends card game. Compare 26 of your favourite train track friends on categories including reliability, speed and power to find out which engines would win in a race and which engine you should never count on to be on time! The handy blue carry case means you can play with your friends anytime and anywhere. For Thomas and Friends fans 4 and over."
EAN: 5036905032216
Posted in Toys by ToyMaster
Monopoly Board Game – Stirling Edition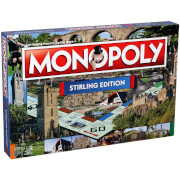 MONOPOLY, the great property trading board game finds its home in the vibrant Scottish city of Stirling: a city steeped in history yet offering a host of modern day attractions. Journey around the gameboard and explore landmarks including: The Church of the Holy Rude, Dunblane Cathedral and The King's Knot. Don't forget to stop off for some refreshments en route at The Birds and The Bees or Blairmains Farm Shop & Coffee Bothy. You can further relax with a spa date at The Stirling Highland Hotel or take in some art at the Stirling Smith Art Gallery and Museum. Key Features The world's favourite family board game brings you another exciting MONOPOLY – Stirling Edition Choose your favourite token, tour the beautiful sights of Stirling, including Stirling Castle and The National Wallace Monument, and accumulate fortunes, but watch out for taxes, jail and bankruptcy Advance to the University of Stirling, the Stirling Highland Games, or even the Old Town Jail – will you owe rent or reap the rewards? Invest in houses and hotels and trade your way to success The Fast-Dealing Property Trading Game is fun for the whole family Suitable Age: 8+ Number of Players: 2+
EAN: 5036905029698
Posted in Toys by ToyMaster
Monopoly Board Game – Tunbridge Wells Edition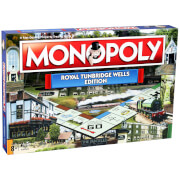 MONOPOLY, the great property trading board game finds its home in the picturesque spa town of Royal Tunbridge Wells: the jewel of Kent. Journey around the gameboard and explore landmarks including: Spa Valley Railway, High Rocks and the Town Hall. Don't forget to stop off for some refreshments en route at Royal Victoria Place or the Pantiles. You can further relax with a spa date at The Spa Hotel or take in some culture at the Trinity Theatre. Key Features: The world's favourite family board game brings you another exciting MONOPOLY – Royal Tunbridge Wells Edition Choose your favourite token, tour the beautiful sights of Royal Tunbridge Wells, including the splendid Calverley Grounds and the Tunbridge Wells Cricket Club at the Nevill Ground, and accumulate fortunes, but watch out for taxes, jail and bankruptcy Advance to the Tunbridge Wells Museum, G. Collins & Sons, or even Tunbridge Wells F.C. – will you owe rent or reap the rewards? Invest in houses and hotelsand trade your way to success The Fast-Dealing Property Trading Game is fun for the whole family
EAN: 5036905029667
Posted in Toys by ToyMaster
Top Trumps – Peppa Pig Card Game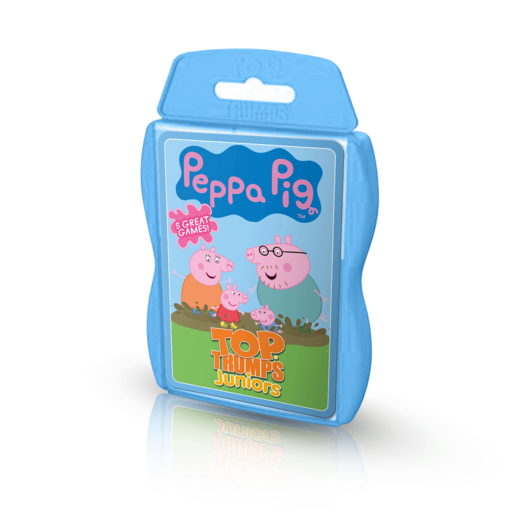 "It's time for some fun with Peppa Pig and her pals! Top Trumps – Peppa Pig Card Game is five awesome games in one easy-to-carry travel case! With 28 playing cards, you can be sure that the pack includes all your favourite characters. You can play Take 5, Spot the Difference, Pairs, and Mini Top Trumps, as well as completing the Observation Quiz. Play with your friends to find out who has the most Peppa Pig knowledge! For Peppa Pig pals 3 and over."
EAN: 5036905032148
Posted in Toys by ToyMaster
Top Trumps Card Game – LOL Surprise Edition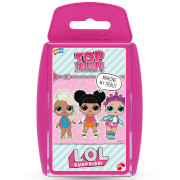 The LOL Surprise Top Trumps pack is filled to the brim with fun stats and phrases from your favourite characters. Find out how rare Surfer Babe is compared to Roller Sk8er, and who has the highest Top Trumps rating! You can even find 2 surprise cards from The Glitterati Club, who will you get?
EAN: 5036905032803
Posted in Toys by ToyMaster
Top Trumps Card Game – Horses, Ponies and Unicorns Edition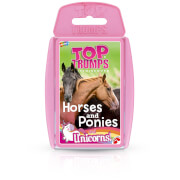 "Grab the Top Trumps Horses, Ponies and Unicorns Game to compete with your friends and learn awesome horse facts. Compare 30 different horses, from thoroughbred lipanzzers to the mythical Pegasus, on categories including height, colour type and speed. Gather up your friends to find out who knows the most about horses, and who will manage to outsmart everyone else and become the Top Trump! Play anywhere, anytime with the super convenient plastic carry case. Magical horses fun for 3 and over."
EAN: 5036905032797
Posted in Toys by ToyMaster
Top Trumps Card Game – Guinness World Records Edition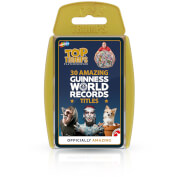 "Grab the Top Trumps Guinness World Records Game for some mind-blowing fun! Compare unbelievable records from the worlds of technology, animals and sports using categories including difficulty, uniqueness and the year of the record. Do any of your friends know who the most tattooed senior citizen is? You all will after your battle to become the Guinness World Records Top Trump! Use the easy to carry plastic case to set a Top Trumps playing record. Endless Guinness World Records fun for 3 and over."
EAN: 5036905032780
Posted in Toys by ToyMaster
Top Trumps Junior Card Game – PJ Masks Edition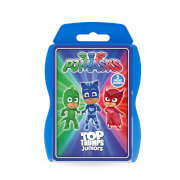 "It's time for adventure with Catboy, Owlette and Gekko! Top Trumps – PJ Masks Card Game is five fun filled games in one easy-to-carry travel case! The set includes 12 characters and vehicles, so all of your favourites will be in there. You can play Take 5, Spot the Difference, Pairs, and Mini Top Trumps, as well as completing the Observation Quiz. Play with your friends to find out who has the most PJ masks knowledge! For PJ masks masters 3 and over."
EAN: 5036905032131
Posted in Toys by ToyMaster
Monopoly Board Game – Taunton Edition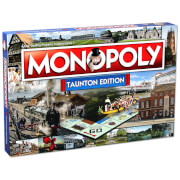 Celebrate the best of the West Country with this special edition of the MONOPOLY game! The name Taunton derives from Town on the River Tone, or Tone Town and it remains a picturesque mix of Georgian architecture, cobblestones and modern additions. Explore performances at the Brewhouse Theatre and sniff out some West Country bargains on Bath Place, at the Orchard Shopping Centre or the Farmers Market. Discover the beauty and tranquillity of Vivary Park, or catch some live sporting action with horseracing, football and rugby on offer! Key Features The world's favourite family board game brings you another exciting MONOPOLY – Taunton Edition Choose your favourite token, tour the beautiful sights of Taunton, including the splendid Hestercombe Gardens and the fascinating Museum of Somerset, and accumulate fortunes, but watch out for taxes, jail and bankruptcy Advance to Woodlands Castle, Somerset County Cricket Club, or Gray's Almhouses – will you owe rent or reap the rewards? Invest in houses and hotels and trade your way to success The Fast-Dealing Property Trading Game is fun for the whole family Suitable Age: 8+ Number of Players: 2+
EAN: 5036905029681
Search
Recent Posts
Get Social With Us!
Categories
Pages
Toy Retailers
Popular Tags
Toy Archive