Browsing all articles from January, 2019
Posted in Lego by ToyMaster
LEGO Speed Champions Chevrolet Camaro ZL1 Race Car 75891 | Retailer | Price | Discount Code? | P&P | |
| --- | --- | --- | --- | --- |
| | £12.99 | No | £3.95 | |
| | £13.00 | No | £3.99 | |
| | £14.00 | Yes | £4.49 | |
Refuel and power away with the LEGO Speed Champions Chevrolet Camaro ZL1 Race Car (75891)! Open the roll cage of this fast car and place the driver in the cockpit. Show off your driving skills in stock car races against your friends. When it's time to make a pit stop, refuel as fast as you can and stay ahead of your rivals all the way to the finish line! The LEGO Speed Champions set includes a Camaro racing driver minifigure as well as a minifigure cockpit with an adjustable roll cage, removable windshield, wheels with rubber tires and Chevrolet Camaro-branded rims, translucent light-style elements, racing colors, race-graphics stickers and authentic design details. The accessory elements include a fuel canister, spanner and the Camaro racing driver's helmet.
EAN: 5702016370959
Posted in Toys by ToyMaster
LEGO Speed Champions McLaren Senna – 75892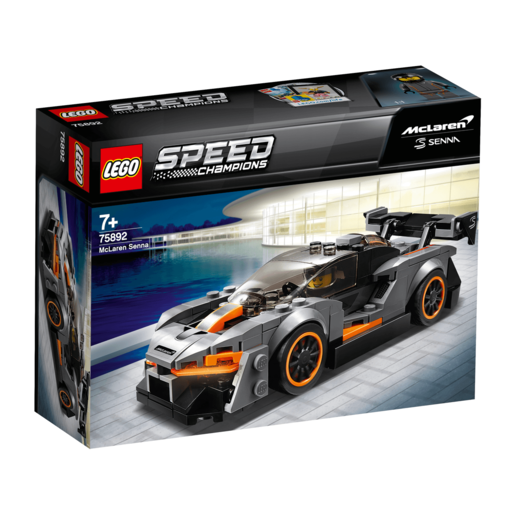 "Build your own awesome racing adventures with the LEGO Speed Champions McLaren Senna. Inspired by the legendarily daring racing driver Ayrton Senna, the McLaren Senna is built with 219 pieces and features interchangeable rims and authentic McLaren and Senna logo stickers. Remove the windshield to insert the included McLaren racing driver minifigure into the minifigure cockpit and get ready to leave the competition in the dust. Build a wind tunnel with rotating fan for even more exciting, racing and car development role-play scenarios with the Speed Champions McLaren Senna. Building and racing fun for 7 and over."
EAN: 5702016370966
Posted in Toys by ToyMaster
LEGO 75890 Speed Champions Ferrari F40 Competizione Racing Driver Minifigure Building Set, Vehicle T
Build, race and display the Ferrari F40 Competizione with a minifigure cockpit, removable windshield, plus interchangeable car spoilers and hoods to turn the Competizione into the classic F40 road car Includes a Ferrari racing driver minifigure with a helmet 198 pieces – Racing car toy for boys and girls aged 7+ and for fans and kids of all ages This LEGO Speed Champions Ferrari F40 Competizione 75890 fast car playset can be built together with all other original LEGO building toys and LEGO bricks for creative building
EAN: 5702016370942
Posted in Playmobil by ToyMaster
Playmobil City Life Tiny Paws Pet Hotel (9275)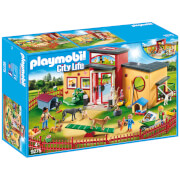 | Retailer | Price | Discount Code? | P&P | |
| --- | --- | --- | --- | --- |
| | £49.95 | Yes | | |
| | £59.49 | No | | |
| | £59.99 | No | | |
The dogs love climbing on the seesaw in the outdoor play area. The Pet Hotel includes a reception area, kitchen and lots of accessories. The outdoor fence is flexible. Features: The interior and exterior area are connected by a swinging pet door. Inside the building there is an entrance area with shelves for animal accessories and a storage area for food above the main door. The reception is directly adjacent to the kitchen where you can prepare food and wash your laundry. Outside, a seesaw and two dog huts offer play and retreat possibilities for the different dogs. The label sheet contains twelve larger and four smaller paws, which can be used to decorate the walls of the building and the floor of the entrance area as desired. Dimensions: 29.9 x 9.4 x 7.5 in (LxWxH). Recommended for ages 4+
EAN: 4008789092755
Posted in Toys by ToyMaster
LEGO Overwatch Hanzo and Genji Building Kit – 75971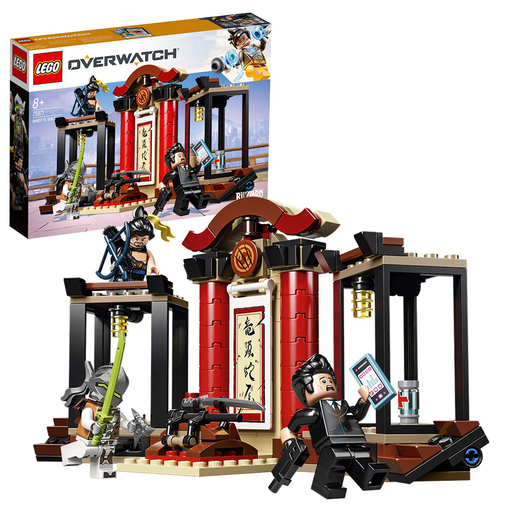 "Overwatch heroes Hanzo and Genji are ready for fighting action with the LEGO Overwatch Hanzo and Genji Building Kit. This licensed LEGO Overwatch set includes all the pieces required to build Hanamura dojo, a location Overwatch superfans will know well and an iconic backdrop for the brothers to battle. The set is simple to build and great to display for friends and family, while it encourages youngsters to engage in stimulating role play through these instantly recognisable characters. Set includes Hanzo, Genji and henchman minifigures, plus all the weapons you'd expect including Genji's sword and Hanzo's bow, while there's also a weapons stand, health pack and two-disc shooter elements. Suitable for children aged 10 and over."
EAN: 5702016368482
Posted in Lego by ToyMaster
Sylvanian Families Woolly Alpaca Family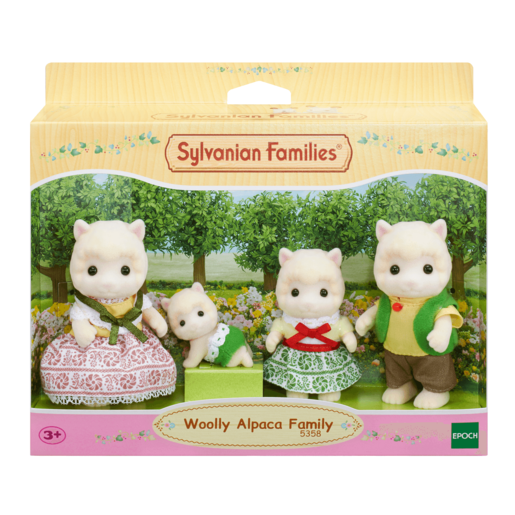 "Meet the cute and cuddly Woolly Alpaca Family. This charming Sylvanian Family includes four figures: Woolly Alpaca Father, Mother, Girl, and crawling Baby. Join the Woolly Alpaca Family as they go on adventures around Sylvania; these delicately designed figures encourage imaginative and creative play. Expand your Sylvanian collection and combine the Woolly Alpaca Family set with other Sylvanian Family characters and settings (each sold separately) to explore more and create new and exciting original stories. For ages 3 and over."
EAN: 5054131053584
Posted in Toys by ToyMaster
Lil Gleemerz Loomur Figure
Meet the Lil' Gleemerz– the adorable fun-makers with rainbow light-up tails and quirky sounds and phrases! The Lil' Gleemerz are lighting up kids' lives with fun and Friendship that positively glows! Loomur is bright purple with big, glowing eyes and a furry LED light-up tail. This interactive furry friend responds to touch and sound with over 100 reactions to discover. Simply press the nose for three ways to play — in hangout, light party, or game mode! In hangout mode, pet and pinch Loomur for purrs, growls, jokes, funny phrases, and more. In light party mode, clap or play music and its eyes and tail will flash to the beat for a dazzling light show. In game mode, play three different games with Loomur (Catch the Kiss, Tail Tennis, and Stop on the Spot) with the traveling lights in its glowing tail! Lil' Gleemerz are also available in a variety of bright colours…can you spot them all aglow? Collect them all for even more bright and curious adventures, because the Lil' Gleemerz can't wait to meet you!
EAN: 887961731842
Posted in Playmobil by ToyMaster
Playmobil 5653 City Life Collectable Small Vet Carry Case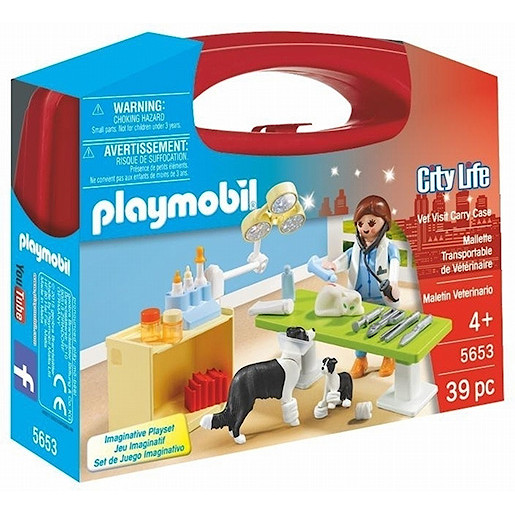 "Care for all the animals with the Vet Visit Carry Case. This easy, take-along case has everything you need to tend to sick pets and help them heal. Set includes one figure, two dogs, one cat, exam table with lamp, stethoscope, medical tools, feeding bottles, medicine, bandages, and tons of other accessories. When playtime is over, simply store the pieces inside the case for next time! A great gift for ages three and up. There are lots to see in our huge range of Playmobil toys"
EAN: 4008789056535
Posted in Toys by ToyMaster
VTech Swing and Sing Monkey
"Keep little hands and minds happy with the VTech Swing and Sing Monkey! The bright and funky Swing and Sing Monkey has a squishy body, soft fur, crinkle paper textures and bright patterns for tactile, visual and auditory stimulation. Press the light-up button on the monkey's tummy for fun sound effects and learning melodies. There's also a textured, banana teether to soothe gums and an apple shaped mirror to introduce self-awareness. Attach the Swing and Sing Monkey to your pushchair with the convenient c-ring and take the fun with you everywhere. VTech fun for 3 months and over."
EAN: 3417765134036
Posted in Toys by ToyMaster
Fisher-Price Thomas & Friends TrackMaster Train Engine – Gordon
"Create your own adventures for Thomas & Friends with the Fisher-Price TrackMaster engines. Big, blue Gordon is the fastest engine on the Island of Sodor and pulls the express train on the main line. This die-cast engine is highly detailed and features a plastic connector that allows Gordon to be attached to other Thomas & Friends Trackmaster engines. Gordon is perfect for push along play or for combining with other Thomas & Friends TrackMaster playsets to recreate all your favourite moments from the show. Thomas & Friends fun for fans 3 and over."
EAN: 887961702538
Search
Recent Posts
Get Social With Us!
Categories
Pages
Toy Retailers
Popular Tags
Toy Archive