Browsing all articles from December, 2018
Posted in Toys by ToyMaster
Tamagotchi Original – Tiger (UK Exclusive)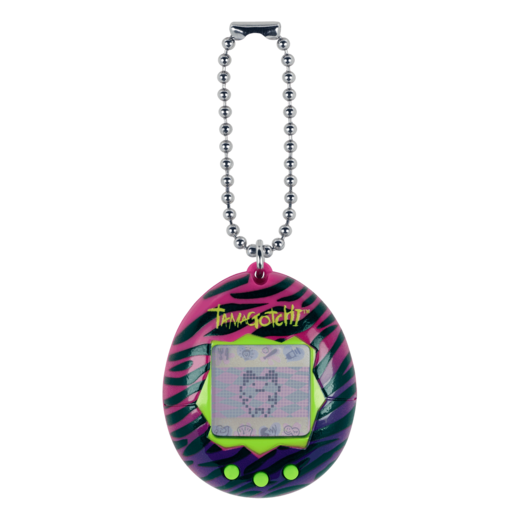 "The Original Tamagotchi is back! This one's funky tiger print! Experience the 90s craze that took the world over, it's time to care for your next cyber-pet! Raise, care and nurture your Tamagotchi wherever you are.Watch them grow, play and have fun! Choose from a variety of colours including black, white, purple, tiger print and more.Perfect for cyber-pet lovers aged 8 and over.Requires one 3V battery (one extra included)."
EAN: 3296580428069
Posted in Toys by ToyMaster
Posted in Toys by ToyMaster
Tamagotchi Friends Original Black, Multicoloured (Bandai Spain 42804)
"The Original Tamagotchi is back! This one's classic black! Experience the 90s craze that took the world over, it's time to care for your next cyber-pet! Raise, care and nurture your Tamagotchi wherever you are. Watch them grow, play and have fun! Choose from a variety of colours including black, white, purple, tiger print and more. Perfect for cyber-pet lovers aged 8 and over. Requires one 3V battery (one extra included)."
EAN: 3296580428045
Posted in Toys by ToyMaster
Tamagotchi Friends Tamagotchi original white/pink, Multicoloured (Bandai Spain 42803)
"The Original Tamagotchi is back! This one's super cool white! Experience the 90s craze that took the world over, it's time to care for your next cyber-pet! Raise, care and nurture your Tamagotchi wherever you are.Watch them grow, play and have fun! Choose from a variety of colours including black, white, purple, tiger print and more.Perfect for cyber-pet lovers aged 8 and over.Requires one 3V battery (one extra included)."
EAN: 3296580428038
Posted in Toys by ToyMaster
Transformers Studio Series 22 Deluxe Class Transformers: Bumblebee Dropkick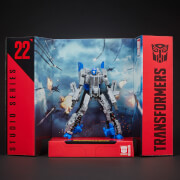 Reach past the big screen and build the ultimate Transformers collection with Studio Series figures, inspired by iconic movie scenes and designed with specs and details to reflect the Transformers movie universe. In the Autobot Pursuit scene from Transformers: Bumblebee, Dropkick detects the signal of a high-level Autobot criminal and prepares to close in on his target. This Studio Series 22 Deluxe Class Transformers: Bumblebee Dropkick figure converts from robot to Bell Helicopter mode in 24 steps and comes with 2 accessories. Remove backdrop to showcase Dropkick in the Autobot Pursuit scene. Features: Studio Series 22 Deluxe Class Transformers: Bumblebee Dropkick figure Premium figure and packaging inspired by the iconic Autobot Pursuit scene Figure scale reflects the character
EAN: 5010993519941
Posted in Toys by ToyMaster
L.O.L. Surprise! Under Wraps Doll- Series Eye Spy 1A
L.O.L. Surprise dolls were on a top secret mission when their pet went missing find surprise clues across the Eye Spy Series to help find their pet. L.O.L. Surprise Eye Spy Series Under Wraps dolls have fifteen surprises Unbox the spy glass to find codes and unlock surprises. Each doll is dressed in a mystery disguise, unbox each layer to discover who's inside. The disguise becomes multiple fashion accessories. Mix and match outfits for tons of looks. Collect them all. Styles may vary. For ages 6 plus years. L.O.L. Surprise Eye Spy Under Wraps includes fifteen surprises (1) spy glass (2) secret message sticker (3) surprise codes, (4) bottle, (5-11) mystery disguise, (12) shoes, (13) fashion accessory, (14) outfit and (15) LOL Surprise eye spy underwaps doll. Find surprise clues with the LOL Surprise Eye Spy Series spy glass. Feed or bathe your LOL Surprise doll to discover water surprises. Capsule becomes a purse carrying case and doll stand. Collector s poster.
EAN: 35051552055
Posted in Remote Control Toys by ToyMaster
Chicco Ferrari Formula 1 Remote Controller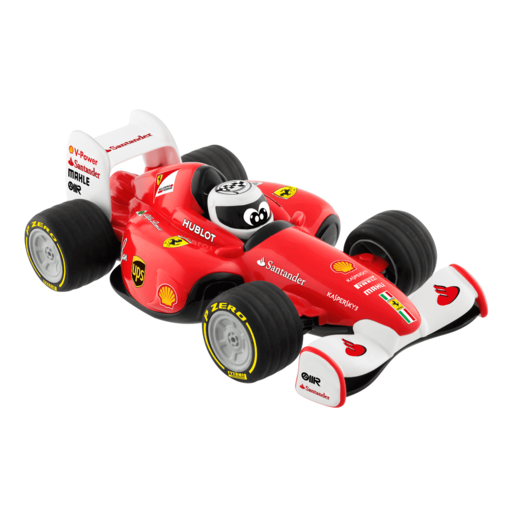 A brand new Ferrari remote control car that reproduces the officla F1 racing car. Feel the excitement to drive a Ferrari racing car with real sounds when the car moves and the racing pilot helmet is pressed. 4 direction ergonoic remote control race car. Press the pilots helmet to activate the real race sounds. Reproduce Official Formula 1 car. Size H8, W13.5, L22.5cm. Batteries required: 4 x AA (not included) 3 x AAA (not included). For ages 2 years and over. 2 year manufacturers guarantee. WARNING(S): Only for domestic use.
EAN: 8058664094134
Posted in Playmobil by ToyMaster
Posted in Toys by ToyMaster
Zuru Robo Alive T-Rex Robotic Dinosaur, Green
| Retailer | Price | Discount Code? | P&P | |
| --- | --- | --- | --- | --- |
| | £12.99 | No | £3.50 | |
| | £15.00 | Yes | | |
See this prehistoric beast roar into action as it strides forward whilst gnashing its powerful jaws. The Robo Alive Dino captures the dominating presence of the t-rex and brings it home with this awesome walking and roaring robot. Turn it on and watch it crash forward like the king of the dinosaurs. The level of details throughout is amazing, especially its eyes that have a very glossy almost lifelike reptilian sheen to them.
EAN: 845218024208
Posted in Toys by ToyMaster
Roblox Legends Six Figure Pack
"Get the whole gang together with the Legends of Roblox pack. An amazing 3D world where you can let your imagination run wild, Roblox is the perfect place for being creative. You can design your own games, play ones made by others and go on adventures with your friends. With this pack, you get six of the greatest Roblox game creators of all time. Litozinnamon, Gusmanak, Merely, TheGamer101, Seranok and Loleris came up with unique experiences like Phantom Forces and Sword Fighting Tournament. This catapulted them to legendary status, and now they all come together as part of this heroic set. Packed with great accessories, you can mix and match the parts to make your own unique action figures. And when you finish playing with the Legends, go online and redeem your exclusive virtual item! Ideal for legendary Robloxers aged 6 and up. "
EAN: 681326107316
Search
Recent Posts
Get Social With Us!
Categories
Pages
Toy Retailers
Popular Tags
Toy Archive