Browsing all articles from August, 2018
Posted in Toys by ToyMaster
Posted in Lego by ToyMaster
LEGO Batman App-Controlled Batmobile 76112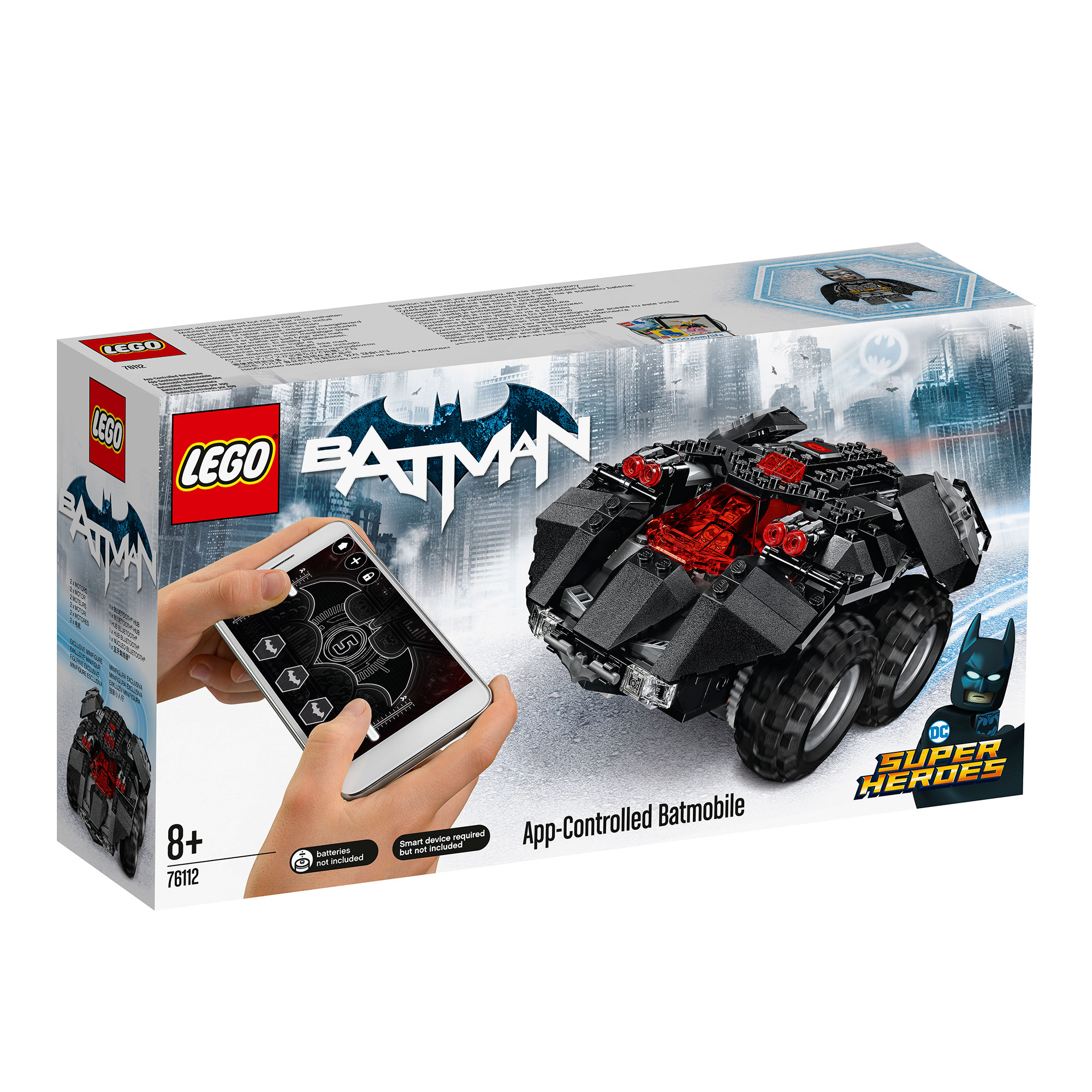 | Retailer | Price | Discount Code? | P&P | |
| --- | --- | --- | --- | --- |
| | £69.97 | No | Free | |
| | £84.99 | No | | |
| | £89.99 | No | Free | |
| | £89.99 | No | Free | |
| | £90.00 | No | Free | |
Speed to Gotham City crime scenes with the LEGO Batman App-Controlled Batmobile (76112). Place Batman in the cockpit, activate the motors and use your smartphone or tablet to control the Batmobile via Bluetooth. Drive forwards, backwards, left and right – you can even pull 360-degree turns!This LEGO DC Comics Set includes app-Controlled Batmobile, with battery hub powering 2 motors, an opening minifigure cockpit and 2 dual stud shooters, plus a Batman minifigure.The App-Controlled Batmobile (76112) is suitable for indoor play only.
EAN: 5702016109016
Posted in Toys by ToyMaster
Super Wings Deluxe Transforming Vehicles – Paul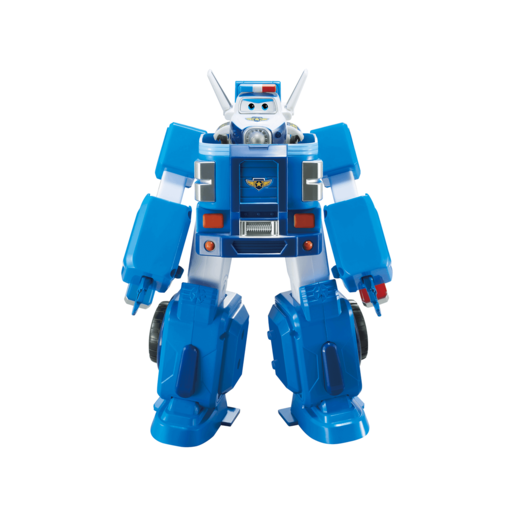 Mission ready! help Paul transform from vehicle to robot suit and then plane to bot to complete special missions all over the world! this mini-scale transforming figure is from season 2 of the Super Wings series. It offers 2 in 1 play as it transforms from a rolling vehicle to a bot and includes a plane that also transforms to a bot for loads of variety and fun!
EAN: 6911400363593
Posted in Uncategorized by ToyMaster
Edible Anus
Edible Anus – Valentine's Day is a particularly sensitive time of year; get them the wrong present and you may never live it down, but get it right and you could be hailed as a romantic hero for decades to come – this is where the Chocolate Edible Anus works its dark magic…The perfect alternative and quirky gift and a great gift for him.
EAN: 610585287910
Posted in Toys by ToyMaster
Harry Potter Egg Cup and Toast Cutter V2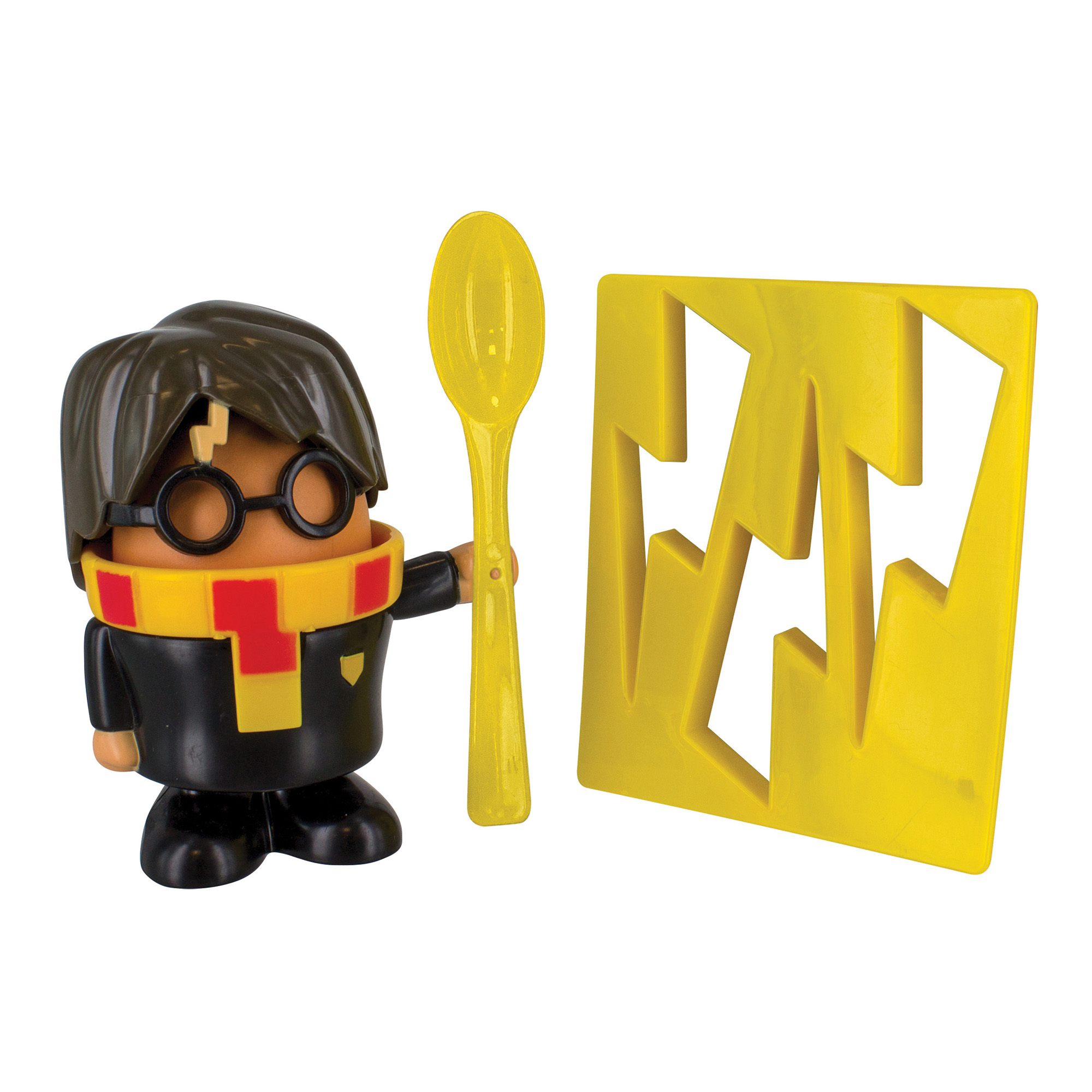 Dress your morning boiled egg up as Harry Potter himself with this super-cute Harry Potter Egg Cup and Toast Cutter.Plonk your egg in the egg cup and place the egg topper on top and you've got your very own little Eggy Potter.There's also a spoon in the pack, and a toast cutter designed to make your soldiers the same shape as Harry's famous lighting bolt scar.Have a magical breakfast and put a smile on any Harry Potter fan's face with this fantastic gift.First published in 1997, J.K. Rowling's bestselling series of novels following the magical adventures of Harry Potter, Ron Weasley and Hermione Granger has since become a cultural phenomenon. A huge success in novel form, the world of witchcraft and wizardry was then given big screen treatment in 2001, launching one of the most successful blockbuster film franchises in cinema history. Harry Potter is instantly recognisable to millions of people across the world, and is hugely popular among fans of all ages.The Harry Potter Egg Cup and Toast Cutter is an officially licensed Harry Potter product.This product is made using BDP which stands for Breakdown Plastic – an organic additive that helps plastic decompose at landfill without affecting either it's structural integrity (before landfill) or the recyclability of the product.
EAN: 5055964712594
Posted in Toys by ToyMaster
Posted in Toys by ToyMaster
Monopoly – Rick and Morty Edition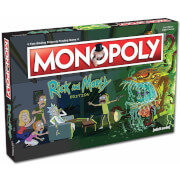 Wubalubadubdub it's Rick and Morty MONOPOLY! Join Rick, Morty and the Smiths as you gallivant your way to victory in Rick and Morty MONOPOLY! Buy, sell and trade locations from the Multiverse including the Cromulon Dimension, Gazorpazorp and Planet Squanch – not to mention a few places from your own Earth realm! Featuring 6 collectible tokens, Flooble Cranks, Gooble Boxes, and more. It's MONOPOLY with a Rick and Morty twist! Key Features The world's favourite family board game brings you another exciting edition of MONOPOLY – Rick and Morty edition Choose your favourite bespoke token from: Council of Rick's Badge, Meeseeks Box, Portal Gun, Plumbus, Rick's Ship, and Snuffles Helmet Advance to Rick's Garage, the Bone Train, Blips and Chitz – will you owe rent or reap the rewards? Build Flooble Cranks and Gooble Boxes and trade your way to success The Fast-Dealing Property Trading Game is fun for the whole family Suitable Age: 17+ Number of Players: 2+
EAN: 5053410002701
Posted in Toys by ToyMaster
Top Trumps Specials – Trolls
The Trolls are back in all their colourful, hair-raising glory singing and dancing their way through life. Play Trolls Top Trumps and discover who has the most hair power, confidence or creativity! Will it be Poppy, Branch or Guy Diamond with the most musical talent? Who knows, it might even be a Bergen! Play Trolls Top Trumps and let your true colours shine! Features: Entertaining educational card game loved for bringing your favourite Trolls to life Play Top Trumps anytime, anywhere, with as many people as you like Find out Cooper's survival skills, Branch's confidence level and Poppy's musical talent in this edition of Top Trumps – Trolls Easy-to-carry plastic case means there are no limits on gameplay Prepare to outsmart your opponents, discover new and exciting facts and duel your way to becoming the Top Trump
EAN: 5036905027526
Posted in Toys by ToyMaster
Transformers The Last Knight: Premier Edition Barricade Action Figure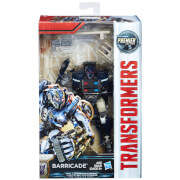 The explosive Transformers saga continues with Transformers: The Last Knight, where powerful forces rewrite legend. Against Autobot heroes and human allies, new evil rises in an epic struggle where the fate of Earth hangs in the balance. Join the action with this Transformers: The Last Knight Premier Edition Deluxe Barricade figure, and imagine answering the call of destiny. Premier Edition Deluxe Lineup This Premier Edition Deluxe Transformers lineup showcases iconic characters from Transformers: The Last Knight. Deluxe figures stand at a 5.5-inch-scale with eye-catching detail, packaging, and weapon accessories that make them perfect for Transformers fans and collectors. Awesome Features and Accessories Trusted in police mode, Barricade converts into a massive Decepticon with menacing weaponry in the blink of an eye, revealing his devious nature to unsuspecting onlookers. Imagine gearing up for fast-paced action with the sinister Decepticon and his ruthless tricks. Convert this Barricade figure from robot to police car mode in 11 steps. This Premier Edition Deluxe figure can be positioned in exciting, battle-action poses and features 3 blaster accessories. Sinister Decepticon Trickster The enforcer no one wants to encounter, Barricade is a master of deception with one focus–destroy all Autobots. He cruises the streets as a police car to trick his enemies into believing he is a trustworthy officer who
EAN: 5010993372256
Posted in Toys by ToyMaster
VTech Sleepy Glow Bear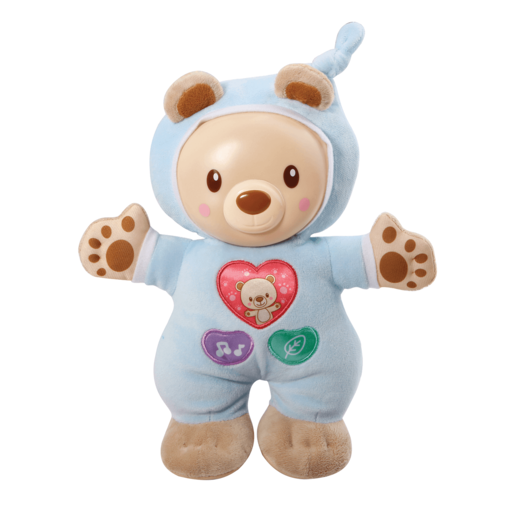 "Soothe baby with the soft lights of the VTech Sleepy Glow Bear. This cuddly bear features a squishy body, soft furry feet and paws plus a soft glowing light .Press the buttons to hear loving phrases and nature sounds! The Sleepy Glow Bear also comes with parent friendly features including a light control switch and timer. She's the perfect bedtime companion! 2 x AA batteries are included."
EAN: 3417765021039
Search
Recent Posts
Get Social With Us!
Categories
Pages
Toy Retailers
Popular Tags
Toy Archive