Browsing all articles from May, 2018
Posted in Toys by ToyMaster
Shark Bite Game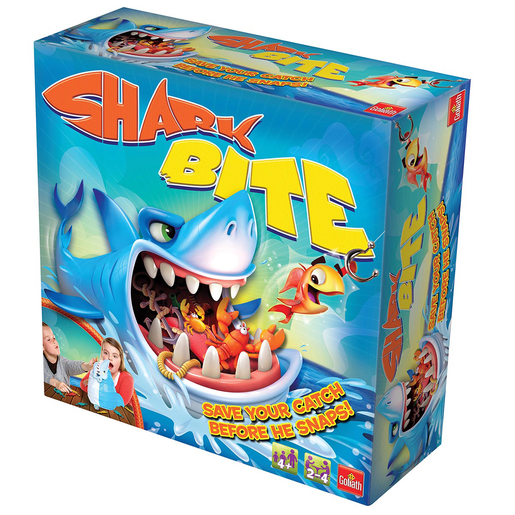 "Can you snag enough fish to win the Shark Bite Game or will you get snapped? Fill the shark's mouth with the 12 brightly coloured sea creature play pieces and grab a friend to go fishing with. Take turns to roll the dice and hook fishes from out of the shark's jaw with the plastic fishing rod. Look out for the snapping Shark Bite! If you take too many of his fish, he might fancy you for dinner instead. A thrilling game for 2 to 4 players of 4 and over."
EAN: 5025123600345
Posted in Toys by ToyMaster
Top Trumps Card Game – Crazy Cars Retro Edition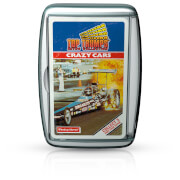 Immerse yourself in crazy nostalgic glee with the Crazy Cars Retro Top Trumps pack. Containing 30 cards, this throwback deck showcases original artwork including the Midnight Shocker, Porsche 917 Le Mans and the Plymouth Super Stock and the revived Crazy Cars Retro pack is presented in a newly designed cassette case. The pack features its original production date – making it the perfect gift for someone special born in the same year. Key Features Crazy Cars Retro Top Trumps is the entertaining card game loved for showcasing the high-adrenaline world of outrageously interesting cars Discover which car is the fastest or if the Maffia-Mouse or the Golden Leggett has the most power Play Top Play Top Trumps anytime, anywhere, with as many people as you like, or simply collect and admire the revived vintage packs Newly designed easy-to-carry plastic cassette case means there are no limits on gameplay Winner of the 2017 Toy Shop UK Independent Toy Awards Suitable Age: 6+ Number of Players: 2+
EAN: 5036905002202
Posted in Toys by ToyMaster
Tiny Love Classic Development Mobile-In The Forest (NEW 2019)
Uniquely designed mobile with engaging black and white spirals that stimulate baby's visual cognition. Playing 20 minutes of interrupted classical musical and the soft nightlight your infant is sure to fall asleep in no time. As your baby grows the mobile converts in to a stand-alone music box and with the baby-activated control button promotes your baby's independence and inspires exploration. Features: Suitable from birth 2 in 1 cot mobile 20 Minutes of continuous classical music Calming nightlight Stand-alone music box Baby-activated control button
EAN: 7290108861365
Posted in Hot Wheels by ToyMaster
Hot Wheels 10 Pack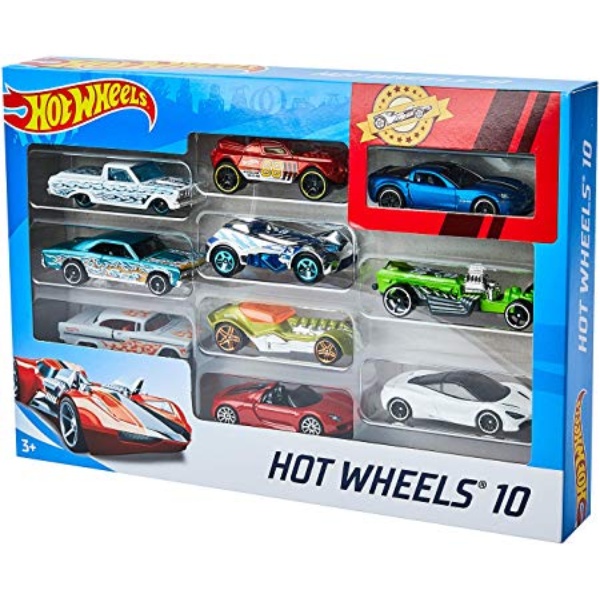 Please note: This is an assortment pack. 1 will be supplied and picked at random. Colours and decorations may vary. The Hot Wheels 10 Pack delivers 10 of the coolest 1:64 scale die-cast vehicles. No 10-pack is the same, and each pack comes with an exclusive car.
EAN: 74299548864
Posted in Toys by ToyMaster
Joie Excursion Change & Bounce Travel Cot-Arrows (New)
Great for holiday's or trips to grandma's this travel cot has everything you need. The full-size bassinet is a great naptime option with all four sides mesh lined for ventilation. It can be easily moved from room to room thanks to the 2 integrated wheels. The changing unit can simply be clicked on and off using Joie's Secure Click system. Then it's time to play and relax the bouncer is ideal. The Sound and light attachment has 2 speed soothing vibration that pairs with 5 classical lullabies and 5 nature sounds to calm little ones. It can be used on or off the travel cot thanks to the Secure Click system. Features: Suitable from birth Ultra secure frame with modern exposed tubing Full-size bassinet included for naptime options Bassinet clips quickly snap on and off 2 integrated wheels Mesh lined for ventilation on all four sides Elevated, draught resistant base Simple, push button fold to pack up in a snap Changing unit easily clicks on and off using Joie's Secure Click system Portable changing unit can be used on or off cot Wipeable fabrics on changer for easy cleanup Sound and light attachment has 2 speed soothing vibration, 5 classical lullabies and nightlight with 3 brightness settings Snoozing seat works on the cot and converts to portable bouncing seat when used on the ?oor Features soft, cosy fabrics Includes an infant pillow and lower harness cover Cocoon shaped, cradling seat for the cosiest naptimes Fabric covered toy bar includes 2 soft, plush toys for playtime entertainment Dimensions: 106cm(L) x 75. 4 cm(W) x 87. 5cm(H) Folded: 84. 2cm(L) x 26. 3cm(W) x 21cm(H) Weight: 16. 49kg
EAN: 5060264399598
Posted in Toys by ToyMaster
BT Video Baby Monitor 2000
The BT 2000 video monitor will give you maximum peace of mind whilst your baby is sleeping and the 2 inch screen and night vision allows you to keep your eye on them even in the darkest of rooms. The crystal clear audio means you will never miss a sound but the sound level lights mean you can also turn the audio down and still be alerted to any noises. The BT 2000 has a long range of 250m outdoors and 50m indoors and if you are out of range, the monitor has an indicator to tell you so. The low battery alert will also allow you to rest assured that your monitor is on and is working to keep you close and connected to your little one. Features: Long range of 250m outdoors and 50m indoors 2 inch screen Sound level lights Manual pan/tilt mechanism
EAN: 5016351618905
Posted in Toys by ToyMaster
VTech Toot-Toot Drivers Fire Station Refresh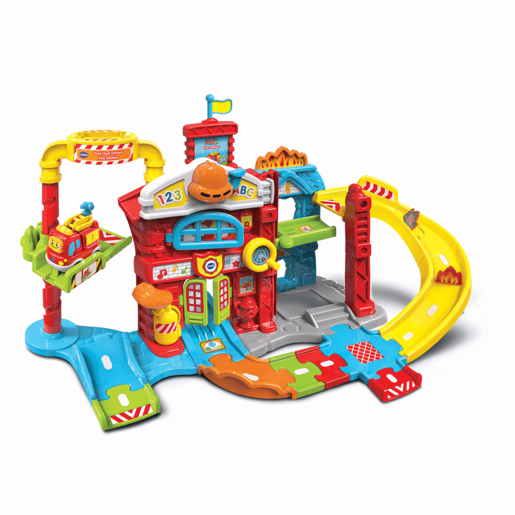 "Send the fire engine to the emergency! This VTech Toot-Toot Drivers Fire Station features lots of fun features, including flip-open windows, lift, water bucket, spinning hydrant and more. This VTech play set includes a SmartPoint fire engine and four interactive SmartPoint locations that trigger fun responses when driven over. Encourage motor skill development and an awareness of cause and effect relationships with Toot-Toot Drivers! A great gift for ages 12 months and up. Please note: 2 x AAA batteries are included."
EAN: 3417765039034
Posted in Toys by ToyMaster
Chicco Detective Dog
A push toy but also a really fun, simple and intuitive treasure hunt. Play together with parents or friends by hiding the bone. Special technology sensors can detect the hidden bone from up to 30 meters. Features: Push toy & treasure hunt 30 metre bone detection Flashing light on the top of the head bark and melodies when bode is detected move and grow walker Dimensions: W17 X H33 X D25cm
EAN: 8058664042623
Posted in Toys by ToyMaster
Avent 3in1 Electric Steam Steriliser
The easiest way to sterilise. Adjustable size saves kitchen space. The new electric has been designed to make sterilising as simple as possible. With its adjustable size, it takes up less kitchen space and the baskets fit both wide and narrow neck bottles. The steriliser has been designed to fit both wide neck and narrow neck bottles as well as different breast pumps and accessories. This gives you the freedom to choose the bottles and accessories that best suit you and your baby. At full capacity the steriliser holds six 11 oz/330 ml Philips AVENT bottles. Your bottles and accessories will be sterilised in just 6 minutes. Once sterilisation is complete, the device will shut off automatically, ensuring extra safety and less energy consumption. Features: Adjustable size Suitable for wide neck and narrow neck bottles 6-minute cycle with automatic shut-off Natural steam sterilisation kills 99. 9% of harmful germs Made From BPA-Free materials.
EAN: 8710103558347
Posted in Toys by ToyMaster
Ergobaby Teething Pads-Cream
From experience we know that teething babies tend to turn to Ergobaby Carrier straps. So we created reversible, 100% Cotton Ergobaby Teething Pads that snap to fasten right where they need them?and simultaneously preserve your Ergobaby Carrier?s colors and form. One pair included. Features: Snaps attach the pads around the shoulder straps of the Carrier Reversible CPSIA compliant Machine washable: Cold with mild detergent on gentle cycle. Dry in low heat. 100% Cotton terry cloth
EAN: 8451970921611
Search
Recent Posts
Get Social With Us!
Categories
Pages
Toy Retailers
Popular Tags
Toy Archive