Browsing all articles from February, 2018
Posted in Toys by ToyMaster
Playmobil Dollhouse Baby Room with Cradle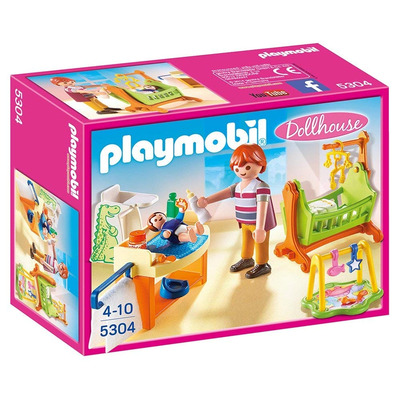 Includes baby changing table with potty. Comes with a cot with mobile Nursery toys and activity play mat included. Includes a high chair ready to feed the baby. Includes one Playmobil parent and a baby Spare parts available
EAN: 4008789053046
Posted in Toys by ToyMaster
Sylvanian Families Ride Along Tram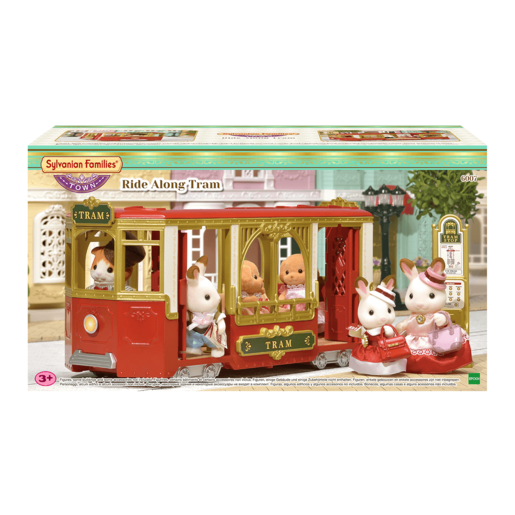 "All Sylvanian Families love to go on a Ride Along Tram. This elegant tram is red and gold, with intricate engravings, and includes a tram stop, benches, tickets and a map of the Town. A driver's hat is also included for The Maple Cat Father (sold separately), who is the driver. The wheels move and the doors open and close, letting customers on and off at their stops. The seats are detachable, so you can enjoy various seat arrangements. The cab and the ticket machine can be set on either side of the tram, or you can turn over the cab to use it as a ticket counter. You can also combine the Ride Along Tram with the Creamy Gelato Shop and serve ice-cream on the move! Yum! A great gift for ages three and up."
EAN: 5054131060070
Posted in Toys by ToyMaster
Enchantimals Fruit Cart Stand Doll Set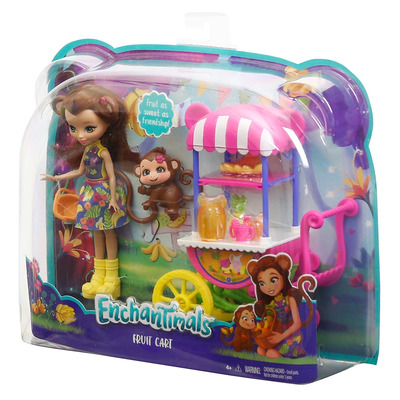 ​Let this Enchantimals play set enchant you — an exclusive Enchantimals Merit Monkey Doll and Compass, her monkey friend, have a fruit cart with treats to feed their forest friends. It's ready to roll with two bright yellow wheels, a pink push handle, shelves and a hook to display the fruity treats. There are a bunch of bananas, a basket of berries, a pineapple, a jug and two fruity drinks that look good enough to eat and drink! Merit Monkey Doll is ready to serve up fun wearing a colourful look with floral print on the removable skirt and matching yellow boots. This lucky guardian of the forest looks magical with pretty brown hair, monkey ears and a curled tail. Her monkey friend Compass is just as cute with a curly tail of its own and a pink flower on its head. Kids will love recreating the wonder of nature and celebrating a world where Caring Is Our Everything. Collect all of the Enchantimals Dolls and accessories to build out a world of Enchantimals and tell enchanting stories of your own (each sold separately, subject to availability). Includes Enchantimals Merit Monkey Doll wearing fashions and accessories, Compass monkey friend, one juice cart and themed smaller pieces. Colours and decorations may vary.
EAN: 887961450323
Posted in Toys by ToyMaster
Hungry Hippos Game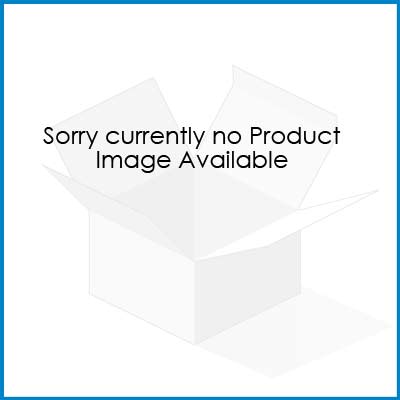 You'll have a chompin' good time with Hungry Hippo and his pals! Be ready to join in the feeding frenzy when you release all the marbles onto the game base, because all the hippos will be chomping and your hippo will need to move fast! If he chomps the golden marble, you win! Classic HUNGRY HUNGRY HIPPOS game has 4 hippo heads and bodies plus marbles for them to chomp! 20 marbles! One golden marble! Cleanup is a snap with the marble and hippo storage! Game base comes with 4 hippo heads, 4 hippo bodies, 4 marble launchers and guides, 20 plastic marbles, label sheet and instructions.
EAN: 5010994643133
Posted in Toys by ToyMaster
Fisher-price Hippo Plush Projection Soother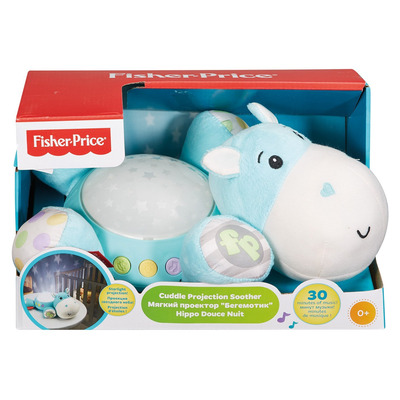 This plush hippo pal sits on a dresser or table top to help soothe baby, filling the room with starry lights and 30 minutes of calming lullaby music, nature sounds or white noise! Baby should be drifting off to dreamland in no time!
EAN: 887961070187
Posted in Toys by ToyMaster
Pictionary Game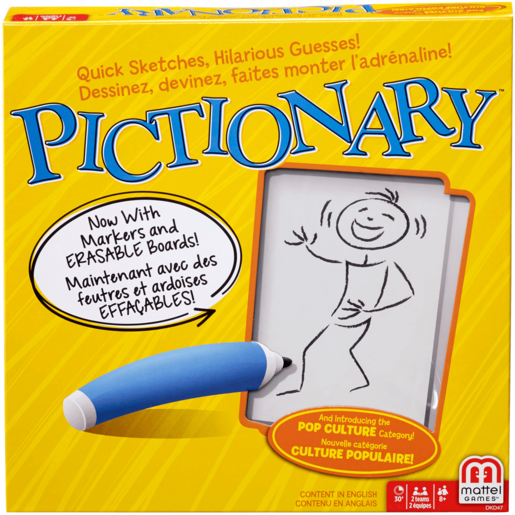 Count on big laughs when you and your friends get together to find out who's an artist and who really isn't! In this quick-draw classic, the guesses can be just as hilarious as the sketches, making it the perfect way to get the party started. Pictionary now includes two erasable markers, boards for drawing, and an updated Pop Culture category of clues. Year after year since 1985, Pictionary has proven itself to be the ultimate party game! Each sold separately, subject to availability. Colours and decorations may vary.
EAN: 887961236088
Posted in Toys by ToyMaster
Geomag Colour Glitter Magnetic Construction Set – 30 Pieces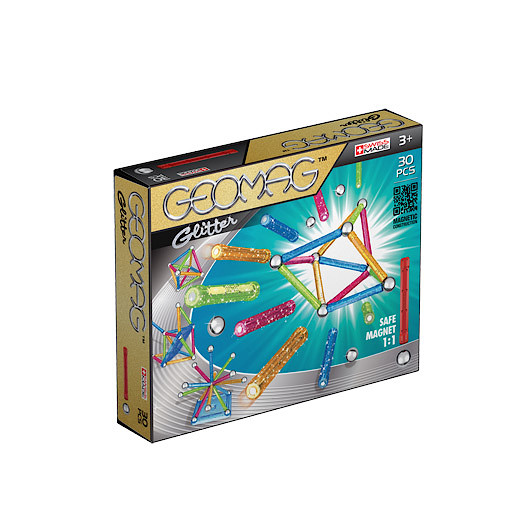 "Geomag is the original patented magnetic construction toy that enables you to build fantastic models. This 30 piece Glitter Construction Set is a special line of of Geomag to make your constructions even more bright and fun. The spheres click into the platform and can remain there, becoming a base for endless construction possibilities. A great building set for ages three and up. What's in the box? 13 x magnetic glitter rods 16 x non-magnetic spheres 1 x transparent glitter platform "
EAN: 871772005315
Posted in Toys by ToyMaster
Play-doh Cranky The Octopus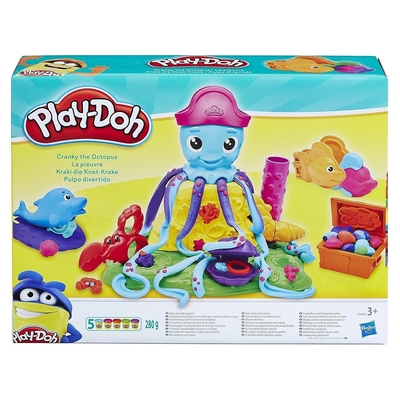 Treasure hunting is a wiggly, giggly good time with Cranky the octopus. To start the sea-venture, simply equip him with some Play-Doh compound and turn the crank to grow long, silly legs. Open the clamshell and treasure chests to reveal moulds that can make pearl rings and gold doubloons. There are also lots of ocean friends and accessories for more imaginative fun. Shape a goldfish with the book-mould, slice through the tide with the dolphin cutter and cut with the lobster scissors. For more imaginative fun, roll coral reef textures into Play-Doh compound with the roller and create fun ocean shapes with the half-moulds all around the playset.
EAN: 5010993462650
Posted in Toys by ToyMaster
Top Trumps Card Game – The Big Bang Theory Edition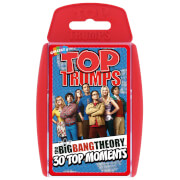 | Retailer | Price | Discount Code? | P&P | |
| --- | --- | --- | --- | --- |
| | £3.99 | Yes | | |
| | £4.49 | No | | |
Do you remember that time when Sheldon (almost) behaved like a regular human being? Did you miss Bernadette and Howard's wedding? Relive all the greatest, funniest and most awkward 30 moments of this epic show and find out which is the most 'Bazinga' with Top Trumps. Key Features Entertaining educational card game loved for bringing your favourite moments from The Big Bang Theory to life Play Top Trumps anytime, anywhere, with as many people as you like Find out some of the most memorable moments from The Big Bang Theory including The Hair Complex, Sheldon Cooper's council of ladies and the infectious ward romantic gesture in this edition of Top Trumps – The Big Bang Theory Easy-to-carry plastic case means there are no limits on gameplay Prepare to outsmart your opponents, discover new and exciting facts and duel your way to becoming the Top Trump Suitable Age: 6+ Number of Players: 2+
EAN: 5036905022309
Posted in Toys by ToyMaster
Marvel Retro Comics Top Trumps Card Game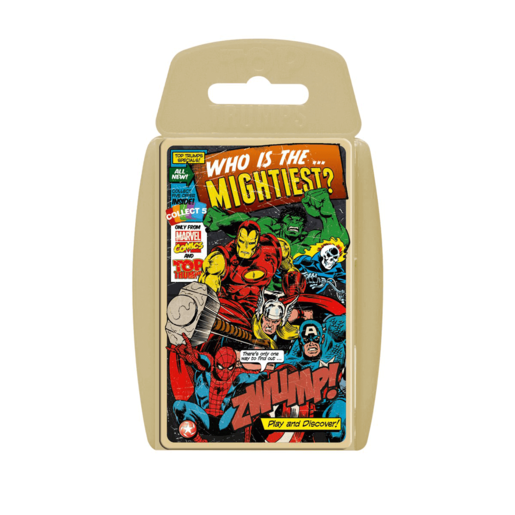 "Who is the mightiest Superhero of all in this pack of Retro-style Marvel Top Trumps cards?No need to call on Iron Man, Spider-Man or Captain America to help you win these retro-style, they're all already in the pack!Who is the strongest. Who has the best powers? Who's the bravest? But watch out, Loki and Galactus might pop up to trump your mightiest hero!Each character has their own stats and 'Top Trumps file' entry. Play against your friends and claim the whole deck!Top Trumps is a classic game for ages three and up. Includes 30 cards."
EAN: 5036905022033
Search
Recent Posts
Get Social With Us!
Categories
Pages
Toy Retailers
Popular Tags
Toy Archive