Browsing all articles from December, 2017
Posted in Lego by ToyMaster
Posted in Uncategorized by ToyMaster
LEGO Technic: Hook Loader (42084)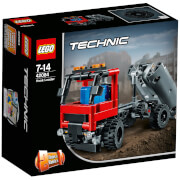 Shift heavy and loose cargo with the powerful 2-in-1 LEGO® Technic Hook Loader. This robust replica of a real-life hook loader truck comes with a driver's cab, heavy-duty tires, large warning light and a cool red, gray and black colour scheme. Steer the loader into position and activate the hook loading system to lower the container. Then load up your cargo, haul the container back onto the truck and transport your goods to their destination! Rebuild this set to create an Airport Fire Truck. Features: Features working steering and hook loading functionality, driver's cab, warning light, heavy-duty tires and a cargo container. Check out the red, gray and black colour scheme. Activate the hook loading function to lift and lower the container. This LEGO® Technic advanced building set is designed to provide an immersive and rewarding building experience. Designed for indoor use only. 2-in-1 model: rebuilds into an Airport Fire Truck. Suitable for ages 7-14. Hook Loader measures over 3" (8cm) high, 5" (14cm) long and 2" (7cm) wide. Airport Fire Truck measures over 3" (8cm) high, 6" (16cm) long and 2" (7cm) wide.
EAN: 5702016093988
Posted in Toys by ToyMaster
Lumo Dancing Water Speakers
Bring all the magic of a beautifully choreographed Vegas musical fountain show to your home with this pair of irresistibly cool Water Speakers. Simply hook up your phone, tablet, computer or MP3 player to the speakers and start playing music to be amazed in an instant. Not only do they produce an incredible sound with a crystal clear bass, but the water inside them shoots up and dances to the beat, illuminated by a series of LED lights to create a brilliant light show that's quite unlike anything else. It couldn't be simpler to connect to them either by using the included AUX cable.
EAN: 5038728131916
Posted in Uncategorized by ToyMaster
LEGO Star Wars Constraction Figure: Darth Vader (75534)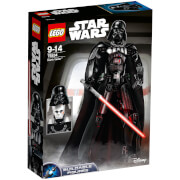 Rule the galaxy with Darth Vader! Put on his cape and grab his red Lightsaber. Then put him in a battle pose and turn the wheel to swing his arms. When the battle is done, remove the Dark Lord's helmet to reveal his scarred face! Features: Buildable and highly posable Darth Vader figure features a textile tunic and cape, detailed armor and chest decoration, wheel-operated arm-swinging function and a removable helmet revealing Anakin Skywalker's face. Features new-for-January-2018 decorated head, removable helmet, and textile tunic and cape. Move the limbs into any battle pose. Sturdy and durable design for intense action play. Play out epic adventures from the Star Wars saga. This buildable figure is suitable for ages 8-14. Stands over 12" (32cm) tall.
EAN: 5702016112092
Posted in Lego by ToyMaster
LEGO Star Wars: General Grievous Combat Speeder (75199)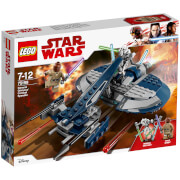 | Retailer | Price | Discount Code? | P&P | |
| --- | --- | --- | --- | --- |
| | £23.99 | No | | |
| | £25.99 | No | | |
| | £25.99 | No | £3.50 | |
| | £25.99 | No | £3.95 | |
| | £26.00 | No | £2.99 | |
"Set out on high-speed LEGO® Star Wars adventures against Jedi Master Mace Windu, with General Grievous' Combat Speeder. Featuring spring-loaded shooters, sleek design and storage underneath for the General's 4 Lightsabers, this fast speeder from the highly successful Star Wars: The Clone Wars animated TV series is the perfect way to immerse any Star Wars fan in Sith vs. Jedi dueling action. This LEGO Star Wars toy includes a Mace Windu minifigure and General Grievous figure. A great gift for ages seven and up. What's in the box? 2 x figures 2 x spring-loaded shooters Combat Speeder "
EAN: 5702016109931
Posted in Uncategorized by ToyMaster
LEGO Star Wars: Tatooine Battle Pack (75198)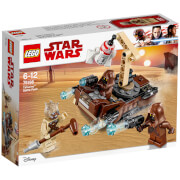 Repair droids on planet Tatooine with the Tatooine Battle Pack. Load the droid onto the service vehicle and use the tools to fix it. But watch out for the Tusken Raider! Fire the stud shooters before it gets too close and send it running for cover! Features: Includes 3 minifigures: 2 Jawas and a Tusken Raider, plus an astromech droid. Features a service vehicle with 2 stud shooters and an articulated crane to pick up the included astromech droid. Weapons include 2 stud blasters for the Jawas and the Tusken Raider's gaffi stick. Recreate your own desert-planet scenes from Star Wars: A New Hope. This LEGO® Star Wars toy is suitable for ages 6-12. Service vehicle measures over 2" (7cm) high, 3" (9cm) long and 2" (7cm) wide.
EAN: 5702016109924
Posted in Lego by ToyMaster
LEGO Friends Mias Camper Van – 41339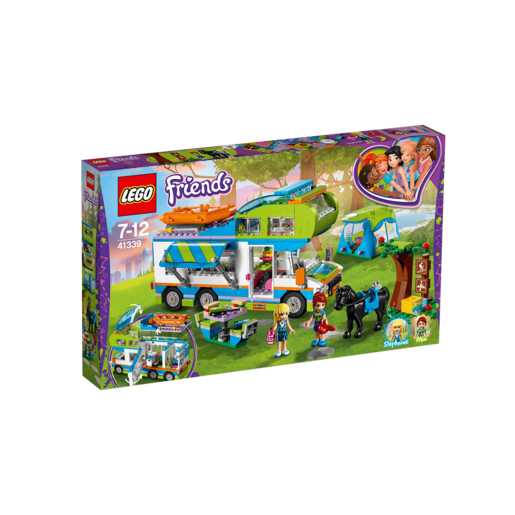 "Drive to the countryside with LEGO Friends' Mia and Stephanie for a camping adventure. Set up the canopy and picnic bench, then get to work in the kitchen preparing a meal to enjoy outside. Plan adventures in the inflatable dinghy or take the friendly horse for a ride. Open the upstairs sleeping area and tuck the girls in for the night—they can pitch the tent tomorrow and camp out under the stars. This LEGO Friends set's ideal for ages seven and up. What's in the box? 3 x mini-doll figures Accessory elements Friendship House Friendship Tree Bicycle trailer Park "
EAN: 5702016111613
Posted in Lego by ToyMaster
LEGO City Police: Dirt Road Pursuit (60172)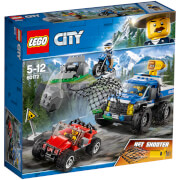 Hop in your Police 4×4 and chase the crook around the mountainside with the LEGO City Dirt Road Pursuit 60172! Be careful though, rockslides can happen anytime. Whoa, look out! That giant boulder forced the crook's 4×4 to stop. Send your partner after him on the motocross bike, while you load up the net shooter and take aim. WHOOSH! Can you catch him before he slides away?
EAN: 5702016077537
Posted in Lego by ToyMaster
LEGO City Wild River Escape – 60176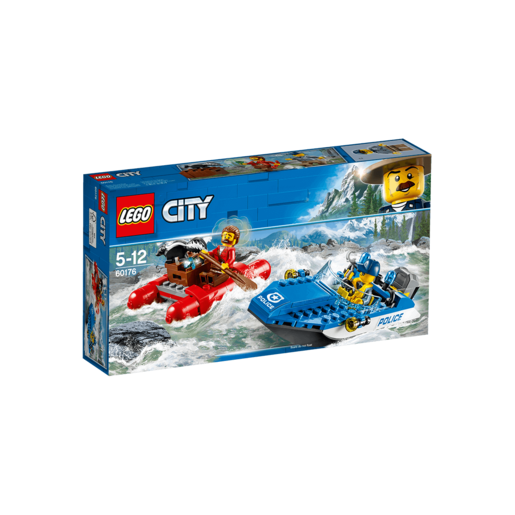 Hop in the police speedboat and go after the crook! Steer around the rocks and logs in the river as you get closer to the raft. Turn on the bubble lights and pull up next to the raft. Watch out for the skunk passenger, you don't want to get sprayed! Pew! Features: Includes 2 minifigures: a police officer and a crook, plus a skunk figure. Features a police speedboat with big outboard engine and bubble lights, plus a raft with big pontoons, paddle and an opening box. Pry the lid of the box open with the crowbar to put the diamonds inside. Accessory elements include handcuffs, a crowbar and 3 diamond elements. This popular kids toy is suitable for ages 5-12. Police speedboat measures over 1" (4cm) high, 5" (15cm) long and 2" (6cm) wide. Crook's raft measures over 3" (8cm) long, 2" (6cm) wide and under 1" (2cm) high.
EAN: 5702016109573
Posted in Lego by ToyMaster
LEGO City Police: Mountain Police Headquarters (60174)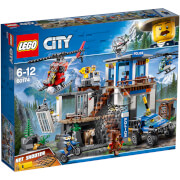 | Retailer | Price | Discount Code? | P&P | |
| --- | --- | --- | --- | --- |
| | £55.99 | No | Free | |
| | £58.99 | No | | |
| | £59.99 | No | | |
| | £69.99 | No | Free | |
| | £69.99 | No | Free | |
| | £70.00 | No | Free | |
Sound the alarm! A strange tree-shaped object outside keeps moving by the stairs, and there's a low-flying helicopter nearby. What is the pilot doing with that chain and hook? He's trying to break his buddy out of jail! Load the net shooter on the station roof and fire it at the helicopter, while the other officers hop in the vehicles to chase after the crooks on the ground. What's that in the cave under the jail? Eeek, it's a mountain lion, and it's ready to pounce! The fun is endless with the LEGO City Mountain Police Headquarters 60174.
EAN: 5702016109559
Search
Recent Posts
Get Social With Us!
Categories
Pages
Toy Retailers
Popular Tags
Toy Archive