Browsing all articles from October, 2017
Posted in Lego by ToyMaster
Posted in Lego by ToyMaster
LEGO Star Wars 75180 Rathtar Escape
Escape from Bala-Tik and the dreaded Rathtars with the LEGO Star Wars 75180 Rathtar Escape set! Help Han and Chewbacca outwit Bala-Tik and his Guavian Security Soldiers aboard their freighter. Lower the blast door to trap them, hide under the floor for safety and then pull the fuse to release the deadly Rathtars! When you're done, rearrange the freighter sections and plan your escape all over again! Escape the jaws of the Rathtars with this modular freighter interior with lowering blast door, trapdoor with crawlspace, Rathtar release function and 5 mini-figures. Featuring a modular design for easy reconfiguration, the freighter sections contain authentic details like a lowering blast door, trapdoor and crawlspace in which to hide. Pull the correct fuse to release the 2 buildable Rathtar figures with posable tentacles and teeth, then rearrange the sections and play out another Rathtar escape! This great set includes 5 mini-figures.
EAN: 5702015868532
Posted in Lego by ToyMaster
LEGO Boost: Creative Toolbox (17101)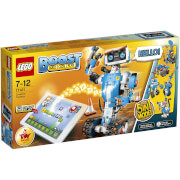 | Retailer | Price | Discount Code? | P&P | |
| --- | --- | --- | --- | --- |
| | £119.99 | No | | |
| | £119.99 | No | | |
| | £149.99 | No | Free | |
| | £149.99 | No | Free | |
| | £150.00 | No | Free | |
Take your LEGO play to the next level and build and code interactive, motorised robots, models and creations with the LEGO Boost Creative Toolbox 17101!Includes over 840 LEGO pieces, plus a Interactive Motor, Colour & Distance Sensor and a LEGO Move Hub that features Bluetooth Low Energy (BLE) connectivity, 2 encoded motors, activation button, internal tilt sensor and a light.Please note: This product requires batteries (not included). Please refer to the product packaging for type and quantity.
EAN: 5702015930000
Posted in Lego by ToyMaster
Posted in Toys by ToyMaster
Bop It! Game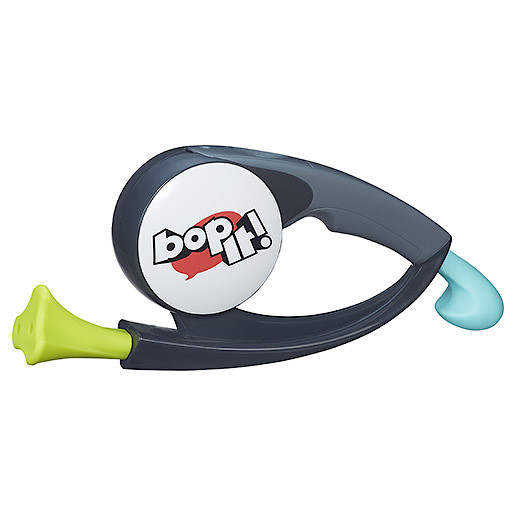 Twist it! Bop it! Answer it? Selfie it? Hammer it? This edition of the popular electronic Bop It! game is enhanced with 10 action-oriented Bop It! moves for today's modern gamer. The game uses motion technology to test players reaction time to see if they've got what it takes to win at this challenging and fast-paced game.
EAN: 5010994964146
Posted in Lego by ToyMaster
LEGO City High-speed Chase – 60138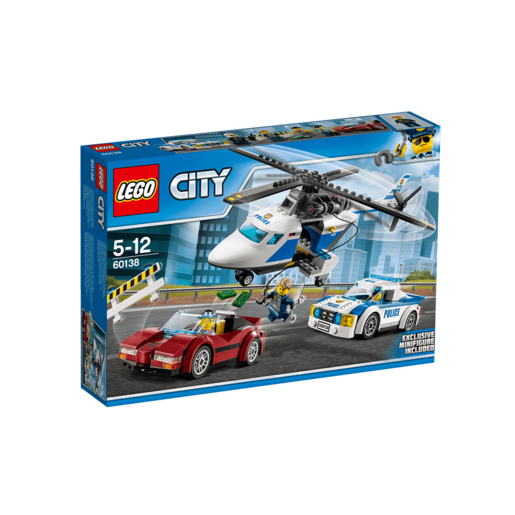 "Catch the crooks in the LEGO City High-Speed Chase Set! Red alert! The crook has stolen money and gold and is racing out of town in a stolen sports car. Hop in the police pursuit car and chase after him! If he's too fast, call in the police helicopter. Lower Chase McCain down using the winch and help him make the arrest! It's a thrilling day on the job with the LEGO City police! This LEGO City set's ideal for ages five and up. What's in the box? Helicopter (11cm x 33cm x 26cm) Police pursuit car (4cm x 11cm x 5cm Sports car (4cm x 12cm x 5cm) 4 x minifigures Accessory elements "
EAN: 5702015865258
Posted in Lego by ToyMaster
LEGO Technic 42069 Extreme Adventure
Traverse uncharted territory with the Extreme Adventure! Develops construction and problem solving skills 2-in-1! – Build the Extreme Adventure Truck or the Mobile Base Vehicle Includes 2382 pieces! Designed for indoor use only A uniquely decorated LEGO® Technic 40th Anniversary brick is included with this model Manoeuvre the Extreme Adventure to rotate the high-grip tracks! Turn the crank to raise the integrated roof tent! Open the upswing doors and see the running boards lower into place! Load the jerry cans onto the roof rack, open the side storage compartment to access the first aid kit and 2 fire extinguishers, and slide out the drawer to access the shovel! This tough and sturdy vehicle features 4 high-grip tracks with working suspension, upswing doors with lowering running board function, a raisable roof tent, lockable tailgate, working winch, front steering, opening hood, detailed V8 engine with moving pistons, sliding storage drawer with shovel, opening side storage compartment with a first aid kit and 2 fire extinguishers, and a roof rack with 2 dark-green jerry cans. When you feel like another building challenge, rebuild it into the Mobile Base Vehicle. Extreme Adventure (with roof tent raised and doors open) measures over 11" (30cm) high, 17" (44cm) long and 9" (25cm) wide, and 10" (26cm) high and 9" (24cm) wide with roof tent lowered and doors closed. Mobile Base Vehicle measures over 7" (19cm) high, 18" (47cm) long and 7" (20cm) wide.
EAN: 5702015869751
Posted in Lego by ToyMaster
LEGO City Police Station – 60141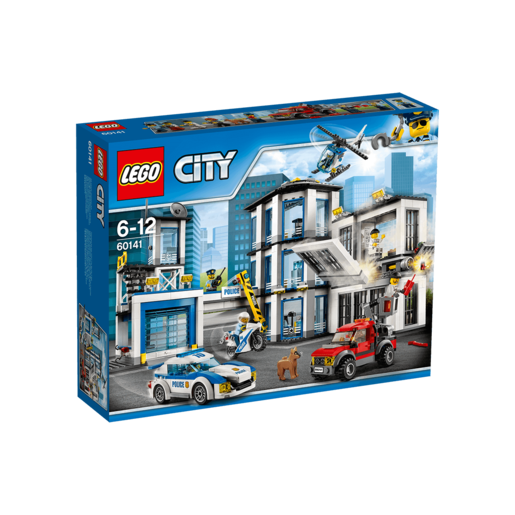 "LEGO City Police Police Station 60141 is the best place to lock up those nasty crooks. Raise the alarm! The crooks are trying to break their buddy out of jail but they've caught him by surprise, on the toilet! Extend the cherry picker and stuff the dynamite in the vent, then move before it blows. Hold out the crowbar for the crook to grab onto, and then get out of there! Help the police go after the crooks' truck with the pursuit car, motorbike and helicopter, and bring them all back to jail! This LEGO City set's ideal for ages six and up. What's in the box? Helicopter 8x20x4cm Police pursuit car 4x12x5cm Police motorbike 3x7x2cm Crooks' truck 6x12x5cm Accessory elements 7 x minifigures "
EAN: 5702015865654
Posted in Lego by ToyMaster
LEGO City Jungle Mobile Lab 60160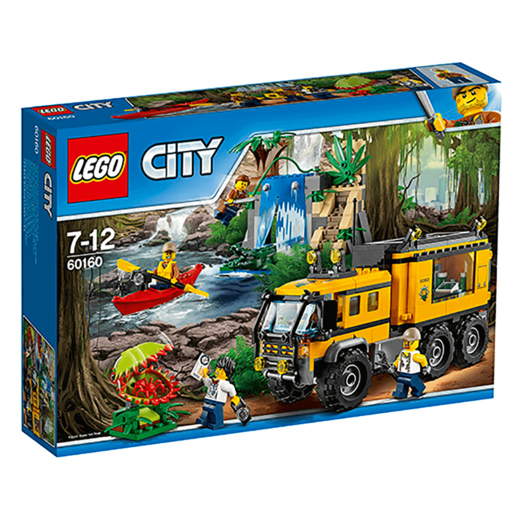 "What will you discover in the LEGO City Jungle Mobile Lab? Pack your gear into the Jungle Mobile Lab and head to the hidden waterfall! Help the mechanic as he works on the truck, while the scientist checks out the area. Beware of the crocodile in the water, and then discover something amazing at the temple. With four minifigures and lots of accessory elements included, this is the wildest LEGO building set yet! This building set's ideal for ages seven and up. What's in the box? 6 x minifigures Accessory elements Weapons Commodore spaceship (3cm x 22cm x 20cm) Fenris wolf (8cm x 16cm x 6cm) Check out our range of LEGO building sets and figures"
EAN: 5702015866279
Posted in Lego by ToyMaster
LEGO The Ninjago Movie Green Ninja Mech Dragon 70612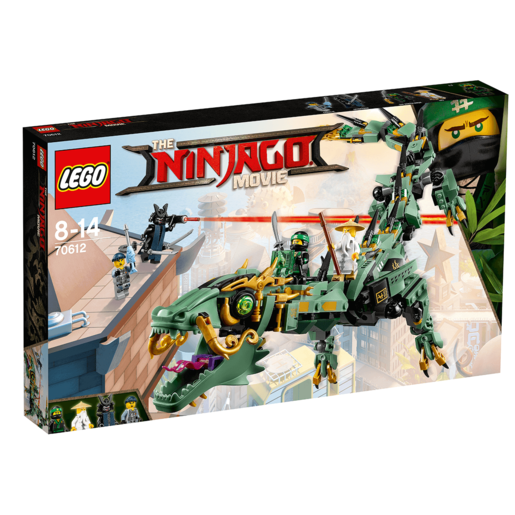 "Ride the Green Ninja Mech Dragon into battle against The Green Ninja's evil father Garmadon! With wise Wu to guide you, pop out the mech dragon's hidden thrusters and power towards the enemy. Fire the leg-mounted stud shooters and activate the swishing tail to send Charlie flying. Then grab The Green Ninja's sword and go up against Garmadon—but beware of his laser-style pointer. Who will win this epic son vs. father struggle? This LEGO building set's ideal for ages five and up. What's in the box? 4 x minifigures Green Ninja Mech Dragon Weapons Dragon (13cm x 60cm x 12cm) "
EAN: 5702015592581
Search
Recent Posts
Get Social With Us!
Categories
Pages
Toy Retailers
Popular Tags
Toy Archive