Browsing all articles from October, 2017
Posted in Lego by ToyMaster
LEGO Architecture: London Skyline Building Set (21034)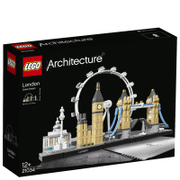 | Retailer | Price | Discount Code? | P&P | |
| --- | --- | --- | --- | --- |
| | £32.45 | No | Free | |
| | £39.99 | No | | |
| | £39.99 | No | | |
| | £44.97 | No | £3.50 | |
| | £44.99 | No | £3.95 | |
| | £45.00 | Yes | £5.50 | |
Celebrate the architectural diversity of London with the detailed and realistic LEGO Architecture London 21034!The LEGO Architecture Skyline Collection offers models suitable for display in the home and office, and has been developed for all with an interest in travel, architectural culture, history and design. Each set is scaled to give an accurate representation of the comparative size of each structure, with true-to-life colour depiction. This set features the National Gallery, Nelson's Column, London Eye, Big Ben and Tower Bridge, and is finished with a decorative "London" nameplate.The LEGO Architecture London Set includes over 460 LEGO pieces and a booklet containing information about the designer, architecture and history of each building, as well as historical facts about London and its architectural heritage.
EAN: 5702015865333
Posted in Lego by ToyMaster
LEGO Star Wars 75180 Rathtar Escape
Escape from Bala-Tik and the dreaded Rathtars with the LEGO Star Wars 75180 Rathtar Escape set! Help Han and Chewbacca outwit Bala-Tik and his Guavian Security Soldiers aboard their freighter. Lower the blast door to trap them, hide under the floor for safety and then pull the fuse to release the deadly Rathtars! When you're done, rearrange the freighter sections and plan your escape all over again! Escape the jaws of the Rathtars with this modular freighter interior with lowering blast door, trapdoor with crawlspace, Rathtar release function and 5 mini-figures. Featuring a modular design for easy reconfiguration, the freighter sections contain authentic details like a lowering blast door, trapdoor and crawlspace in which to hide. Pull the correct fuse to release the 2 buildable Rathtar figures with posable tentacles and teeth, then rearrange the sections and play out another Rathtar escape! This great set includes 5 mini-figures.
EAN: 5702015868532
Posted in Lego by ToyMaster
LEGO Boost Creative Toolbox 17101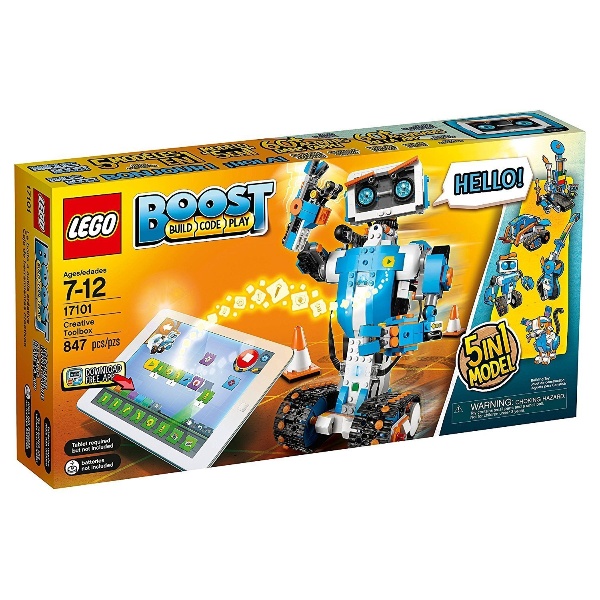 | Retailer | Price | Discount Code? | P&P | |
| --- | --- | --- | --- | --- |
| | £114.99 | No | | |
| | £149.99 | No | Free | |
| | £150.00 | Yes | Free | |
Take your LEGO play to the next level and build and code interactive, motorised robots, models and creations with the LEGO Boost Creative Toolbox 17101!Includes over 840 LEGO pieces, plus a Interactive Motor, Colour & Distance Sensor and a LEGO Move Hub that features Bluetooth Low Energy (BLE) connectivity, 2 encoded motors, activation button, internal tilt sensor and a light.Please note: This product requires batteries (not included). Please refer to the product packaging for type and quantity.
EAN: 5702015930000
Posted in Lego by ToyMaster
Mobile Command Center
Be part of the action with the LEGO City police as they stop the crook s escape from the jail cell in the Mobile Command Center, featuring a detachable truck cab, room for two minifigures, monitoring room with screens, satellite dish, opening roof, side doors and rear ramp, storage area for the motorbike and tools and a jail cell breakout feature, plus the crooks ATV. Includes four minifigures and a police dog figure.
EAN: 5702015865265
Posted in Toys by ToyMaster
Hasbro Bop It! Game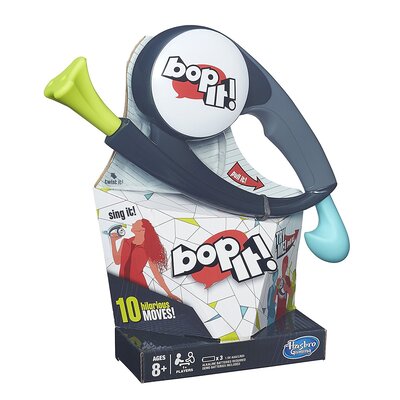 Twist it! Bop it! Answer it? Selfie it? Hammer it? This edition of the popular electronic Bop It! game is enhanced with 10 action-oriented Bop It! moves for today's modern gamer. The game uses motion technology to test players reaction time to see if they've got what it takes to win at this challenging and fast-paced game.
EAN: 5010994964146
Posted in Lego by ToyMaster
LEGO The LEGO Ninjago Movie: Destinys Bounty (70618)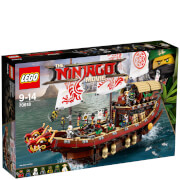 Join Kai, Lloyd, Zane, Nya, Jay and Cole for ninja training aboard Wu's massive flying ship, Destiny's Bounty! Build this brilliant ship with decorated sails, hidden weapons, a bathroom, bedroom for Wu and hidden weapons. Discover the ultimate weapon— the laser-style pointer—and practice your ninja moves at Wu's dojo. Then wind up the anchor and fly into another thrilling ninja adventure! Features: Includes 7 minifigures: Wu, Kai, Lloyd, Zane, Nya, Jay and Cole. Destiny's Bounty features 3 modular levels (top deck, Wu's dojo and mid-deck/hull), a double-headed dragon figurehead, 3 decorated sails, a chain of lanterns, 2 wind-up-and-release anchors, sky pirates skull handle, 2 barrels and 3 crates, Wu's bedroom with a bed for a minifigure, and a bathroom in the hull, dojo with a scroll, training dummy and 3 training weapons, plus hidden weapons under the deck. Weapons aboard Destiny's Bounty include the laser-style pointer, 4 golden sais, 2 golden katanas, 2 silver katanas, crossbow, black stone warrior sword, 2 golden shurikens and an Aeroblade with golden blades. Minifigure weapons include Wu's staff, Kai's 2 katanas, Lloyd's tasseled sword, Zane's bow and arrow, Nya's tasseled spear, Jay's spiked flail and Cole's hammer. Accessory elements include 3 books, a broom, shovel, big telescope, handheld telescope and 2 fishing rods, Vermillion armor, Garmadon's skeleton helmet, Anacondrai skull helmet, letter from Misaka, 4 fish, 2 collectible cards, map of NINJAGO® world and a sextant. Recreate and role-play exciting THE LEGO® NINJAGO® MOVIE™ scenes. Destiny's Bounty measures over 17" (45cm) high, 21" (55cm) long and 6" (17cm) wide.
EAN: 5702015611480
Posted in Toys by ToyMaster
Playmobil Police Headquarters With Prison 6919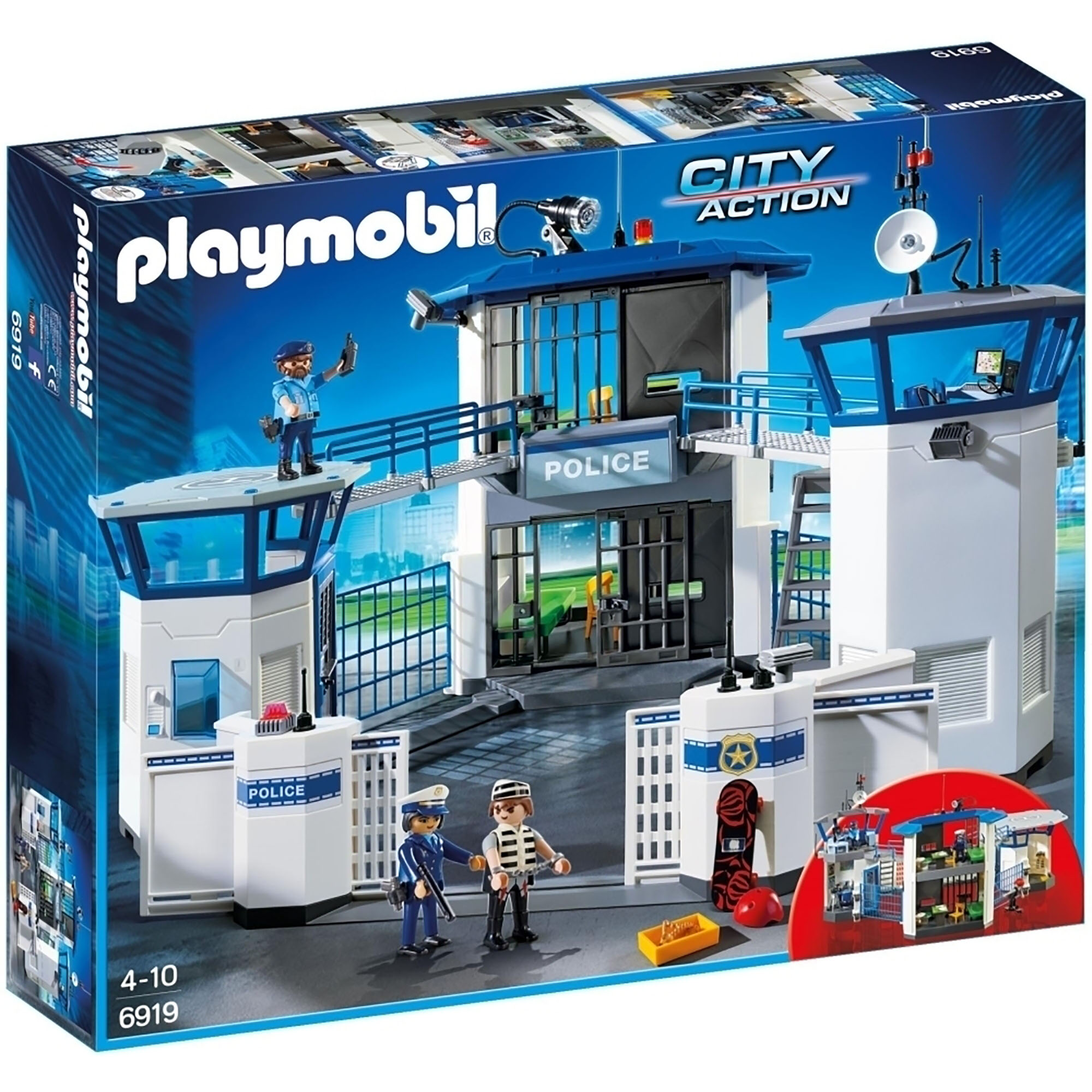 | Retailer | Price | Discount Code? | P&P | |
| --- | --- | --- | --- | --- |
| | £65.99 | No | Free | |
| | £69.99 | No | | |
| | £70.00 | Yes | Free | |
| | £79.99 | No | | |
| | £79.99 | No | Free | |
"Head into for action with this Playmobil City Action Police Headquarters and Prison set. This Playmobil police set comes fully equipped with lockable jail cells, a control room, a weapons store, breakaway wall section, working entrance gates, helicopter landing pad, figures and loads of accessories! Create thrilling stories with the figures as prisoners try to escape and the police patrol the prison. With working gates and a helipad, vehicles can get in and out of the headquarters. For ages 4 and over."
EAN: 4008789069191
Posted in Playmobil by ToyMaster
Playmobil Country Pony Farm 6927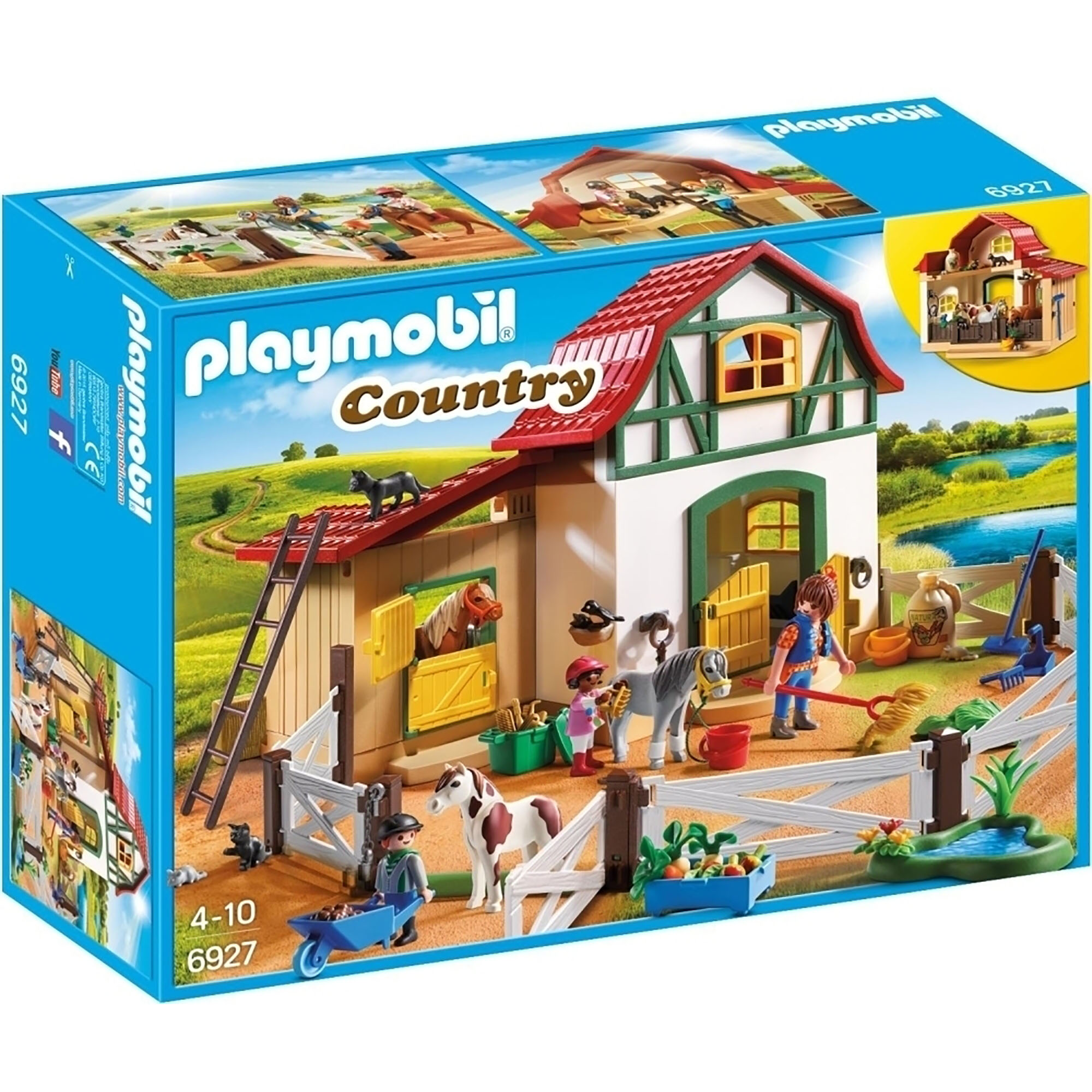 | Retailer | Price | Discount Code? | P&P | |
| --- | --- | --- | --- | --- |
| | £44.99 | No | | |
| | £45.00 | Yes | £5.50 | |
| | £50.00 | No | Free | |
Enjoy all the fun of the farm with the Playmobil Country Pony Farm. Featuring a stable block with 3 horse stalls as well as a spacious fenced area, ideal for giving your horse its daily exercise, the set contains 3 Playmobil figures, 3 horses and lots of food and grooming accessories for hours of pony based fun! Ideal for inspiring creativity, this Playmobil set helps develop problem solving skills and fine motor skills amongst young minds.
EAN: 4008789069276
Posted in Playmobil by ToyMaster
Playmobil Police Helicopter With LED Searchlight 6921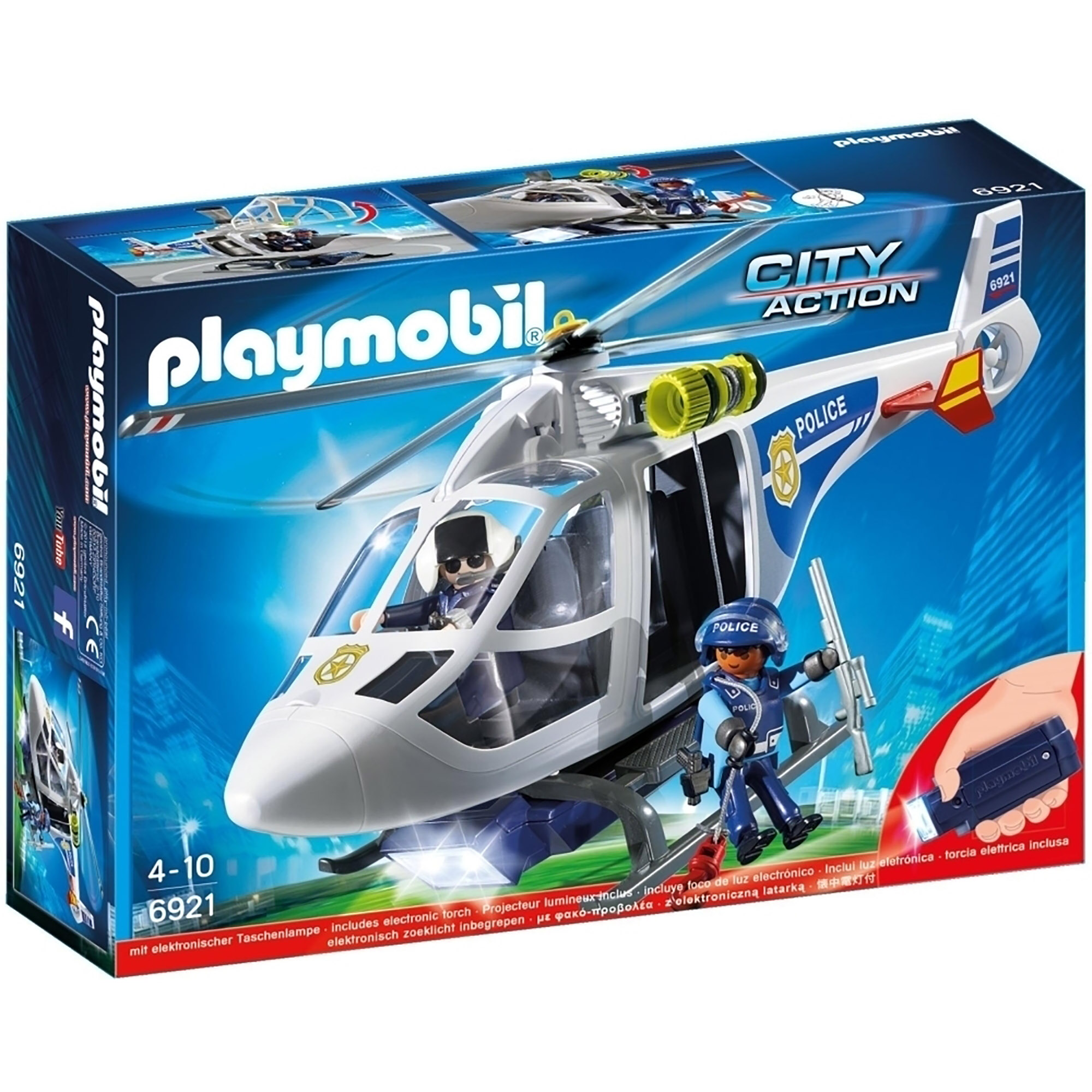 | Retailer | Price | Discount Code? | P&P | |
| --- | --- | --- | --- | --- |
| | £25.49 | No | | |
| | £26.99 | No | £3.50 | |
| | £27.00 | Yes | £5.50 | |
| | £28.00 | No | £3.99 | |
"Add to your imaginative Playmobil adventures with the City Action Police Helicopter with LED Searchlight. The police will have no trouble keeping Playmobil City safe with this awesome aerial vehicle. Sit the pilot and police Playmobil figures in the cockpit and spin the rotor blades to take off. Switch on the LED Searchlight to find the bad guys! You can also detach the LED Searchlight from the Police Helicopter and use it as a flashlight. The police figure can use the rope winch to rappel down to the ground and transport criminals to a holding cell in the helicopter passenger seat. Perfect for imagining city adventures, the City Action Police Helicopter set is great for 5 and over."
EAN: 4008789069214
Posted in Playmobil by ToyMaster
Playmobil City Action Squad Car with Lights and Sound (6920)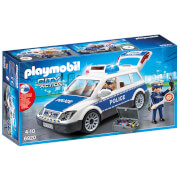 | Retailer | Price | Discount Code? | P&P | |
| --- | --- | --- | --- | --- |
| | £24.99 | No | | |
| | £28.99 | No | | |
| | £28.99 | No | | |
| | £29.99 | No | £3.50 | |
| | £30.00 | Yes | £5.50 | |
The Playmobil Police Car with Lights and Sound has a roof that can be removed and space for up to 4 figures.There is a siren sound with 2 options for getting to the scene quickly.The set comes with 2 Playmobil police officers, a storage case and accessories.Requires 1 x AAA battery (not included).
EAN: 4008789069207
Search
Recent Posts
Get Social With Us!
Categories
Pages
Toy Retailers
Popular Tags
Toy Archive