Browsing all articles from October, 2017
Posted in Lego by ToyMaster
LEGO Architecture: London Skyline Building Set (21034)
Celebrate London with this LEGOģ Architecture Skyline model!Capture the architectural essence of London with this magnificent set that brings together the iconic National Gallery, Nelson's Column, London Eye, Big Ben and Tower Bridge in an inspirational skyline setting. Each individual LEGOģ structure provides a unique and rewarding building experience, with true-to-life colour and relative scale depiction. London's Thames River is represented in the tiled baseplate, adding an extra dimension and feel of authenticity to this wonderful model that focuses on the amazing architectural diversity of one of the world's most dynamic cities.LEGOģ Architecture interpretation of London.Features the National Gallery, Nelson's Column, London Eye, Big Ben and Tower Bridge.London's Thames River is represented by transparent baseplate tiles.Tower Bridge opens to greet the incoming ship.The included booklet contains information about the designer, architecture and history of each building, as well as historical facts about London and its architectural heritage (English language only. Other languages available for downloadat LEGO.com/architecture).Includes a 4×32 tiled base with a decorative ďLondonĒ nameplate.Recreate the world's most beautiful cities with the LEGOģ Architecture Skyline Collection.LEGOģ Architecture celebrates the world of architecture through the medium of the LEGO brick, and is developed for all with an interest in travel, design, architecture and history.This set includes over 460 LEGOģ pieces and offers an age-appropriate building experience for ages 12+.Measures over 5Ē (15cm) high, 11Ē (28cm) wide and 3Ē (8cm) deep
EAN: 5702015865333
Posted in Lego by ToyMaster
LEGO Boost Creative Toolbox Robot Coding Robotics Kit (17101)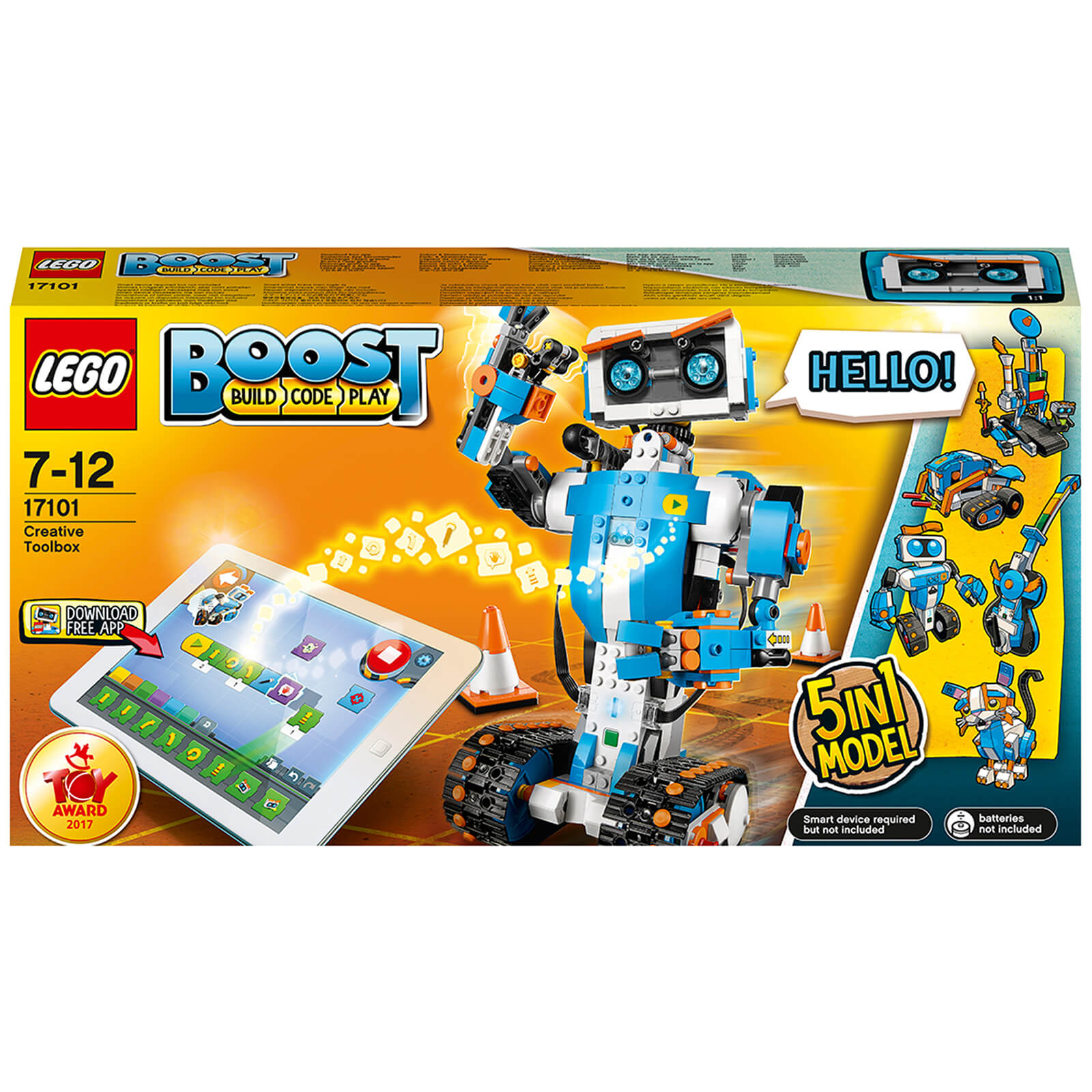 Bring your LEGO creations to life with the new LEGO BOOST Creative Toolbox a fun and easy way for your 7+ builder to learn the basics of coding, engineering and robotics. Simply choose one of the 5 models available with the BOOST set, download the free, easy-to-use app and you re ready to go! Choose between Vernie the Robot a moving, talking robot; the M.T.R.4 (Multi-Tooled Rover 4) a robust, versatile rover with 4 different tool attachments including a spring-loaded shooter; the Guitar4000 a musical instrument with pitch bend and sound effects; Frankie the Cat an interactive robot pet that plays, purrs and expresses its mood; or the AutoBuilder an automated production line that really builds miniature LEGO models! Then bring your creation to life with the app s intuitive, icon-based coding interface and complete an array of exciting activities designed for each model. With LEGO BOOST, children learn about loops and variables, improve STEM and creative-problem solving skills and develop their imagination as they toggle between guided and open-ended play. The more activities you complete, the more coding blocks you unlock! The LEGO BOOST app is available for selected iOS, Android and Kindle smart devices. Please go to LEGO.com/devicecheck for a list of all compatible devices. The app offers regular updates with new challenges and coding options designed to encourage social play.
EAN: 5702015930000
Posted in Lego by ToyMaster
LEGO 60139 City Police Mobile Command Center Building Set, truck toy and Motorbike, Pol
Build a truck that opens into a police mobile command center, with a detachable cab, jail cell, monitoring room, satellite dish, and more cool features! Pull off the jail door for a breakout, and then chase down the crooks' buildable ATV with the police motorbike! Includes male and female police officers and male and female crook minifigures, plus police dog figure and accessories Accessory elements include a mug, backpack, 2 money bills, 2 cones, wrench, walkie-talkie, lollypop stop sign and a set of handcuffs. LEGO City building toys are compatible with all LEGO construction sets for creative building
EAN: 5702015865265
Search
Recent Posts
Get Social With Us!
Categories
Pages
Toy Retailers
Popular Tags
Toy Archive