Browsing all articles from September, 2017
Posted in Uncategorized by ToyMaster
Doona Essentials Bag-Love
The Doona? is the world?s first car seat with integrated wheels meaning that in less than five seconds you can be out of your car with your precious little one and on your way in safety and style. Whether you?re nipping into the petrol station, picking up a latte, running into the supermarket, quickly escaping torrential rain in a car park, traveling on public transport or through an airport, the Doona is truly the next generation in parent and child safety and mobility. Inspired by the position of baby in its mother?s arms, Doona? has been designed, alongside medical and engineering experts, to assure that the baby?s body is properly supported in the correct ergonomic position. Additionally, the Doona?s newborn Infant Insert, has been especially designed to cradle and support newborns in the first few months. The Doona? Infant Insert?s near-flat ergonomic design boosts your newborn?s upper and lower back and ensures that your baby?s neck and back are ergonomically aligned. Doona? is the only car seat to have been tested and certified as an Infant Car Seat, a Stroller and a Reclined Cradle providing overarching safety for your child in all circumstances. And with its unique double wall side impact protection, Anti-Rebound Bar crash technology, superior 5-point safety harness and ergonomic infant insert, the Doona is one of the safest car seats available today. Suitable For: Doona is a Group 0+ Car Seat suitable from Birth to 13kg Options: Available in 5 colours and with a full range of accessories including the Doona Rain-Cover, Essentials changing bag, All-day changing bag and the Snap On Storage in a range of colours to match your Doona. Search Doona in the search bar above. Features: TUV and FAA Aircraft Approved for travel – Go on holiday just take a Doona Anti-Rebound Crash Technology Superior 5-point safety harness New-born infant insert cushion provides a near-flat ergonomic position for your child Fail-Safe Mechanisms to prevent misuse Tested and certified a
EAN: 4897055660008
Posted in Uncategorized by ToyMaster
Cosatto Wow Pram and Pushchair-Fjord
PACKAGE INCLUDES: Cosatto Wow Pushchair Cosatto Wow Carrycot Cosatto Port 0+ Car Seat Cosatto Wow Footmuff Cosatto Wow Changing Bag Cosatto Wow 2in1 Pram System: Cosatto Wow Suitable from birth! Provides you a helping hand when you are occupied with your child. According to the aspirations of our customers we delivered the ultra deluxe pushchair with all desired comforts to make life comfortable. This 3in1 Combination Pushchair consistets of Chassis, Seat unit, Carrycot and car seat adaptors. With this 3in1 combination there is no need to purchase an aditional pram or carrycot. The package also includes Port 0+ adaptors. Wow is also compatible with car seats from other leading brands with the use of multi car seat adaptor. (Available separatly). The Wow pushchair has a user friendly Gliding Telescopic Leatherette Handle to achieve compact fold. That makes it SLEEK SYSTEM! You?re busy. You need a helping hand. Wow is the from-birth hug on wheels for your baby ? with all the extras. You asked. We delivered your ultimate dream machine with features to fit your life. What?s with Wow? Wow?s the from-birth 3 in 1. Built by Cosatto ? and parents. It includes chassis, carrycot, parent & world facing seat unit and car seat carrier. Wow that?s clever. No need to buy separate pram and pushchair with Wow – and it has Port 0+ car seat connectivity to connect up long journeys from A to B. Wow also fits car seats from other leading brands. Wow that?s smooth. Wow has the smoothest transition from pushchair to pram yet. Plus with the gliding telescopic leatherette handle to the smooth compact fold, Wow?s one sleek system. Wow that?s handy. From the one-handed seat recline and one-hand adjustable calf support to the super-sized basket with handy hideaway pouch, Wow?s stacked with on-the-go solutions. From the structured hood with extendable sun visor to fresh air panel and raincover, Wow makes your life a breeze. Wow that?s luxury. Wow?s crafted for comfort. With the deep seat, exqui
EAN: 5021645048122
Posted in Uncategorized by ToyMaster
VTech Paw Patrol Treat Time Marshall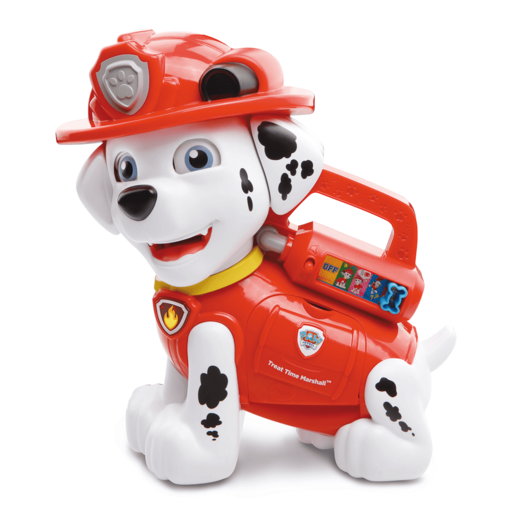 Ready for a Ruff-Ruff Rescue; VTech presents Treat Time Marshall, featuring the real voice of Marshall; Treat Time Marshall comes with 4 modes; Letter Treats, Learning Rescue, Search & Rescue and Music Time. Feed Marshall treats to learn colours, letters and phonics; Thats not all; Marshall teaches firefighter facts, plays music and more; Presenting Treat Time Marshall by VTech; Size H33.2, W40.2cm. Batteries required: 3 x AA (included) plus . For ages 3 years and over. WARNING(S): Not suitable for children under 3 years old. Only for domestic use.
EAN: 3417761904039
Posted in Lego by ToyMaster
LEGO Juniors DC Comics Batman vs. Mr. Freeze – 10737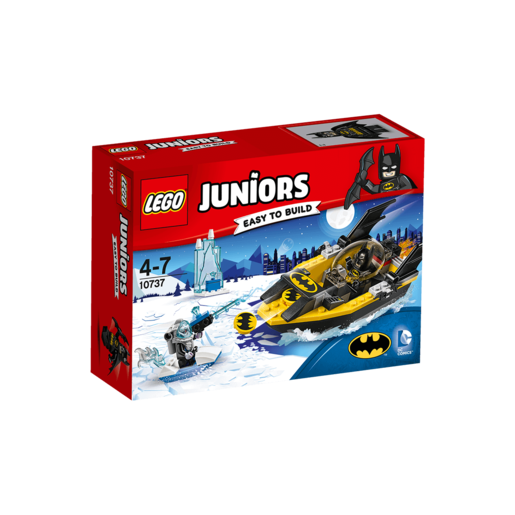 "Hop aboard the powerful Batboat and help Batman keep Gotham City safe from Mr. Freeze!Load up the bat-discs and take aim at the ice speeder. But look out! If Mr. Freeze uses his freeze gun and captures Batman in his icy jail, Gotham City will be put on ice!A great gift for LEGO Batman fans aged four and up.What's in the box? Weapons Accessory elements Batboat measures over 1" (5cm) high, 5" (15cm) long and 1" (5cm) wide Ice speeder measures over 1" (4cm) high, 3" (8cm) long and 1" (3cm) wide Ice jail measures over 2" (7cm) high, 1" (3cm) wide, and 1" (3cm) deep "
EAN: 5702015868365
Posted in Uncategorized by ToyMaster
VTech Paw Patrol Rescue Driver
"Go for a drive on Ryder's ATV with the Paw Patrol Pups to the Rescue Driver by VTech. Just like Ryder's ATV, this interactive driver also transforms into a snowmobile and a hovercraft for exciting role-play. Turn the handlebars to steer the vehicle to save Mr. Porter's van and more. Press the pup buttons to hear Ryder introduce all your favoUrite pups and tell you all about them. Go on exciting rescue missions and use the turn signals, check the rearview mirror and honk the horn to learn numbers, road safety and more. No job is too big, no pup is too small! This VTech toy's for ages two and up. Please note: 2 x AA demo batteries are included."
EAN: 3417761902035
Posted in Uncategorized by ToyMaster
Babystyle Hybrid Edge Stroller-Wild Orchid
THE STROLLER WITHOUT COMPRAMISE: The Hybrid Edge Stroller is a truly unique, innovative and contemporary design stroller. The ingenious lightweight chassis system offers a simple operation to swap the rear axle and convert from a single to tandem in second (Hybrid Tandem Axle and Wheels Required, available separately) when converted to a tandem, the Hybrid Edge can accommodate two seat units, two carrycots or two car seats or any combination of these. Features: Suitable from 6 months Hand stitched leatherette telescopic handle and bumper bar Quick release modern design wheels PU puncture resistant/smooth rider tyres Lightweight and compact fold chassis Reversible three position lightweight seat unit with full recline Integral insect net Large sun protection canopy Adjustable footrest Extendable shopping basket Inventive one hand pull harness system Raincover included Travel system compatibility with a range of leading brand car seats Dimensions: Length: 76-97cm Width: 60cm Height: 87 – Max 111cm Folded with wheels: 71x60x30cm Folded without wheels: 71x51x30cm Front wheel diameter: 19cm Rear wheel diameter: 26cm Chassis with wheels: 7. 8kg Chassis without wheels: 5kg
EAN: 5060427624734
Posted in Uncategorized by ToyMaster
This toy no longer exists.
Try visiting www.xmas-toys.co.uk you may find it there.
EAN: 5702015868846
Posted in Uncategorized by ToyMaster
LEGO DUPLO: Family House (10835)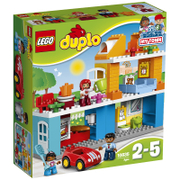 | Retailer | Price | Discount Code? | P&P | |
| --- | --- | --- | --- | --- |
| | £32.99 | Yes | | |
| | £39.99 | No | £3.95 | |
| | £40.00 | No | £3.50 | |
Build your very own Family House in LEGO DUPLO My Town! This easy-to-build house has a bedroom, sitting room, bathroom and kitchen. There's lot of fun to be had practising activities and routines, from getting up in the morning, preparing and eating a meal to washing the car. With LEGO DUPLO 10835 Family House, children will develop their role-play skills as they play. Includes three DUPLO figures.
EAN: 5702015865623
Posted in Uncategorized by ToyMaster
This toy no longer exists.
Try visiting www.xmas-toys.co.uk you may find it there.
EAN: 5702015868341
Posted in Uncategorized by ToyMaster
This toy no longer exists.
Try visiting www.xmas-toys.co.uk you may find it there.
EAN: 5702015597876
Search
Recent Posts
Get Social With Us!
Categories
Pages
Toy Retailers
Popular Tags
Toy Archive