Browsing all articles from August, 2017
Posted in Uncategorized by ToyMaster
LEGO DUPLO: Pizzeria (10834)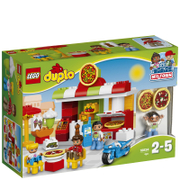 "Get your order in quick at the LEGO DUPLO Town Pizzeria 10834. Toddlers will love serving delicious pizza straight from the oven in this colourful restaurant, while learning the routines and etiquette of eating out. They can also take orders over the phone then load up the bike for delivery. A great gift for ages two and up. 3 x figures included."
EAN: 5702015865609
Posted in Uncategorized by ToyMaster
LEGO DUPLO 10848 My First Bricks
"Fire your toddler's imagination with this great selection of basic LEGO® DUPLO® bricks for endless building fun! With these brightly coloured bricks including some with double-sided decorations, a propeller and building cards for inspiration, they can build just about anything imaginable—a plane, a boat or a little house! DUPLO bricks are specially designed to be fun and safe for little hands. A great gift for ages one and up. 80 x bricks included."
EAN: 5702015866644
Posted in Uncategorized by ToyMaster
LEGO Juniors Demolition Site – 10734.
Be part of the LEGO City construction crew; Set up the roadblock, get behind the wheel of the dump truck and empty a load of building supplies at the site. Use the walkie-talkie to guide the wrecking ball to knock down the brick wall before you hop in the digger and help the crew raise the beam on the new building. LEGO model number: 10734. Theme: LEGO City. Grab your hard hat and get to work on the LEGO City construction site, featuring easy to build vehicles including a dump truck, digger with rotating back arm, and a demolition crane with wrecking ball, plus a building under construction. Designed for those new to construction play, LEGO Juniors sets are age-appropriate build and play experiences for children 4-7. Includes three minifigures. Features a dump truck, digger and demolition crane, plus a building under construction. Dump truck features a minifigure cab and tilting open-box bed. Digger features an elevating front bucket and lifting back arm, and an opening cage on the minifigure cab. Demolition crane features a stand with a ladder at the back, rotating seat for a minifigure and a rotating arm with wrecking ball. Building includes a door with frame, roof and wall that can be knocked down with the demolition crane. Tilt the dump truck back to unload the building materials. Swing the wrecking ball on the demolition crane to bring down the old building wall. Load the dump truck with the digger. Accessory elements include tools, two roadblock signs, cones, building bricks and a walkie-talkie. With bigger pieces and a simple guide, these easy to build models get kids building and playing quickly. Building measures over 3 (8cm) high, 1 (4cm) wide and 1 (4cm) deep. Dump truck with open-box bed down measures over 3 (8cm) high, 5 (13cm) long and 2 (6cm) wide. Digger with arm raised measures over 5 (13cm) high, 7 (20cm) long and 2 (6cm) wide. Demolition crane with ball retracted measures over 5 (13cm) high, 3 (8cm) deep and 1 (5cm) wide. Size H19.1, W35.4, D7cm. For ages 4 years and over. WARNING(S): Only for domestic use.
EAN: 5702015868334
Posted in Uncategorized by ToyMaster
This toy no longer exists.
Try visiting www.xmas-toys.co.uk you may find it there.
EAN: 5702015868358
Search
Recent Posts
Get Social With Us!
Categories
Pages
Toy Retailers
Popular Tags
Toy Archive