Browsing all articles tagged with toy
Posted in Toys by ToyMaster
Twirl and Paint Toy From 3 years
Little ones can create bright and colourful swirly pictures that will all look unique. Simply add some paper. press the button and start the spinner. squirt in the different coloured paints and watch your amazing masterpiece get created before your eyes.Contains:3x tubes of paint100x square of paper1x twirl and paint unit1x instruction and ideas leafletNot suitable for children under 36 months due to small parts.
EAN: 5050048157087
Posted in Toys by ToyMaster
Happyland Zoo Toy From 2 years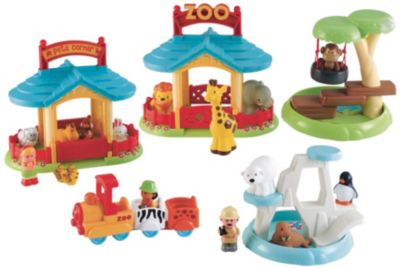 want to know more?Every day is a busy day at the happyland zoo. and the zookeeper needs to make sure all the animals are fed and the visitors are looked after. Make the monkey swing in the tree. drive the tour train around and help the zookeeper chat to the visitors about all the different animals – look how tall the giraffe is! You can help the zookeeper feed the animals their dinner before the zoo closes- but be careful of the hungry lion!Great for imaginative play. your little one will have lots of fun giving the people of happyland village their own voices and personalities. and making the animals make plenty of fun animal sounds. Playing together encourages your child to start talking and trying new words. and moving the chunky. easy to grip pieces around helps strengthen little fingers.dont forget…… we have more from the Happyland range to make your village grow (available separately).
EAN: 5050048279260
Posted in Toys by ToyMaster
Peep Inside Zoo Toy From 4 years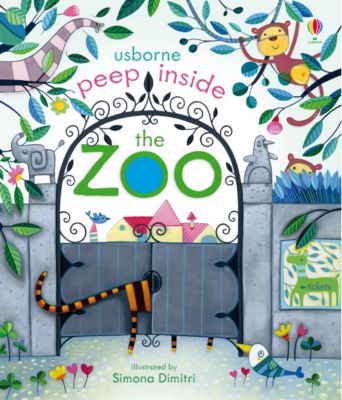 Beautifully illustrated. this lovely book has plenty to discover inside. Designed with bright colours. the story is about all the animals who live in the zoo complete with flaps to lift to discover hidden surprises and little facts about the creatures.Quick Facts-With flaps to lift. tactile patches and a fun sound panel
EAN: 9781409549925
Posted in Toys by ToyMaster
Soft Stuff Extruder Set Toy From 3 years
Add some Soft Stuff dough to the extruder. squeeze the handle and create different shapes and patterns using the three cutters – each cutter has four different shapes to choose from (12 shapes in total). Great for adding details to your Soft Stuff creations. Comes compete with two tubs of Soft Stuff dough which feature moulds in the bases for your little one to use to stamp. cut and decorate their creations.Not suitable for children under 36 months.Quick facts:-Squeeze out long Soft Stuff dough shapes-Includes 3 cutters with 12 different shapes-Complete with two pots of Soft Stuff dough-All our Soft Stuff pots feature moulds in the bases for stamping and cutting-Please note: Soft Stuff contains wheat
EAN: 5050048278560
Posted in Toys by ToyMaster
20 Chubby Crayons Toy From 3 years
These twenty colourful. chubby crayons have been designed for little hands to hold them easily. They come in a variety of colours and they are perfect for colouring and drawing.Quick Facts:Encourages creativity and imagination. Helps develop fine motor skills used for drawing and writing.
EAN: 5050048274012
Posted in Toys by ToyMaster
Soft Stuff Cake and Ice Cream Shop Toy From 3 years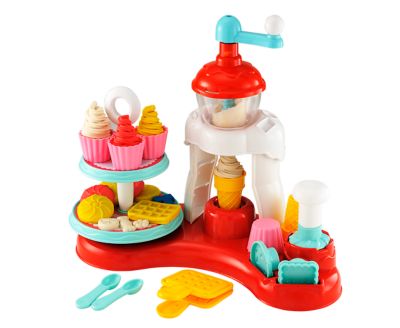 Making and decorating our own Soft Stuff desserts is super easy: turn the ice-cream maker for Soft Stuff ice cream in a cone or cup. serve it on a home-made Soft Stuff waffle. stamp out cute cookies and decorate pretty cupcakes in your favourite Soft Stuff flavour. We can gather together our teddies and dolls. or invite Mum and Dad to a tea party. The cupcake stand can be removed from the Ice Cream Shop and filled with your tempting creations. ready to serve to special guests.The Soft Stuff pots feature moulds in the bases for your little one to use to stamp. cut and decorate their creations.Not suitable for children under 36 months due to small parts.Quick facts:-Create Soft Stuff treats-Includes Soft Stuff dough-All our Soft Stuff pots feature moulds in the bases for stamping and cutting-Turn the ice cream maker to squeeze Soft Stuff ice cream swirls-Mould and stamp waffles and biscuits-Make Soft Stuff cupcakes-Display on the detachable cake stand-Please note: Soft Stuff contains wheatIncludes:4 x cake cases3 x biscuit stamps1 x stamp tool1 x cake stand1 x waffle mould2 x ice cream cones2 x spoons1 x main shop unit4 x pots of soft stuff dough
EAN: 5021465123283
Posted in Toys by ToyMaster
Babys Very First Play Book Animal Words Toy From Birth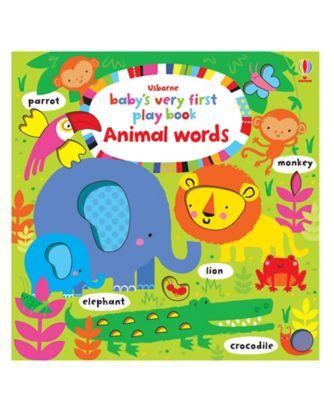 Brightly coloured. high-contrast illustrations are specially design to appeal to even the tiniest of babies. Babies will love looking at the bright. textured pictures and following the winding fingertrails on the pages of this delightful word book. There are animals on a farm. under the sea. in a garden and in the woods. with animal names and sounds to learn on every page. from deer to dolphins. caterpillars to crocodiles and turtles to tigers.Quick Facts:- Brightly coloured- High contrast illustrations – Lots of different animals and names – Fun sounds to learn – Dimensions: H19.1 x W19.1 x D1.4 cm
EAN: 9781409596998
Posted in Remote Control Toys by ToyMaster
Radio Controlled Mini Cooper Toy From 5 years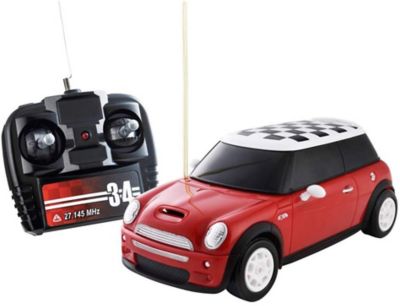 While were learning how to use the controls lets drive our Mini Cooper slowly around the house or garden then faster as we become an expert driver. We can take our mini outside and pretend were driving through the city. across the mountains or being chased in an off road race. Using the remote control helps develop hand to eye coordination while playing pretend inspires the imagination and playing with friends boosts social skills.Suitable from 5 yearsQuick Facts:- Full funcion radio control Mini Cooper- Indoors or outdoors play- Moves forward and backwards – Learning to use a remote control boosts dexterity skills- Little hands to build coordination- Builds confidence and enjoying pretend play- 27 MHz- Simple-to-navigate remote control for easy play- Detailed mini cooper and cool paintwork!- Durable frame with soft rubber wheels
EAN: 5050048167888
Posted in Toys by ToyMaster
Dinner Set Toy From 3 years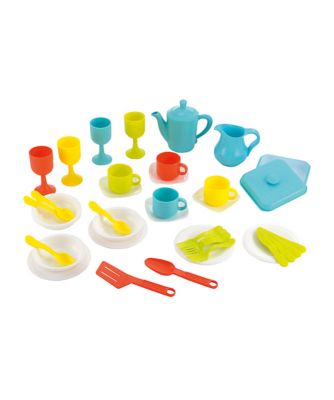 Complete with 37 accessories. this realistic set is perfect for gathering the toys or friends around for a grand dinner party. Great for the imagination. this set will inspire lots of make believe cooking fun. and there is enough for friends to play together too.Suitable from 3 yearsQuick Facts:- 37 accessories- Includes pots. pans. play food. kitchen tools and cutlery- Sturdy plastic- Great for imaginative play.- Playing with friends boosts social and communication skills- Includes 4 x glasses. 4 x bowls. 4 x plates. 4 x coffee cups. 4 x saucers. 1 x coffee pot. 4 x knives. 4 x forks. 4 x spoons.1 x water jug. 1 x serving spoon.1 x spatula.1 x serving dish with lid
EAN: 5050048133135
Posted in Toys by ToyMaster
Disney The Lion Guard Large Talking Soft Toy – Bunga
Join the Lion Guard with these awesome Talking Plush Kion and Bunga characters (sold seperately). These 30cm plush characters feature a light up "Mark of the Guard" arm badge and 4 phrases that are unique to each character. Kion's fearsome open mouth pose makes him ready to roar and take on every Pride Land adventure. Press Kion's "Mark of the Guard" arm badge for lights and sounds! Kion says 4 signature phrases from the Lion Guard series. Laugh along with the hilarious Talking Plush Bunga. This
EAN: 886144770326
Search
Recent Posts
Get Social With Us!
Categories
Pages
Toy Retailers
Popular Tags
Toy Archive