Browsing all articles tagged with mega
Posted in Nerf by ToyMaster
Nerf N-Strike Mega Tri-Break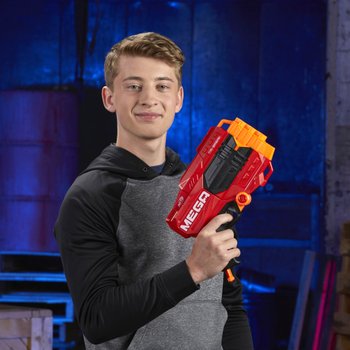 Break into Nerf Mega battling with the Tri-Break blaster that features a break-open, 3-dart barrel. Swing open the barrel on this single-shots blaster, and load 3 Nerf Mega Whistler darts inside. Close the barrel, prime the blaster, then pull the trigger to send a dart screaming through the air; Break-open blaster. Break open the barrel to load darts. Holds 3 Nerf Mega whistler darts. For indoor and outdoor use. Size H30, W33, D6.7cm. For ages 8 years and over. WARNING(S): Not suitable for children under 3 years old. Only for domestic use.
EAN: 5010993447268
Posted in Toys by ToyMaster
Panini FIFA World Cup 2018 Sticker Mega Tin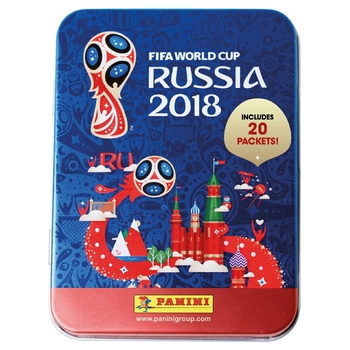 Experience the thrill of the 2018 FIFA World Cup with the Official Panini Sticker Collection. Bringing together all the best teams and players in the World, immerse yourself in the action by collecting, sticking and swapping. The FIFA World Cup Sticker Collection is a must-have collection for football fans of all ages. Keep your Stickers safe in this awesome World Cup Mega Tin and start your collection today!
EAN: 8018190086904
Posted in Toys by ToyMaster
Science4you Super Science Mega Kit
Includes two educational books STEM Toy – This innovative STEM toy allows children to explore science, technology, engineering and maths, while having fun and developing their creativity and imagination Includes over 60 experiments Make your own makeup, shampoos, perfumes, soaps and amazing candles. Prepare eyeshadows to put on makeup and create awesome perfumes. Make useful exfoliant soaps and soaps with two colours to keep your skin healthy. Produce fragrant shampoos and a hydrating mask that will take care of your hair. Science has never been so much fun! With the Science4you Super Science Mega Kit you'll have over 60 awesome experiments to complete!
EAN: 5600983603288
Posted in Toys by ToyMaster
Mega Monopoly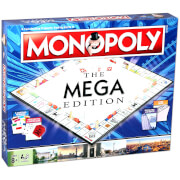 | Retailer | Price | Discount Code? | P&P | |
| --- | --- | --- | --- | --- |
| | £28.99 | Yes | | |
| | £29.99 | No | £3.95 | |
Buy more property, buy more buildings and handle more cash in this Mega Edition of the family favourite Monopoly game. The huge gameboard has 12 extra spaces, including eight new streets ; one for every colour group. There are also skyscrapers you can add to your streets so your rents will rocket sky high, and if you build depots on your railway stations, you get double rent; The extra M1000 note will help you pay for all this, and youll get to race around the bigger board with the help of the Speed Die and Bus Tickets. The worlds favourite family board game brings you another exciting edition of monopoly ; the mega edition. Choose your favourite token, tour your favourite sites and accumulate fortunes, but watch out for taxes, jail and bankruptcy. Advance to downing street, savile row, knightsbridge ; will you owe rent or reap the rewards; Invest in houses, hotels, skyscrapers and depots and trade your way to success. The fast-dealing property trading game is fun for the whole family. Contents: 8 x tokens; 1 game board; 28 title deed cards; 1 pack of monopoly money; 32 cards; 37 exclusive green houses; 12 exclusive red hotels; 8 skyscraper; 4 train depots; 16 chance cards; 16 community chest cards; 16 bus tickets; 3 dice; instructions. 3 or more players. For ages 8 years and over. 2 year manufacturers guarantee. WARNING(S): Not suitable for children under 3 years old. Only for domestic use.
EAN: 5053410002459
Posted in Toys by ToyMaster
Voltron Ultimate Mega Deluxe Figure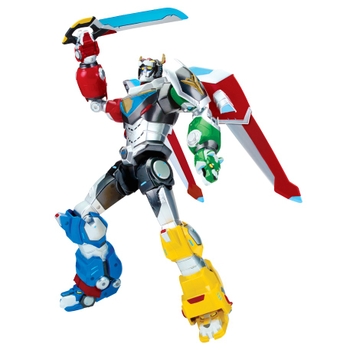 Long ago a mighty robot warrior, Voltron, was created to protect the galaxy from evil. Now, five young heroes must master the power of Voltron Lions to defeat the Galra empire and restore peace; Recreate your own scenes with this ultimate mega deluxe Voltron figure. 14; Voltron. 15+ sound effects and phrases. Ultimate poseability. Highly articulated. Sword projectile feature. Size H36.7cm. Batteries required: 3 x AAA (included). For ages 4 year and over. WARNING(S): Not suitable for children under 3 years old. Only for domestic use. To be used under the direct supervision of an adult.
EAN: 8056379040170
Posted in Toys by ToyMaster
Power Rangers Mega Morph Cycle With Yellow Ranger
| Retailer | Price | Discount Code? | P&P | |
| --- | --- | --- | --- | --- |
| | £17.00 | Yes | £2.99 | |
Get ready for hi-octane action with the Power Rangers Ninja Steel Mega Morph Cycle. It starts off a cool looking Ninja Star but can instantly morph into a powerful vehicle for endless adventure. Put your Yellow Ranger figure on your Mega Morph Cycle and roar into battle! A great gift for ages four and up. Check out the entire range of Power Rangers toys.
EAN: 3296580435722
Posted in Toys by ToyMaster
Oonies Mega Refill Pack
Designed for use with the Oonies Inflator Starter Pack (sold seperately. The Mega Refill Pack includes 90 Oonies pellets so you can create even more Oonies fun! Oonies are the inflatable mini balloons that magically stick together. Create an ooniverse of creations.
EAN: 630996199121
Posted in Toys by ToyMaster
Mega Bloks ABC Learning Train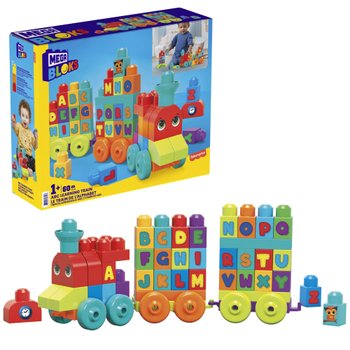 All aboard for alphabet adventures; Your little one will be on the fast track to learning their ABCs with a friendly, buildable train featuring building blocks decorated with the letters A through Z; Connect the three rolling wheelbases together to make your train, then stack the letter blocks on top to build the alphabet or even make whole words, learning your letters as you chug along. Or use the blocks and special shapes to build a station as the next stop on your alphabet adventure; 20-piece playset includes building blocks and special shapes. Size H12.5, W38, D11.5cm. For ages 1 year and over. WARNING(S): Only for domestic use. This toy does not provide protection.
EAN: 887961397123
Posted in Toys by ToyMaster
Match Attax 2017/18 Mega Tin – Assortment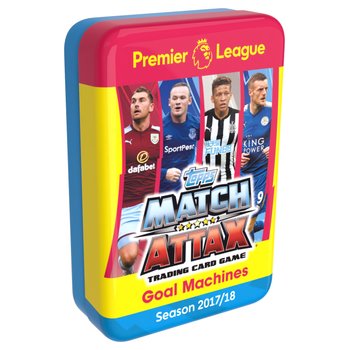 Match Attax, the World's most successful Football Trading Card Game returns for another awesome edition! The official Premier League Trading Card Game features stunning new cards, brand new foil sets, addictive gameplay and all of the stars of the Premier League! The 2017/18 Match Attax collection is a must-have for football fans everywhere and promises to be the biggest season ever! Keep your cards in order with the Match Attax Mega Tin. Each tin contains 45 cards including a Gold Limited Editi
EAN: 5053307028951
Posted in Toys by ToyMaster
DC Justice League Mega Cannon Batmobile
Speed to the crime scene in this sleek, armoured, updated Batmobile; In the new Justice League movie, Batman and the DC Super Hero team confront new forms of extreme evil. This vehicle has been equipped with advanced tech features and revolutionary weaponry to disarm enemies haunting the streets of Gotham. Ominous, front mount weapons have a surprise reveal and fire spring load projectiles; The vehicle-length mega cannon can blast Super-Villains at great distances; You can also attach basic figure accessories to the Batmobile for added armour; Iconic, armoured, updated batmobile from the new movie. Enhanced design and weaponry. Front weapons have surprise reveal and fire spring-loaded projectiles; Full vehicle length mega cannon blaster. Seats one 6-inch action figure, sold separately, subject to availability. Size H19, W43, D21cm. For ages 4 years and over. WARNING(S): Not suitable for children under 3 years old. Only for domestic use. To be used under the direct supervision of an adult.
EAN: 887961504385
Search
Recent Posts
Get Social With Us!
Categories
Pages
Toy Retailers
Popular Tags
Toy Archive