Browsing all articles tagged with game
Posted in Toys by ToyMaster
Greedy Granny Game by Tomy
This Greedy Granny Game is sure to give you lots of giggles. She's not called Greedy Granny for nothing. Greedy Granny loves her biscuits so much she's fallen asleep with the entire tray on her lap. There are 4 types of biscuits on granny's tray. The aim of the game is to collect a biscuit of each type. Sounds easy but one wrong move and you could wake granny and send her teeth flying! Will you risk it for a biscuit? Or will your mischievous moves wake Granny?
EAN: 5011666724655
Posted in Toys by ToyMaster
Bex Kubb Original Individual Game
Challenge friends and family to this old classic Bex Kubb Original Individual Game, which has been enjoyed and played for many years. Sure to bring out your Viking side, each team creates their battle front by placing wooden knights in a line, behind the King which stands alone in the middle of the two teams. Taking it in turns the aim of the game is to use the 6 throwing sticks to knock down all of your opponent's knights before making a chase for the King in the middle. The first team to knock down the King wins the game and is crowned the new King. An ideal game for playing in the garden or park it will be sure to provide hours of entertainment on a sunny day.1 x King (30 x 7 cm)6 x Throwing sticks (30 x 4 cm)10 x Wooden Knights (15 x 6 cm)4 x Area markers1 x Cotton bagRules and instructionsMade from rubber wood. Material: Cotton.
EAN: 7392601077004
Posted in Toys by ToyMaster
Gas Out Game by Mattel
Kids won't be able to stop giggling with the Gas Out Game! Guster the Gas Cloud is full of intestinal discomfort and he's ready to rip! Place him on the center of the table and then deal 3 Gas Out cards to each player. If you play a Number card, press Guster as many times as the number shown-but watch out! Guster's blasts are not silent and they're definitely deadly. If Guster farts, you're out! Other Gas Out cards in the deck keep the fun tooting along like the Skip card which sends Guster onto
EAN: 887961219692
Posted in Toys by ToyMaster
Classic Mousetrap Game
The Mouse Trap game, a longtime family favourite, is always good for zany action and lots of laughs. Scurry around the board collecting cheese and stealing cheese from other players…but watch out for the trap! While kids are engaged in playing the Mouse Trap game, they can also practice valuable skills in construction, cause and effect, and decision-making. As they interact with the trap, a working, multi-part machine, kids can practice construction skills. They can also work on understan
EAN: 5010993347681
Posted in Toys by ToyMaster
Game Of Thrones Cluedo
| Retailer | Price | Discount Code? | P&P | |
| --- | --- | --- | --- | --- |
| | £25.99 | No | £3.95 | |
| | £30.00 | Yes | | |
| | £30.00 | No | | |
There?s a mystery to solve in Westeros and beyond with Game of Thrones Cluedo! Get your friends and family together to play one of the best board games out there. Will you identify the assassin in Meereen or uncover the treacherous pot in the Red Keep? With twelve characters and beautifully detailed, castle- shaped holders, as well as special weapons, this is Cluedo like you?ve never played before – The ultimate Game of Thrones.Suitable for ages 8+.2 – 6 player game. Not suitable for children under the age of 3 years due to small parts which could cause a choking hazard.
EAN: 5036905027410
Posted in Toys by ToyMaster
Phil The Fridge Game by Tomy
Phil the Fridge is the new fun game from TOMY. As Phil spins, players must get their food into the correct holes, but watch out for Phil's door flying open. The winner is the player who gets all their coloured food shapes into the fridge first.
EAN: 5011666726550
Posted in Toys by ToyMaster
Pokemon Trainer Guess – Kanto Edition Game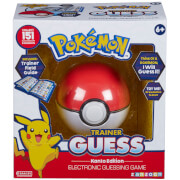 | Retailer | Price | Discount Code? | P&P | |
| --- | --- | --- | --- | --- |
| | £17.99 | No | £3.50 | |
| | £19.49 | Yes | | |
| | £19.99 | No | £3.95 | |
Think of a Pokemon and Ill guess it; After a few questions it will tell you exactly which Pokemon youre thinking of. Once a Pokemon is guessed it goes into your electric collection, with 151 Pokemon to guess and collect can you get them all; The enclosed Field Guide includes pictures of all the Pokemon, key details and names to help you in your quest; The Pokeball uses speech recognition technology – no buttons or reading required. Take it everywhere, play indoors or out. Contents: 1 x pokeball 1 x field guide. 1 or more players. Batteries required: 3 x AAA (included) plus . For ages 6 years and over. WARNING(S): Not suitable for children under 3 years old. Only for domestic use.
EAN: 3760145061386
Posted in Toys by ToyMaster
Boom-Blast Stix Game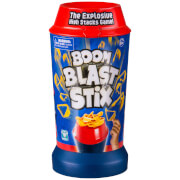 | Retailer | Price | Discount Code? | P&P | |
| --- | --- | --- | --- | --- |
| | £11.18 | No | £3.50 | |
| | £11.18 | No | £2.95 | |
| | £14.99 | Yes | | |
| | £14.99 | No | £2.99 | |
Do you have the nerve to play BOOM BLAST STIX? The explosive high stakes game that's loaded with excitement! Lock the sticks and stack them high. Who will be the one to make them fly? Do you have the skills to cope under the pressure? It's the game that's stacks of fun. Just don't snap or you'll blow it!
EAN: 630996252208
Posted in Toys by ToyMaster
Orchard Toys Pizza, Pizza! Game
Two fun educational games which help to develop childrens skills in counting, sums, shapes and colours. The pack includes Orchard Toys; much loved Pizza Pizza and Frog Party games. Pizza Pizza – Children can build their perfect pizza in this lively colour and shape matching game, but must watch out for unusual or yucky toppings that need to go in the bin; Frog Party – A fun first addition game designed to support learning to add up to ten. Frog Party includes both counters and a number line to encourage progressive learning. Two fun games in one pack. Teaches counting, shapes and colours in a fun way. Features colourful illustrations children will love. Made from thick, durable cardboard. Designed and manufactured in the uk by orchard toys. Contents: Pizza Pizza – 25 shaped pizza slice cards, 4 pizza boards, 1 double spinner, 1 Head Chef board, 1 instruction leaflet. Frog Party – 1 party square, 4 lily pad paths (2-piece jigged boards), 4 frog characters, 4 character stands, 10 lily pad discs, 1 double spinner/number line, 1 instruction leaflet. 2 or more players. (not included). For ages 3 years and over. WARNING(S): Not suitable for children under 3 years old. Only for domestic use.
EAN: 5011863101945
Posted in Toys by ToyMaster
Hasbro Don't Break The Ice Game
Test your nerve with Don't Break the Ice, a fun-filled game that's perfect for two to four players. You'll need a steady hand as you gently tap out the ice blocks one by one, trying your best to keep Phillip the Penguin safely on top. The winner's the person who can keep Phillip from falling down. Everything you need to build the game's included in the pack, as well as two hammers for when you're ready to tap away. See how many ice blocks you can tap out before Phillip the Penguin falls and goes ker-plop! Great for one-on-one fun or teams of two talented tappers aged 3 and up. Includes: Phillip the Penguin figure Ice tray frame 4 ice tray legs 1 large ice block 32 small ice blocks 2 mallets Instructions
EAN: 5010993413553
Search
Recent Posts
Get Social With Us!
Categories
Pages
Toy Retailers
Popular Tags
Toy Archive