Browsing all articles tagged with activity
Posted in Toys by ToyMaster
Playgro Toy Box Activity Rattle Clip Clop
The Toy Box Range has been infused with old-style charm and beautiful detailing and incorporates the most recent technology in infant play and development. This Playgro Activity Rattle Clip Clop is a cute character from the Toy Box Range filled with lots of fun activities to keep your little one amused. Filled with lots of fun activities, the Clip Clop Activity Rattle makes playtime fun and keeps little minds active. Features Each of Clip Clops hooves have a different activity Peek-a-boo hideaway Great for small hands Crinkle feature assists sensory and tactile development Rattle and bell for auditory stimulationBeads assist hand/eye co-ordination Vibrant colours and patterns encourage visual perception Textures encourage tactile development Suitable from 0 months+
EAN: 9321104011459
Posted in Toys by ToyMaster
LeapFrog LeapStart Learn To Read Volume Two Activity Book
Continue to build confidence while encouraging a love of reading with this second six book set. In volume two, children will read engaging stories with interactive pages that introduce critical skills such as advanced phonics, vowel teams and consonant blends. Volume two uses the LeapStart learning system to build reading confidence through six engaging stories with colourful pictures and interactive pages. Encourages children to touch pages, pictures, individual letters and words to help build advanced reading skills, such as vowel teams and consonant blends. Each story has a words in this story section to familiarise young readers with words theyll find in the story, much like the pre-reading activities theyll find in the classroom. On most pages, kids will find say it, sound it and spell it icons. Touch an icon and a word on the page to hear each word, listen to the word sounded out or have the word spelled out to hear the letter names. For younger readers, check out learn to read volume 1 for beginner words and stories. Size H17.8, W18.7, D1.7cm. For ages 4 years and over. WARNING(S): Only for domestic use. To be used under the direct supervision of an adult. This toy does not provide protection.
EAN: 3417764898038
Posted in Toys by ToyMaster
Outdoor 6 x Square Activity Play Panels – S

A set of 6 linking panels which can be used as a room divider or as a fun play area. Can be freestanding, panel feet are included. For indoor and outdoor use. Folds for storage. Size H78, W78, . Weight 6.8kg. Self-assembly. For ages 2 years and over. 2 year manufacturers guarantee.
EAN: 4716503310633
Posted in Toys by ToyMaster
LeapFrog LeapStart Daily Routines Activity Book
LeapFrog LeapStart Nursery Activity Book: Daily Routines and Health & Wellness is an interactive activity book that talks, sings and comes to life with 30+ replay able activities for Nursery covering Daily Routines and Social Skills. Join the Learning Friends as they share their day, introducing daily routines and healthy habits in fun and surprising activities. With this LeapStart book, kids explore 16 key daily routines and wellness skills for school and life, including understanding daily ord
EAN: 708431215061
Posted in Toys by ToyMaster
Learning Resources STEM Force & Motion Activity Set
Specifically designed to engage children in science, technology, engineering and maths, primary learners can get hands-on with STEM learning with this colourful Force and Motion Activity Set; Children can explore how things go; through hands-on investigations, problem solving activities and early engineering as they are encouraged to record data as they go in order to find an optimum solution. Set focuses on a variety of key science concepts including gravity, inertia, friction and push/pull. An early introduction to stem. Develops key science concepts. Ideal solo or small group activity. Includes 10 activity cards. Eye-catching set includes two cars, two double-sided tracks, 4 weighted blocks, pendulum ball, ladder with two removable bars, 10 activity cards and activity guide with reproducible materials. Size H7.9, W35.1cm. For ages 5 years and over. WARNING(S): Only for domestic use.
EAN: 765023028225
Posted in Toys by ToyMaster
This toy no longer exists.
Try visiting www.xmas-toys.co.uk you may find it there.
EAN: 5027959055085
Posted in Toys by ToyMaster
Peter Rabbit Activity Spiral Toy
Keep baby amused with this adorable Peter Rabbit Activity Spiral toy from Rainbow Designs. This activity spiral is made from a soft corded plush with patterned underside and includes super-soft Peter Rabbit and Flopsy attachments with crinkle, and a textured strawberry with squeaker. . The spiral can be attached to the side of a cot, stroller bar or car seat to keep baby entertained in the home or on the move. This toy has been designed specifically to encourage babies early developmental skills, and includes multiple textures and sounds to encourage babies to enjoy using their senses and to learn to explore the world around them. Baby will also be learning to use their hands for precise movements, which will develop their fine motor skills. Suitable from birth.
EAN: 5014475013323
Posted in Toys by ToyMaster
Tiny Love Gymini Kick and Play Baby Activity Mat
The Tiny Love Gymini Kick & Play utilises Tiny Loves signature activity arches, offering a fun and entertaining multi-stage development environment. Thanks to the electronic Kick & Play electronic pad your baby will grow to understand that kicking at the response pad activates light and music. The responds pad is very versatile and can be used as a kick pad when tied vertically to the arch or as a touch pad for tummy-time when it is down flat. Suitable from birth. Extra-large play mat with arches and adjustable borders; suitable from birth to approx. 12 months. 3 modes of use: overhead gym, closed border option and play mat. 7 activities to support your babys development and stimulate babys gross motor skill and senses. Dual position baby-activated kick & play electronic pad with music & lights; plays 4 tunes: 3 engaging tunes and one soft classical music from mozart. Folds and easy to carry, washable (at 30c) and requires 3 x aa batteries (not included). Batteries required 3 x AA (not included). Manufacturers 2 year guarantee. WARNING(S): To be used under the direct supervision of an adult.
EAN: 7290108860023
Posted in Toys by ToyMaster
Tomy – Lamaze Freddie The Firefly Gym Activity Toy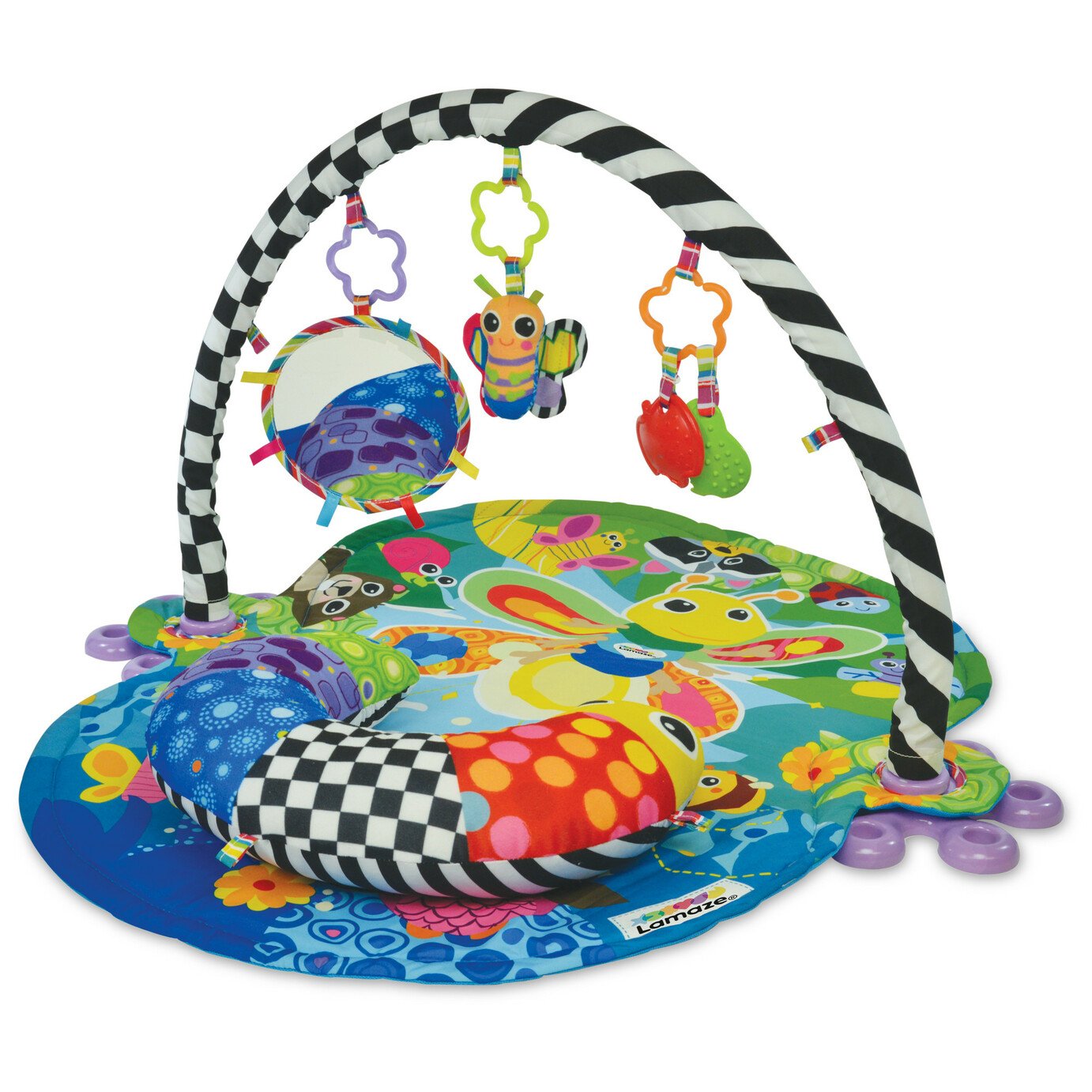 Freddie the Firefly Gym is a 3 in 1 gym that offers 3 different positions to follow babys growth: lay and play, tummy time play and sit and play. The flexible arch features colourful toys and textured teethers, each adjustable so theyre always within reach. The large discovery mirror helps baby learn how to focus, track images, and explore the wonderful things a face can do. Suitable from birth. There are 3 dangling sensory toys for baby to reach for and focus on when laying back. During tummy time, the comfy, curved cushion provides safe and steady support. Once baby is happy to balance upright, the mat is perfect for sit and play. Lovely tactile shapes double as teethers, plus a large discovery mirror captures every smile. Freddie, with his happy face and crinkle wings detach for play anytime, anywhere. WARNING(S): Only for domestic use. To be used under the direct supervision of an adult.
EAN: 796714271705
Posted in Toys by ToyMaster
Fisher-Price 2-in-1 Sit-To-Stand Activity Centre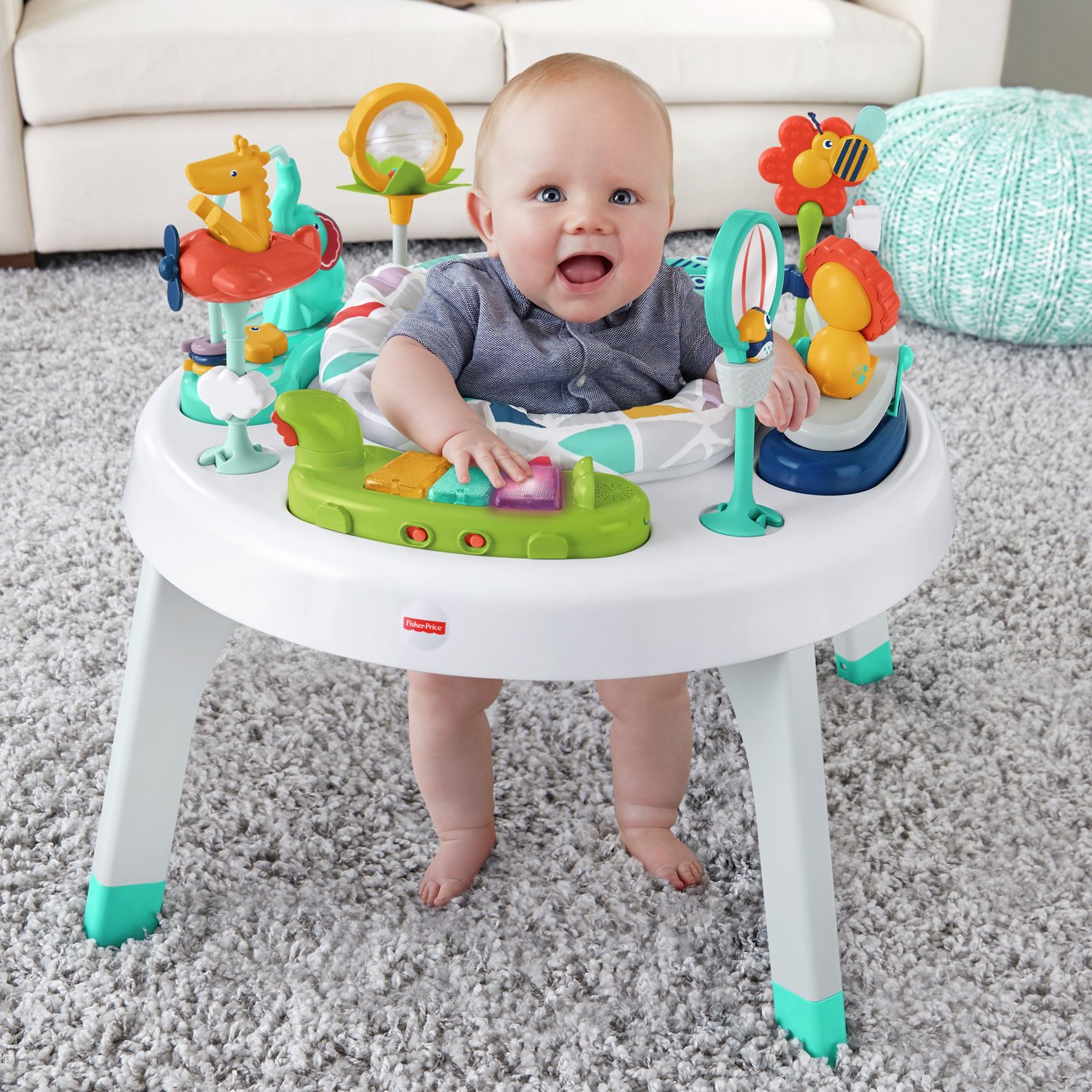 An exciting entertainer with 360 degrees of wild activities that grows with your baby; Your little monkey will have a blast in this 2-in-1, safari-themed entertainerit grows; along with your child; As your baby sits in the comfortable fabric seat, a platform full of animal toys and exciting activities encourage your little one to spin around and explore all 360 degrees of fun. Then, when your toddler is ready, convert the 2-in-1 sit-to-stand activity center to a play table and attach the ramp for sliding play; Fun songs and sounds reward your babys actions, keeping the exploring fun going and going. Machine-washable seat pad & removable legs for easy storage. Take-along musical alligator with light-up keys plays musical notes & short tunes or up to 20 minutes of music. Size H68, W65, D19.5cm. Weight 11g. Batteries required: 3 x AA (not included) plus . For ages 6 months and over. WARNING(S): Only for domestic use. To be used under the direct supervision of an adult.
EAN: 887961655742
Search
Recent Posts
Get Social With Us!
Categories
Pages
Toy Retailers
Popular Tags
Toy Archive